Uncategorized
Story Notes for Ghostbusters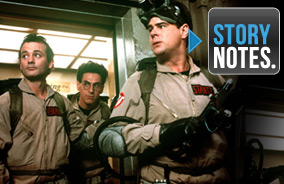 Weeknights during prime time on AMC, you can catch Story Notes — real time trivia and facts about your favorite movies! Below is the online version of the Story Notes for Ghostbusters.
Anthology Notes
Ghostbusters II came out 5 years later, reuniting all of the main cast. It was also a box office success.
Ivo Shandor, the architect of Dana's building, was the main villain in Ghostbusters: The Video Game, released in 2009. The whole cast lent their voices to the game. Dan Aykroyd called it "essentially the third movie."
Automotive Notes
Ecto-1 was going to stay painted black, but they realized that it would not be visible at night. They decided to go for a more comedic approach and paint it white with red trim.
There was only one car used for Ecto-1. It broke down crossing a bridge while they were filming the sequel.
Ecto-1 has been featured in many parades and theme park attractions.
Award Notes
Ghostbusters was nominated for an Oscar for Best Visual Effects.
Both the movie and Bill Murray were nominated for Golden Globes.
Backstory Notes
There are 7 classes of ghosts in the Ghostbusters' world. Class 5 are manifestations of non-human form.
Winston was a marine and got his PhD before applying to become a Ghostbuster.
Biographical Notes
This was Director Ivan Reitman's first big-budget movie. He later made Kindergarten Cop and Dave.
Dan Aykroyd's father was a medium and his grandparents would hold séances at their house. He has said he believes in ghosts and that his childhood home was haunted.
Harold Ramis passed away in 2014, thirty years after Ghostbusters was released. His fans hung the Ghostbusters sign in front of the New York firehouse as a tribute.
Cinematographer László Kovács also worked on Easy Rider (1969) and Five Easy Pieces (1970).
Bill Murray was quite the ladies' man at the time. According to his co-stars, women were throwing themselves at him all over New York City.
This movie led to starring roles for Rick Moranis in Little Shop of Horrors and Honey, I Shrunk the Kids.
William Atherton (Peck) said that for years after the movie people would pick fights with him at bars.
Murray went on to star in a string of hit comedies, including Harold Ramis' Groundhog Day (1993).
Casting Notes
Bill Murray had starred in Ivan Reitman's previous 2 movies, Meatballs (1979) and Stripes (1981). Though he was already well-known from those movies and Tootsie (1982), Ghostbusters made him a mega-star.
Jennifer Runyon (female student) played Charles' girlfriend on Charles in Charge (1984-1987).
Dan Aykroyd, who had just starred in Trading Places (1983), came up with the idea for Ghostbusters.
Harold Ramis had starred with Murray in Stripes and directed him in Caddyshack. He co-wrote both movies.
Alice Drummond (Librarian) was also in Awakenings (1990) and Ace Ventura: Pet Detective (1994).
Jordan Charney (Dean Yager) played Jack's boss on Three's Company (1979-1983).
Louis was originally written for John Candy, based on his Johnny LaRue character from SCTV. Candy wanted Louis to have a German accent and a lot of dogs. Eventually he passed on the part. Candy's SCTV co-star Rick Moranis was then offered the role. He wrote many of Louis' lines himself.
Before this, Sigourney Weaver was known for serious movies like Alien and The Year of Living Dangerously. But she had done a lot of comedy at Yale Drama School and wanted to show that side of herself.
Annie Potts (Janine) was in Designing Women (1986-1993). This was her first big movie.
Michael Ensign (Hotel Manager) was also in Superman (1978) and Titanic (1997).
Kymberly Herrin (ghost) was Playboy's Playmate of the Month in March of 1981.
Ernie Hudson later starred as the prison warden on Oz (1997-2003).
Comedian and actress Sandra Bernhard (The King of Comedy) was considered for Janine.
William Atherton (Walter Peck) played an arrogant reporter in Die Hard (1988) and Die Hard 2 (1990).
Jean Kasem from Cheers makes an appearance in the movie. She married DJ Casey Kasem in 1980.
She's hard to see, but the little girl celebrating her birthday is '80s pop star Debbie Gibson.
Reginald VelJohnson appears as a cop. He also played a cop in Die Hard (1988) and on Family Matters (1989-1998).
David Margulies (Mayor) is a Brooklyn native. He also played Tony's lawyer on The Sopranos (2000-2007).
Gozer is played by Serbian model Slavitza Jovan. The red contacts she had to wear were extremely uncomfortable.
Crew Note
Production designer John De Cuir (The King and I) won 3 Oscars and was nominated 11 times.
Finance Note
Ghostbusters made over $290 million worldwide, making it the highest-grossing comedy at the time.
Location Notes
The school shots were filmed at Columbia University in New York City. All of the building names are fictional.
The library scene was filmed at the main branch of the New York Public Library, though the scene in the library's stacks was filmed in L.A.
They spent 4 weeks shooting on location in New York before moving the production to L.A.
The exterior of the firehouse is Hook & Ladder 8, built in 1912 in NYC's TriBeCa neighborhood. The interior was filmed at a decommissioned firehouse in Los Angeles that was built the same year.
Dana's apartment is at 55 Central Park West on Manhattan's Upper West Side.
The ballroom scene was shot at a banquet room in the Biltmore over 4 days.
In 2011, the firehouse, Hook & Ladder 8, was slated for closure. Ghostbusters fans launched a social media campaign that helped save the firehouse.
The prison scene was filmed in a real New York City jail cell in lower Manhattan, which has since been abandoned.
The crew really filmed in City Hall. One scene was shot in the City Council President's office.
Music Notes
Composer Elmer Bernstein has worked on hundreds of movies, including Airplane! (1980) and True Grit (1969). He was nominated for 14 Oscars over his 50-year career.
The Ghostbusters theme song, written by Ray Parker Jr., was #1 for 3 weeks on the Billboard Top 100. It was also nominated for an Oscar.
Pop Culture Notes
Ghostbusters (1984) was named "The Funniest Movie of the Past 25 Years" by Entertainment Weekly in 2008. It also placed #8 on their list of "The 20 Best Summer Blockbusters of All Time."
In 2010, the group Improv Everywhere staged a Ghostbusters prank at the New York Public Library. Three "ghosts" in white sheets entered the library and were chased by 4 guys dressed as the Ghostbusters.
Kids did love them – there were Ghostbusters action figures, juice boxes, and even a breakfast cereal.
Director Ivan Reitman's son Jason (Juno) directed a staged reading of Ghostbusters in 2012. Seth Rogen, Jack Black, and Rainn Wilson played the Ghostbusters. Kristen Bell played Dana.
The movie spawned an animated TV show, The Real Ghostbusters, which aired from 1986-1991. Slimer was the show's breakout star. It was eventually re-titled Slimer! And the Real Ghostbusters.
"He slimed me" became a popular catchphrase. It was on bumper stickers, pins, and T-shirts.
"Nice shootin', Tex" was later quoted in The Mummy Returns (2001).
Whatculture.com listed "50 Reasons Ghostbusters Just Might Be the Greatest Film of All Time." Reason Number 1 was Bill Murray.
Director Ivan Reitman got the idea for the lights behind the door from Close Encounters of the Third Kind (1977).
AFI ranked Ghostbusters #28 on their list of "100 Years…100 Laughs."
Time Out NY ranked Ghostbusters #14 on their list of "The 100 Best Films Set in New York City."
Empire magazine ranked Peter Venkman #44 on their list of "100 Greatest Movie Characters of All Time."
Press Note
Roger Ebert said Ghostbusters was "an exception to the general rule that big special effects can wreck a comedy."
Production Notes
When test audiences saw the library ghost, they screamed and laughed at the same time.
Harold Ramis made a choice to never smile as Egon.
As soon as he saw the pole in the firehouse, Aykroyd said they had to use it for the movie.
The voicemail recording was a real ad for the movie. People could call in and hear a message from Aykroyd and Murray. The 800-number got about 1,000 calls per hour, 24 hours a day, for 6 weeks.
The hallway scenes were shot on a set originally built for the movie Rich and Famous (1981).
Slimer was originally called "Onionhead" because he was supposed to smell like onions. Fans started calling him Slimer and the name stuck.
Co-writer Dan Aykroyd saw Slimer as a tribute to John Belushi's character Bluto in Animal House (1978).
Director Ivan Reitman provided Slimer's voice.
Winston was originally written as a much larger role for Aykroyd's Trading Places co-star Eddie Murphy. Murphy turned it down to star in Beverly Hills Cop (1984).
The "nerd party" was Rick Moranis' idea. He came up with most of the lines. Much of the scene was all one shot in one continuous take.
The monsters are called terror dogs. They were a combination of puppets and stop-motion animation.
Zuul's voice, just like Slimer's, was provided by Director Ivan Reitman.
At her audition, Sigourney Weaver jumped up on Reitman's couch and started panting like a dog. She said, "I wanted to show him that I was totally open to howling, screaming, and slobbering."
The no-ghost symbol was drawn by Dan Aykroyd's friend John Daveikis. They wanted to make sure it didn't look like Casper the Friendly Ghost.
Ernie Hudson said people came up to him in stores after the movie asking him to sign their grocery bags.
There were really just 2 flights of stairs at the Biltmore Hotel in L.A. The rest were added using visual effects.
Ten stories were added on to the 55 Central Park West building using a technique called matte painting. The technique integrates paintings done on large sheets of glass with a live-action shot.
Originally, Gozer was going to appear as an architect in a business suit and be played by Paul Reubens. After the Pee-Wee's Playhouse star declined, they went for a "David Bowie meets Grace Jones" look.
Voice actress Paddi Edwards dubbed over the lines because Jovan's accent came across as comedic.
Prop Notes
Egon uses a P.K.E. Meter, a made-up device that measures psychokinetic energy.
The ectoplasm was made from methylcellulose ether, a thickening agent used in processed foods.
The Ghostbusters also use a sniffer – it's used to detect gas leaks. They gathered a bunch of interesting props that could be used and let Murray pick his favorite.
Their "Proton Packs" were made out of fiberglass with pneumatic fittings and resistors added on. They weighed about 30 lbs. each. For more active scenes, they wore lighter-weight, rubber versions.
One device used by the Ghostbusters is just a colander with wires sticking out of it. Director Reitman: "We figured the sillier, the better."
Quotation Notes
Ramis said, "Dan was the heart of the Ghostbusters, I was the brains, and Bill was the mouth."
Reitman: "It was a sense of how the movie was going to work — both being truly scary and also really funny."
Weaver: "I once had a fire in my apartment [after the movie], and the firemen came to put it out. One of them opened up my refrigerator and said, 'Whoa, you better call the Ghostbusters.'"
Bill Murray compared the trapping process to "trying to get smoke into a coke bottle with a baseball bat."
Harold Ramis wanted Walter Peck to be a more understated villain. He thought the bad guys in Animal House, which he also co-wrote, were too over-the-top.
Sigourney Weaver said kids would come up and ask her if she really turned into a dog.
Aykroyd described Mr. Stay Puft as a cross between the Michelin Man and the Pillsbury Doughboy. He wanted to create a fictional brand mascot that everyone would have grown up with.
Script Notes
The scene with Venkman and the two students was inspired by the Milgram experiment. Subjects were told to give electric shocks to an unseen person. The early '60s study was designed to figure out how far someone would go to obey an authority figure.
Aykroyd wrote the first draft of the script after reading an article on quantum physics and parapsychology. He wanted to combine modern science with the feel of classic ghost-hunting comedies from the 1940s.
Aykroyd wrote the part of Peter Venkman for his Blues Brothers co-star John Belushi. He was writing one of Venkman's lines when he heard that Belushi had passed away. He finished the script with friend and fellow Saturday Night Live cast member Bill Murray in mind.
That "drill" line was based on a real proposed experiment to test higher brain function.
Aykroyd, Ramis, and Reitman spent 3 weeks in Martha's Vineyard revising Aykroyd's original script.
In the original script, the Ghostbusters had already been around for a long time. It was director Reitman's idea for them to show their origins and make it into a "going into business" movie.
"They hate this" was improvised, as was much of the dialogue in the movie – especially Bill Murray's.
That line was originally "You're more like a used car salesman." Weaver changed it to "game show host."
Harold Ramis came up with his characters' name, Egon Spengler. "Egon" was a kid he went to school with and "Spengler" came from German historian Oswald Spengler.
In Dan Aykroyd's original script, there were a lot more giant monsters.
Set Notes
The stacked books in the library were attached by a thin wire to a rig that hung over the bookshelves.
The card catalogue cabinets in the library were outfitted with air hoses that blew all the cards out.
Weaver did Method acting exercises before scenes. Murray would tickle her while she was doing them.
The look of the hotel set was patterned after the Algonquin Hotel in New York.
The breakaway chandelier was added to the banquet room, along with fake walls loaded with pyrotechnics.
The view outside Dana's apartment window is a painted backdrop, but that would really be the view from her apartment.
Reitman shot the movie like a drama, not bright and cheerful like a comedy.
On set, Bill Murray was sometimes called "The Mayor of New York." He would walk down the streets handing out dollar bills to homeless people.
They blocked off the streets and caused huge traffic delays in much of Manhattan. New Yorkers were so mad they got in fights with the cops. One guy was pulled out of his car.
They constructed a hydraulic, collapsing street in L.A. with a replica of Dana's building in the background.
Creature creator Bill Bryan built the Stay Puft costume and also played him. He modeled his walk on Godzilla. Mr. Stay Puft's head was made from foam and fiberglass and was controlled by cable mechanisms. Three different heads were made to register different facial expressions.
For the marshmallow goo, they used a huge laundry bag full of over 75 lbs. of menthol shaving cream.
Source Note
Gozer came from an actual documented haunting in England that was also the basis for Poltergeist (1982). In that haunting, the name Gozer appeared written on things throughout the house.
Trivia Notes
Einstein published his Theory of Relativity while working in the Swiss Patent Office in 1905.
The Proton Pack is a particle-beam weapon. The Large Hadron Collider uses similar technology.
Central Park's horse-drawn carriage tours began in 1858.
According to a parapsychology professor, there really are "hungry ghosts" who only want to eat or drink.
Wardrobe
Costume designer Theoni V. Aldredge also worked on Network (1976) and Moonstruck (1987).
Ramis based Egon's look on a man he saw on the front page of an architectural journal.
Read More