Press
Peter Gould Talks Flexible Timeline with NY Daily News; Vulture Asks "Is it 2015 Yet?"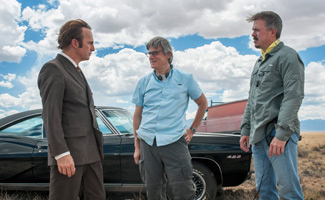 This week, Peter Gould told the NY Daily News that Better Call Saul has a flexible timeline that could feature Walter White, while Vulture reports that Vince Gilligan is joining the executive team as co-showrunner. Plus, The Sacramento Bee is "more than ready" for more Bob Odenkirk. Read on for more:
• Co-Showrunner Peter Gould spoke with the NY Daily News to say that Better Call Saul will have a flexible timeline that could take place before, during and after the events of Breaking Bad and that being able to work with two seasons "gives us a much bigger canvas to play with." It also means a potential return of Walter White and Jesse Pinkman. Business Insider, The Celebrity Cafe, Cinema Blend, The Huffington Post and WhoSay also report on the interview.
• Vulture lauds Better Call Saul's second season renewal before it's premiere date in 2015 and adds that Vince Gilligan is joining Peter Gould to co-run the show. "Is it 2015 yet?" Vulture asks. The Dallas Morning News, Frontiers LA, The Loop, and the Star Tribune also report on the news of Better Call Saul's second season.
• The Sacramento Bee laments that Better Call Saul is being pushed back to 2015, but is "more than ready to watch a show that's all about [Bob Odenkirk]."
• Screen Rant highlights one of the ways Better Call Saul will be different from its predecessor: it's tone, saying that if Breaking Bad was "75% drama and 25% comedy, Saul will be the reverse – 75% comedy, 25% drama."
• Down with Tyranny says many of Breaking Bad's original writing and producing team are reassembling to helm Better Call Saul.
• Bob Odenkirk tops Star Magazine's "Rising Stars Column" this week.
To stay up-to-date with all the latest Better Call Saul news, sign up for the The AMC Weekly.
Read More