Awards
AMC Honored With 26 Emmy Nominations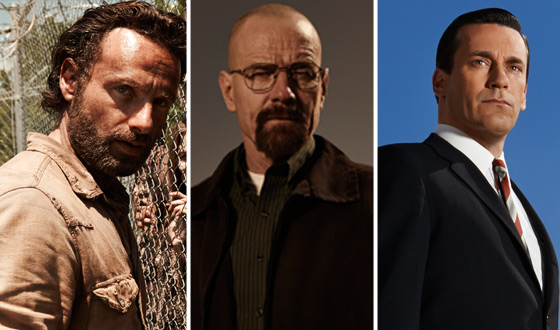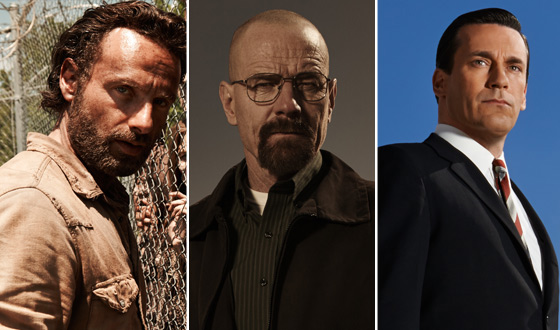 The Academy of Television Arts & Sciences announced this morning the 66th Annual Primetime Emmy® Award nominations, recognizing AMC with 26 nominations, making it the only cable network to ever garner two series nominations in the best drama category for three consecutive years. In addition, AMC is the only cable network (tied with HBO) to garner double nominations in the drama series category five times.
Mad Men, which reigns as the only television series in cable history to win the Emmy® for Outstanding Drama Series four years in row (2008, 2009, 2010 and 2011), continues to be the most Emmy® nominated basic drama series on television with a total of 105 nominations. Mad Men is also the only cable series to ever receive seven consecutive nominations for Outstanding Drama. This year the series garnered eight nominations, including Outstanding Drama Series, Outstanding Lead Actor for Jon Hamm, Outstanding Supporting Actress for Christina Hendricks and Outstanding Guest Actor for Robert Morse.  The series also received multiple nominations for Outstanding Art Direction, Outstanding Costumes, Outstanding Hair Styling and Outstanding Makeup. (Click here to read more about Mad Men's nominations.)
AMC's Breaking Bad garnered the most Outstanding Drama Series nominations for Basic Cable and the most nominations in the series' history with 16, including three-time Emmy winner Bryan Cranston for Lead Actor, two-time Emmy winner Aaron Paul for Outstanding Supporting Actor and a second consecutive nomination for Emmy Award winner Anna Gunn for Outstanding Supporting Actress. Vince Gilligan was nominated for Outstanding Directing and Writing for the Season 5, Episode 16, "Felina" and Moira Walley-Beckett was nominated for Outstanding Writing for the Season 5, Episode 14, "Ozymandias." The series also garnered nominations for Michael Slovis for Outstanding Cinematography as well as nominations for Casting, Single Camera Picture Editing, Sound Editing, Sound Mixing, Makeup and Prosthetic Makeup. (Click here to read more about Breaking Bad's nominations.)
The Walking Dead received two nominations, including Outstanding Special Visual Effects and Outstanding Sound Editing. (Click here to read more about The Walking Dead's nominations.)
The tallies for nominations by show are:
Breaking Bad = 16 nominations
Mad Men = 8 nominations
The Walking Dead = 2 nominations
"It's wonderfully gratifying to see programming about which we, at AMC, are so passionate — Breaking Bad, Mad Men and The Walking Dead – recognized by Academy Members, especially in such an enormously competitive environment," said Charlie Collier, President of AMC. "That Breaking Bad and Mad Men are two of the six nominees in the Outstanding Drama category- Breaking Bad with an opportunity to defend last year's win, for its historic final eight episodes, and Mad Men nominated for the seventh year in a row having won four times in the past; we're humbled and appreciative. We are also so appreciative and proud of the individual nominations for the actors, writers, directors and creative professionals who have made these unforgettable shows so unique. We are thankful Academy members have honored these series with these nominations."
For a complete list of AMC's Emmy nominations, check out the Television Academy's press release here.
The 66th Annual Primetime Emmy Awards will be broadcast live Monday, August 25 at 8/7c on NBC.
Read More