Uncategorized
Story Notes for The Day After Tomorrow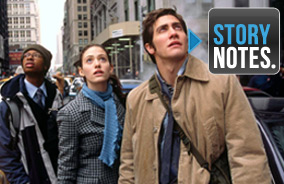 Weeknights during prime time on AMC, you can catch Story Notes — real time trivia and facts about your favorite movies! Below is the online version of the Story Notes for The Day After Tomorrow.
Award Notes
The tornado scenes won an MTV Movie Award for Best Action Sequence.
While shooting the movie, Dennis Quaid received a Golden Globe nomination for Far from Heaven (2002).
Jake Gyllenhaal was nominated for an Oscar a couple years later for Brokeback Mountain (2005).
Emmy Rossum was nominated for a Golden Globe for The Phantom of the Opera (2004).
The Day After Tomorrow won a BAFTA Award for Achievement in Special Visual Effects.
Biographical Notes
Director Roland Emmerich, a German native, had been wanting to do a movie about climate change. He wrote the first draft of the script after reading a book about a giant cold superstorm.
At the time, Gyllenhaal was only known for indies like October Sky (1999) and Donnie Darko (2001).
Sela Ward played Hugh Laurie's ex-girlfriend on the series House M.D. (2005-2012).
Ian Holm (Prof. Rapson) was knighted by Queen Elizabeth II in 1998 for his services to drama.
Director Roland Emmerich is sometimes called Das Spielbergle – German for "The Spielberg."
Ian Holm's grandchildren call him "Grumpy."
Jake Gyllenhaal had recently romanced Jennifer Aniston in The Good Girl (2002).
Dennis Quaid was married to Meg Ryan for 10 years. They have a son named Jack.
Emmy Rossum worked in water again when she starred in Poseidon (2006).
Production designer Barry Chusid also worked on Director Roland Emmerich's The Patriot and 2012.
Ian Holm played Bilbo Baggins in the Lord of the Rings movies.
Dash Mihok (Jason) was in another movie about a natural disaster, The Perfect Storm (2000).
Sela Ward played Harrison Ford's ill-fated wife in The Fugitive (1993).
Jake Gyllenhaal's father Stephen is a director, writer, and producer. He directed Losing Isaiah (1995).
Perry King (President) was in The Lords of Flatbush (1974) and Class of 1984 (1982).
Kenneth Welsh (Becker) narrated the 2013 mini-series Perfect Storms: Disasters That Changed the World.
Emmerich next directed 10,000 BC (2008), which made $270 million worldwide.
Casting Notes
After seeing Dennis Quaid in 2002's The Rookie, Emmerich immediately wanted to cast him in this.
Dash Mihok (Jason) played Benvolio in Romeo + Juliet (1996).
Jay O. Sanders, who was in JFK (1991) and Daylight (2006) plays Frank Harris.
Kenneth Welsh from Legends of the Fall (1994) and The Aviator (2004) plays Vice President Becker. At the time of the filming, Dick Cheney was vice president. The filmmakers liked that Welsh resembled him.
Ian Holm (Alien) is one of Director Roland Emmerich's favorite actors. He wrote this part with Holm in mind.
Richard McMillan, a Canadian stage actor who was in Darren Aronofsky's The Fountain (2006), appears as Dennis.
Sela Ward had just finished her Emmy-winning turn on Once and Again (1999-2002).
This was Jake Gyllenhaal's first big role in a mainstream movie.
Nestor Serrano played terrorist Navi Araz on season 4 of 24 (2005).
Arjay Smith (Brian) starred in Nickelodeon's The Journey of Allen Strange (1997-2000).
Austin Nichols was later a regular on One Tree Hill (2008-2012).
Jack Laufer (Jeff Baffin) was Don Draper's accountant on AMC's Mad Men from 2010-2012.
Perry King, star of the detective series Riptide (1984-1986), appears as the President.
Tamlyn Tomita (Janet) was in The Joy Luck Club (1993). She also co-starred with Dennis Quaid in the romantic drama Come See the Paradise (1990).
Sheila McCarthy (Librarian) was in Die Hard 2 (1990) and Confessions of a Teenage Drama Queen (2004).
Glenn Plummer (Luther) was in Speed (1994) and Showgirls (1995).
Phillip Jarrett (the cop) is a Canadian TV actor who has played men in uniform before. Jarrett was a soldier in The Hurricane (1999) and a SWAT team member in Exit Wounds (2001).
Amy Sloan played Howard Hughes' mother in The Aviator this same year (2004).
Mimi Kuzyk (Secretary of State) was a regular on Hill Street Blues (1984-1986).
Sasha Roiz from the TV series Grimm appears as the American astronaut.
Closeup Note
Sam's name tag reads, "Hello my name is Yoda."
Finance Notes
The movie made $544 million worldwide.
The Day After Tomorrow made $69 million at the box office its opening weekend – a close second to Shrek 2.
Health Notes
Human beings can freeze to death if their body temperature goes below 70 °F.
About 200,000 Americans die each year from septicemia, which is a bacterial infection.
History Notes
NOAA began in 1807 as the "Survey of the Coast" – the first scientific agency in the U.S. government.
Some scientists theorize that changes in ocean currents led to the last ice age.
Earth has had several ice ages. The last one ended over 10,000 years ago. During the last ice age, glaciers covered about one third of the land.
The Gutenberg Bible was named after Johann Gutenberg, who invented modern book printing.
Homo sapiens (modern man) survived the last ice age, but modern man's ancient relatives Homo erectus and Homo neanderthalis most likely died out during it.
Location Notes
Most of the movie was shot on sound stages in Montreal.
You can see Trinity Church in lower Manhattan. It was the tallest building in New York City until 1890. They closed down the area on a Sunday morning to film this scene.
Some outdoor scenes were filmed in El Paso, Texas, on the U.S./Mexico border. It took several months to get permission from U.S. and Mexican authorities to shoot there.
Music Notes
Composer Harald Kloser also scored Roland Emmerich's 2012 (2009) and White House Down (2013). He was hired to score AVP: Alien vs. Predator (2004) based on his score for this movie.
Pop Culture Notes
The global warming documentary An Inconvenient Truth came out in 2006, two years after this, but at the time of this movie, climate change was already a hotly debated issue.
Director Roland Emmerich admits that a scene was "stolen" from The Day the Earth Caught Fire (1961).
Production Notes
The Day After Tomorrow (2004) was directed by disaster movie maestro Roland Emmerich.
To avoid any time zone confusion, they didn't make it clear what time of day it was in Tokyo.
During her audition, Emmy Rossum kissed Jake Gyllenhaal so hard, it startled everyone in the room.
Quotation Notes
Director Roland Emmerich said the ship on 5th Avenue symbolized that "the whole world is upside down."
Emmerich likes disaster movies because they're about "normal people in an extraordinary situation."
Director Emmerich: "I will probably always…make films with visual effects because I like to create new worlds."
While Director Roland Emmerich said the movie is fiction, he said global warming is a serious issue.
Co-screenwriter Jeffrey Nachmanoff named the buoy "4311" after the address of his childhood home.
Co-screenwriter Jeffrey Nachmanoff sat in on a meeting at NOAA to do research.
During filming, Director Roland Emmerich decided he wanted a scene where Jason flirted with Janet.
Co-screenwriter Jeffrey Nachmanoff said Director Roland Emmerich liked to keep characters moving.
Roland Emmerich began writing the script before September 11, 2001. He stopped after the attacks. He wasn't sure how to proceed with the scenes involving the destruction of New York City.
The "super freeze" effect is scientifically impossible. It was invented by the filmmakers. They wanted it to be the movie's "monster."
Set Notes
Some of the hail was digital, but a lot of it was real ice that crew members threw from rafters. It was more dangerous to use real ice, but the filmmakers thought it looked more realistic.
The "plane" was actually on a gimbal – a support that moves a set around independent of the camera. This set moved around so much, they needed stunt people to play most of the passengers.
Low-flying helicopters created the wind.
Special effects supervisor Neil Corbould won Oscars for his work on Gladiator (2000) and Gravity (2013).
The flood water had to be heated to about 80 °F so the actors wouldn't be cold.
The set was on a platform that was slowly lowered into a water tank by chains.
The crew sometimes placed pieces of blue-dyed silk in front of lights to give everything a blue hue.
Since the border crossing is in the middle of the river, American extras started the scene in Texas…and stopped halfway across the river. Mexican extras picked up the crossing on the Mexican side.
The vending machine in the library was impossible to break just by hitting it, so they put small explosives on the glass.
The movie was filmed during one of Montreal's coldest winters on record.
Dash Mihok (Jason) inhaled so much fake snow during one scene, he got sick.
Crew members were outside the tent, shaking it to create a wind effect.
They used 20 different kinds of fake snow. Most of the falling snow was paper.
At first, they tried using real wolves – but the animals were more scared than scary.
That wolf head was actually just a hand puppet.
Director Roland Emmerich told the designers he wanted the walls iced up like in Doctor Zhivago (1965). The fog was created with dry ice.
Source Note
The book that got Director Roland Emmerich thinking about superstorms was The Coming Global Superstorm. Written by Art Bell and Whitley Strieber, it depicted a storm like this causing Earth's last ice age. Bell and Strieber are known for their interest in UFOs and the paranormal.
Technology Notes
Over 1,000 artists from 9 visual effects companies worked on the movie. It was all overseen by visual effects supervisor Karen Goulekas (2002's Spider-Man).
"New Delhi" is actually Montreal. The tops of the buildings were digitally altered to look more Indian.
Visual effects company Digital Domain – co-founded by James Cameron – did the tornado scenes.
They chose from footage of 105 computer-animated tornadoes – about an hour's worth – for the movie.
Visual effects artists studied avalanches and skiers to observe how snow moves.
Digital artists scanned 13 Manhattan blocks and took 50,000 photos of buildings for the film.
The digital wolves were created by Industrial Light & Magic, a company founded by George Lucas in 1975.
The visual effects team modeled the wolves' movements after those of German Shepherds.
All the visible breath is digital. The filmmakers joked it made up about half the effects shots in the movie.
George Lucas' Industrial Light & Magic, who made the wolves, worked on the NYC snow scenes as well.
Visual effects supervisor Karen Goulekas couldn't believe how many digital effects the movie needed. After she read the script, she told Director Roland Emmerich, "You must be out of your mind."
There are 416 visual effects shots in the movie.
Trivia Notes
The Larsen B Ice Shelf really did collapse – in the summer of 2002, after Emmerich wrote this scene.
In some mountainous regions of Scotland, it snows an average of 100 days a year.
The American Museum of Natural History has a 5-story dinosaur display – the world's tallest.
Some helicopters can withstand temperatures as low as -58 °F.
In 2004, the average price for a Manhattan apartment was just over $600,000.
In August 2003, a major blackout spread from Michigan to New England. Fifty million people lost power.
The Bronx Zoo opened in 1899 and houses over 4000 animals.
The speed of air doesn't affect the temperature. That was made up for the movie.
There are many public libraries in Manhattan. Sam should tell his dad he's at the main branch.
The library's Rose Main Reading Room is one of the country's biggest indoor spaces without columns.
Traditionally, when the President stands, everyone stands.
The library's Trustees Room actually has a fireplace. The room is used for meetings and receptions.
Friedrich Nietzsche wrote in his book The Antichrist, "Only the day after tomorrow belongs to me."
They should have considered burning furniture instead of books – wood burns longer and hotter than paper.
There are about 60,000 wolves in North America. Attacks on humans are rare.
In 2007, the reports by the Intergovernmental Panel on Climate Change won a Nobel Peace Prize. Ten years after the movie in 2014, they stated there is a link between human activity and climate change. The first person to make that connection was Swedish scientist Svante Arrhenius – in 1896.
Read More