Uncategorized
Story Notes for Teen Wolf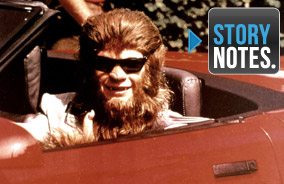 Weeknights during prime time on AMC, you can catch Story Notes — real time trivia and facts about your favorite movies! Below is the online version of the Story Notes for Teen Wolf.
Award Notes
In 1974, James Hampton received a Golden Globe nod for Most Promising Newcomer for The Longest Yard.
Biographical Notes
Director Rod Daniel had only worked in TV before Teen Wolf, on shows including Newhart and WKRP.
Jay Tarses (Coach Finstock) was a writer/producer on The Bob Newhart Show and Buffalo Bill. He also wrote The Great Muppet Caper (1981) and The Muppets Take Manhattan (1984).
Michael J. Fox grew up in Canada, where his favorite subjects were drama, music and art. He dropped out of high school to move to Hollywood. He received his G.E.D. in 1995.
Jerry Levine (Stiles) later produced and directed Everybody Hates Chris (2005-2009).
Michael J. Fox was old enough to buy beer at the time of the film – he was 23.
At the time, Michael J. Fox was dating Nancy McKeon, Jo on The Facts of Life (1980-1988).
Michael J. Fox started playing ice hockey as a kid but was too short to ever play professionally.
Jim McKrell (Mr. Thorn) was in another 1980s werewolf movie, The Howling (1981). He was reporter Lew Landers – a role he played again in Gremlins (1984).
In the 1990s, co-screenwriter Jeph Loeb started writing for DC Comics, where he wrote several Batman stories. Loeb later won the prestigious Eisner Award several times for his comic writing.
When Michael J. Fox was 7-years-old, he played Rinaldo the Rabbit in his school play "The Magic Wishing Pot."
In 1980, Michael J. Fox starred in a fast food commercial called "First Kiss."
A few years after Teen Wolf, Fox married Tracy Pollan, who played his girlfriend on Family Ties.
Michael J. Fox's fame rose steadily while filming, due to the increasing success of Family Ties. By the end of production, Fox needed more security than he did at the beginning.
Co-screenwriter Jeph Loeb later was a producer and writer on Smallville (2002-2005). Loeb also worked on Heroes (2006-2009), which was created by Teen Wolf Too screenwriter Tim Kring.
Michael J. Fox almost quit acting before Family Ties because he kept losing roles to Matthew Broderick.
James Hampton (Mr. Howard) and Jim McKrell (Mr. Thorn) are actually good friends in real life.
Jay Tarses (Coach) went on to create the series The Days and Nights of Molly Dodd (1987-1991). He is generally credited with creating the TV dramedy, which mixes elements of dramas with sitcoms. As of 2014, Teen Wolf is the only movie he has acted in.
In 2010, co-screenwriter Jeph Loeb was appointed Marvel's Executive V.P., Head of Television.
After he filmed the movie, Mark Arnold (Mick) spent several months on the soap opera Santa Barbara. Arnold asked to be killed off the soap by the time Teen Wolf came out so he could be free to promote it.
Director Rod Daniel later worked on K-9 (1989) and Beethoven's 2nd (1993).
Casting Notes
Teen Wolf was the first big movie Michael J. Fox made. He had recently completed his second season on Family Ties, which was only just becoming a hit.
The Dragons' coach is played by Troy Evans, later a regular on ER (1994-2009).
Jay Tarses (Beavers' coach) was a writer, but he'd done some TV acting, including Fox's Family Ties.
Mark Holton (Chubby) had just played Francis in Pee-wee's Big Adventure (1985).
Jerry Levine (Stiles) had recently appeared on Charles in Charge. He later became a TV director.
Susan Ursitti (Boof) had only made one movie before this – Zapped! (1982), starring Scott Baio. Co-screenwriters Loeb and Weisman saw her in Zapped! and knew they wanted her for this role.
James Hampton (Mr. Howard) was well-known for playing Hannibal Dobbs on F Troop (1965-1967).
Jim McKrell (Mr. Thorn) was a game show host in the 1970s and has a background in broadcasting.
Lorie Griffin (Pamela) had never done a movie before. She later appeared on Highway to Heaven (1987-1989).
Mark Arnold (Mick) had just been on the soap opera The Edge of the Night (1981-1983) at the time of Teen Wolf.
Matt Adler (Lewis) was in Disney's Flight of the Navigator (1986) the year after this film.
Lynda Wiesmeier (Rhonda) was Playboy's "Playmate of the Month" in July 1982.
Fox's double was Jeff Glosser, who was a college basketball player at the time.
James Hampton (Mr. Howard) originally auditioned for the role of Coach Finstock. As he was leaving the audition, Michael J. Fox asked him to read for the part of his dad.
Financial Notes
With a budget of only $1.2 million, Teen Wolf made over $33 million at the box office. It opened at #2 behind Back to the Future, which held onto the #1 spot after opening 7 weeks earlier. This made Michael J. Fox the undisputed star of the summer of 1985.
Health Notes
Hypertrichosis is a rare, genetic condition where a person grows thick hair all over, including the face. In the past, some sufferers may have mistakenly thought they were werewolves.
Location Notes
The movie takes place in Nebraska but was filmed in California.
Music Notes
Goodman and Brayfield wrote all of the movie's original music and songs, such as "Good News" performed by David Morgan, 1985.
In 2012, Safan recorded "Lin in the End" to the same music as Teen Wolf's "Win in the End," 1985, in honor of basketball star Jeremy Lin.
The film's soundtrack also includes "Surfin' USA" by The Beach Boys (1963), "Shootin' for the Moon" performed by Amy Holland (1985), "Way to Go," performed by Mark Vieha (1985) and "Big Bad Wolf" performed by Bunny and The Wolf Sisters (1985).
Pop Culture Notes
Werewolf movies were big in the 1980s. Four of them came out in 1981 alone: An American Werewolf in London, The Howling, Wolfen and Full Moon High.
The first full-length werewolf movie was Werewolf of London (1935).
In 2008, NFL player Greg White legally changed his name to Stylez White, after Stiles from the movie.
You can still get Teen Wolf shirts today – thanks to 1980s nostalgia and the movie's cult status.
Teen Wolf wasn't the first movie about a boy who turns into a werewolf. I Was a Teenage Werewolf (1957) starred a young Michael Landon (Little House on the Prairie).
Pamela was on Cracked.com's list of "The 7 Best '80s Movie Girlfriends."
Jerry Levine said that decades later, he's still known all over the world for playing Stiles. One time, a Teen Wolf fan recognized him at the Western Wall in Jerusalem.
In Brazil, Teen Wolf was released as O Garoto do Futuro, which translates to "The Boy of the Future." It was thought they were trying to capitalize on Back to the Future, which was in theaters at the same time.
A Teen Wolf cartoon series aired from 1986-1989. James Hampton voiced Scott's dad. He had to audition for the role.
In 2008, the Twilight movie series put teen werewolves back on screen. Fans on "Team Jacob" rooted for Taylor Lautner's werewolf to win heroine Bella's heart.
In 2011, the series Teen Wolf aired on MTV. It was loosely based on the movie. The MTV series was darker and more serious, similar to the tone of The Twilight Saga.
A 2009 Family Guy episode fueled a rumor that in the last shot of Teen Wolf, an extra exposes himself. In reality, there's a woman in the crowd whose pants are undone. The filmmakers never noticed it.
Press Notes
The Chicago Tribune called Teen Wolf "clever and inventive" and "a good deal of fun." The newspaper also called it "absolutely ridiculous – have you ever seen a wolf break dance?"
Production Notes
Michael J. Fox was able to make Teen Wolf because his show Family Ties was on a hiatus. His TV mom Meredith Baxter was on maternity leave, so they had three weeks off.
Director Rod Daniel went to Nebraska – where the movie is set – to interview teens about partying. The interviews inspired many of the scenes.
The "wolf transition" shots were filmed last. The entire production took only 21 days.
Teen Wolf was in production when Back to the Future started filming – with Eric Stoltz as its star. Michael J. Fox was unable to make Future because of his TV schedule – so he made Teen Wolf instead. But after wrapping Teen Wolf, he was brought in to replace Stoltz as Future's Marty McFly.
Co-screenwriters Jeph Loeb and Matthew Weisman interviewed several directors for the movie. They asked the directors what they thought the movie was about. Most said it was about a werewolf. Rod Daniel was the only one who said it was about a father and son. He got the job.
Scott Paulin (Mr. Lolley) based his character on his father-in-law, who was an acting teacher.
Quotation Notes
Director Rod Daniel admitted the glowing eyes were "cheesy" but said it was "part of the charm."
Director Rod Daniel said when test audiences first saw Scott's dad as a werewolf "they went insane." He said the laughter was so loud "it obliterated the next minute of the film."
Director Rod Daniel: "I didn't say ten words to Michael J. Fox about his character or what we were doing. We were always making the same movie."
Director Rod Daniel: "Somewhere in a vault is about an hour of the most embarrassing sports footage ever taken."
Script Notes
Co-screenwriters Joseph "Jeph" Loeb and Matthew Weisman had recently graduated from film school. Their first screenplay was Commando (1985).
Lisa "Boof" Marconi was based on one of the writer's high school girlfriends. That was really her name.
The studio asked co-screenwriters Jeph Loeb and Matthew Weisman to write a high school comedy. They wanted them to write something like Valley Girl (1983), which starred a young Nicolas Cage.
In the script, Scott appears on The Tonight Show. It was the only scene that wasn't shot.
Originally, Scott was going to start the basketball game as the werewolf, but director Rod Daniel decided to have Scott play the whole game as himself.
Set Notes
Director Rod Daniel voiced all the growls in the movie. He joked, "And I didn't get a nickel."
James Hampton (Mr. Howard) asked Director Rod Daniel for help defining his character. Daniel told him, "He's a guy who knows how to make a casserole."
It was really Jerry Levine on top of the van, not a stuntman. Levine was secured with a wire that ran through the van's roof, up his pants, and around his waist.
Jerry Levine said the scene with all the shaving cream on the floor made it feel like he was ice skating.
When Susan Ursitti slapped Fox, she did it too hard at first. Director Rod Daniel had to explain what a softer "stage slap" was.
The werewolf makeup took nearly four hours to apply, but it only took James Hampton 30 seconds to rip it off. It made him feel claustrophobic.
The high school was so close to the airport, they had to stop shooting when planes flew overhead.
Fox and Glosser couldn't eat solid food while in makeup. They had milkshakes and soup.
The dancing was choreographed by Janet Roston, who later directed the Los Angeles Rock Opera Co. Fox had a dance double for some of these scenes. Director Rod Daniel joked that Fox was a terrible dancer.
The extras were so excited to be a part of the movie. Director Rod Daniel said he didn't even have to direct them. They showed up for all six days it took to film the basketball scenes.
All the basketball moves were planned. Michael J. Fox asked if they could try playing unscripted. Director Rod Daniel briefly let them come up with their own moves, but it didn't go very well.
Trivia Notes
Dog whistles have frequencies of around 22 kHz, just above what humans can hear. Some researchers believe that wolves can hear as high as 80 kHz.
Lycanthropy is a mental disorder where a person thinks he or she is a wolf. During the Middle Ages, there were more than 30,000 cases of people who claimed to be werewolves.
A wolf's sense of smell is about 100 times greater than a human's. Wolves can smell prey from as far as a mile and a half away.
Wolves can run at speeds up to 35 mph.
Oregon State University's "Benny the Beaver" logo inspired the film's beaver mascot.
Wardrobe Notes
The studio wanted Scott to dress more like Sean Penn's "Spicoli" from Fast Times at Ridgemont High (1982). A studio executive even visited the set one day with clothing for Michael J. Fox. Fox told the executive he was happy with the wardrobe he already had, and that put an end to it.
Read More