Uncategorized
Story Notes for Meet the Fockers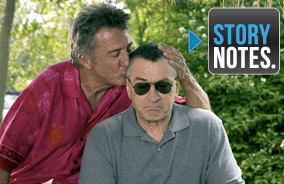 Weeknights during prime time on AMC, you can catch Story Notes — real time trivia and facts about your favorite movies! Below is the online version of the Story Notes for Meet the Fockers.
Automotive Notes
Jack's RV is a customized Fleetwood Pace Arrow. Three of them were given to the production. One was sawed in half so that there would be room for the cameras to film the interior scenes.
Bernie's license plate says "TMI," short for "too much information."
Bernie drives a 1970 Volkswagen "Thing." It was Drew Barrymore's car in 50 First Dates the same year (2004).
Award Notes
The cast had six Oscars, eight Grammys, two Tonys, eight Emmys, and 18 Golden Globes between them at the time. Streisand has at least one of each. She was an EGOT winner by age 28 (Emmy, Grammy, Oscar, Tony).
De Niro has 7 Oscar nominations, with wins for The Godfather: Part II (1974) and Raging Bull (1980).
Anthology Notes
In Meet the Parents, the airline lost Greg's bag, he got thrown up on, and he was arrested by the TSA.
In Parents, Greg said "Puff the Magic Dragon" by Peter, Paul & Mary was about drugs, and Jack accused him of being a pothead.
In Meet the Parents, Greg lost Jinx the cat.
In Parents, Denny was Pam's pothead brother. In Fockers, they mention he is in military school.
In Meet the Parents, Jack pulled CIA rank to free Greg after he yelled "Bomb, Bomb, Bomb!" on an airplane.
Little Fockers followed in 2010. In it, Jack asks Greg to become "The Godfocker."
Beauty Notes
Barbra Streisand wore a wig for the film. Streisand normally hates wigs, but she wanted to dull down her iconic image.
To make Ray Santiago (Jorge) look like Ben Stiller, they gave him blue contacts and straightened his hair. The rest is all his natural resemblance to Stiller and study of Stiller's mannerisms.
Biographical Notes
Meet the Parents Director Jay Roach returned for Fockers, fresh off of his second Austin Powers movie.
Dustin Hoffman and Blythe Danner were both in Mad City (1997).
This is Hoffman's third movie with De Niro, after Sleepers (1996) and Wag the Dog (1997).
Streisand and Hoffman met in acting school, before they were famous. He dated her roommate. They had been friends their whole lives, but this was their first movie together.
In the late 1960s, when Hoffman first became famous, an unknown De Niro waited on him at a restaurant.
Teri Polo had her first child in 2002, just before filming this.
Alanna Ubach is playing the older woman, but she is ten years younger than Ben Stiller in real life.
Stiller joked that the worst thing his famous parents did to him was go on game shows and lose.
Roz is almost always on the right side of the frame to show off Streisand's left side. She's known for her left side being her good side. She says it's "more feminine."
Blythe Danner starred with Barbra Streisand in The Prince of Tides (1991). Streisand also directed it.
Director Jay Roach actually used the Ferber method on his 1st child. He said he couldn't do it with his 2nd.
When Meet the Fockers came out, Blythe Danner had just become a grandmother– to Apple, Gwyneth Paltrow's daughter.
Barbra Streisand's first movie was Funny Girl (1968).
Meet the Fockers was a continuation of De Niro's push to do more comedies later in his career. AFI gave him a Lifetime Achievement Award in 2003, calling his sense of humor "an unexpected delight."
Robert De Niro introduced Dustin Hoffman when Hoffman received his Kennedy Center honor.
De Niro once wrote an article in TIME praising Stiller as a hero – and calling him a pain in the ass.
Wilson and Stiller were also together in Starsky & Hutch – the same year as Meet the Fockers.
Casting Notes
Ben Stiller was in 5 other movies in 2004, including Along Came Polly, Envy, and Dodgeball. He said he was worried about overexposure but couldn't say no to playing this character again.
Almost everyone who saw the movie knew that Dustin Hoffman and Barbra Streisand were coming up. Since it was going to be a while before they appeared, Jay Roach wanted to give the audience a preview.
Teri Polo is back as Pam. This was just a year before she started on The West Wing (2005-2006).
Robert De Niro had a behind the scenes role as a producer on both Parents and Fockers.
Before Fockers, Robert De Niro had just starred in another big comedy sequel, Analyze That (2002).
Blythe Danner (Dina Byrnes) said that after the first movie, fans kept asking her, "When's the next one?"
Little Jack is played by one-year-old twins. Their mother, a pediatric nurse, taught them how to sign.
Dustin Hoffman wanted to play Greg's dad ever since the character was mentioned in the first movie. He was everyone's first choice.
When Director Jay Roach went to meet with Dustin Hoffman, the actor was barefoot in his office. Roach said, "10 minutes after you've met him, you feel like he'll tell you anything… he just is Bernie Focker."
Jay Roach said Barbra Streisand loved teasing audiences with her butt before they saw her face.
Meet the Fockers was Barbra Streisand's first appearance on film since The Mirror Has Two Faces (1996), eight years earlier.
Streisand was the dream choice for Roz, but she was "semi-retired" and leaning towards saying no. Stiller called her and told her that she should do it. She was so impressed she said yes.
Alanna Ubach plays Isabel Villalobos. She was in both Legally Blonde movies.
They found Ray Santiago (Jorge) in New York after a casting search that included L.A., Mexico, and Florida.
Tim Blake Nelson from O Brother, Where Art Thou? (2000), plays Officer LeFlore.
Legendary comic Shelley Berman plays Judge Ira. He has worked with everyone from Dick Van Dyke to Adam Sandler, and he played Larry David's father on Curb Your Enthusiasm (2002-2009).
Owen Wilson is back as Kevin, Pam's perfect ex-boyfriend.
Finance Notes
Teri Polo and Ben Stiller are the top-grossing on-screen couple of all time.
Meet the Fockers set Christmas Day, New Year's Eve, and New Year's Day box office records. As of 2014, it's made over $500 million.
As of 2014, the Meet the Parents movies have made over $1.2 billion.
Health Note
Sodium Pentothal can cause amnesia, but it's not really a truth serum. It just makes you feel drunk.
Historical Note
Capoeira, created by slaves in Brazil, was disguised to look like a game to fool slave owners.
Location Notes
Only one part of the movie was filmed in Miami. Everything else was shot in Los Angeles.
Some shoot locations include the L.A. Arboretum and Botanic Garden.
Music Notes
Fockers composer Randy Newman had also written the score for Meet the Parents. He wrote both movies' opening songs. "A Fool In Love" from Parents was nominated for an Oscar®.
Director Jay Roach said "Crazy 'Bout My Baby" by Randy Newman (2004), feels like Greg's soul, finally set free at the end of the movie.
The song "If I Were a Carpenter" by Tim Harden, 1967, is teasing the appearance of a character who was a carpenter in Meet the Parents.
Other songs played in the film include: "Going Up the Country" by Canned Heat, 1968, "Get It On (Bang a Gong)" by T. Rex, 1971, "Rock and Roll Part 2" by Gary Glitter, 1972, "Crazy 'Bout My Baby" by Randy Newman, 2004.
Political Note
Critics were quick to point out that Fockers felt like a commentary on "Red States vs. Blue States." It was released one month after George W. Bush was re-elected in 2004.
Pop-Culture Notes
There was a trend of "meet the parents" movies around the time Fockers came out. Shrek 2, Guess Who, and Monster-in-Law were all released within a year of Meet the Fockers.
Playboy thought Teri Polo was hot. In 2004, she posed for them under the title "She's One Hot Focker."
Ronin (1998) features a famous De Niro car chase.
Jack shares the middle name Tiberius with Captain Kirk. Ben Stiller is a huge Star Trek fan.
Press Notes
Entertainment Weekly said, "In the sly company of Barbra Streisand and Dustin Hoffman, [the] sequel to Meet the Parents becomes a party, a triumph of star power."
USA Today: "[Robert] De Niro's deadpan, overbearing style again works like a charm."
Roger Ebert said the Fockers are "so quick to hug and approve and embrace (and meet their orgasms), it's amazing they produced such an uptight child as Greg."
Production Notes
Meet the Fockers (2004) is the sequel to the $300 million box office hit Meet the Parents (2000). Parents was so successful that plans for Fockers began while the first movie was still in theaters.
Even when cameras weren't rolling, Hoffman and Streisand behaved just like a real married couple.
Mr. Jinx is a Himalayan cat. All but one of the cats who play him are from rescue shelters.
Stiller said they never considered casting his real parents, comedy duo Jerry Stiller and Anne Meara.
This was Barbra Streisand's first time in 24 years acting in a movie without also producing or directing it. Still, she was heavily involved, from developing the script to choosing her makeup and wardrobe.
Meet the Fockers' tagline was, "And you thought your parents were embarrassing."
The U.S. ratings board tried to make Universal change the title, saying it was a cheap stunt to use the F-word.
The studio ran a contest where people named Focker could win a trip to their Universal Studios theme park. Nobody entered. There were almost no Fockers in America. The ones in the phone book were fakes.
Since their U.S. contest had failed, the studio found a Focker family in Canada to prove it was a real name.
Streisand worked with well-known sex therapists, the Berman sisters, to prepare for this role.
Jack's secret hideout was almost cut from the movie for being too far-fetched. De Niro fought for it. He said it wasn't a stretch for a CIA super-spy to have a secret hideout like this.
Ben Stiller improvised all of the lines with the baby.
Hoffman studied with a capoeira specialist. He got so good at it that Director Jay Roach told him to stop. It was only supposed to be a passing phase for Bernie, and Hoffman was becoming an expert.
Quotation Notes
Director Jay Roach said that Greg has "a kind of deluded optimism… although he's clearly doomed."
Ben Stiller is very intense when it comes to comedy; he said he admires De Niro's laid-back approach.
Stiller and Streisand never spoke before he called her to do the movie. Stiller told Matt Lauer, "It was really the scariest call of my life."
Hoffman told The Mirror that he based this role on how he is with his wife at home. Hoffman: "After all these years, no one had ever asked me to [play myself]."
Director Jay Roach said he "wanted the audience to really want [Bernie and Roz] to mess with them."
Teri Polo said working on this set was "like trying to wrangle a bunch of kids."
Co-producer Jane Rosenthal said Fockers is about "cat people vs. dog people, really."
Hoffman said Bernie "wouldn't mind leaving the door open while he went to the bathroom on an airplane just so he could continue a conversation with the people that he was talking to around his seat."
Director Jay Roach: "Play the greatest hits [and] the new music… Make the audience feel like they've had the best of both."
Ben Stiller: "It was… a surreal experience… De Niro and Hoffman and Streisand on the set together. But the really surprising thing for me was that after the first week or so, it really felt like a family."
De Niro: "With kids there's never a dull moment… it's a joyous experience and it's a difficult experience."
Teri Polo asked Robert De Niro which was harder for him, comedy or drama. He told her it's basically the same thing: "It's all in the way you deliver the line."
Ben Stiller: "Bob and I have a great time, and in real life, he likes me — at least, I hope he does."
Director Jay Roach said when De Niro strips away the politeness, Cape Fear and The Godfather are left. "All the terrifying people he's been, somehow that killer underneath becomes so intense."
Director Jay Roach: "Nobody can throw an RV into a spin [like] Robert De Niro… He's grandpa Ronin."
Hoffman said when it comes to Bernie and Jack, "opposites are sometimes the same. We're both overbearing to our children."
Robert De Niro said he'd tell his own children, "Just look at the parents of the person you're with. You're not just marrying the person, you're attaching yourself to the family. For better or for worse."
Random Note
Hoffman kept ordering BLTs for Streisand on set because it's her favorite food… and she was on a diet.
Script Notes
Director Jay Roach said it is important that Dina sees how happy the Fockers are and what she's missing.
In an unused take, Jack tells Greg that if he lies, "I will flush your toilet and believe me, I'll flush it good."
In a deleted scene, Jack also meets Mo Focker, Woody Focker, and Anita Focker.
Set Notes
Director Jay Roach said production designer Rusty Smith "finds a way to make the sets funny." The set included real photos from Ben Stiller's Bar Mitzvah.
The crew pumped one million gallons of water into a dried lagoon to create the backdrop for Focker Isle.
Despite the behavior, Moses was actually played by a female Yorkie.
Dustin Hoffman made up the "Fockerized" line. He improvised a lot in this movie.
Stiller and De Niro kept making each other break up laughing. They barely held it together on set.
Dustin Hoffman took his pants all the way off and mooned Stiller to get an authentic reaction out of him.
Director Jay Roach applied the whipped cream to Streisand. No one else would dare to do it.
Of the twins that played Little Jack, Spencer, was the movie's go-to crier. He would start as soon as he saw Stiller or De Niro, but then as soon as the director yelled cut, he'd stop.
Dustin Hoffman did all his own dancing and stunts. He was 67 years old when they shot Meet the Fockers.
Source Notes
Co-screenwriter Jim Herzfeld said Greg's character is modeled after Dustin Hoffman's in The Graduate.
Symbolism Notes
In capoeira, an attack can be disguised as a friendly gesture.
Trivia Notes
According to the 2011 census, the number of "stay-at-home dads" had doubled since this movie was made.
Dr. Richard Ferber's book Solve Your Child's Sleep Problems (1985) has sold over 800,000 copies.
The abacus originated over 4,000 years ago in Ancient China.
Focker comes from Folker, which is Dutch.
It's a 20-hour drive from Miami to Oyster Bay, NY.
Wardrobe Notes
Costume designer Carol Ramsey "Fockerized" Dina's clothes to show Bernie and Roz winning her over.
Read More