Unscripted
Freakshow Q&A – Grady "Lobster Boy" Stiles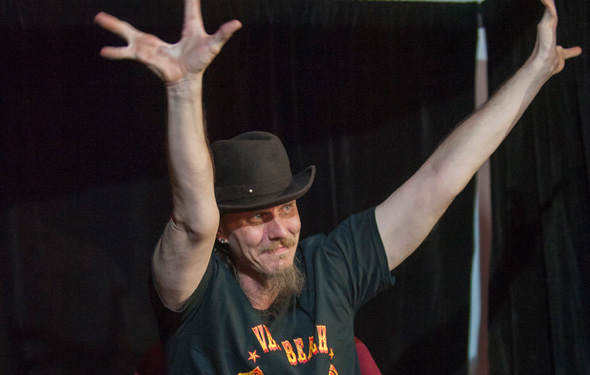 Freakshow guest star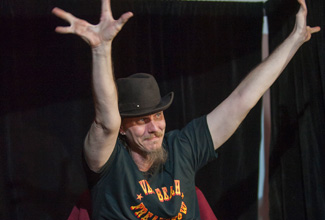 Grady "Lobster Boy" Stiles talks about his early life in sideshow, as well as his favorite sideshow legends.
Q: As a child, you and your family would appear on stage together as the Lobster Family. Did that help instill the feeling that ectrodactyly was something to be embraced and not ashamed about?
A: Yeah, I definitely think that it was easier that my dad and sister were like me, especially my dad. Early on, my dad taught me that it was OK to be different and that it was boring to be normal. I was always proud and was never depressed by my condition.
Q: Do you still perform?
A: Well, I am a performer at heart, so I've stretched out to movies and acting and stuff, in addition to the sideshow. My favorite genre is horror, I grew up on them.
Q: Do you have any fond memories from your early years of touring in the traveling carnival?

A: When I was a kid, I used to love going out on the road because I was always meeting new people and seeing new places, but after doing it for a few years, you kind of get bored of it.
Q: You've worked with a lot of freakshow legends. Which performers do you admire most and why?
A: Ward Hall because he's been doing this for years and he's been around for forever…as far as I know. Of course, I also admire Bobby Reynolds and Todd Ray even for keeping the sideshow around.
Q: Your father, Grady Stiles is described as  "one of the most famous human oddities." How do you feel about being a part of sideshow royalty and carrying on your family's legacy?
A: I actually love it. I'm a performer to my core, so the idea of having the tagline [of Lobster Boy] is something that grabs people's attention.
Q: In Episode 206, Todd helps you confront issues you had with your father and visit his grave. Did his support help you find peace with your past?
A: I had never been there and it was cool to see my grandparents' grave; they're buried right next to him.
Q: What was most rewarding about being on Freakshow?
A: The coolest thing I've seen, sideshow wise, was probably Morgue's needle act. It's pretty good. My favorite thing about being a part of Freakshow is the family in general. I love each and every one of them — the family, as well as the performers. It feels good to be a part of something that's keeping the sideshow alive.
Click here to read an interview with Asia Ray.
Check out back-to-back, new episodes of Freakshow Tuesdays at 10/9c.
Read More