Uncategorized
Story Notes for Forrest Gump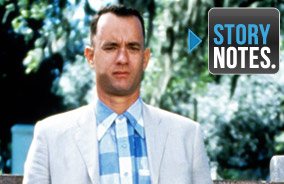 Weeknights during prime time on AMC, you can catch Story Notes — real time trivia and facts about your favorite movies! Below is the online version of the Story Notes for Forrest Gump.
Award Notes
Forrest Gump (1994) was nominated for 12 Oscars. It won six, including Best Picture.
Forrest Gump was nominated for Oscars for Best Sound and Sound Effects Editing.
Forrest Gump won the Oscar for Best Film Editing.
Cinematographer Don Burgess was nominated for an Oscar for this movie.
Composer Alan Silvestri was nominated for an Oscar for Best Original Score.

Eric Roth's script won him the Oscar for Best Adapted Screenplay.
Gary Sinise was nominated for a Best Supporting Actor Oscar for playing Lt. Dan.
Robert Zemeckis won the Oscar for Best Directing for Forrest Gump.
Robin Wright was nominated for a Golden Globe for Best Supporting Actress for Forrest Gump.
Tom Hanks won his second Best Actor Oscar in a row for Forrest Gump. The first was for Philadelphia (1993). He and Spencer Tracy are the only actors to do this.
Forrest Gump won the Oscar for Best Visual Effects.
Beauty Note
Jenny's changing hairstyles were used to show time passing. Forrest's hair stays pretty much the same.
Biographical Notes
Director Robert Zemeckis is known for the Back to the Future movies. He had just made Death Becomes Her (1992).
Zemeckis re-teamed with Tom Hanks for Cast Away (2000). Hanks was nominated for Best Actor for the fifth time for that movie.
Dye has been a consultant on many war movies, including Platoon (1986) and Saving Private Ryan (1998).
Gary Sinise and Tom Hanks both play astronauts one year later in Apollo 13 (1995).
In 2004, Gary Sinise formed the Lt. Dan Band, a cover band that performs at USO tours for soldiers and vets.
In real life, Tom Hanks has four kids, including actor Colin Hanks (King Kong).
Robin Wright later worked with Zemeckis on Beowulf (2007) and A Christmas Carol (2009).
Sally Field is only 10 years older than Tom Hanks. They had played love interests six years earlier in Punchline (1988).
Williamson's first name –Mykelti — is the Blackfoot Indian word for "Silent Friend."
Casting Notes
Forrest Gump was Haley Joel Osment's first movie role. Five years later, he starred in The Sixth Sense (1999).
Bear Bryant is played by Sonny Shroyer, best known as Enos on The Dukes of Hazzard and its Enos spin-off.
Before this, Robin Wright (Jenny) was mostly known for her starring role in The Princess Bride (1987).
Bubba's mother is played by Marlena Smalls, founder of the Hallelujah Singers, seen in the movie.
Elvis is played by Peter Dobson, who also plays him in the 2007 movie Protecting the King.
Gary Sinise was best known at the time for playing George in Of Mice and Men (1992).
Geoffrey Blake (Wesley) is also in director Robert Zemeckis' Contact (1997).
Hanna Hall (Young Jenny) is later in The Virgin Suicides (1999).
Michael Conner Humphreys won the role of young Forrest in a nationwide casting call. He auditioned after his parents saw a report on the news.
Mykelti Williamson is also in Heat (1995) and Con Air (1997).
Sally Field (Mrs. Gump) had just starred in Mrs. Doubtfire (1993).
Sam Anderson (Principal Davis) later plays Bernard on Lost (2004-2010).
The bus driver is Siobhan Fallon, from Saturday Night Live (1991-92) and Men in Black (1997).
Crew Note
Special effects coordinator Allen Hall also created the pyrotechnics in Backdraft (1991).
Finance Notes
Forrest Gump is the eighth-highest-grossing Best Picture winner of all time.
Forrest Gump made almost $330 million in the U.S. alone, making it the highest-grossing movie of 1994.
History Notes
Richard Nixon is the only president in U.S. history to resign.
The Black Panthers were formed by Huey Newton and Bobby Seale in 1966.
There were major anti-war marches on Washington in 1967 and 1969. They were combined into one huge 1968 protest for the movie.
Location Notes
Consultant Dale Dye said the South Carolina terrain was the closest to Vietnam he'd ever seen in a movie.
Greenbow, Alabama is a fictional city. Most of the movie was filmed in and around Beaufort, South Carolina.
Most of the Vietnam scenes were filmed on a few islands just off the coast of South Carolina. Some of them were shot on the same grounds where they built Forrest's and Jenny's houses.
The Gump house was built for the movie on the Bluff Plantation, a rice plantation in South Carolina.
They built Jenny's house and planted the cornfield on the same plantation used for the Gump home.
Music Notes
Composer Alan Silvestri has worked with director Robert Zemeckis on most of his movies. They first worked together on Romancing the Stone (1984).
Robin Wright performs Bob Dylan's 1962 "Blowin' in the Wind." Producer Steve Starkey taught Wright how to play this song on guitar.
The film features "San Francisco (Be Sure To Wear Flowers In Your Hair)" by Scott McKenzie, 1967. The song has been called the "unofficial anthem of the counterculture movement of the 1960s."
The film's soundtrack has five songs by The Doors.
The film features the song "Fortunate Son" by Creedence Clearwater Revival, 1969. The song, an anti-war anthem, was named one of the "20 Greatest Songs of the 1960s" by Pitchfork.
Plot Notes
Forrest ran roughly 19,000 miles, which is about 16 miles per day.
Many people speculated that because of the time period and the nature of the illness, Jenny had AIDS.
Mrs. Gump reads Curious George to young Forrest. That's the book adult Forrest put the feather into on the bench.
Pop-Culture Notes
According to a 2014 Forbes poll, Tom Hanks is the most trustworthy celebrity in Hollywood.
AFI named "Life is like a box of chocolates…" one of the "Top 40 Movie Quotes of All Time."
In 2012, hip-hop artist Frank Ocean released a song called "Forrest Gump," sung from Jenny's perspective. The lyrics include the line, "If this is love, I know it's true. I won't forget you."
Visual effects supervisor Ken Ralston used Zelig (1983) as inspiration for the historical scenes. In that movie, Woody Allen's character appears with Babe Ruth, Adolph Hitler, and Charlie Chaplin.
Classic Vietnam movies: Apocalypse Now (1979), Platoon (1986), Full Metal Jacket (1987)
Forrest watches Gomer Pyle, U.S.M.C. (1964-1969), which is about a simple-minded man in the military.
In 2014, it was named the "The Best Oscar Movie" in an ABC News poll.
Jenny's dorm, Margaret Mitchell Hall, is named after the author of Gone with the Wind (1936).
Joan Baez is known for her protest songs in the early '60s folk movement.
Over 40 million people watched Elvis perform "Hound Dog" on The Milton Berle Show in 1956. Many were shocked and outraged by Elvis's gyrating dance moves.
Pop-culture site Red Carpet News TV named Jenny and Forrest one of the "Top Movie Couples of All Time."
The Bubba Gump Shrimp Co. is a real restaurant chain inspired by the movie. The first location opened in Monterey, CA in 1996. As of 2014, there are no locations in Alabama.
Press Notes
Roger Ebert: "Tom Hanks may be the only actor who could have played the role. The performance is a breathtaking balancing act between comedy and sadness."
The Washington Post: "Hanks is superb, reemploying the childlike presence he brought to Big."
Production Notes
All of the dialogue in the battle scene was re-recorded in a studio and dubbed in.
Director Zemeckis broke his rule of telling the story from Forrest's point of view for some of Jenny's scenes.
In a deleted scene, Forrest plays ping pong with George Bush Sr., who was then Ambassador to China. He accidentally whacks the former president hard with a ping pong ball.
Michael Conner Humphreys used his natural speaking voice for Forrest. Hanks matched him. Hanks hung out with Humphreys and recorded him talking about Jurassic Park.
The cast went through boot camp with USMC Captain Dale Dye, who served in Vietnam.
The producers cast Osment because they thought that he was a good mix of Jenny and Forrest.
Two crew members looked through miles of footage to find the best moments to use for the JFK scene.
When they built the Gump house, cinematographer Don Burgess suggested they tilt it 20 degrees. That way the sun would hit it perfectly in every shot.
Williamson heavily researched the shrimping industry to prepare for the role.
Prop Note
Magician Ricky Jay, who often creates movie illusions, designed a wheelchair to hide Sinise's legs. Sinise tucked his lower legs into a secret platform. He could only handle it for 10 minutes at a time.
Quote Notes
Director Robert Zemeckis said Jenny and Lt. Dan are the pivotal characters in the movie. "They're like a metaphor for emotional growth in any human being."
Director Robert Zemeckis says Forrest represents the "ideal of what America was supposed to be and Jenny represents "the unfulfilled… hole-in-the-soul part of that American generation."
Sally Field: "Mama Gump is the support that Forrest feels all of his life, the voice who gave him strength and wisdom and unconditional, full-out love."
Tom Hanks said all the running he did for the movie left him in the best shape of his life.
Tom Hanks said Forrest only believes in three things: God, his Mama, and Jenny.
Tom Hanks: "Just as [Forrest] says, 'Well, stupid is as stupid does' – well, destiny is as destiny does. There's only one thing you can do and you won't know it till you've done it."
Sinise said the first time he saw the finished movie, he was shocked by how realistic the effects were. "I was unprepared for just how great [they] would be… I know what it looked like when we were doing it."
Script Notes
"Shrimp cocktail" wasn't on Bubba's list of all the different kinds of shrimp.
Bubba lists 21 different kinds of shrimp. Eight were in the script; Williamson ad-libbed the rest.
In a deleted scene, it was implied that Jenny ran over her father with a weed harvester.
Screenwriter Eric Roth focused his script on Forrest and Jenny, making their story the "spine of the movie."
Set Notes
Dir. Zemeckis filmed Tom Hanks doing all the narration on the bench instead of recording it in a studio. That way he could cut to Forrest talking whenever he needed to.
Hanks picked up ping pong very easily. Producer Steve Starkey said he played "like an expert."
Makeup artist Dan Striepeke used plastic to age Sally Field. He created wrinkles, then painted over them.
Mykelti Williamson (Bubba) had a brush with a water moccasin and stepped on a rattlesnake while filming. Tom Hanks wore a protective garment on his legs in case a snake tried to bite him.
Mykelti Williamson came up with the idea for Bubba to have a big lip. A prosthetic one, called a "plumper," was built for him.
Mykelti Williamson was hooked to a rig attached to an overhead crane so that Hanks could carry him.
The running segments were filmed out of order. They kept logs to keep track of Forrest's beard length.
Tom Hanks's brother Jim was his stunt double for most of the running scenes.
Source Notes
Forrest Gump is based on a 1986 book by Winston Groom that initially sold about 30,000 copies. After the success of the movie, the book surged to the top of the bestseller list.
Author Winston Groom based Forrest on a slow-witted boy that his father grew up with.
In 1995, Forrest Gump author Winston Groom wrote a sequel to the book called Gump & Co. In that book, Forrest meets Tom Hanks and attends the Academy Awards.
In the book, Jenny gets married to another man and Forrest ends up living on the street.
Sports Note
Bear Bryant won six national championships during his 25 years as Alabama's head coach.
Tech Notes
Forrest Gump was praised for its innovative methods of combining new and existing footage.
For some parts of Forrest Gump's historical scenes, they re-created the events with look-alike actors. For other parts, they digitally inserted Forrest into the actual footage.
Gary Sinise wore blue stockings over the bottom parts of his legs. The stockings were then digitally removed during editing to make him appear legless.
Ping pong balls were added digitally. A metronome kept Hanks on rhythm with the paddle.
The footage of John Lennon is from his appearance on The Dick Cavett Show on September 21, 1971. Lennon made distinct mouth shapes when he spoke which were hard for the effects team to mimic. They shot new footage with Dick Cavett, made up to look like his younger self.
They digitally altered JFK's mouth to make it seem like he was saying lines.
Trivia Notes
"OCS" stands for Officer Candidate School.
"SDS" stands for Students for a Democratic Society.
A "million dollar wound" is one that takes a soldier out of combat but doesn't cause permanent damage.
Hurricane Carmen hit the U.S. in September of 1974. While there was damage to the shrimping industry, the biggest loss was in sugar crops.
In 1994, the year this came out, Art Garfunkel walked across big stretches of America. In 2014, a man ran 5,000 miles across Canada. He said Forrest Gump was his favorite movie.
The "Have a Nice Day" craze was started by two brothers in the early '70s. They made over $50 million.
The film features comedian Bob Hope on one of his famous USO tours. He entertained the troops for over 50 years.
Vietnam's monsoon season lasts from May to September.
Read More