Uncategorized
Story Notes for Invincible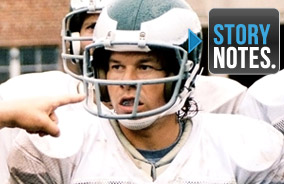 Weeknights during prime time on AMC, you can catch Story Notes — real time trivia and facts about your favorite movies! Below is the online version of the Story Notes for Invincible.
Backstory Notes
At this point in his life, the real Vince Papale had already tried and failed to make the Olympics as a pole vaulter.
The real Papale played wide receiver for the World Football League's Philadelphia Bell (1974-1975). When the WFL folded a year before this, he wrote to the Eagles asking for a tryout and was denied.
Beauty Notes
Mark Wahlberg wore hair extensions to get the 1970s look.
Biographical Notes
Invincible was directed by Ericson Core, the cinematographer of The Fast and the Furious (2001). This was his first time directing, and he still served as the movie's cinematographer.
Wahlberg had a rough upbringing on the streets of Boston. He felt a strong connection to Papale: "Where [we] came from, what we made out of our lives… [it was] art imitating life in a lot of ways."
To get in football shape, Wahlberg worked with former NFL trainer Brian Nguyen.
After Invincible, Wahlberg hired Nguyen as his personal trainer for all his future movies.
Elizabeth Banks and Mark Wahlberg were both born in Boston, MA.
Mark Wahlberg always wanted to be a pro athlete. He grew up playing tackle football on the streets. "I enjoy the game so much… to have the opportunity – I just wanna be one of the guys," Wahlberg said.
Wahlberg said after all the hits in Invincible, he'd like to do a movie like The Notebook.
Throughout Vermeil's career, Carol was known as his "secret weapon" and "Saint Carol."
Wahlberg's second child had just been born when he made this movie. He said he was glad to have finally made a movie his kids could see.
Casting Notes
Mark Wahlberg was always the producers' first choice for Vince Papale. Prod. Ciardi said Wahlberg "gives you… that street credibility [and] toughness, but also that sensitivity."
New York-based actress Lola Glaudini from The Sopranos and Criminal Minds also makes an appearance. The director said having NYC actors "just a train ride away… added quite a depth and nuance to the film."
James Murtaugh (Principal) has played 11 characters on the different Law and Order series.
Michael Nouri (Flashdance) plays Eagles owner Leonard Tose.
Greg Kinnear (Little Miss Sunshine) was cast partly because he looks a lot like the real Dick Vermeil.
Comedian Dov Davidoff plays Johnny. He's been a regular guest on the Chelsea Lately round table. Michael Rispoli (The Sopranos, The Rum Diary) plays the bar owner Max Cantrell.
Michael Kelly, from TV shows like Person of Interest and House of Cards, was allowed to pick which friend he wanted to play because he was the first one cast.
Paige Turco plays Carol Vermeil. She played April O'Neil in Teenage Mutant Ninja Turtles II and III.
Elizabeth Banks was a rising star in 2006, coming off roles in Spider-Man 1 & 2 and The 40-Year-Old Virgin.
Kevin Conway from The Quick and the Dead plays Frank "Kingy" Papale.
Jack Kehler plays the reporter. He was The Dude's landlord in The Big Lebowski (1998).
Tony Luke, local legend and owner of Papale's favorite cheesesteak joint, "Tony Luke's," makes an appearance as well.
Most of the pro players for this movie were brought in from the Arena Football League and college ball. Because they filmed during NFL training camp, they couldn't use any current players.
Stink Fisher plays Denny Franks. He was signed by the NY Jets in 1993 but got cut before the season. Fisher was a recurring actor on Late Night with Conan O'Brien and had a part in The Longest Yard (2005).
That play-by-play is by Howard Donahue. He and Papale were co-announcers for the Philadelphia Stars. The Stars played in the United States Football League, which existed from 1983-1985.
Finance Note
As of 2014, Invincible is one of the 10 highest-grossing football movies of all time. It opened a week before the 2006 NFL season began and was #1 at the box office for 3 straight weeks.
Historical Notes
Eagles Encyclopedia author Ray Didinger wrote: "[Fans] were starved for a winner… Vermeil represented that."
Woody Hayes had already led Ohio State to 7 Rose Bowls when Vermeil and UCLA beat them in 1976.
In 1968, the Eagles replaced the Christmas half-time show with a regular fan dressed up as Santa. The fans, angry that the usual Christmas show was cancelled, pelted Santa with snowballs.
In the '70s, NFL training camp meant two practices a day for up to 7 weeks – with no days off.
Westinghouse has a history of labor disputes, including a strike in 1955 that lasted for 5 months.
Eagles fans were so rowdy that a few years after this a jail was added to the stadium called "Eagles Court." It gave disruptive fans quick judgment, fined them, and locked them up for the rest of the game.
The next year, Papale's teammates voted him special teams captain. He retired with an injury in 1979.
Location Notes
Invincible was shot in Philadelphia thanks to Pennsylvania's governor, who helped cut costs. Dir. Ericson Core said "In Philadelphia… you don't have to change that much to make it feel like [the] '70s."
UPenn's Franklin Field stood in for Veterans Stadium, which was torn down in 2004. All the stadium sets were re-created digitally by the company that did the coliseum in Gladiator (2000).
Music Note
Invincible's score is by composer Mark Isham (Friday Night Lights, Miracle). Isham was nominated for an Oscar® for A River Runs Through It (1992).
Pop-Culture Notes
The satire The Comebacks (2007) spoofed Invincible. Vince was played by Amazing Race Season 12 contestant Jason Widener.
When Frank Papale says: "I know. That touchdown got me through 30 years at that factory. Got me through all those times your mother being sick. When I told you not to get your hopes up…didn't mean that I wasn't," leading sports website Bleacher Report ranked that as one of the "Best Quotes in Football Movie History."
Rocky came out in 1976, right after the events of the film take place. People started calling Papale a real-life Rocky Balboa.
Invincible isn't the only unlikely true story about an older athlete who finally gets his shot. The Rookie (2002) is about Jimmy Morris, a 35-year-old baseball coach who makes it to the majors.
Invincible was #3 on E!'s list of "Top Ten Football Movies."
Press Note
TIME magazine: "We have a primitive need for tales about… the idealistic spirit of boyhood. Invincible evokes that old-time religion."
Production Notes
Producer Ken Mok (America's Next Top Model) first heard about Papale from a 4-minute special on ESPN. He brought in co-producers Mark Ciardi and Gordon Gray, from sports movies The Rookie and Miracle.
Invincible was the first movie since Jerry Maguire (1996) to be officially sanctioned by the NFL. They were able to use players' names and team logos and gain access to the real-life people it was about.
The real Papale was on set almost every day as an advisor and a fan. He videotaped everything.
Greg Kinnear prepared for this role by shadowing Vermeil while he was the coach of the Kansas City Chiefs.
Wahlberg said everywhere he went, Eagles fans would remind him how important this story was. They also said if he screwed it up, he wouldn't be welcome back in Philly.
Wahlberg finished shooting The Departed just days before starting Invincible and was out of shape. He lost 22 pounds by running. Wahlberg hates running.
The football in the movie was coordinated by Mark Robert Ellis (Any Given Sunday, Friday Night Lights). Ellis auditioned the "players" with a week-long tryout. He cast 75 people and put them through a strenuous 4-week training camp to get them ready for filming.
Wahlberg became friends with the football players by hosting barbeques after practices.
Wahlberg worked on his accent by hanging out with his driver, a Philly local, during his down time.
Wahlberg really is fast. For this movie, he cut his 40-yard dash time down from 5.3 to 4.7 seconds.
Wahlberg attended the premiere of the movie with the real Papale and Vermeil.
Football coordinator Mark Ellis studied old NFL game film to re-create the hard-hitting '70s style of play.
The NFL sponsored an official "Day at the Movies" to promote Invincible. All 32 teams hosted player-attended screenings for local community groups.
Quotation Notes
Papale on his rough touch league: "Rough touch is just what it says… We had more fights in that league than touchdowns."
Vermeil said that after the tryout he thought, "There's no chance that [Papale could] play… no chance. But you know… he could run."
Wahlberg said after Invincible he "didn't [need to] go to the gym for like five months."
The real Papale said all players know and "dread that knock… you're just sitting in your room, just hoping."
Wahlberg said, "My makeup artist is gonna get the Oscar® for all the bruises and stuff, but they're all real. What am I gonna say? 'I'm tired, I need a break, I'm hurt?'… The movie's called Invincible."
Wahlberg on his career "I've been playing a lot of roles… where people are trying to kill me, so I would like a nice romantic role."
Director Ericson Core said this isn't just about Vince: "It's everyone's journey… that's what makes [it] great."
Wahlberg on his character: "I want to see characters… who didn't get all the lucky breaks…but who made it because they have more heart and determination. That's who Vince Papale is."
Mark Wahlberg said he's always thought of his career as an athlete might: "I wanna commit 110% to [my goals] and then know when it's time to say enough."
Papale: "I loved the Philadelphia Eagles. It became my mistress, it became my lover. And it was great."
Script Notes
The real Papale wasn't fired. They added this to show how bad times had gotten in the '70s in South Philly.
Max is based on a real person. The other "friend" characters are inspired by combinations of people.
Screenwriter Brad Gann shares this "flaw" with Janet. He is a Giants fan, too.
Set Notes
The bar scene is the only set that was built for the movie. Everything else was shot on location.
Greg Kinnear would go out for passes in between takes. If he dropped them, all the extras would boo.
Wahlberg "freaked out" the real Papale on the first day of practice by pretending he couldn't catch or run.
After he was finally in shape, the director made Wahlberg keep running every day for these scenes.
Football coordinator Mark Ellis customized 1970s pads to meet modern safety standards.
Wahlberg tried not to use doubles and took most of the hits himself. He took a beating during filming: his hand got crushed twice and his thumbnail was ripped off.
Wahlberg approached the camp scenes not like an actor, but like a real player trying to make a pro team. He wanted the football players to think, "Because of his heart and his commitment… he [could] make it."
The real Vermeil's son worked on set during filming. He called his dad to say Kinnear had "nailed it." Vermeil told ESPN, "My son's known me for 49 years, so you can't fool him."
The NFL had its official merchandisers re-create footballs and helmets from the 1970s for the movie.
The crew brought in experienced cameramen from NFL Films to help capture all the game footage.
Source Notes
Invincible (2006) is based on the story of superfan Vince Papale and the NFL's Philadelphia Eagles.
Papale's whole life revolved around sports – the movie focuses on the 3 months when it all came to a head.
Papale always loved football, but he was too small to play. He was a champion pole vaulter in high school.
Papale grew from 5'5″ and 145 pounds to 6'2″ and 185 pounds during college. After college, he played football in the Delaware County (Delco) "Rough Touch" League.
Papale said his marriage suffered "largely because of my insistence that I could and would make it…First as a decathlon star, then as a pro-football player."
Banks' character is inspired by Papale's real wife Janet, even though they didn't meet until years later. Banks says of her character: "Janet is the love of his life… we wanted to honor that aspect of his life as well."
The first time Vince Papale and Mark Wahlberg met, they were both so nervous they were sweating. They ended up becoming good friends. Papale called him "the brother I never had."
Tommy McDonald was the real Papale's favorite player because he was small, like Papale.
Papale's mother played pro baseball in a women's hardball league.
Eagles camp was close to Papale's home. His father and friends would come all the time to cheer him on.
Sports Notes
"Eagles vs. Giants" ranked #4 on Sports Illustrated's list of the NFL's "Top 10 Rivalries."
Special teams are only on the field when the ball is being kicked or punted. Dick Vermeil got his start as the first special teams coach in NFL history for the Rams in 1969.
Until his retirement in 2006, Vermeil was known for running the toughest training camps.
Back in 1976, the NFL still had six preseason exhibition games. Today, it's down to four.
Tom Landry had 20 straight winning seasons, 13 divisional titles, and 2 Super Bowl wins in his career.
Kickoff specialists in football are often called "The Bomb Squad."
The Eagles special teams used to award the best tackler a "Who's Nuts?" t-shirt every week. Papale has a few of them.
The Eagles vs. Giants rivalry started in 1933. They've played against each other over 160 times.
Tom "Silky Smooth" Sullivan (#25) led the NFL in rushing touchdowns in 1974.
A "play-action fake" is when you pretend you're going to run, but then you pass.
A poll of NFL players voted Eagles fans the most intimidating in the league.
The real Papale said he called "Check Zero," or basically: "Block for me; I'm going for the ball!"
Tech Note
The stadium crowd was created digitally using just 500 extras.
Wardrobe Note
Designer Susan Lyall avoided the '70s disco look by creating gritty, blue-collar costumes. She used well-worn T-shirts, vintage leisure suits, short shorts, and "acres of polyester."
Read More