Uncategorized
Q&A – Alanna Masterson (Tara)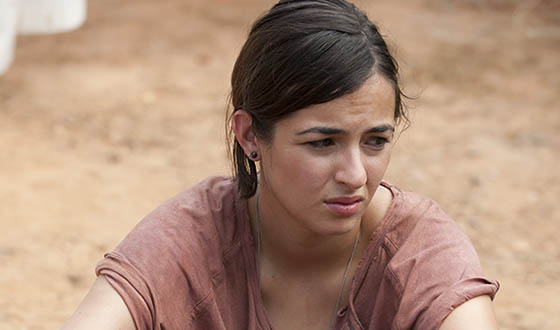 Actress Alanna Masterson, who plays Tara on AMC's The Walking Dead, talks about finding love in the apocalypse and new cast member initiation rituals.
Q: You are one of the new members on set this season. What is the initiation like for new members of the cast? Be honest.
A: Let's see, my first day on set, I just went into the makeup trailer and was like, "Hey, I want to know exactly how you make zombies." Because I'd been such a fan of the show and that was the first thing I did. And I watched them make them. They're awesome here. They throw you right in and hand you a gun, like, "Here you go." Luckily I play a lot of "Call of Duty," so I fit right in.
Q: Tara and her sister take in the Governor when we first meet them — have you ever taken in a hitchhiker or stranger?
A: Probably every single friend of mine and my brother's lived at my house at one time. We definitely were an orphanage of sorts. Literally every person that I know has lived at my mom's house. At Thanksgiving and Christmas time it's not just family, it's 80 people.
Q: How do zombies compare in the flesh compared to watching them on television?
A: I mean, they're super scary. I walked into the lunch room the first day, and they're all eating lunch. You get up close and they're so scary. They're trying to put food in their mouths without messing up their makeup. And then you're doing a scene with them and you're running, you're actually scared because there's like 70 of them coming at you.
Q: What attracted you to Tara when you signed on to play her?
A: I didn't know much about my character. I just knew that I had a family, and that I was a lesbian and that I was just like this badass chick, which is always great. They're really secretive over here, which is great because it keeps you on your toes. But I liked that she was tough. I have four older brothers, so I grew up in a pretty tough household, and even though Tara's not Daryl with a crossbow or Michonne with a sword, she's still sort of a badass in her own right. Once she meets the Governor she's just not phased by him.
Q: It's true, she's super vigilant at first. Are you that type of person at all?
A: Yeah, definitely. I have a hard exterior. But I'm also a complete baby. I cry in every movie. I cry in those Budweiser army commercials. Home improvement shows? I'm sobbing.
 Q: Was the on-screen romance an aspect of the part you embraced? 
A: It was awesome — they finally have a lesbian character on the show, I'm so excited! And then I got to meet my girlfriend and she was awesome. It's the same as if they had given me a love interest that was a boy. I think watching the show, you need a little bit of romance, because you want something to fight for. You, the audience, root for the love of the two people, whether it's Glenn and Maggie or whoever.
Q: You acted as a young actress yourself; did you have any advice for the child actors on the show? 
A: I really only got to know the girl who plays my niece, Meyrick Murphy and she is awesome. She is literally like an adult in a 9 year-old's body. What makes a child actor normal and awesome is their parents. When I was on set, all my brothers were actors and my mom never let me get away with anything. If I was on a show, I didn't get to run around like a psychotic child.
Q: What do you do on set to get in the zone?
A: I listen to a lot of rap music. I love rap music. Eminem. Beastie Boys. If you talk to anyone else on set, I'm just a giant goofball, I'm always running around, always joking. When I leave set, they're like great, peace and quiet, Alanna's gone! I'm fun on set. I'm not serious, I don't get mad, and I want people to be happy around me.
Read More