Uncategorized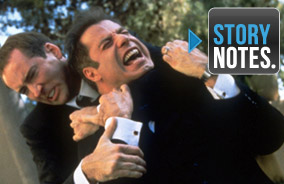 Weeknights during prime time on AMC, you can catch Story Notes — real time trivia and facts about your favorite movies! Below is the online version of the Story Notes for Face/Off.
Award Notes
Travolta and Cage won an MTV Movie Award for Best On-Screen Duo.
John Travolta has been nominated for two Oscars, for Saturday Night Fever (1977) and Pulp Fiction (1994). Face/Off was nominated for an Oscar for Best Sound Effects Editing.
John Woo won a Saturn Award (for sci-fi movies) for Best Director for Face/Off.
Face/Off's speedboat chase won an MTV Movie Award for Best Action Sequence.

Backstory Notes
Lazarro had a heart condition. It was established more in earlier drafts of the script.
Biographical Notes
Face/Off is Hong Kong director John Woo's third American movie, after Hard Target and Broken Arrow. His signature directing style has had a major influence on the action genre.
John Travolta is a certified pilot. He owns several planes.
Director John Woo said he copied Travolta's dancing in Saturday Night Fever when he was younger.
In real life, John Travolta has been married to actress Kelly Preston (Jerry Maguire) since 1991.
In The Rock (1996), Nicolas Cage's character has to figure out how to break into a prison.
Nick Cassavetes (Dietrich) is the son of actor/director John Cassavetes and actress Gena Rowlands. John Cassavetes was a pioneer in independent film. John Woo called him "one of my idol figures."
In real life, Cage has two sons: Weston and Kal-El, who was named after Superman.
John Travolta had just played an Archangel in Michael (1996).
John Travolta followed this up by playing a thinly-veiled Bill Clinton in Primary Colors (1998).
Casting Notes
John Travolta had just played the villain in director John Woo's Broken Arrow (1996).
Travolta's Pulp Fiction director Quentin Tarantino had encouraged him to work with Woo.
Nicolas Cage had recently won an Oscar for Leaving Las Vegas (1995). He followed that up with three action movies: The Rock (1996), Con Air (1997), and Face/Off (1997).
Alessandro Nivola (Pollux) is also in Jurassic Park III (2001).
Joan Allen (Eve) had just been nominated for Oscars for Nixon (1995) and The Crucible (1996).
Tito Biondi is played by Robert Wisdom from The Wire and Nashville.
CCH Pounder was on ER at the time. She was later on The Shield (2002-2008).
Harve Presnell plays Wade Gustafson in Fargo (1996), which led to this role as Victor Lazarro a year later.
Dr. Malcolm Walsh is played by Colm Feore from The Chronicles of Riddick (2004) and Thor (2011).
At 6'2″, John Travolta is two inches taller than Nicolas Cage
Nick Cassavetes (Dietrich) is also a writer and director (The Notebook).
Joan Allen was John Woo's first choice for Eve. The studio wanted to go with someone younger and make her a stepmother, but Woo fought for Allen.
Dominique Swain (Jamie) plays the title role in Lolita the same year as this.
Matt Ross (Loomis) is also in American Psycho (2000) and American Horror Story (2011).
Comedian Margaret Cho was cast because Woo's daughter was a fan of her show All-American Girl.
The prison guard is John Carroll Lynch from Fargo (1996) and Zodiac (2007).
Thomas Jane plays Burke Hicks, and later starred in The Mist (2007) and Hung (2009-2011).
Tommy Flanagan from Braveheart (1995) plays Leo.
James Denton from Desperate Housewives (2004-2012) plays Buzz.
Chris Bauer (Dubov) went on to play Andy Bellefleur on True Blood.
Cassavetes surprised Woo by shaving his head for the role. Woo said it was just the image he wanted.
John Woo cast Gina Gershon based on her performance in Bound (1996).
Jamie's date is Danny Masterson from That '70s Show (1998-2006).
Crew Notes
Cinematographer Oliver Wood later worked on the first three Jason Bourne movies.
Weapons coordinator Robert "Rock" Galotti taught the cast how to fire their weapons properly. He's very close with John Woo and has worked with him on all of his American movies.
Editors Christian Wagner and Steven Kemper later reteamed with Woo for Mission: Impossible II (2000).
Health Notes
A lot of people caught the flu while filming the prison scenes because of the cold, dirty conditions there.
O negative is the universal donor blood type, while AB positive is the universal recipient.
Location Notes
The movie features Victorville Airport in the Mojave Desert. It's also seen in The Sum of All Fears (2002) and Jarhead (2005). It was once an Air Force base.
The Walsh Institute's exterior is the Wilen House in Malibu, CA. It is also seen in Starship Troopers (1997). A number of the same locations were used for both movies.
Archer's house is in Palisades Park, just north of Santa Monica, CA
Parts of the film are shot in Eagle Rock Substation in L.A. It is also seen in Demolition Man and The Artist.
The crew used a real oil platform off the coast of Carpinteria in Santa Barbara County.
The movie really features L.A.'s Kaiser Permanente Medical Center, which is also used in Starship Troopers.
The "church" is really the Cabrillo Beach Bathhouse, which was built in 1932 for the Olympic Games.
The boat scene was filmed in San Pedro Harbor, not far from where the church scene took place.
Music Notes
The movie features an aria from Mozart's opera The Magic Flute, performed by the Hungarian Festival Chorus.
This is composer John Powell's first movie. He was later nominated for an Oscar for Shrek (2001).
The movie features the song "Papa's Got a Brand New Bag" by James Brown, 1965. This was named one of Rolling Stone's "Top 100 Greatest Songs of All Time."
Composer John Powell later wrote the music for the first three Jason Bourne movies.
The version of "Over the Rainbow" by Harold Arlen & E.Y. Harburg, 1939, is performed by Olivia Newton-John, 1989. Newton-John was John Travolta's co-star in Grease (1978) and Two of a Kind (1983). This was one of Woo's favorite songs as a child. The Wizard of Oz was the first musical he saw. He was going to use Judy Garland's version of the song but couldn't get the rights.
Pop-Culture Notes
The shot of Castor Troy's coat blowing in the wind is an homage to Lawrence of Arabia (1962). It's one of John Woo's 3 favorite movies, along with Seven Samurai (1954) and Le Samouraï (1967).
Firing with a gun in each hand is a signature of director John Woo.
The hero and villain holding guns on each other is another John Woo trademark. He said it was inspired by the comic Spy vs. Spy.
The James Cagney movie White Heat (1949) was one of the inspirations for Face/Off. In that movie, a cop goes undercover in prison to infiltrate Cagney's gang.
To prepare for Face/Off, Woo watched John Frankenheimer's Seconds (1966). In that movie, a man is coerced into undergoing plastic surgery to appear much younger.
In a 2014 episode of Community, there's a class that explores Cage's unique acting style.
There are montage videos online of Nicolas Cage freaking out in various movies, including this one.
Another John Woo signature: two enemies back-to-back with guns drawn.
White doves appear in many of John Woo's movies, including Hard Target and Mission: Impossible II. Woo told Premiere magazine, "I love doves… [They] represent the purity of love, beauty."
The climactic scene in John Woo's The Killer (1989) also takes place in a church. Woo: "The church… entails something of everything: the redemption, the love, the revenge, hate."
Mexican standoffs are a John Woo trademark. So are close-ups of the characters' eyes.
Entertainment website IGN named Face/Off one of the "Top 25 Action Movies" of all time.
Press Notes
In 1997, Gene Siskel called Face/Off "the best action movie of the summer."
Orlando Sentinel: "Cage is brilliantly over-the-top in that otherworldly way that only he is capable of being."
The Chicago Tribune compared Face/Off to the 1960 French horror movie Eyes Without a Face. In it, a mad scientist attempts a face transplant on his disfigured daughter.
Gene Siskel: "[Travolta] twinkles with evil, his full Force-5 Travoltaness set to the high beam."
Based on this role, Slate said "there isn't an American actor of Cage's generation who can touch him."
Entertainment Weekly's Lisa Schwarzbaum named Face/Off one of the top 5 movies of 1997. She called it John Woo's "best American movie" and said it was an "intensely satisfying experience."
Production Notes
Face/Off was written with Sylvester Stallone and Arnold Schwarzenegger in mind. Alec Baldwin and Bruce Willis were also considered before Cage and Travolta were cast.
John Travolta based his "toast" on Vietnam vets toasting their fallen comrades on Veteran's Day.
Cage and Travolta spent two weeks together before filming to learn how to play each other. They decided on specific gestures and vocal cadences for each character that could be mimicked.
For John Woo's birthday, Cage and Cassavetes gave him a Dirty Harry poster signed by Clint Eastwood. Woo has called Eastwood "my hero."
The studio wanted Archer and Sasha to sleep together, but the writers and director argued against it.
Woo wanted this ending from the beginning, but the studio didn't think American audiences would buy it. After test audiences said they thought Archer should adopt Adam, Woo re-shot the ending.
Prop Notes
Weapons coordinator Rock Galotti made 5 gold pistols for the movie. One was pre-sold to Planet Hollywood.
Three sets of each of the boats were built for the movie by a company in Florida.
Woo used a harpoon here instead of a gun because he wanted Castor to die "like Jesus…with the spear."
Quotation Notes
Travolta on Allen: "She's got such gravity as an actress and such weight."
Woo said he never thought face swapping was a crazy idea because it could happen in the near future.
Dir. John Woo said he borrowed from Hitchcock, with "a little suspense and a little surprise."
John Travolta: "I'm half-Irish. My mother was Irish. Deadly with imitations. Loved mimicking people." "And we all grew up with this fine art of, 'How well could you get someone down?"
Co-screenwriter Mike Werb joked that the bomb had "the longest lag time in movie history…Just long enough to keep the plot going."
John Woo: "Ironically, Dubov was his only friend, even though he was the enemy."
Cage doesn't like heights. He said shooting this was "one of the most frightening days of my life."
Travolta on Cage: "The way [Cage] slows down and enunciates… he's almost poetic in his talking."
John Woo: "I always believe the good guy is not 100% good and the bad guy is not 100% bad… that everyone has two faces."
Nicholas Cage on director John Woo: "The first time I saw a couple of John Woo movies, it was like an epiphany went off in my mind… This man had taken violence and turned it into a ballet."
Joan Allen said people kept asking her how she couldn't tell that it wasn't really her husband.
Nicholas Cage praised Joan Allen's "incredibly precise reactions to this far-out circumstance."
Dominique Swain: "You don't think as an actor that you're gonna go and shoot Nicolas Cage."
Nicolas Cage on his experience: "[Face/Off] was a real personal best for me. I got to get way outside the box."
John Woo: "The whole movie is all about a family. I don't really care about a good guy and a bad guy."
Script Notes
The original script by Michael Colleary and Mike Werb was set in the future and had more sci-fi elements. Woo initially passed on directing because he didn't feel comfortable with science fiction. He signed on after the writers had changed it to present day and focused more on the human drama.
The writers were inspired by a TV program about scientists growing human ears on the backs of mice.
Director John Woo let Cassavetes write a lot of his own lines for the movie.
Co-screenwriter Mike Werb got the idea for the face surgery from a friend who had a hang-gliding accident. They had to remove most of the skin from his face, reconstruct the bone matter, and put his face back on.
Erewhon is an anagram for "nowhere." It is also the title of an 1872 book where sick people are put in jail.
The original script was mostly set in the prison. The writers called it "Birdman of Alcatraz in the future." In it, some prisoners hung upside down from the ceiling by their boots with IVs collecting bodily fluids.
The studio wanted the writers to lose the slash from Face/Off's title. Co-screenwriter Mike Werb convinced them that if they did, people would think it was about ice hockey.
Travolta asked the writers if they were making fun of him with the "ridiculous chin" line. They explained that Castor was such an egomaniac that he would hate having anyone else's face.
In early drafts of the script, Archer went to Castor's mother's place to hide out. The writers wanted the mother to be played by Elizabeth Taylor or Jack Nicholson in drag.
This memory is based on a real date between two of co-screenwriter Mike Werb's friends. The only difference was that she chipped her tooth on a pebble in her salad instead of a rye seed.
Originally, the church scene took place at a cemetery with Cage scoping out Travolta with a sniper rifle.
Set Notes
Most of the stunts in the movie were done without the use of any digital effects.
They had to get the plane shot in one take because they were really destroying a plane. They shot it with 13 cameras from multiple angles.
Before shooting emotional scene scenes, John Woo played soft, sad music to help the actors get into character. Travolta said they didn't need it. He nailed the scene in one take, earning the nickname "One-Take John."
Some of the prisoners are actual ex-convicts recruited by director John Woo. Woo said it was because he "wanted real people."
Nicolas Cage didn't want to see the grotesque face makeup, so Woo hid all the reflective surfaces on set.
Cage was very quiet and focused on set, while Travolta told jokes and tried to make everyone happy.
The crew shot on Cage's birthday. Director John Woo let Cage get emotionally charged up for a scene… …then surprised him with a birthday cake. Afterwards, Cage asked Woo not to do that again.
Many of the oil rig shots were done on a backlot because of the danger of creating explosions on an oil rig.
The jump was 700 feet high. They called in a stuntman who specialized in high dives.
Gina Gershon decided Sasha should kick him in the groin. Gershon: "I thought that just encapsulated her whole personality, the whole 'killer' mom."
Gina Gershon and Nick Cassavetes came up with the brother/sister kiss. Gershon: "There's something so warped about them anyway… I think they just really love each other."
Gina Gershon told Woo that she wanted to shave her head for her role. He didn't like the idea.
They built a ramp onto the police boat. Archer's boat launched off it at about 40 mph.
Travolta's fingers are bigger than Cage's, so it was hard to get the wedding ring off but easy to slip on.
Symbolism Notes
In Greek mythology, Castor and Pollux are twin brothers who make up the constellation Gemini. Sagittarius the Archer (as in "Sean Archer") is the opposite sign of Gemini in the zodiac.
In this prison, all the guards smoke, so the cigarette is a symbol of authority.
In Greek mythology, Pollux is immortal. When Castor dies, Zeus unites the brothers in the stars.
Tech Note
The stuntmen were lifted up by wires for this shot. The actors' faces were digitally added in.
Trivia Notes
Gulf War Syndrome affected roughly 25% of U.S. veterans who served in the 1990-91 Gulf War.
The first full face transplant took place in 2010 in Spain on a man involved in a shooting accident. There had been partial face transplants before, starting in France in 2005.
Only 3% of the U.S. population is AB positive.
Wardrobe Note
Costume designer Ellen Mirojnick made over 200 boots for the movie – some metal, some plastic. The metal boots weighed about 25 pounds each.
Read More