Uncategorized
Story Notes for Pearl Harbor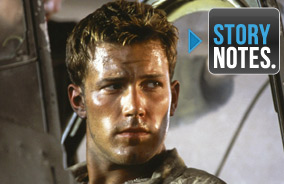 Weeknights during prime time on AMC, you can catch Story Notes — real time trivia and facts about your favorite movies! Below is the online version of the Story Notes for Pearl Harbor.
Awards Notes
Josh Hartnett was nominated for an MTV Movie Award for Best Male Performance for Pearl Harbor.
Pearl Harbor earned four Oscar nominations: Best Sound, Sound Editing, Visual Effects, and Original Song.
Pearl Harbor won an Oscar for Sound Editing.
Beauty Notes
Kate Beckinsale wore a wig. Michael Bay wanted it long, but costume designer Michael Kaplan didn't like it. So Kaplan bribed the hairstylist to gradually make the wig shorter throughout production.
Biographical Notes
Michael Bay (Transformers) started out directing commercials and music videos. Pearl Harbor was his fourth movie.
Bay and producer Jerry Bruckheimer were known for action movies like The Rock (1995) and Armageddon (1998). They said Pearl Harbor was first and foremost a love story.
Beckinsale began acting as a child in England. This was her first big Hollywood movie.
At the time, Kate Becksinsale was in a relationship with actor Michael Sheen. They have a daughter, Lily.
Kate Beckinsale began shooting Serendipity (2001) at the end of Pearl Harbor's production. Beckinsale said Pearl Harbor's kissing scenes overlapped with romantic scenes in Serendipity. Beckinsale: "I was ricocheting between New York and L.A., madly kissing everybody."
Mako (Admiral Yamamoto) was a boy in Japan during the Pearl Harbor attack.
When producer Jerry Bruckheimer was a kid, he wrote a report on Lt. Col. James Doolittle.
Casting Notes
Ben Affleck first worked with director Michael Bay on Armageddon (1998). The year before, Affleck starred in three movies, cementing his status as a Hollywood A-lister.
Alec Baldwin had just starred in David Mamet's State and Main (2000). Baldwin is Lt. Col. James Doolittle, who set the world speed record for seaplanes in 1925.
Josh Hartnett was a new star at the time, known for The Faculty. (1998) and The Virgin Suicides (1999). He stars in another military drama, Black Hawk Down, later in 2001.
Kate Beckinsale had just starred with Claire Danes in Brokedown Palace (1999).
Jennifer Garner began her starring run on Alias (2001-2006) a few months after this.
Jaime King (Sin City) was a former top runway model who had just made the transition to acting.
Ewen Bremner (Red) is a Scottish actor who was in Trainspotting (1996) and Snatch (2000).
Tony Curran (speaking) played the Invisible Man in The League of Extraordinary Gentlemen (2003).
Jon Voight (Midnight Cowboy) asked the producers if he could play President Franklin D. Roosevelt. Producer Jerry Bruckheimer: "[Voight is] an armchair historian who knows more about [FDR] than any of us."
Tom Sizemore also played military men in Saving Private Ryan (1998) and Black Hawk Down (2001).
Cuba Gooding Jr. plays Doris "Dorie" Miller, a real Ship's Cook Third Class and heavyweight boxer. Gooding had just played another real-life Navy man – Carl Brashear in Men of Honor (2000).
Michael Shannon plays a small role as a lieutenant, eight years before his Oscar nomination for Revolutionary Road (2008).
Catherine Kellner's accent wasn't hard to learn – she grew up in NYC.
Dan Aykroyd is mostly known for comedies like Ghostbusters and The Blues Brothers, but he was Oscar®-nominated for his dramatic role in Driving Miss Daisy (1989).
Colm Feore (24) plays Adm. Husband E. Kimmel, Commander-in-Chief of the U.S. Pacific Fleet.
Ben Affleck's friend and former writing partner Matt Damon was initially considered for the role of Danny.
Peter Firth (Captain) received an Oscar® nomination for Best Supporting Actor for Equus (1977).
Charlize Theron was originally cast as Evelyn. She decided to make Sweet November (2001) instead.
Ben Affleck almost didn't take this role. He didn't want to be seen as just an action star. But his ex-girlfriend Gwyneth Paltrow, who cried when she read the script, convinced him to do it.
Finance Notes
After months of negotiations, the studio gave them a budget of $140 million. The filmmakers, crew, and actors agreed to smaller salaries to offset the costs of effects and equipment.
Pearl Harbor was No. 1 for two weeks and made $450 million worldwide.
Historical Notes
There were 82 Army and 42 Navy nurses at Pearl Harbor.
At the time, African Americans in the Navy were only allowed to be mess attendants, stewards, or cooks.
It's estimated that 60 million soldiers and civilians died in WWII.
All six of Japan's first-line aircraft carriers moved over 420 planes across the Pacific.
In the Battle of Britain, 544 pilots fighting for Britain were killed. Of those shot down at sea, 20 percent survived.
Survivors told Michael Bay that, at that time, Saturday night was a huge drinking night in Pearl Harbor.
Admiral Kimmel's doctor had actually ordered him to play golf on Sundays as a way to relieve stress.
Over 350 Japanese planes invaded Pearl Harbor that day.
The Japanese knew most of the U.S. fleet would be in the harbor on a Sunday morning.
All the Japanese pilots were combat veterans. Each one was assigned a specific target.
Dorie Miller, the ship's cook, had no weapons training.
After Hitler invaded Poland in 1939, TIME magazine was the first to use the term "World War II."
The Japanese Zeros weren't as sturdy as the American P-40s, but they were more nimble.
During the actual attack, two American pilots did get up in the air and shoot down several Japanese planes.
Nurses at Pearl Harbor really did use lipstick to mark wounded men.
The attack came in two waves that morning. Director Michael Bay chose to make it one long sequence. Bay: "You get a sense of the attack. That's what's important."
Over 2,400 Americans were killed at Pearl Harbor. More than 1,000 others were wounded.
No pilots from Pearl Harbor were on the Dolittle Raid. It's another way the filmmakers created their own story.
Most men survived the Doolittle Raid, but a few drowned or were killed after being captured by the Japanese.
The Doolittle Raid was smaller than the Pearl Harbor attack, but it resulted in a swell of national pride. Writer Randall Wallace called it a "turning point in the morale of Americans."
Location Notes
California's Van Nuys airport stands in for an air base on Long Island.
L.A.'s Union Station is also used as police headquarters in Blade Runner (1982).
Music Notes
This music was written by trombonist Bruce Fowler, who often works with composer Hans Zimmer. Zimmer has been Oscar®-nominated for Original Score several times. He won for The Lion King (1994).
Composer Hans Zimmer has scored over 100 movies, including Rain Man (1988) and Inception (2010).
Hans Zimmer thought it would be interesting to write both love and war themes in the same movie.
Pop-Culture Note
Pearl Harbor (2001) is one of the most successful World War II movies of all time. It had the second-biggest Memorial Day opening at the time, behind The Lost World: Jurassic Park (1997).
Production Notes
Bay and Bruckheimer pitched Pearl Harbor to the studio as the next Titanic (1997).
Michael Bay received hundreds of letters from senior citizens who said the love story felt "very real."
The movie was released the year of the 60th anniversary of the attack on Pearl Harbor.
They spent eight weeks shooting all the scenes in Hawaii.
The movie had full permission and help from the Pentagon – but not for free. The producers were billed $1 million.
The actors attended a three-day boot camp before production started.
Quotation Notes
Director Michael Bay, in 2001: "This is [Ben Affleck's] best performance ever. He has tremendous potential."
Michael Bay called the nurses at Pearl Harbor "total heroes."
Producer Jerry Bruckheimer: "It's not just a movie about Pearl Harbor, it's really about the essence of a volunteer. How you put your heart in for your country."
Voight: "The remarkable thing about FDR… was how he sustained being under such enormous pressure."
Michael Bay: "It's very much like Titanic. If you didn't have [the] love story, it would just be a sinking ship."
Writer Randall Wallace thought the Doolittle Raid was "the symbol of America's response to being attacked." Wallace: "The story should… end with America's coming back from the ashes."
Alec Baldwin called Doolittle "one of the single most heroic people I've ever encountered in my whole life."
Producer Jerry Bruckheimer said the Pearl Harbor attack was "one of America's worst tragedies. But it also reminds us that we can rise from the ashes and go on to triumph."
Script Notes
It was producer Jerry Bruckheimer's idea for Rafe to be dyslexic.
Writer Randall Wallace was nominated for an Oscar for his first screenplay, Braveheart (1995).
Writer Randall Wallace included the Battle of Britain to show that war was happening, but far from America. Wallace: "The thought was, 'It's not our problem,' but all that changed in a couple of hours in December."
The filmmakers said the story of Rafe's rescue could have been a movie all its own. It wasn't given a lot of detail for the sake of advancing the plot.
Set Notes
They planted corn on this California field five months before shooting so it would resemble Tennessee.
This "train" was built on a soundstage. It's a wooden box on top of truck inner tubes. Crew members moved the box up and down to make it seem like the train was moving.
To ensure authenticity, a top public affairs Navy officer assigned a full-time deputy to help the producers.
For one explosion in the Pearl Harbor bombing scene, six inactive Navy ships were rigged with 700 sticks of dynamite. Local freeways were closed for safety precautions.
Navy Seals volunteered to be extras in the bombing scene. Due to their training, they could stay in cold water for a long time. Underwater photographer Pete Romano was brought in to shoot those scenes. Romano also worked on The Abyss (1989) and The Life Aquatic with Steve Zissou (2004).
For the effect of bullets hitting the ground, cork and dust were used.
Cameramen were often behind sandbag bunkers with their lenses sticking through holes. Some cameras were turned on by remote control because flying debris made it too dangerous.
Propane and diesel fuel were used to create black smoke, which helped hide modern buildings.
A stunt pilot crashed his plane during shooting and was sent to the hospital – but only for a broken finger.
Director Michael Bay studied old photographs of this famous speech by FDR. Bay made sure each person in the room resembled each person in the pictures.
Jon Voight went through six hours of makeup each morning to transform into President Roosevelt.
Voight did several takes of the speech scene. The actors in the room applauded him after each one.
Alec Baldwin spent a lot of time on set learning about planes and flying.
The actors actually flew the planes while the cameras rolled, then a real pilot would take over.
Jon Voight (FDR) spent just three days filming his scenes. Director Michael Bay: "I've never seen an actor care so much about three days' work."
Tech Note
Six of the planes in the Pearl Harbor bombing scenes were real. The rest were computer-generated.
Trivia Note
Raising a glass goes back to ancient times, but it wasn't called a "toast" until the 16th century.
Wardrobe Notes
Costume designer Michael Kaplan had the t-shirt sleeves shortened so they matched the 1940s style. Kaplan also designed costumes for Blade Runner (1982), Fight Club (1999) and Star Trek (2009).
Michael Kaplan said the nurses' civilian clothes were inspired by his parents' old snapshots.
Costume designer Michael Kaplan made the Hawaiian shirts, opting for muted colors.
Read More