Uncategorized
Story Notes for Mission: Impossible III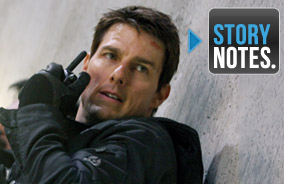 Weeknights during prime time on AMC, you can catch Story Notes — real time trivia and facts about your favorite movies! Below is the online version of the Story Notes for Mission: Impossible 3.
Anthology Notes
Brian De Palma (Scarface) and John Woo (Hard Boiled) directed the first two movies.
Buster Reeves, the stuntman who fell out the window, was nominated for an award for that fall.
In the first M:I movie, a mission went wrong and several of Ethan's team members were killed.
This is the first Mission: Impossible movie that shows Ethan's personal life.
M:I:3 is the first of the Mission: Impossible movies to go inside IMF headquarters.

This is the first time in the M:I movies that we see one of the iconic face masks being made.
In 2011, Tom Cruise did another Mission: Impossible movie, Ghost Protocol, which Abrams produced.
Biographical Notes
At the time, director J.J. Abrams was best known for the hit TV shows he created: Felicity (1998-2002), Lost(2004-2010) and the spy show Alias (2001-2006).
Abrams' spy show, Alias, was inspired by the 1960s Mission: Impossible TV show.
Maggie Q trained with Jackie Chan and had been in Hong Kong action movies like Naked Weapon (2002).
Before M:I:3, Tom Cruise had asked J.J. Abrams to write War of the Worlds, but he turned it down.
Director J.J. Abrams used to joke about Felicity being a spy. That's how he came up with Alias.
Director J.J. Abrams grew up in Hollywood, around movie sets. His father, Gerald Abrams, produced made-for-TV movies like Family of Spies (1990).
Abrams' grandfather, Henry Kelvin, gave Abrams his first Super 8 camera. His name pops up in all of Abrams' projects, from a dorm on Felicity to a starship in Star Trek (2009).
J.J. Abrams had wanted to make movies since he took a trip to Universal Studios when he was a kid.
Director J.J. Abrams started out as a writer. He wrote Regarding Henry (1991) and Armageddon (1998). He sold his first screenplay, Taking Care of Business (1990), before he graduated from college.
Jonathan Rhys Meyers became fluent in Italian when filming Titus (1999) in Rome.
Philip Seymour Hoffman had never done a big action movie before, but he always wanted to.
Hoffman got into acting when he was 14 after a neck injury forced him to quit playing contact sports.
Billy Crudup (Musgrave) plays another agency man, J. Edgar Hoover, in Public Enemies (2009).
Philip Seymour Hoffman and Tom Cruise had previously worked together on Magnolia (1999). Tom Cruise got his third Oscar nomination for his performance in that movie.
M:I:3 was Tom Cruise's 13th movie as producer. Mission: Impossible (1996) was his first.
Tom Cruise received his first Oscar nomination in 1990 for Oliver Stone's Born on the Fourth of July.
Later in 2006, Crudup was in The Good Shepherd. It was about the founding of the CIA.
The studio was so happy with director J.J. Abrams that they hired him for Star Trek (2009) while he was still in post-production on M:I:3.
Michelle Monaghan was again pulled into a plot she didn't understand in Source Code (2011).
Tom Cruise and Philip Seymour Hoffman were both wrestlers in high school.
Michelle Monaghan studied journalism and was a model before she became an actress.
Casting Notes
This was right after Tom Cruise starred in Steven Spielberg's War of the Worlds (2005).
Philip Seymour Hoffman had just won an Oscar for Capote (2005).
Michelle Monaghan also stars in Kiss Kiss Bang Bang and the spy movie Mr. and Mrs. Smith (both 2005).
Billy Crudup stars as Steve Prefontaine in Without Limits (1998), which Cruise produced. He plays Ethan's boss at the Impossible Mission Force, known as the IMF.
Ving Rhames (Pulp Fiction) is the only actor besides Tom Cruise who was also in the first two movies.
M:I:3 was the first big U.S. movie for Hawaiian actress Maggie Q ("Nikita"). She was already a huge star in Asia.
Keri Russell is best known for playing the title role in J.J. Abrams' Felicity (1998-2002).
Jonathan Rhys Meyers had just been in Woody Allen's Match Point (2005).
Laurence Fishburne (The Matrix) used to pretend that he was an IMF agent when he was a kid. So he couldn't pass up the chance to be the boss here.
Simon Pegg (Benji) wrote and starred in Shaun of the Dead (2004) a couple of years before this.
Jeff Chase (Davian's bodyguard) also played a bodyguard on director J.J. Abrams' Alias.
Bahar Soomekh (The Translator) speaks English, Spanish, Farsi, and some Hebrew.
Aaron Paul (Rick) plays Jesse Pinkman on AMC's Breaking Bad (2008-2013).
The IMF agent who arrests Ethan is Jose Zuniga, who plays Mr. Molina the biology teacher in Twilight (2008)
Crew Notes
Abrams likes to work with the same cast and crew. He brought a lot of his Alias team to M:I:3.
Special effects coordinator Dan Sudick received an Oscar nomination for Cruise's War of the Worlds (2005).
Production designer Scott Chambliss won an Emmy in 2002 for his work on Abrams' Alias.
Stunt coordinator Vic Armstrong had just worked with Tom Cruise on War of the Worlds (2005). Armstrong is a legend in the industry. He's done stunts as Indiana Jones, James Bond, and Superman.
Financial Note
Mission: Impossible is one of the most successful movie series of all time. It's made over two billion worldwide.
Mission: Impossible III opened No. 1 at the box office, with $24.5 million. Its worldwide gross was $397 million.
Health Notes
Heart cells have adrenaline receptors. Injecting adrenaline directly into it cues them to beat.
Less than 16% of patients survive CPR, according to a 2009 study. People think it's higher because on hospital TV shows, around 75% of patients survive.
Location Notes
The "Vatican" is the Palazzo Reale Della Reggia in Caserta. It's also in Angels and Demons (2009). In the Star Wars prequels, it stood in for Princess Amidala's palace in Naboo.
While filming on Rome's Tiber River, Cruise hummed the M:I theme under his breath as they sped down the river.
Love Note
Tom Cruise was engaged to Katie Holmes when M:I:3 came out. They met when she auditioned for it. Almost every review mentioned how much Michelle Monaghan looked like Katie Holmes.
Music Note
Composer Michael Giacchino (Lost) met with M:I TV theme writer Lalo Schifrin to talk over the music. Giacchino wanted to "keep the heart of what [Schifrin] created" for his score of the movie.
Pop-Culture Notes
In H.G. Wells's The Invisible Man, the man is actually invisible; in Ralph Ellison's it was a metaphor for race.
A mysterious object is often at the center of director J.J. Abrams' work. He calls it a "Mystery Box. The name came from a box of magic tricks he bought as a kid.
In 2009, Mythbusters did an episode testing if you could fool people with M:I-style masks. The answer was yes, but only from a distance.
Tom Cruise was on The Huffington Post's list of "14 Hollywood Daredevils Who Do Their Own Stunts." Cruise: "For me [doing stunts] is part of the challenge of making these movies."
Press Notes
The New York Times: "The scenes of Mr. Hoffman going directly up against Mr. Cruise are particularly tasty."
The Star Tribune said Philip Seymour Hoffman was "a sublime villain: taunting, unnervingly intelligent… a killer with the casual sadism of a child frying ants under a magnifying glass."
Production Notes
Mission: Impossible III (2006) is the third installment in Tom Cruise's signature action series. It was J.J. Abrams's movie directing debut. Cruise, who produced M:I:3, hand-picked him for the job.
Cruise offered Abrams the job directing M:I:3 after binge-watching the first two seasons of Alias. Abrams had given Cruise the DVDs after they met, but he didn't think Cruise would watch them.
Keri Russell spent about four 1/2 months training in boxing and stick-fighting.
J.J. Abrams got some advice from Cruise's Jerry Maguire director Cameron Crowe. He said Cruise was so "focused, professional, and hardworking," it would spoil Abrams.
When Tom Cruise first offered J.J. Abrams the job directing M:I:3, he was too busy with Alias. Cruise pushed production back a year so Abrams could do it.
On the day of the M:I:3 New York premiere, Tom Cruise did appearances all over Manhattan. He traveled around the city on a fire truck, taxi, helicopter, sports car, subway, and boat.
Prop Note
The mask-making machine was designed by Syd Mead, legendary "futurist artist" (Blade Runner, Aliens).
Quotation Notes
Tom Cruise wanted each Mission: Impossible to have "a different director with his own vision.
Keri Russell on director J.J. Abrams: "I would do craft services if he asked!"
According to Cruise, Mission: Impossible III is about balancing home and work, taken to extremes.
Script Notes
Abrams co-wrote the script with Alex Kurtzman and Roberto Orci, who had worked with him on Alias.
The writers said that after they had a solid story, they just tried to make the action as fun as possible.
Set Notes
Jonathan Rhys Meyers handled the controls of the helicopter, but he always had a pilot with him.
They actually flew helicopters through the windmills but also used digital effects and models for that chase scene.
Dir. Abrams asked the production designer, Scott Chambliss, to make Ethan's house look like Abrams's own house. The set ended up looking so much like Abrams's real house that he found it a little disturbing.
Maggie Q learned how to drive for this movie. On one take, she ran into another car.
In the bridge explosion scene, Cruise hit the car so hard, he blew out the back window. Then he did it again two or three more times.
Source Notes
The movies are based on the hit '60s TV series of the same title, but the characters and plots are different.
On the TV show, self-destructing missions came on records, jukeboxes, cards, and (most often) on tapes.
Latex masks are a Mission: Impossible signature, in both the TV show and the movies.
Tech Note
The "microdot" is a real-world spy tool. It's text or an image that has been shrunk down to microscopic size. They also make an appearance in the Bond movie You Only Live Twice (1967).
Trivia Notes
In 2009, a man with a bomb hidden inside his body tried to assassinate Saudi Arabia's Interior Minister.
Anecdotally, most spy marriages fail, but the CIA (which the IMF is based on) doesn't keep statistics.
Spraying liquid nitrogen on metal makes it brittle and easy to break.
In 2006, Interpol had 173,000 known criminals in its database.
Read More