Uncategorized
Story Notes for Judge Dredd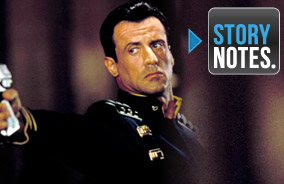 Weeknights during prime time on AMC, you can catch Story Notes — real time trivia and facts about your favorite movies! Below is the online version of the Story Notes for Judge Dredd.
Automotive Notes
The tank-like SUV's were custom-made by Land Rover. The hovercar is based on a Ferrari.
The "Lawmaster" bikes were built from scratch. They were so powerful, only stuntmen could drive them. The actors were given safer, low-powered "moped" versions to ride.
Award Note
Judge Dredd was nominated for four Saturn Awards, including Best Science Fiction Film.
Backstory Note
Joan Chen (Dr. Isla Hayden) treated her character's relationship with Rico (Armand Assante) like they were lovers: "She's attracted to [his] absoluteness."
Beauty Note
Sylvester Stallone (Judge Dredd) wears ice-blue contacts. His eyes are really brown.
Biographical Notes
Judge Dredd was made by English director Danny Cannon. He was only 25 when he was hired. Producers liked his first film, The Young Americans (1993), starring Harvey Keitel and Viggo Mortensen.
Before this, Rob Schneider and Sylvester Stallone were in Demolition Man (1993), another sci-fi action movie. The movies have a lot in common: Stallone is a cop, it's the future, and they're in another Mega-City, San Angeles.
Max von Sydow (Fargo) famously played chess with death in Ingmar Bergman's The Seventh Seal (1957).
Jürgen Prochnow (Griffin) plays a lot of villains, including a Russian mobster on Season 8 of 24.
Jürgen Prochnow and Max von Sydow were both in the sci-fi epic Dune (1984).
Judge Dredd was filmed by highly respected English cinematographer Adrian Biddle (Aliens, The Mummy).
Director Danny Cannon got his start at age 19 by winning the 1987 BBC Young Filmmakers Award.
Stallone and Armand Assante play brothers in Paradise Alley (1978), which Stallone directed.
Diane Lane (Judge Hershey) got her break at age 14 starring opposite Laurence Olivier in A Little Romance (1979). Olivier dubbed her "the next Grace Kelly."
Casting Notes
This is Rob Schneider's first big movie role after leaving Saturday Night Live.
In 1995, at age 48, Sylvester Stallone was at the height of his fame as an action star. Comic co-creator John Wagner said Stallone signing on was the reason this movie finally got made.
This movie came right at the end of Diane Lane's transition from teen star to leading lady.
Legendary Swedish actor Max von Sydow is also in Minority Report and The Exorcist.
Award-winning German actor Jürgen Prochnow plays the sub captain in Das Boot (1981).
Director Danny Cannon wanted actors "of international importance" so that the movie would feel timeless.
Mitchell Ryan (The Reporter) plays Greg's father on Dharma & Greg (1997-2002).
Maurice Roëves (Warden Miller) plays the British Colonel in The Last of the Mohicans (1992).
Armand Assante plays a lot of tough guys, like Mike Hammer in I, the Jury (1982).
Joanna Miles (Prosecuting Judge) won an Emmy in 1973 for a TV movie of The Glass Menagerie.
Pa is played by Scott Wilson, who plays Hershel on The Walking Dead.
Balthazar Getty (Cadet Olmeyer) was a model and teen pin-up in the '90s.
Joan Chen was a huge star in China before The Last Emperor (1987) made her an international star. She plays Josie on Twin Peaks from 1990-1991.
Central's voice is Adrienne Barbeau. She also voiced the "Main Frame" computer in Demolition Man (1993).
Crew Note
Set decorator Peter Young won Oscars for Batman (1989) and Sleepy Hollow (1999)
Historical Note
The first conviction from DNA evidence was in an English assault case in 1987.
Location Note
They shot the Cursed Earth on the Reykjanes peninsula in Iceland.
Music Note
Judge Dredd's score is by Alan Silvestri, who also did The Avengers and Captain America.
Pop-Culture Notes
Judge Dredd was the first movie to release simultaneously with a video game. The game included an option to arrest or execute each bad guy on the spot.
The moment where Dredd takes off his helmut caused a lot of controversy. Judge Dredd would never remove his helmet in the comics. He took it off only once, but his disfigured face was covered with a censor bar.
Hammerstein, from the comic strip The ABC Warriors by Dredd co-creator Pat Mills appears in the movie. Director Cannon put Hammerstein in the movie because he was a huge ABC Warriors fan.
The bands Anthrax and Human League have both written songs about Dredd called "I Am the Law."
Other movies with Statue of Liberty fights: Saboteur (1942), Ghostbusters II (1989), and X-Men (2000).
In 2012, a new movie adaptation called Dredd hit theaters, starring Karl Urban as the Judge. He kept his helmet on the entire movie.
Empire magazine ranked Judge Dredd as #7 on its list of  "50 Greatest Comic Characters."
Press Notes
Roger Ebert called these sets "a cross between the cities in Blade Runner and Total Recall."
Roger Ebert said Stallone is the ideal actor for Dredd "because he's smart and funny enough to pull it off."
Production Notes
Robocop (1987) borrowed so much from the Judge Dredd comics that it delayed this production for years. It was so successful and similar that the producers had to wait before going ahead with this movie.
Before Stallone signed on, Arnold Schwarzenegger wanted to play Judge Dredd.
Assante played Rico with a Stallone-like speech pattern to show how alike Rico and Dredd are.
Director Danny Cannon grew up in Britain as a huge fan of the Dredd comics. Stallone pushed for Cannon to get hired. He loved how passionate Cannon was about the project.
Judge Dredd received an R rating for "continuous violent action."
Judge Dredd opened July 4th weekend, 1995 – the studio renamed Independence Day "Judgment Day."
Prop Notes
In the comics, Dredd's famous Lawgiver is a ray-gun, but the director wanted it to fire bullets. This version is a fiberglass casing fit over a common Beretta.
To bring Hammerstein to life, they were going to use a man in a suit, but Cannon insisted they build it for real. It's powered by hydraulics and controlled by five remote operators.
Dredd's reads The Decline and Fall of the Roman Empire: Volumes 1 & 2 by Edward Gibbon.
Quotation Notes
Co-creator John Wagner said that "Britain… seemed too small-scale" for the world they were creating.
Director Danny Cannon told Film Review magazine that he saw Judge Dredd as "Star Wars meets Ben-Hur."
Judge Dredd co-creator John Wagner said, "Dredd was never meant to be just another hero figure… He was [just] as much a villain, a criticism of harsh and callous governance."
Rob Schneider said Fergie is "a big coward [who] would sell his own mother to survive."
Stallone said, "I want kids going to see the movie. But I don't want them to break the law… I am the law."
Director Danny Cannon: "The best and most… frightening villains are the guys that almost convince you."
Rob Schneider said, "I wouldn't be opposed to a Judge Dredd 2: Revenge of Fergie." Stallone joked, "I don't think we can afford Rob's medical bills."
Script Notes
The script is based on Dredd's origin story: Judge Dredd #30 "The Return of Rico" (1977).
Fergie is known in the comics as the "King of the Big Smelly." They put him in the movie for comic relief. Co-screenwriter William Wisher: "I had to make the film funny… without that it would be horrifying."
For over ten years, several writers failed to turn the Judge Dredd comics into a working movie script. William Wisher (Terminator II) didn't read the comics. Instead, he worked off of a list of Dredd storylines..
At first the villain for this movie was going to be Judge Death, a monster who makes "living" illegal. But it was too expensive to create Death's skeleton body, and Rico had more to do with Dredd's past.
Set Notes
The city streets were built at England's Shepperton Studios. Parts of Star Wars and Alien also shot there. Stallone wanted to shoot in England because it was where the comics were from.
Rob Schneider got banged up while shooting Judge Dredd. On his first day, he fell down a flight of stairs.
Since this was shot in England, they kept the streets wet at all times so that it wouldn't matter if it rained.
They tried to make the model of Mega-City One feel real by putting color photos of apartment interiors in all the windows. The model was lit with miniature film lights built to scale so that it would feel more realistic.
The Janus lab was constructed from aluminum to give it a different look from the rest of the movie.
There were over 70 clones on set. Some were dummies; others were stuntmen in prosthetics. The actors in the suits had to shave off all their body hair before the costumes could be glued on.
A stuntwoman was used for the head-butt in the fight scene between Hayden and Hershey, but Diane Lane and Joan Chen did the rest of it themselves.
They built a replica of Lady Liberty's head 20% bigger than the real thing.
Source Notes
Judge Dredd (1995) is based on the long-running books by British comics pioneers John Wagner and Pat Mills. Dredd, introduced in 1977, has a huge cult following, but it took nearly 20 years to get this movie made.
The Dredd comics were created as a response to right-wing British politics, but the story is set in the U.S.
Mega-City One is divided into blocks of buildings 400-700 stories tall, each with about 60,000 residents.
All the streets in Mega-City One are named after historical celebrities or fictional characters. One Dredd issue had a war between the "Cruise" and "Kidman" blocks right after the couple split in real life.
The Judge Dredd character was modeled after Clint Eastwood's Dirty Harry. His look was inspired by a poster for Death Race 2000 (1975), which starred a pre-Rocky Stallone.
In the comic books, Mega-City One stretches from Montreal all the way to Florida.
Judge Dredd is one of the few comic book heroes to age in real time, starting with the first issue in 1977. As of 2013, the comics are still running. Dredd is over 70 years old.
In the comics, Judge Fargo was the very first Chief Justice. He invented the Judge system.
Retiring judges have 3 options: desk job, teaching, or the "Long Walk" – forced exile into the Cursed Earth.
The Mega-Cities were all that was left after WWIII.
In the comics, Griffin isn't really a bad guy. He's the one who taught Dredd and Rico at the academy.
The Angel gang are from Judge Dredd #156-181 "The Judge Child" (1980). They're from Texas City. In that storyline, they interfere with Dredd's search for a savior child who can tell the future.
Dredd has had epic battles in the comics, including crossover issues with both Predator and Aliens.
Unlike traditional comics, Judge Dredd usually kills off its villains at the end of each new storyline.
Trivia Notes
Prima facie is Latin for "at first look," or "on its face." It's evidence that is strong enough to prove a case.
The Statue of Liberty's complex interior frame was designed by Alexandre Eiffel, of the Eiffel Tower
Wardrobe Notes
The New York Times said Dredd "looks as if he has been visiting Michael Jackson's tailor." Dredd's uniform for the movie was actually designed in part by Gianni Versace.
Read More