Uncategorized
Story Notes for I Am Legend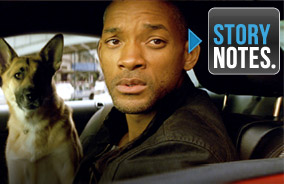 Weeknights during prime time on AMC, you can catch Story Notes — real time trivia and facts about your favorite movies! Below is the online version of the Story Notes for I Am Legend.
Awards Note
I Am Legend won a 2008 Screen Actor's Guild Award for Best Stunt Ensemble.
Will Smith (Robert Neville) won an MTV Movie Award for Best Male Performance for I Am Legend (2007).
Backstory Notes
All the artwork in Robert Neville's house has been "rescued" from NYC's various museums. They used replicas of famous paintings for the movie.
The "Darkseekers" have semi-transparent bodies because their high metabolisms burn up all their fat.

Biographical Notes
This was director Francis Lawrence's second movie. His first, Constantine (2005), was also produced by Akiva Goldsman. Lawrence is an award-winning music video director. He's worked with Justin Timberlake and Lady Gaga.
Will Smith got his first Oscar nomination for Ali (2001).
Cinematographer Andrew Lesnie won an Oscar for Lord of the Rings: The Fellowship of the Ring (2001).
Smith is one of four kids and shared a bed growing up, so he isn't used to being alone.
Alice Braga (Anna) grew up around film sets. Her mother was an actress and assistant director. Her aunt is Golden Globe-nominated actress Sonia Braga, who starred in Kiss of the Spider Woman (1985).
Smith's daughter Willow is named after him. His son Jaden is named after his wife, Jada Pinkett Smith.
In 2013, Francis Lawrence directed an adaptation of another novel, The Hunger Games: Catching Fire. Also in 2013, Alice Braga starred in another sci-fi movie, Elysium, with Matt Damon, and Charlie Tahan (Ethan) was in Woody Allen's Blue Jasmine.
Casting Notes
Will Smith had just gotten his second Oscar nomination for The Pursuit of Happyness (2006). He chose to do this next because it had "horror, science fiction, and [was a] wonderful character piece."
Salli Richardson (Robert's wife) was starring on Eureka (2006-2012) when this came out.
Will Smith's real-life daughter, Willow, plays his character's daughter. This is her first movie role. She wanted to be in a movie after her brother Jaden was in The Pursuit of Happyness (2006) with their dad.
Darrell Foster (The Military Escort) is Will Smith's trainer. He's in a lot of Smith's movies.
Dash Mihok (the actor behind the Alpha Male CGI) was in The Day After Tomorrow (2004).
Alice Braga (pronounced Aaa-lee-cee) also stars in the award-winning Brazilian movie, City of God (2002). The producers thought casting someone with an accent made it seem like the virus had spanned the globe.
Nine-year-old Charlie Tahan had never been in a movie before 2007 — but by the end of that year, he'd done three.
Crew Notes
Production designer Naomi Shohan worked with director Francis Lawrence on Constantine.
Creature designer Patrick Tatopoulos also created the aliens for Smith's Independence Day (1996). His studio made 3-D sculptures of the designs, which were used as a reference for computer animation.
The creature animation was overseen by Janek Sirrs, who won an Oscar for The Matrix (1999).
Finance Note
I Am Legend made $77 million during its December 2007 opening weekend — Smith's biggest to date. That same year, Newsweek called Will Smith "The Most Powerful Actor on the Planet."
Health Note
Being alone too long can cause mental instability and trouble re-integrating into society.
Historical Note
Before it was a park, Washington Square was a site for public executions and a mass grave. There are 20,000 yellow fever victims buried under the park.
Location Note
Washington Square Park, the "heart of Greenwich Village," became a park in 1827.
Music Notes
Songs in the movie include "Three Little Birds" (1977) and "Stir It Up" (1973) by Bob Marley and The Wailers. Bob Marley's greatest hits album "Legend" (1984) is Will Smith's real-life favorite record.
Most of the movie has no underlying score. The score, by James Newton Howard (The Fugitive), was used minimally to highlight Neville's solitude.
Plot Note
The Krippin virus is named after Alice Krippin, Emma Thompson's character from the opening interview.
Pop-Culture Notes
The movie features a real Today show broadcast from February 13th, 2006.
This same year, Smith was No. 5 on Entertainment Weekly's list of the "50 Smartest People in Hollywood."
New York has been destroyed in movies many times. It was demolished in Smith's Independence Day (1996), Godzilla (1998), Deep Impact (1998), The Day After Tomorrow (2004), Cloverfield (2008), and more.
George Romero said that his Night of the Living Dead (1968) was an homage to the novel I Am Legend.
Stephen King said that without the novel there would also be no 28 Days Later or The Walking Dead.
Press Notes
The New York Times called Smith "graceful and effortless… [He] demonstrates what it is to be a movie star."
The NY Observer called Abbey the dog "one of the best animal actors since Lassie, Flicka, and Flipper."
Production Notes
Filmmakers couldn't close all these streets at once, so each weekend they'd film Will Smith driving on a different corner. People on the street hid and took cellphone videos of Smith as he drove by.
Before they started filming, Smith went on "dates" with Abbey (the dog who plays Sam) so he could get to know her better.
Smith talked to former prisoners to get an understanding of what it's like to be totally alone. The prisoners told Smith the key to surviving solitary confinement is creating a rigid schedule.
Smith met with scientists from the Centers for Disease Control to learn how to use all the equipment properly.
The first draft of I Am Legend was written in 1996. Many different stars had considered making it. At one point, Ridley Scott was signed up to direct, with Arnold Schwarzenegger as Robert Neville.
The movie's animal trainer found Abbey in a kennel. She had the right look but had never been trained. He only had a few weeks to get her up to speed.
Singer Mike Patton from Faith No More did all the screeching for the "Darkseekers."
Will Smith liked Abbey so much that he tried to adopt her, but the trainer didn't want to give her up.
The movie's infected dogs were based on Mexican hairless dogs (known as Xolos) that the trainer owned.
Anna was written to be American, but Alice Braga was the only person producers wanted for the role.
When he had a new baby, director Francis Lawrence watched The Piano (1993) with the sound off. That inspired him to make this movie so quiet.
Smith called the head of DreamWorks, the studio that made Shrek (2001), to ask to use it in the movie.
Quotation Notes
Director Francis Lawrence said, "There is… an AIDS metaphor here… in terms of dealing with the infected. They're not dead… they're not vampires… they have a chronic disease."
Smith said that closing NYC streets to film meant he got a lot of "middle fingers."
After Men in Black 3 (2012), Smith said he was going to do fewer stunts. "I am 42. It takes longer to heal."
Script Notes
The book takes place in L.A., but this version is set in New York. They shot almost all of it on location. The filmmakers thought it would be shocking to see the biggest city in the U.S. empty.
The script was co-written by Mark Protosevich (The Cell) and producer Akiva Goldsman (A Beautiful Mind). It was based on both the 1954 novel and the 1971 movie version, The Omega Man.
I Am Legend originally had a completely different ending, but it didn't test well. In the original ending, Neville realized that to the infected people, he was the monster.
Set Notes
It was too difficult to shut down Times Square, so they shot the hunting scene on a soundstage.
Sam (the dog) was mainly played by a three-year-old German Shepherd named Abbey. There were two back-up dogs, Kona and Sammy.
The exterior of Robert Neville's townhouse was shot on location in Washington Square, but the interior of this townhouse was filmed on a set in Brooklyn.
Some of the mannequins in the video store were played by real people. If you look closely in the scene, you can see them move.
While shooting under the Brooklyn Bridge at the end of January, it got as cold as 7 °F. To boost everyone's spirits one night, Smith came out and sang his hit song "Summertime" (1991).
The trainer put a piece of tape on Abbey's paw to make her limp.
Steven Spielberg visited the set the day on day. It made everyone very nervous. Spielberg's first movie, Duel (1971), was written by Richard Matheson, the author of I Am Legend.
Air cannons and hydraulic rigs were used to make Neville's house shake during the explosions.
Source Notes
I Am Legend (2007) is based on the groundbreaking 1954 sci-fi novel by Richard Matheson. It was the third movie adaptation of the book. The first was The Last Man on Earth (1964). Then came the cult classic The Omega Man (1971), which starred Charlton Heston.
I Am Legend author Richard Matheson wrote some of the most famous episodes of The Twilight Zone, including "Nightmare at 20,000 Feet," about a man who sees a gremlin on the wing of a plane.
The diseased creatures vary in the different versions of I Am Legend. They're vampires in the 1954 book. In The Omega Man (1971), they are cultish albino mutants who call themselves "The Family." In this version, they're infected but alive. They are called "Darkseekers."
In the novel I Am Legend (1954), Neville befriends a stray dog that quickly becomes infected.
Author Richard Matheson got the idea for I Am Legend (1954) while watching Dracula (1931). Matheson: "I thought, 'If one vampire is scary, what if the whole world is full of vampires?'"
In the novel, Neville was the only survivor. In the 1971 movie version, The Omega Man, he found others.
Symbolism Note
Co-screenwriter Akiva Goldsman used butterflies as a symbol of faith.
Tech Notes
All of the animals in the movie (except for Sam) were computer-generated.
The "Darkseekers" were created using animation with actors in motion capture suits. They tried live actors, but producer Akiva Goldsman said it looked "like Attack of the Angry Mimes."
It took a team of around 300 people 14 months to create all the computer-generated creatures.
Read More