Press
AMC Receives Five Hair and Makeup Award Nominations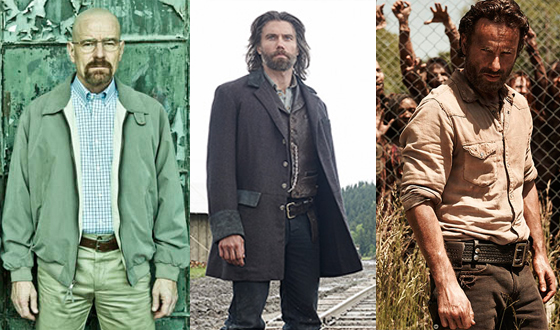 The Make-Up Artists & Hair Stylists Guild has announced their nominees for their 2014 awards and Breaking Bad, Hell on Wheels and The Walking Dead have been honored with five nominations collectively. The awards will honor Hollywood makeup artists and hair stylists for outstanding achievements in motion pictures, television, commercials and live theater.
In the Best Contemporary Hair Styling category, Breaking Bad's Georgie Sheffer and Carmen L. Jones will compete against the teams behind NBC's The Voice and A&E's Bates Motel. The show has also been nominated for Best Contemporary Make-up, where makeup artists Tarra Day and Sheila Trujillo Gomez will face the teams from FOX's Glee and ABC's Super Fun Night.
Hell on Wheels also landed two nods: Chris Glimsdale and Penny Thompson will compete against History's Vikings and Comedy Central's Key & Peele in the Best Period and/or Character Hair Styling category, while Sharon Toohey and Rose Gurevitch are up for Best Period and/or Character Make-up along with HBO's Boardwalk Empire and Comedy Central's Key & Peele.
The Walking Dead's nomination comes for Best Special Make-up Effects, where Greg Nicotero and Jake Garber from KNB EFX will square off against History's Vikings and A&E's Longmire.
Winners will be announced Saturday, February 15, 2014 during a ceremony at the Paramount Theater.
Read More