Uncategorized
Story Notes for Home Alone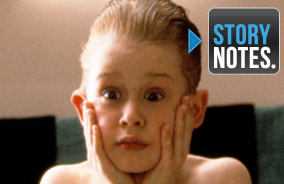 Weeknights during prime time on AMC, you can catch Story Notes — real time trivia and facts about your favorite movies! Below is the online version of the Story Notes for Home Alone.
Anthology Note
Director Chris Columbus has gone on to direct many kids' movies, including the first two Harry Potter movies. John Hughes said Columbus gave Home Alone "an element of magic… a great sense of fantasy."
Backstory Notes
Joe Pesci said Harry believes people should stay home during the holidays to be with their families. Daniel Stern said Marv thinks, "They're a bunch of rich fat cats and we're gonna rip 'em off!"
When David Ratray was asked what happened to Buzz later in life, he said he probably went to prison.
Biographical Notes
Chris Columbus' previous movie had not done well at the box office. He was worried he'd never direct again. Then Hughes sent him the script for Home Alone. Columbus said it was one of the best he'd ever read.
Director Chris Columbus' biggest fear as a kid was burglars. It's part of why he wanted to make this movie.
A year before Home Alone, Hughes wrote National Lampoon's Christmas Vacation (1989). He got his start as a writer for National Lampoon magazine back in the early '80s.
Casting Notes
Even though the script was written for Macaulay Culkin, director Chris Columbus wanted to find his own actor. But Columbus said, "After meeting 400 other kids… No one [was] as special or as unique or as talented."
Catherine O'Hara had just played a mom in Tim Burton's Beetlejuice (1988).
John Heard also stars in Big. The producers wanted to surround their young star, Macaulay Culkin, with experienced actors.
Joe Pesci had just come off of his Oscar-winning performance in GoodFellas (1990) when he made this.
Soon after this, Hillary Wolf (Meagan) quit acting and became a member of the U.S. Olympic Judo team.
Michael C. Maronna (Jeff McCallister) went on to play Big Pete on The Adventures of Pete & Pete (1993-1996).
Angela Goethals (Linnie McCallister) plays Culkin's older sister in his first movie, Rocket Gibraltar (1988).
Devin Ratray (Buzz) is also in Little Monsters (1989) and Dennis the Menace (1993). He has said that he still gets recognized as Buzz all the time.
Macaulay Culkin's little brother Kieran plays Kevin's cousin Fuller. This was his first movie.
The Stewardess is director Chris Columbus' wife.
Ralph Foody (Johnny) plays a cop in six movies. This was the only time he got to play a gangster.
Director Chris Columbus was a big fan of John Heard ever since Cutter's Way (1981). He'd wanted to work with Catherine O'Hara from her work on the comedy sketch show SCTV (1976-1979).
The filmmakers wanted Daniel Stern (City Slickers) for the role of Marv right away, but couldn't afford him. The first actor they hired had no chemistry with Joe Pesci (Harry), so the studio caved and cast Stern.
Comedic character actor Larry Hankin plays Officer Balzak. He also plays Carl in Billy Madison and Mr. Heckles on Friends.
The French Ticket Agent is one of Hope Davis's first movie roles.
Joe Pesci's GoodFellas co-star Robert De Niro was asked to play one of the crooks, but he turned it down.
Roberts Blossom (Marley) is in Close Encounters of the Third Kind (1977) and Escape from Alcatraz (1979).
Billie Bird (Woman in Airport) is one of the grandparents in screenwriter John Hughes's Sixteen Candles (1984).
Bill Erwin (Man in Airport) is in Hughes's Planes, Trains, and Automobiles (1987).
John Candy (Gus Polinski) is in eight John Hughes movies, including Uncle Buck (1989) with Macaulay Culkin. Candy got his start alongside Catherine O'Hara on Canada's SCTV in 1976.
Before making movies, Roberts Blossom (Old Man Marley) was a stage actor. He won awards for his Off-Broadway work.
Finance Note
Home Alone opened No. 1 at the box office. It stayed on top for five weeks. It was the No. 1 movie of 1990 and earned $476.6 million worldwide.
Health Notes
A doctor weighing in on the result of the injury that would incur from Harry's head being set on fire said that, in reality, Harry would need a skull transplant.
According to a doctor, the paint cans used to hit the burglars would cause multiple face fractures and knock them out cold.
Location Notes
Most of Home Alone was filmed on location in Chicago. Writer/producer John Hughes lived in Chicago and shot most of his movies there.
The Paris airport is really Chicago's O'Hare, which is where they shot the earlier airport scene in the movie.
The Illinois house where they filmed Home Alone sold in 2012 for $1.6 million.
Music Notes
The score is by John Williams (Star Wars, E.T.). He stepped in when the original composer backed out. They never thought they could get Williams, but he saw an early cut of the movie and was "enchanted."
Rolling Stone called "Run Rudolph Run" by Chuck Berry (1958) one of "The Greatest Rock & Roll Christmas Songs."
"You're a Mean One, Mr. Grinch" is sung by Thurl Ravenscroft, the voice of Kellogg's Tony the Tiger.
"Rockin' Around the Christmas Tree" (1958) is performed by Brenda Lee. Lee was only 13 when she recorded the song. It's the 4th-best-selling Christmas song of all time.
The movie features a version of "White Christmas" by Irving Berlin, performed by The Drifters (1954). It was originally sung by Bing Crosby in 1941 and was featured in Holiday Inn (1942) and White Christmas (1954). Bing Crosby's version of this song is the best-selling single of all time with an estimated 100 million copies.
"Deck the Halls" dates all the way back to 16th-century Wales. It was originally about New Year's Eve.
"O Holy Night" was written by Adolphe-Charles Adam and Placide Cappeau in 1847. Cappeau originally wrote it as a poem and asked Adam to put it to music.
"Star of Bethlehem" (1990) by John Williams and Leslie Bricusse was nominated for an Oscar, along with the film's score.
"Carol of the Bells" by Mykola Dmytrovych Leontovych, 1916. At first, it was a Ukrainian chant. The lyrics were added by American Peter Wilhousky in 1936.
Composer John Williams said writing the music for Home Alone was like scoring a cartoon. "If the music is a few frames off one way or another it won't do… it needs to be really sewn to the action."
Mel Tormé recorded a version of "Have Yourself a Merry Little Christmas" for the movie. The song was co-written by Hugh Martin and Ralph Blane. Writer Martin said this version is one of his favorite covers of the song.
Pop-Culture Notes
Macaulay Culkin hosted Saturday Night Live after this movie, becoming their second-youngest host ever. They opened with a sketch where no one in the SNL cast had saved pizza for him. Chris Farley was Buzz.
The fictional movie that Kevin (Culkin) watches on TV is called Angels with Filthy Souls. It's a parody of the gangster movie Angels with Dirty Faces (1938). James Cagney won a Best Actor Oscar for Dirty Faces. He starred opposite Humphrey Bogart.
Home Alone was part of a surge of kids' movies that included Honey, I Shrunk the Kids (1989), Look Who's Talking (1989), 3 Men and a Little Lady (1990), and Kindergarten Cop (1990).
Kevin (Culkin) watches Johnny Carson on TV in the movie. Carson retired from The Tonight Show in 1992, two years after this movie.
The Simpsons did an episode called "Homer Alone" where Homer was left to watch Maggie – and lost her.
In one episode of Seinfeld, Jerry catches George crying uncontrollably while watching Home Alone.
Home Alone made E!'s list of "The 10 Best Christmas Movies" of all time.
Press Notes
People magazine said Kevin was like "the Little Prince [playing] hooky with Bart Simpson."
Home Alone took a lot of criticism for the influence its violence might have on children. Screenwriter John Hughes said, "It's not violence, it's comedy… This is a cartoon." Director Chris Columbus added, "It's the Road Runner come to life… Kids are smart people; they know that."
The New York Times called Home Alone "the first Christmas black comedy for children."
Production Notes
When Home Alone came out in 1990, it became the highest-grossing live-action comedy of all time. It was written and produced by John Hughes, the king of '80s teen movies like The Breakfast Club. Hughes wrote Home Alone for 9-year-old Macaulay Culkin after working with him on Uncle Buck (1989).
John Hughes asked Chris Columbus, Spielberg protégé and writer of Gremlins (1984), to direct Home Alone.
Columbus wanted the whole house to come to life and chase Kevin, but he ran out of money.
The movie originally had more scenes of the family in France, but test audiences wanted to get back to Kevin.
The fake movie Angels with Filthy Souls was the first thing they filmed when making Home Alone. Home Alone's budget wasn't very big, so everyone liked starting out on something with cardboard sets.
The Marley plot wasn't in the original version of the script – it was added later by director Columbus.
Cinematographer Julio Macat used 1983's A Christmas Story as inspiration for the look of Home Alone.
Prop Notes
A fake burnt head was used for Harry (Pesci). Director Chris Columbus still has it in his office.
The ornaments that Marv (Stern) walks on are made of sugar. Daniel Stern insisted on actually walking on them barefoot.
Quotation Notes
Columbus worked particularly well with Macaulay Culkin. Hughes said, "He's sort of like a kid too."
Columbus: "This movie [was] a collage of Christmas. Every little memory I had… I wanted to put into the film."
Director Chris Columbus originally thought Kevin was "over the top in… the way he treats his family." He has raised four kids since: "Little did I realize this is kind of par for the course."
The filmmakers were worried that kids would see this and go sledding down their stairs. Chris Columbus: "Once you have your own kids, this is the last thing you want them to do."
Producer Mark Levinson said writer John Hughes "plays desire and fear… like a little orchestra."
Macaulay Culkin said kids "are sold on the danger."
Director Chris Columbus wanted Home Alone to feel timeless. Columbus: "It doesn't look like 1990… the key was to create something that felt fresh 20 years from now."
Daniel Stern said they "wanted to have a real sense of danger until [the end when] it got more cartoony… So it was kind of being silly and stupid but trying to keep some malevolence to it."
Daniel Stern on Joe Pesci: "He's such a little whiny annoying guy who I absolutely love… He pushes you and pushes you and wants it to be perfect. And we love being silly together."
Composer John Williams: "The holiday atmosphere from an orchestral point of view is always fun to [do]." Williams said he had "more fun doing [Home Alone] than a great many other films that I've done."
Cinematographer Julio Macat said he wanted the movie to feel "classic… presenting Christmas in a more regal way."
Director Chris Columbus: "I have not let my children ever buy a BB gun because of this movie."
Columbus said Home Alone "stood the test of time… because we always treated it with respect… We never felt that we were making a movie for kids – we were making a movie for the parents as well."
Script Notes
Old Man Marley is a nod to Jacob Marley, Scrooge's dead partner in Charles Dickens' A Christmas Carol.
John Hughes was known for writing scripts quickly. He wrote Home Alone in a single weekend. He told the Chicago Sun Times, "The story [you're] telling is on autopilot when you're really onto an idea."
John Hughes was worried that mothers would never believe a family could forget one of their kids. Director Columbus: "John really filled in every possible logic hole… [and] the audience always bought it."
Set Notes
Culkin was only allowed to work on set five hours a day because of child labor laws. They planned out the scenes around his schedule, putting him on camera alone a lot.
The McCallister house's interior sets were built inside the gym at Chicago's New Trier West High School. John Hughes and Culkin had been there before – Uncle Buck shot there as well.
Macaulay Culkin's stunt double was a very short 30-year-old man.
When nine-year-old Culkin got tired on set, he would just lie down on the ground and sleep between takes.
Director Chris Columbus would ask Joe Pesci to do his "How am I funny?" speech from GoodFellas on set.
Everyone on set was amazed with how mature and professional Macaulay Culkin was. Co-star Joe Pesci told Entertainment Weekly, "Mac is not like a 9-year-old… He's an old man already."
Culkin had a lot of fun on set. Even on his day off, he would show up to hang around with the crew. He gave the director advice on shots, ran the camera, and the drivers union made him an honorary member.
Joe Pesci tried to keep away from Culkin on set so that he would think he was a mean guy. But it didn't bother Culkin. He was all smiles and jokes with Pesci off-camera.
Joe Pesci memorized his lines by mentally inserting a curse word into every sentence. He had trouble not saying them out loud.
Pesci and Stern's stunt doubles were Troy Brown and Leon Delaney. Troy Brown: "It was all basic 'hitting the ground hard' to make it funny. We did everything for real." Director Chris Columbus: "The more it hurts the funnier it is… it is Three Stooges… it is Marx Brothers."
The tarantula was supposed to be a mechanical spider, but it looked too fake so they went with a real one. Daniel Stern agreed to shoot one take of it. He faked the screaming so that he wouldn't scare it.
John Candy (Gus) did all his scenes in one day. The scene in the airport with Candy was shot at 6 AM at the end of a 23-hour day of shooting. Candy and Catherine O'Hara improvised that scene.
Sports Note
Michael Jordan was Culkin's favorite basketball player. In 1991, Jordan won his first NBA title.
Trivia Notes
Actually, more burglaries happen on New Year's Eve than Christmas. The rate is 22% higher than normal.
According to the U.S. Travel Association, it's a myth that the holidays are the busiest times to fly. The busiest days of the year are actually Fridays in June, July, and August.
Wardrobe Note
The look for Marv and Harry was based on Fagin, the thief in Charles Dickens's Oliver Twist.
Read More