Uncategorized
Story Notes for Out for Justice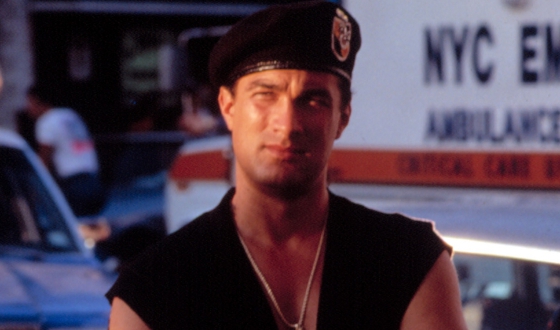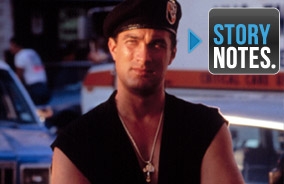 Weeknights during prime time on AMC, you can catch Story Notes — real time trivia and facts about your favorite movies! Below is the online version of the Story Notes for Out for Justice.
Automotive Note
Gino (Steven Seagal) drives a Chevrolet Caprice, a popular police car in the '80s and '90s.
Award Note
Dominic Chianese (Mr. Madano) received two Emmy nominations for Outstanding Supporting Actor on The Sopranos.
Beauty Note
Seagal's trademark ponytail wasn't a conscious choice. He just never bothered to cut his hair.

Biographical Notes
Director John Flynn had just made the action movie Lock Up (1989) starring Sylvester Stallone. Flynn was known for gritty, violent movies. He had a loyal cult following that included Quentin Tarantino.
When this movie was made, Seagal had just welcomed his fourth child – a son, Dominic San Rocco.
Seagal went to Japan at 17 and lived there for 15 years.
Seagal is a longtime guitarist and singer. He has a blues band called Thunderbox.
William Forsythe (Richie) doesn't always play tough guys. He's John Goodman's bumbling brother in the Coen Brothers' comedy Raising Arizona (1987).
Seagal is a longtime practitioner of aikido, which is built around redirecting force back onto an opponent.
Seagal was born in Lansing, Michigan – 700 miles from Brooklyn.
Ronald Maccone (Vittorio) acted in musicals in his 20s, then spent the next two decades in real estate. In his 40s, his wife convinced him to get back into acting.
As a kid, Seagal wasn't close with his family. He left home at 15 and started working at a fast food joint.
In 2009, Seagal's job as a real deputy sheriff was the subject of the reality series Steven Seagal: Lawman.
Gina Gershon is far from a Brooklynite – she grew up in California and attended Beverly Hills High School.
A year after this movie was released, William Forsythe (Richie) played a wheelchair-bound man in The Waterdance (1992).
Seagal also plays a cop in his first three movies.
Seagal is a longtime supporter of People for the Ethical Treatment of Animals (PETA). He was awarded a PETA Humanitarian Award in 1999.
Though he speaks it here, Seagal isn't fluent in Italian. But he is fluent in Japanese.
Seagal's father was a high school math teacher. He passed away the year Out for Justice came out.
When the movie was made, Seagal was married to actress Kelly LeBrock.
Director John Flynn was familiar with fire escapes. One of his first jobs was script supervisor for West Side Story (1961).
William Forsythe later played mobster Manny Horvitz on Boardwalk Empire.
Seagal once had a tuxedo tailored to accommodate two handguns.
Jerry Orbach (Capt. Donziger) was in the original Broadway productions of Chicago (1975) and 42nd Street (1980).
Seagal isn't really Italian-American. His mother is Irish-American and his father is Jewish.
Shareen Mitchell (Laurie) later opened her own vintage clothing stores in L.A. and New York.
Seagal has an extensive gun collection. As part of his training, he fires up to 3,000 rounds a month.
In real life, Seagal is an expert marksman.
Out for Justice cemented Seagal's status as one of the world's biggest action stars.
Casting Notes
Out for Justice (1991) was Steven Seagal's fourth movie. Seagal had starred in his first movie Above the Law just three years earlier and was already a household name.
William Forsythe is Flattop in Dick Tracy (1990).
Jo Champa (Vicky) was a successful model in Italy before breaking into acting.
Jerry Orbach plays Detective Lennie Briscoe on Law & Order from 1992 to 2004.
Ronald Maccone (Don Vittorio) had just played another mobster in Goodfellas (1990).
Sal Richards has been a touring singer and comic since his youth.
Dominic Chianese plays Uncle Junior on The Sopranos.
Out for Justice is Julianna Margulies' (The Good Wife) first movie role. She started her Emmy-winning run as Nurse Carol Hathaway on ER a few years later.
Nick Dimitri (bartender) is best known for fighting Charles Bronson at the end of Hard Times (1975).
Dan Inosanto (Sticks) is a martial arts master who introduced nunchaku to Bruce Lee.
Anthony DeSando (Vinnie) plays a mobster the same year in New Jack City (1991).
Shannon Whirry (Terry) made her movie debut in Out for Justice. She later became a star of erotic thrillers.
Finance Note
Out for Justice was Seagal's third movie to hit No. 1.
Location Notes
Out for Justice takes place within a small section of Brooklyn. It's the only Seagal movie shot in New York.
Music Notes
David Michael Frank composed the scores for Seagal's Above the Law (1988) and Hard to Kill (1990). Frank wrote this particular music to evoke Italian-themed movies.
"No Sleep Till Brooklyn" by Beastie Boys (1987) is from their debut album Licensed to Ill. It was the first rap album to hit No. 1 on the Billboard 200.
"Bad Side of Town" by Steven Seagal, David M. Frank, and Todd Smallwood, performed by Sherwood Ball. Seagal co-wrote two songs on the soundtrack.
Seagal went to composer David Michael Frank's house to approve all the music before it was recorded.
"Shake the Firm" written by David Michael Frank and Robert Jason, performed by Cool J.T.
Composer David Michael Frank wrote music for all of the movie's songs, except the Beastie Boys track.
"One Good Man" written by David Michael Frank and Robert Jason, is performed by Kymberli Armstrong.
Pop-Culture Notes
Seagal promoted Out for Justice with a hosting gig on Saturday Night Live.
The tagline for the movie was "He's a cop. It's a dirty job… but somebody's got to take out the garbage."
"I'm getting too old for this…" was said in Stripes (1981), Lethal Weapon (1987), and Anchorman (2004).
In Germany, Out for Justice is called "Deadly Revenge – Das Brooklyn Massaker."
Production Note
Out for Justice was originally rated NC-17. The brutal fight scenes were cut down to receive an R rating.
Prop Note
Gino carries an Ithaca 37. It's the only pre-World War II pump-action shotgun still used today.
Quote Notes
Director John Flynn said he really enjoyed working with William Forsythe and all "the killers."
Seagal has said he believes that great fight scenes are "based in reality."
Seagal: "I always hated being a child. I always felt like an adult trapped in a child's body."
Seagal said Out for Justice is "about friendship, about two kids born and raised together in Bensonhurst and God's strange hand would have it that one of them becomes a cop and the other a mobster."
Seagal: "I thought the way I killed Forsythe was pretty cool."
Script Note
Out for Justice's original title was The Price of Our Blood, which Seagal and Director John Flynn preferred. But the studio wanted them to stick to the 3-word format that worked so well for Seagal's first movies.
Set Notes
At one point, Seagal told William Forsythe he needed to work on his Brooklyn accent. Brooklyn native Forsythe said, "Trust me – you do."
Trivia Notes
Out for Justice was filmed in the early '90s, when violent crime in New York was at an all-time high.
"Subito" is Italian for "right away."
The walkie-talkie was invented by Donald Hings in 1937.
"Piccolino" is a nickname meaning "little one" in Italian.
"Corragio" is Italian for "courage."
German Shepherds are among the most popular dog breeds used in law enforcement.
Getting a "button" means being inducted into the mob.
Most billiard balls are made of phenolic resin, a substance that makes them resistant to damage.
The Sullivan Act is a 1911 law that makes it illegal to carry a gun without a license.
Crack use in the U.S. peaked in the early 1990s. Seagal's previous movie Marked for Death (1990) dealt with the crack epidemic in Chicago.
The NY equivalent to L.A.'s SWAT is the NYPD's Emergency Service Unit, established in 1920.
Unless you're a cop, having a police scanner in your car is illegal.
A 2010 study found that older brothers are more likely than older sisters to bully siblings.
Statistics show that less than one percent of police officers are involved in illegal activity.
Read More