Uncategorized
Story Notes for Men in Black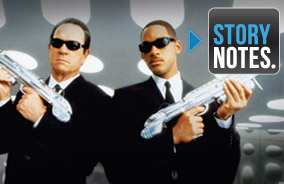 Weeknights during prime time on AMC, you can catch Story Notes — real time trivia and facts about your favorite movies! Below is the online version of the Story Notes for Men in Black.
Anthology Note
Tommy Lee Jones and Will Smith reunited with director Barry Sonnenfeld for two sequels, in 2002 and 2012.
Awards Notes
Rick Baker and David LeRoy Anderson won an Oscar for Best Makeup for Men in Black. It was Baker's fifth Academy Award.
Will Smith recorded his hit single "Men in Black" for the movie. He won a Grammy for Best Rap Solo Performance for the song.
Men in Black was nominated for an Oscar for Best Art Direction.
Composer Danny Elfman was nominated for an Oscar for Best Original Score for Men in Black.
Will Smith and Tommy Lee Jones were nominated for an MTV Movie Award for Best On-Screen Duo.
The final face-off won an MTV Movie Award for Best Fight.
Men in Black was nominated for a Golden Globe for Best Motion Picture – Musical or Comedy.
Automotive Note
The designer who built the modified Ford LTD bought it from the studio after the movie.
Biographical Notes
Director Barry Sonnenfeld started out as a cinematographer for the Coen brothers. His work directing The Addams Family movies prepared him for the dark comic tone of Men in Black.
Rip Torn (Zed) played Tommy Lee Jones's father in the 1984 TV version of Cat on a Hot Tin Roof.
Rick Baker, who created all the alien designs, got his start working on Star Wars (1977). He also designed Tommy Lee Jones' Two-Face makeup in Batman Forever (1995).
Linda Fiorentino was pretty familiar with Will Smith's work – she had watched Bad Boys seven times with her stepson.
Tommy Lee Jones' first movie was 1970's Love Story.
Rip Torn's cousin is Sissy Spacek, who starred alongside Jones in Coal Miner's Daughter (1980).
Vincent D'Onofrio (Edgar Bug) has been called a "chameleon." He famously gained 70 lbs. for Full Metal Jacket (1987).
Will Smith was named one of Entertainment Weekly's "Rising Stars" about eight months before this movie. Ten years later, he was named "The Most Powerful Man in Hollywood" by Newsweek.
Will Smith also stars in Barry Sonnenfeld's next movie, Wild Wild West (1999).
Casting Notes
Tommy Lee Jones signed on for the movie just from reading the comics, before there was even a script. He'd just finished "The Fresh Prince of Bel-Air," and the back-to-back hit movies made him a movie star.
Richard Hamilton (Dee) was in Clint Eastwood's Pale Rider (1985).
Will Smith had just starred in another alien invasion movie, Independence Day (1996).
Vincent D'Onofrio is in The Cell (2000) and Law & Order: Criminal Intent (2001-2011).
Siobhan Fallon was on "Saturday Night Live" in the early '90s.
Linda Fiorentino was mostly known at the time for her award-winning role in The Last Seduction (1994).
Tony Shalhoub (Jeebs) had just finished an eight-season run on Wings. He later won three Emmys for Monk.
Rip Torn was playing Artie on The Larry Sanders Show (1992-1998) when he was cast as Zed. Zed is the British way of saying "Z."
Patrick Breen (Redgick) also plays a friendly alien in Galaxy Quest (1999).
The spiny-headed alien with its parent – that's Verne Troyer, Mini-Me from Austin Powers.
Redgick's wife is Becky Ann Baker, the mom on both Freaks and Geeks and Girls.
Linda Fiorentino met director Barry Sonnenfeld at a poker game. By the end of the game, she had won her role in Men in Black.
Carl Struycken plays Lurch in Barry Sonnenfeld's Addams Family movies.
Frank is played by a pug named Mushu. He's voiced by puppeteer Tim Blaney, who also provided the voice for No. 5 in Short Circuit (1986). In Men in Black 2, he has a bigger role and sings "I Will Survive."
David Cross was starring in his own sketch comedy series "Mr. Show with Bob and David" at the time. Director Barry Sonnenfeld considered playing the part he cast Cross in himself but thought Cross had the "same sensibility.
Crew Notes
Oscar-winning makeup artist Rick Baker (The Nutty Professor) designed the look of all the aliens.
Production designer Bo Welch had worked on Tim Burton movies like Beetlejuice and Batman Returns. He used a lot of circles in the MiB headquarters to represent flying saucers.
Fashion Note
Ray-Ban's Predator sunglasses quadrupled in sales after Smith and Jones wore them in this movie
Finance Notes
Men in Black (1997) is the top-grossing sci-fi comedy of all time.
Men in Black made $590 million worldwide. It was the 2nd-highest-grossing movie of 1997, after Titanic.
Location Notes
Much of the movie was shot in New York City, which was Manhattan native Barry Sonnenfeld's idea. Sonnenfeld: "I've always felt that if there were aliens, New York is where they'd feel most comfortable."
They were originally going to shoot the Guggenheim Museum scene at Lincoln Center, but it was too expensive to film there. Sonnenfeld loved the Guggenheim Museum's spiral structure, which he said "looked like a flying saucer."
The farm was built in Simi Valley, CA, which is standing in for upstate New York.
Love Note
Will Smith married Jada Pinkett on New Year's Eve of 1997, the year this movie was released.
Music Note
Danny Elfman composed the score. He often works with Tim Burton and created The Simpsons theme.
Pop-Culture Notes
The toy version of the van came with Edgar's spaceship inside.
The Sundance Channel named the neuralyzer one of their "Top 10 Film Inventions We Wish Were Real."
Men in Black was turned into an animated TV series after the movie premiered. It aired from 1997-2001. Vincent D'Onofrio reprised his role, providing the voice for Edgar Bug.
Director Barry Sonnenfeld defended the fact that some of the aliens are smokers on The Today Show.
Sergeant Friday was the detective on Dragnet played by Jack Webb — who Jay compares Kay to.
"Now that's what I'm talkin' about" is one of Smith's signature catchphrases. He says it twice in this movie.
Press Notes
The New York Times said Bo Welch's production design on Men in Black "even makes its morgue inviting.
Roger Ebert compared Edgar to "Orson Welles in a suit of armor." D'Onofrio played Orson Welles in Tim Burton's Ed Wood (1994).
Variety said Men in Black was like "Ghostbusters as if done by the Coen brothers."
USA Today called the movie "Independence Day for smart people."
Production Notes
Smith was eager to work with exec. producer Steven Spielberg, who has a lot of experience with aliens, from Close Encounters of the Third Kind (1977) and E.T. (1982) to War of the Worlds (2005).
Vincent D'Onofrio based Edgar's voice on those of John Huston and George C. Scott.
Vincent D'Onofrio based his movements here on Peter Sellers in Dr. Strangelove (1964).
Vincent D'Onofrio used knee braces to get the feel of Edward's restricted movements.
Prop Notes
The neuralyzer couldn't open up and flash in the same take, creating some problems during filming.
The same tandem bike is used by director Barry Sonnenfeld in For Love or Money (1993).
Quotation Notes
Dir. Barry Sonnenfeld called the protective clothes the clean-up guys are wearing "condom suits."
Sonnenfeld said it was important that Smith was the only person in the movie who was trying to be funny. "All comedies work best when you have [a] straight man and a funny man. You don't want two comedians."
Sonnenfeld compared Smith to John Travolta: "They both have that movie-star thing going on."
Will Smith: "[James] thinks he's the smartest person in the world, so this is the ultimate challenge."
Will Smith: "The last time I wore a suit and tie was my eighth-grade graduation from Our Lady of Lourdes."
Dir. Barry Sonnenfeld said he was "trying to make a sequel to The French Connection, but using aliens."
According to Tommy Lee Jones, he didn't mind being covered in slime, but Will Smith hated it.
Sonnenfeld: "I don't know if there are aliens or not but I do believe we don't have a clue what is going on."
Script Notes
The tone of the Men in Black comic books was darker and more serious. The producers wanted a lighter tone for the movie, so they hired comedy writer Ed Solomon (Bill & Ted).
Kay always gets the interesting name and it always starts with "Man."
Originally, the plot centered around a battle between the Arquillians and the Baltians, another alien race. They decided they didn't need the Baltian subplot, so they changed the subtitles in the diner scene.
"4153" is director Barry Sonnenfeld's birthday – April 1, 1953. "Tycho" is a large crater on the moon.
Set Notes
They blew up a 25-gallon drum of blue goo for the scene in the beginning of the movie.
It took makeup artist Rick Baker 6 hours each day to transform D'Onofrio into the alien-infested Edgar. Silk swatches were glued to D'Onofrio's cheeks and tied around the back of his head to stretch his face.
They had to shoot 15 takes of Edgar drinking the sugar water. Director Sonnenfeld said by the end of the day D'Onofrio was "high on sugar."
The MiB headquarters was inspired by the TWA terminal at New York's JFK Airport.
They built a 96-foot replica of the Queens Midtown Tunnel, exactly 1/8th the size of the real one. It was completely authentic down to the graffiti and took four months to build.
Originally, the Bug was going to be a puppet, but it wouldn't have been able to move around and fight. To have a more exciting final showdown, they spent $4.5 million creating a digital Bug.
The American Humane Society made sure no animals were hurt during filming, including cockroaches. Will Smith was actually crushing mustard packets. At the end of the day, they had to count all the roaches and make sure none were missing.
Source Notes
Men in Black is based on a series of comic books by Lowell Cunningham from the early '90s.
Lowell Cunningham got the idea for the comics after a friend told him about the myth of the "Men in Black." He then read an article in the International Flying Saucer Bureau from 1953 that called them "silencers."
In the Men in Black comics, tabloids are controlled by the MiB agency
Tech Note
Mikey was created using a combination of an actor in a rubber suit and computer effects.
Trivia Notes
According to a 2012 survey, more than a third of Americans believe aliens have visited Earth.
The official story is that the '77 NYC blackout was caused by lightning strikes. It lasted 25 hours.
The three stars that make up Orion's Belt range from 7,000 to 18,000 times brighter than our sun.
There are actually three observation towers at the World's Fair site. The shortest one wasn't included in the movie.
Wardrobe Note
For the iconic suits, costume designer Mary Vogt made an effort to avoid looking too Blues Brother. She said she was inspired by Cary Grant's classic grey suit in Hitchcock's North By Northwest (1959).
Read More