Uncategorized
Story Notes for Exit Wounds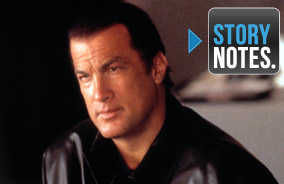 Weeknights during prime time on AMC, you can catch Story Notes — real time trivia and facts about your favorite movies! Below is the online version of the Story Notes for Exit Wounds.
Automotive Note
The film features a 1995 Lamborghini VT Diablo Roadster. Only 200 were produced.
Award Note
DMX was nominated for an MTV Movie Award for Breakthrough Male Performance for Exit Wounds.
Biographical Notes
Anthony Anderson got his start on the Saturday morning TV show Hang Time (1996-1997).
Bill Duke also kicks butt in Commando (1985).
David Vadim (Montini) is a former amateur boxing champion.
DMX said he knew men like his character Lattrell growing up in the projects in Yonkers, NY.
DMX's 2006 touring contract demanded a gallon bottle of Hennessy backstage.
Drag-On got his name from people saying he "spit fire" when he rapped.
Michael Jai White (Strutt) and Steven Seagal first worked together in 1993, on a Japanese soup commercial.
DMX took his name from the DMX digital drum machine, but now it stands for "Dark Man X."
Michael Jai White taught troubled kids before he became an actor.
Seagal became interested in martial arts as a kid when he saw a demonstration at a football game.
Seagal fights crime in real life, too. In 2012, he helped an Arizona sheriff seize 500 lbs. of marijuana.
Director Andrzej Bartkowiak started out as a cinematographer. His credits include Terms of Endearment (1983), Prizzi's Honor (1985), and Lethal Weapon 4 (1998).
Exit Wounds was Steven Seagal's return to movies after a three-year absence. It was a new Seagal — he slimmed down, updated his wardrobe, and ditched his trademark ponytail.
Seagal is an aikido master. In aikido, the focus is using your opponent's energy against him. In the early '80s, he started an aikido dojo in L.A.
Jill Hennessy's character on Law and Order is also killed in a car crash. She was afraid to let her dad see Exit Wounds since this one was even more graphic.
DMX was a huge star in 2001. Rolling Stone called him "a multiplatinum hip-hop phenom who rhymed about blood and grime at a time when the status quo was champagne and diamonds."
In 2007, DMX launched two clothing lines: DMX Authentic and the Earl Simmons Signature Collection. Earl Simmons is his real name.
Casting Notes
Bill Duke (Predator) also plays an angry police chief in Action Jackson (1988).
Rapper DMX had a small part in director Andrzej Bartkowiak's first movie, Romeo Must Die (2001). His performance was a hit with audiences,  so the studio made him one of the stars of this one.
Bruce McGill (D-Day in 1978's Animal House) plays Boyd's captain, Frank Daniels.
Jennifer Irwin (Group Leader) also dealt with out-of-control men on Eastbound and Down (2009-2013).
Matthew G. Taylor (Tall Guy) was a Toronto cop for five years before he became an actor.
Anthony Anderson (The Shield) plays a thug in Romeo Must Die.
Christopher Lawford is JFK's nephew, the son of Pat Kennedy and Rat Packer Peter Lawford.
Jill Hennessy appears in Law and Order (1993-1996) and Crossing Jordan (2001-2007).
The film features Joe Onosai, who placed in the top ten twice in the "World's Strongest Man" competition.
Crew Notes
Stunt coordinator R.A. Rondell (the Matrix movies) comes from a family of stuntmen. Rondell's grandfather did stunts for the Keystone Cops movies.
Father/daughter team John and Stephanie Berger served as gun wranglers on Exit Wounds. They worked together on 32 movies, arming stars including Jackie Chan, Al Pacino, and Chow Yun-Fat.
Fight choreographer Dion Lam specializes in wire work, where actors wear harnesses to defy gravity.
Technical advisor Peter Wiereter is a former LAPD officer with 22 years on the force.
The fights were choreographed by celebrated Hong Kong fight coordinator Dion Lam (Infernal Affairs).
Fashion Note
"Tag" is short for Tag Heuer. Their watches can cost from $1,400 to over $8,000.
Finance Note
Steven Seagal's movies made a billion dollars in ticket and DVD sales during the 1990s.
Location Note
Exit Wounds is set in Detroit, but it was shot in Canada – mostly in Toronto and Calgary.
Music Notes
The score was co-written by Damon Blackman, a.k.a. Dame Grease, a hip-hop producer from Harlem. He has worked with DMX, Swizz Beatz, LL Cool J, and Kelis.
"I Got You (I Feel Good)"  was the biggest hit of James Brown's career.
DMX was the first recording artist to have five albums in a row debut at No. 1 on the Billboard 200.
Seagal appeared in the video for "No Sunshine," which was nominated for an MTV Video Music Award.
Pop-Culture Notes
Police corruption is also a theme in Seagal's Hard to Kill (1990) and Marked for Death (1990).
"Five-O" is a slang warning that police are approaching.
Exit Wounds was an homage to '70s cop shows.
In Seagal's Marked for Death (1990), a drug sting goes bad because the buyer only brought half.
Exit Wounds opened at #1, his best opening since 1992's Under Siege.
Press Notes
Critics called the action scenes "thrilling" and said the story of corrupt cops "[rang] true to life."
Reviewers called Exit Wounds a successful comeback vehicle for Steven Seagal.
Production Notes
DMX returned with much of the same cast for Cradle 2 the Grave, director Andrzej Bartkowiak's 2003 follow-up.
This was the second hip-hop/martial arts movie by director Bartkowiak and producer Joel Silver. Their first mash-up, Romeo Must Die (2000), paired Hong Kong superstar Jet Li and R&B star Aaliyah.
Because of production issues, Eva Mendes's voice was dubbed over for the whole movie. She didn't know – until she saw the movie for the first time at the premiere.
DMX trained for six weeks in boxing, kickboxing, and wrestling for this role.
This was Seagal's first go at wire work in a movie.
Quotation Notes
Anthony Anderson joked that his main purpose in Exit Wounds was to make DMX look good.
Executive producer Dan Cracchiolo said DMX's eyes made them think "this guy might have… star quality."
Cracchiolo also said sending Boyd to anger management class humanizes him.
Jill Hennessy said being in Exit Wounds was "one of the best times in my life."
Hennessy also said that delivering her lines in the presence of a pantless Seagal was "tough."
Seagal: "Boyd may be down on his luck but he hasn't completely lost his sense of humor."
Seagal: "I have no fear of death. More importantly, I don't fear life."
Seagal: "I myself am a very nonviolent person and only resort to violence when I absolutely have to."
Tom Arnold: " If you can grab the audience right away with some humor, then it's good."
Set Notes
Most of the fights in Exit Wounds combine kung fu with aikido.
Fight choreographer Dion Lam designed different fighting styles for each character. On set, he covered everything from technique to the emotions you'd feel in a real-life shootout.
Seagal hurt DMX's shoulder while training. DMX had to take a couple days off to recover.
Source Note
The movie is based on the 1991 novel by former Long Island cop John Westermann. Seagal's character, Orin Boyd, is based on Westermann's old partner.
Tech Note
The first spy camera was invented in 1865. It was 1-by-2 inches and used dry plates instead of film.
Trivia Notes
A Taser shock overrides the control between the brain and muscles.
A top-of-the-line bulletproof vest could stop a .357 at point blank range. However, the impact could kill.
Based on the 2001 street value, $5 million dollars would buy around 145 pounds of heroin.
In 2001, Detroit was the most dangerous city in America. Crime was 3.5 times the national average.
In 2011 police confiscated a load of heroin-soaked dresses at Chicago's O'Hare Airport.
Some gangs mark their members with scars – they're harder to remove than tattoos.
Read More