Uncategorized
Story Notes for Above the Law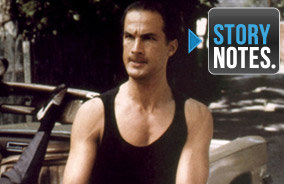 Weeknights during prime time on AMC, you can catch Story Notes — real time trivia and facts about your favorite movies! Below is the online version of the Story Notes for Above the Law.
Biographical Notes
Above the Law (1988) was Steven Seagal's first movie. With it, he became Hollywood's hottest action star.
Seagal was never drafted in the Vietnam War – he was living in Japan studying martial arts.
Before this, Seagal was a movie fight choreographer with his own martial arts school in L.A. He taught Michael Ovitz, the man who founded CAA, the biggest talent agency of the '80s. Ovitz thought Seagal could be a big star and organized the launch of his movie career.
Seagal has said that when he was younger, he was recruited to do undercover missions for the CIA. He claimed he saw the agency deal drugs to fund covert operations.
Director Andrew Davis (The Fugitive) grew up in Chicago. He's shot half of his movies there.
Steven Seagal has seven children.
At 17, Seagal moved to Japan to study martial arts. He's a black belt in aikido, karate, judo, and kendo.
Seagal claimed he fought off a crew of local gangsters and took control of their dojo while in Japan. He was Japan's first non-Asian dojo master.
In 1991, Seagal opened his own martial arts-themed restaurant in Chicago. The restaurant's co-owner called it "cheesy-cool – like Roadhouse.
Henry Silva also played the bad guy in director Andrew Davis's Code of Silence.
Seagal was raised Episcopalian and said he was very religious as a child. He is now a Buddhist. In 1997, he was named a tulku – the reincarnation of a deceased holy master. In a sacred ceremony in Tibet, he was given the title Terton Rinpoche, meaning "precious jewel."
Seagal plays a cop in his first four movies. He broke the streak by playing a Navy cook in Under Siege.
Seagal once told Larry King he could kill him with a move so quick that King wouldn't feel anything.
Chelcie Ross plays Conrad Hilton on Season 3 of AMC's Mad Men (2009).
Seagal has worked as a real police officer in Louisiana, Arizona, and New Mexico.
Seagal has said he started out writing screenplays, but people wanted him in front of the camera instead. He said he wrote 93% of his second movie, Hard to Kill, but the Writers Guild wouldn't give him a credit.
Seagal's first job in movies was as a fight coordinator on the martial arts action movie The Challenge (1982).
Seagal grew up in Michigan.
Pam Grier had a big comeback in the mid-'90s with Escape from L.A., Mars Attacks, and Jackie Brown.
Henry Silva had mostly played bad guys until 1967 when he moved to Italy to star in Spaghetti Westerns.
Seagal has said he's personally seen intelligence agents use truth serum like the one used in the movie.
In Hard to Kill (1990), Steven Seagal again plays a cop fighting corruption. In both movies, Seagal's character uncovers an assassination plot on a senator.
Just after Above the Law, Pam Grier was diagnosed with cancer and given 18 months to live. She beat the disease after five years of treatment.
Sharon Stone was nominated for an Oscar for her role as a mob wife in Casino (1995).
After Above the Law, Seagal made five No. 1 movies in a row, cementing his status as an action star.
Casting Notes
Henry Silva (1960's Ocean's 11) is an original member of "The Rat Pack."
Pam Grier is the star of '70s classics Coffy and Foxy Brown.
Daniel Faraldo plays Salvano. His first job was a 1976 episode of Kojak – he played a guy named Nico (like Seagal's character in the movie).
When Faraldo auditioned for his role, the director thought he was too small to intimidate Seagal. Seagal suggested Faraldo try to scare him, so he tried to break a chair over Seagal's back. He got the part.
Sharon Stone plays Nico's wife. This was four years before Basic Instinct (1992).
Ronnie Barton (Bartender) was a soul singer who was also in director Andrew Davis' first movie Stony Island (1978).
Michael Rooker (Merle on AMC's The Walking Dead) plays the "kosher" guy in the bar scene.
Joseph F. Kosala (Lieutenant Strozah) is a real Chicago ex-cop. He's been in seven of Andrew Davis' movies. He is technical advisor on Above the Law.
Nicholas Kusenko (FBI Agent Neeley) plays a CIA agent in Conspiracy Theory (1997).
Henry Godinez (Tomasino) has directed many plays at the Goodman, Chicago's largest non-profit theater.
Ron Dean (Lukich) also plays a detective in The Fugitive (1993) and The Dark Knight (2008).
Historical Notes
When Above the Law came out in 1988, the crack-cocaine epidemic was just hitting Chicago.
The Sanctuary Movement began in 1982 when an Arizona church took in 13 Salvadorian refugees. The movement grew to include 500 Protestant, Catholic, and Jewish congregations in 17 cities.
Music Notes
The score is by David M. Frank, who also wrote the music for Seagal's Hard to Kill and Out for Justice.
For the score, the director hired his favorite musicians, like Frank Zappa's drummer Vinnie Colaiuta and Hiram Bullock on guitar. Bullock has played with Sting, Paul Simon, and Billy Joel.
Plot Note
In many Seagal movies, somebody close to the main character gets shot or killed. Seagal said it motivates the hero to "step up at great sacrifice to himself and get the bad guys."
Pop-Culture Notes
Above the Law has a lot in common with director Andrew Davis's Code of Silence (1985). Both movies star martial artists and are about Chicago cops, corruption, and drug lords.
Seagal's signature ponytail won't show up until his next movie, Hard to Kill.
Eminem has mentioned Seagal in three of his rap songs and even called one "Above the Law."
Other CIA conspiracy movies: Three Days of the Condor (1975), The Bourne Identity (2002), Shooter (2007).
Above the Law is consistently ranked by Steven Seagal fans as one of his best movies ever.
After Above the Law, aikido experienced a boom worldwide. Seagal's L.A. dojo was struggling before the movie. After, it sold out all its classes.
Press Notes
The LA Times said Seagal speaks as if "a tiny man hidden under the floorboards might be taping [him]."
Roger Ebert once said that Seagal seemed smarter than action heroes like Arnold Schwarzenegger.
The LA Times said he had "quiet intelligence… like he could really pursue a complicated investigation."
Roger Ebert said this movie has "50 percent more plot than it needs, but that allows it room to grow."
The New York Times said Nico would "shoot you through the heart to protect your civil rights."
Production Notes
Before getting this part, Seagal had to demonstrate his martial arts skills for the studio. He physically dominated his students, which terrified the executives. They didn't know it was staged.
Director Andrew Davis was hired for Above the Law because Seagal liked his movie Code of Silence (1985). Code of Silence starred Chuck Norris and made him a household name.
Seagal and Daniel Faraldo went on a ride-along with real Chicago detectives to prepare for the movie. Faraldo said Seagal scared the criminals more than the cops did.
Prop Notes
Nico (Seagal) uses a Colt .45 pistol. Seagal has said he carried a gun just like it during his work with the CIA.
Steven Seagal personally selected every weapon used in Above the Law.
Quotation Notes
Pam Grier said this movie is one of her favorites because it shows off her acting.
Director Andrew Davis said he "wanted to use the full scope of Chicago as an actual character in the film.
Director Andrew Davis said action movies can "take on some very topical subjects… Keep the films entertaining [and] you can say things and make comments about the human situation."
Seagal: "It doesn't work if the bad guys kill his mother's uncle's friend's neighbor's pet dog… You've got to make the stakes high."
Seagal: "If you can't… let a [few] gang bangers come at you with baseball bats… you don't know aikido.
Seagal has said he can always tell when he's being lied to. He joked that he needs that skill in Hollywood.
Steven Seagal said he thought the government would stop Above the Law from being released. Seagal said he made this movie "to make up for all the things [he'd] seen – and done" while with the CIA.
Steven Seagal said, "In reality, our legislation protects the bad guys more than it does the good guys… One of the reasons why people… love action movies is because what they are really looking for is justice."
Script Notes
Seagal chose Above the Law from a pile of scripts Warner Bros. had been saving for Clint Eastwood. It was rewritten to focus on Seagal's actual backstory. Many of his stories have never been confirmed.
Originally, Above the Law was about corruption on the waterfront in San Francisco. When director Andrew Davis and Steven Seagal changed the story, they moved the location to Chicago.
The bartender is actually listed in the credits as "CIA Bartender" – he's been an agent all along.
Set Notes
Seagal taught all the actors in the movie to draw their gun his way: fast and clean.
Seagal choreographed all the aikido moves in Above the Law.
Henry Silva broke Steven Seagal's nose in the final fight scene. Seagal was rushed to the hospital. The next day Seagal was back at work. He stayed up all night icing it so that he wouldn't get a black eye.
Trivia Notes
Seagal is a master of aikido. It involves blending with an attack instead of meeting it head-on. Seagal uses the technique irimi, or "entering," to strike before he is attacked.
Police need a special warrant to bug a phone. It's called a "super warrant" because it's so hard to get.
In Chicago, audio-recording a person without consent is a felony that can land you 3 years in prison.
C-4 smells like almonds.
Illinois has the sixth-highest percentage of Catholics in the U.S. with almost 13 million.
Steven Seagal has his own energy drink. It comes in two flavors: "Asian Experience" and "Cherry Charge."
Seagal uses an aikido technique called randori to handle multiple opponents. It involves lining up your attackers and taking them on one at a time.
Priests are not allowed to share anything they're told during confession, even if it's about a crime.
Bulletproof vests spread the impact of the bullet, but a  shotgun that close would still cause serious damage.
Side effects of truth serum include: hallucinations, calmness, amnesia, and sometimes, death.
Read More