Uncategorized
Story Notes for Angels & Demons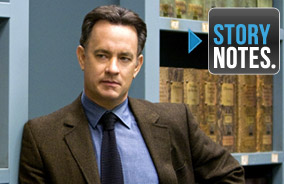 Weeknights during prime time on AMC, you can catch Story Notes — real time trivia and facts about your favorite movies! Below is the online version of the Story Notes for Angels & Demons.
Anthology Notes
Angels & Demons (2009) is the sequel to the hugely successful The Da Vinci Code (2006). Both movies are based on bestselling novels by Dan Brown.
The movie is set after the events of The Da Vinci Code, but the Angels & Demons book was written first. Because The Da Vinci Code book sold more copies, that movie was made first.
In The Da Vinci Code, Langdon suffered from claustrophobia. He was "cured" in that movie by a character laying hands on him during an armored car escape.
Awards Notes
Tom Hanks (Robert Langdon) won back-to-back Best Actor Oscars for Philadelphia (1993) and Forrest Gump (1994). He's one of only two Best Actor winners to do that. The other was Spencer Tracy in 1937 and 1938.
Angels & Demons was nominated for a Teen Choice Award for Best Movie.
Backstory Note
According to Ayelet Zurer, her character Vittoria also speaks French and German.
Biographical Notes
Ron Howard (A Beautiful Mind) directed both this movie and The Da Vinci Code. Howard had never made a sequel before but said this "exercis[ed] a whole other set of cinematic muscles."
Ewan McGregor (Carmerlengo Patrick McKenna) hadn't seen The Da Vinci Code or read any of Dan Brown's books before making the movie.
As a teenager, Hanks was a born-again Christian and led Bible readings at his church. He became a member of the Greek Orthodox Church after meeting his wife Rita Wilson.
Ewan McGregor also wore a priest's cassock in the BBC mini-series Scarlet & Black (1993). McGregor: "It's quite a powerful costume to wear."
Nikolaj Lie Kaas (Assassin) has been in over 50 movies, TV shows, and plays, mostly in his native Denmark.
Author Dan Brown's father arranged scavenger hunts for his children to find their Christmas presents.
Casting Notes
The voice in the opening sequence is Alfred Molina (Spider-Man 2), who plays a bishop in The Da Vinci Code.
The red-headed scientist who says "magnets to full field" is Ron Howard's wife Cheryl.
Ayelet Zurer (Vittoria) was in Munich (2005) a few years before this.
This was Tom Hanks' fourth time working with director Ron Howard. Hanks had starred in Howard's Splash (1984), Apollo 13 (1995), and The Da Vinci Code (2006). Tom Hanks: "Either I'm being rewarded, or he's being punished."
David Pasquesi (Claudio Vincenzi) is a well-known comedian in Chicago. He performs with Second City.
Pierfrancesco Favino (Olivetti) plays Christopher Columbus in Night at the Museum (2006). Ron Howard said he was like an Italian version of Tom Hanks.
Stellan Skarsgård (Commander Richter) is also in Good Will Hunting (1997) and The Avengers (2012).
Ewan McGregor was offered this role after he kept bumping into dir. Ron Howard at a London restaurant. Howard was in London filming The Da Vinci Code (2006).
Armin Mueller-Stahl (Cardinal Strauss) was nominated for an Oscar  for Shine (1997).
Danish actor Thure Lindhardt was almost cast as Silas in The Da Vinci Code. The role ultimately went to Paul Bettany, but Ron Howard liked Lindhardt's audition and cast him in this movie as Chartrand.
Nikolaj Lie Kaas starred in the original Danish version of AMC's The Killing. The cast in Angels & Demons is truly international: American, Scottish, Italian, Israeli, Swedish, German, and Danish.
Cosimo Fusco (Father Simeon) plays Rachel's love interest Paolo on Friends.
Crew Notes
Production designer Allan Cameron also worked with Ron Howard on The Da Vinci Code and Willow (1988).
Ron Howard has worked with cinematographer Salvatore Totino on six movies.
Health Notes
Thrombophlebitis occurs when a vein swells up due to a blood clot. It usually happens in the legs.
Humans can go three-to-six minutes without oxygen before brain damage starts to occur.
Historical Notes
The ceiling of the real Sistine Chapel was painted by Michelangelo from 1508 to 1512.
The Vatican Secret Archives were opened to researchers and scholars by Pope Leo XIII in 1881.
Galileo probably wasn't really part of the Illuminati – the group was founded over 100 years after his death.
The Pantheon was built as a temple to all the Roman gods. It became a Catholic church in 608 A.D.
The Chigi Chapel was designed by Raphael but completed by Bernini over 100 years later.
The ban on papal autopsy led to some controversy when Pope John Paul I died 33 days into his papacy.
Celestine V was allegedly murdered by his successor, Pope Boniface VIII, in 1296 A.D.
Two popes have been elected while serving as Camerlengo: Leo XIII and Pius XII.
The Diagramma isn't real, but the Vatican has a history with Galileo: it banned one of his books until 1835.
Location Notes
They weren't allowed to film in the Vatican, so they re-created it on sets in Los Angeles. But they were able to shoot some of the movie in Rome.
The ambigrams in the book and movie were created by John Langdon, a friend of Dan Brown's father. Brown named Robert Langdon after him.
Music Notes
Composer Hans Zimmer has scored 6 of director Ron Howard's movies, including The Da Vinci Code.
Composer Hans Zimmer mixed choral and electronic music to reflect the movie's religion vs. science theme.
Plot Note
The Swiss Guard's chief duty is to protect the Pope, who for the moment is the Camerlengo.
Pop-Culture Notes
You can take a guided tour of the Angels & Demons locations in Rome.
Production Notes
Crew members posing as tourists took pictures at the Vatican so they could accurately re-create it.
The production team took a tour of the Swiss Guard headquarters on one of their first visits to Rome. Some of the guards recognized Ron Howard from "Happy Days."
Production designer Allan Cameron had never seen the Vatican Archives, so he created this set from scratch.
The production used a fake title for the movie while they were shooting in Rome. Obelisk was the title they worked under.
Ron Howard called author Dan Brown for a way to point Langdon to St. Peter's tomb. Within a couple of minutes he came up with the idea for the upside-down keys.
Press Notes
One critic said Angels & Demons could have been called "The Silence of the Lambs of Christ."
The Newark Star-Ledger: "How many other thriller[s] build their best action scene around a bookcase?"
The New York Post called Angels & Demons "Roman Holiday on crank."
Prop Notes
More than 8,000 fake books were created for the scenes in the Vatican Archives.
The initial canister designs had a countdown timer. Ron Howard thought a battery monitor was more original.
Quotation Notes
Director Ron Howard: "We wanted a kind of '70s energy, a sort of street energy. I wanted [the movie] to have… immediacy and a chaotic feel and a kind of a coolness."
Ron Howard: "Popolo was basically a haunted house sequence… about the fear of what's around the corner… and what unexpected horror awaits them."
Ewan McGregor: "One of the most important things about playing… a man of God is… self-assuredness… I've never met anybody who represented a religion who isn't absolutely 100% convinced of their beliefs."
Tom Hanks: "It's wonderful to play somebody who's smart… [He's] way ahead of anybody else when it comes to… all the permutations of what a symbol means."
Tom Hanks on his character: "He is constantly living a game of Jeopardy. Pentagrams for 800 please, Alex."
Tom Hanks: "I learn[ed] an awful lot about particle physics that I didn't know before… In order to remain interested [in a movie], I always need to feel that I'm learning something."
Tom Hanks: "Langdon is kind of like a massive crossword puzzle all the time."
Ewan McGregor: "Like most power-hungry people, he believes in what he's doing. No one really thinks [of himself as] a bad guy. Everybody has a reason for doing what they're doing."
Ewan McGregor called called his character's demise "a good exit from the movie… There are ways to leave a film, but I've never had one where you set yourself alight with lamp oil."
Armin Mueller-Stahl (Cardinal Strauss) "I've made 140 films and this was the best crew I've ever worked with… When I met Ron [Howard] for the first time, I had the feeling I'd known him for a very long time."
Script Note
La Purga didn't really happen. Though based on some historical facts, most of Angels & Demons is fiction.
Set Notes
The production shut down a lot of streets for this scene, blocking a woman from getting to her wedding. Tom Hanks noticed this and personally escorted the bride to the church.
They built the Pantheon set to scale on a stage. Only half of the Pantheon was re-created. After getting all the shots from one side, they re-dressed the set and shot from the other angle.
The set for St. Peter's Square was the size of two football fields. It was built in the parking lot of the Hollywood Park racetrack near L.A.
They wanted to film at the real Fountain of Four Rivers in Piazza Navona, but it was under renovation. So they used the same they used for St. Peter's Square. It took them six weeks to convert it.
They hired a swimming pool contractor to build the underwater part of the fountain. The real Fountain of Four Rivers is not nearly as deep.
The St. Peter's Square set was 2/3 the size of the real one.
Source Notes
Dan Brown's novels and their movie adaptations have caused controversy with the Catholic Church. In 2006, a top Vatican official encouraged Roman Catholics to boycott The Da Vinci Code movie.
The book Angels & Demons sold over 39 million copies. The Da Vinci Code sold more than twice that.
In the book, the Camerlengo is Italian. They changed his backstory to make the character Irish.
In the novel, the Camerlengo is the biological son of the Pope through artificial insemination.
In 2004, all four of Dan Brown's novels were on The New York Times bestseller list in the same week.
Before it was a book or a movie, Angels & Demons was the title of a music album by Dan Brown. Dan Brown started out as a songwriter before becoming a novelist.
Author Dan Brown got the idea for Angels & Demons while touring Il Passetto. The Il Passetto is an elevated path between Castel Sant'Angelo and the Vatican. It has been used as an escape route for the Pope to get out of the Vatican.
In the book, the symbol branded on the Camerlengo's chest is the Illuminati diamond.
In the Angels & Demons book, Robert Langdon goes up in the helicopter with the Camerlengo.
Author Dan Brown's books have been published in 52 languages, with over 200 million copies in print.
Tech Note
There were 300-500 extras at a time for the St. Peter's Square scene. The rest of the crowd was computer-generated.
Trivia Notes
CERN stands for "Conseil Européen pour la Recherche Nucléaire." That translates to "European Council for Nuclear Research."
The Large Hadron Collider was built to study the laws of nature and the physics behind the Big Bang. It's the largest and most powerful particle accelerator in the world.
In reality, it would take billions of years to produce the amount of antimatter they create in the movie.
CERN began using biometric readers similar to this in 2007.
The Swiss Guard's uniforms were inspired by the artist Raphael's fresco paintings.
The "God particle" got its nickname from a 1993 book. It's really called the Higgs boson.
Though Langdon is a "professor of symbology," no such department exists at Harvard or anywhere else.
Mea culpa means "through my fault."
"Conclave" comes from the Latin cum clave, meaning "with a key."
Mors ad Caelos means "death to heaven."
The cardinals vote once on the first day, then twice each morning and evening until a new pope is elected.
There are over 900 churches in Rome.
There are 140 statues on the Colonnades in St. Peter's Square.
All 16 tiles around the obelisk in St. Peter's Square have five streaks of air, not just the West tile.
The Vatican Bank is called the Institute for the Works of Religion. It was founded in 1942.
The seraphim are flying serpents. Scholars believe the name comes from the Hebrew for "burning.
The Vatican Grottoes is an underground crypt that houses the tombs of popes, kings, and queens.
Conspiracy theorists have linked everyone from Beyoncé to Queen Elizabeth II to the Illuminati.
Santa Maria della Vittoria was built in the early 17th century and is dedicated to St. Paul the Apostle.
The Camerlengo is usually a cardinal or bishop, not a priest.
At 0.2 square miles, Vatican City is the smallest country in the world.
"The Ecstasy of St. Teresa" is based on Teresa of Ávila's tale of being visited by an angel.
Bernini's Fountain of Four Rivers depicts four major rivers in four continents. The Nile in Africa, the Danube in Europe, the Ganges in Asia, and the Rio de la Plata in the Americas.
Castel Sant'Angelo is a fortress that was created for Emperor Hadrian in 139 A.D.
The Hashashin were a band of killers formed during the Crusades. It's where "assassin" comes from.
The Vatican offers tours of the Necropolis, which is also called Scavi.
The Vatican set up new anti-terrorist units in 2008 after being listed as a target by extremist groups.
Most scientists dislike the name "God particle." They think it's misleading to give it a religious connotation.
In 2013, Pope Francis was elected in the fifth ballot over the course of two days.
Wardrobe Notes
Two hundred Carabinieri costumes were created for the movie.
Read More