Uncategorized
Story Notes for The Departed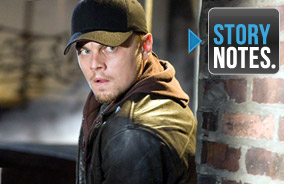 Weeknights during prime time on AMC, you can catch Story Notes — real time trivia and facts about your favorite movies! Below is the online version of the Story Notes for The Departed.
Award Notes
The Departed won the Oscar for Best Picture. It was the first remake to win the award.
Vera Farmiga earned an Oscar nomination for Up in the Air (2009).
Martin Scorsese won the Directors Guild Award for his work on The Departed.
Editor Thelma Schoonmaker (Raging Bull, The Aviator) won her third Oscar for The Departed.
Production designer Kristi Zea was nominated for an Art Directors Guild Award for The Departed.

Mark Wahlberg earned his first Oscar nomination for The Departed.
Jack Nicholson was nominated for a Golden Globe for The Departed.
Screenwriter William Monahan won the Oscar for Best Adapted Screenplay for The Departed.
Composer Howard Shore's score for The Departed was nominated for a Grammy Award.
DiCaprio earned an Oscar nod in 2007, but not for The Departed. He was nominated for Blood Diamond.
DiCaprio and Damon have been nominated for six Oscars and 14 Golden Globes between them.
Martin Scorsese won his first Oscar for The Departed. He'd been nominated seven times before.
Biographical Notes
Leonardo DiCaprio and Martin Scorsese first worked together on Gangs of New York (2000).
Matt Damon went to Harvard, but he never graduated.
Damon spent a lot of time with a therapist in Good Will Hunting (1997), also set in Boston.
Matt Damon and Alec Baldwin also worked together on The Good Shepherd (2006) and 30 Rock (2010).
Jimmy Bags can take a hit. The guy playing him, Mick O'Rourke, has been a stuntman for over 20 years.
Leonardo DiCaprio plays a heroin addict in The Basketball Diaries (1995).
The Departed is director Martin Scorsese's second remake. The first was Cape Fear (1991).
In 2012, Leonardo DiCaprio started an organic coffee line, LYON, to raise money for charity.
Vera Farmiga grew up in a Ukrainian community in New Jersey. She didn't learn English until she was six.
As of 2013, Alec Baldwin has hosted Saturday Night Live 16 times, more than any other host.
Martin Sheen quit smoking after he nearly died of a heart attack while filming Apocalypse Now (1979).
Vera Farmiga stars in Orphan (2009), produced by Leonardo DiCaprio.
Casting Notes
Jack Nicholson says he joined the cast because he was looking for a "nice juicy bad guy to play."
This is Leonardo DiCaprio's third movie with Scorsese.
James Badge Dale starred as Will Travers in AMC's Rubicon (2010).
Anthony Anderson had been known for comedies but was starting to play dramatic roles. A year before The Departed, he was in the Oscar-winning Hustle & Flow (2005) and on The Shield.
Retired police major Tom Duffy plays the governor. He also worked as a technical advisor on the movie.
Martin Sheen joined the cast before reading the script because he wanted to work with Scorsese.
Mark Wahlberg grew up in Boston's working-class Dorchester neighborhood. Scorsese said that meant "he knows that world fairly well and really knew [his] character."
Scorsese says he wanted Damon to play Sullivan because he had a "cocky attitude, a bravado."
Alec Baldwin began his Emmy-winning run on 30 Rock just five days after this was released.
Kevin Corrigan plays Cousin Sean. One of his early roles was in Scorsese's Goodfellas (1990).
Ray Winstone (2000's Sexy Beast) was an amateur boxer and is known for playing tough guys.
The agent sitting next to Damon in one scene is Mark Wahlberg's brother, Robert.
Scorsese offered Vera Farmiga an audition after seeing her in the indie movie Down to the Bone (2004).
Nicholson said Leonardo DiCaprio reached out to him and asked if he would consider doing the movie. After meeting with DiCaprio, Scorsese, and screenwriter William Monahan, he took the part.
David O'Hara got his break playing Stephen the Irishman alongside Mel Gibson in Braveheart (1995).
The little girl skipping across the airport is Martin Scorsese's daughter, Francesca.
Mark Rolston plays prisoner Bogs Diamond in The Shawshank Redemption (1994).
Finance Notes
At the time, The Departed was the most commercially successful movie of Martin Scorsese's career. It made over $290 million worldwide. Over his career, Scorsese's movies have earned over $1.7 billion.
Damon and DiCaprio's movies have made over $11 billion worldwide.
New York's tax breaks for the movie industry made it cheaper to film there.
Health Notes
Oxycontin is a powerful pain reliever and is one of the most abused drugs in America.
Lorazepam is a lot like valium. It's usually prescribed for anxiety.
Historical Note
Boston's Red Line was built over 100 years ago and runs north and south through the city.
Location Notes
Exterior shots of landmarks like the State House and Beacon Hill were all filmed on location in Boston. But most of the interiors were shot in Scorsese's hometown of New York City.
Frank (Nicholson) visits the Park Luncheonette in Brooklyn at the start of the movie.
One scene was filmed at Barbetta in NYC's Hell's Kitchen. The neighborhood was once home to New York's Irish mob.
Frank's penthouse is in Boston's Flagship Wharf condo. The building is also used in A Civil Action (1998).
Sullivan's condo was shot in the Suffolk University Law School library, right off Boston Common.
One scene was shot at Boston's Logan Airport.
Frank (Nicholson) walks on Boston's Long Wharf — named because it was over 1500 ft. long when built in 1715.
The movie theater scene was shot at New York City's Cinema Village. It's known for showing foreign and indie films.
One scene was shot at Raoul's French restaurant in New York City's SoHo neighborhood.
The Hurley Building in Boston's Government Square was used as the outside of the police headquarters.
They chose the particular rooftop where one climactic scene takes place because of its view of the Boston skyline.
One scene was shot at the Fore River Shipyard just south of Boston. In WWII, it was part of FDR's "Arsenal of Democracy" and produced many of the U.S. Navy's ships.
The funeral scene was filmed at Green-Wood Cemetery in Brooklyn, NY. Scorsese also shot Gangs of New York here.
Music Notes
Scorsese also uses The Rolling Stones' "Gimme Shelter" in Goodfellas (1990) and Casino (1995). He said he keeps using it because "the music has been very important to me over these years."
The lyrics to The Dropkick Murphys' "Shipping Up to Boston" are from a poem written by folk singer Woody Guthrie.
The Departed is scored by Oscar-winning composer Howard Shore (The Lord of the Rings).
Composer Howard Shore uses electric guitar throughout the score. Scorsese liked it because it gave the scenes "a slight edge."
Composer Howard Shore recorded with four New York-based guitarists, including G.E. Smith. Smith was the Saturday Night Live bandleader from 1985-1995. Shore was the show's first musical director.
Political Note
In 2004, Alec Baldwin spoke out against the Patriot Act.
Pop-Culture Notes
Frank's watches "Chi mi frena" from the opera Lucia di Lammermoor. It's a reference to Scarface (1932). Every time he is about to kill someone, he whistles this tune.
The shot of Sullivan waiting for Madolyn was inspired by The Third Man (1949).
"X"s hidden in the background recur throughout the film. It's another nod to Scarface (1932). In both movies it's a sign that something bad is about to happen.
Press Notes
Rolling Stone ranks The Departed as one of the best movies of the decade.
The Boston Globe calls The Departed "the closest we've come yet to The Great Boston Movie."
The Chicago Sun-Times calls The Departed a "gritty, intense, and electrifying work from a master."
Rolling Stone says Nicholson reached "undreamed-of heights of decadent devilment" in The Departed.
Production Notes
The Departed is the first time Martin Scorsese and Jack Nicholson worked together. They first met nearly 30 years earlier on the set of Scorsese's documentary The Last Waltz (1978).
Matt Damon went on a drug raid with the Massachusetts State Police to prepare for his role.
Even though Billy's bonus is never revealed, technical advisor Tom Duffy estimated it should be $100,000.
The Departed was produced by Brad Pitt's company, Plan B Entertainment.
Screenwriter William Monahan is from Boston and was familiar with the Irish Mob. Monahan: "It allowed me to explore themes that were very personal to me."
Leonardo DiCaprio visited Boston and met with people tied to the Irish Mob.
Damon decided his character should be impotent to counter Frank's macho personality.
Vera Farmiga was one of the only actors who didn't watch Infernal Affairs, the movie this is based on. Madolyn is inspired by multiple characters, so Farmiga thought it would be confusing for her.
Vera Farmiga met with a real LAPD psychiatrist to prepare for her role. The psychiatrist read the script and told Farmiga that Madolyn did pretty much everything wrong.
Quotation Notes
Boston-born Matt Damon said working on a Scorsese movie about Boston was the "dream of all dreams."
Wahlberg: "I didn't have to do much homework for this movie – I've known a lot of these guys. The only difference is I was playing one of the cops who used to arrest me all the time."
Leonardo DiCaprio: "[Billy] wants to do things differently than his family did."
Damon: "What I knew of the State Police was from the times that I got pulled over for speeding on the Pike."
DiCaprio: "Boston's a really interesting place because everyone knows each other's business. Everyone waves to each other on the street and they all have overlapping stories."
Martin Scorsese: "For me to do another gangster movie – it had to be something special." Scorsese said he felt close to the Irish because they come from the same part of New York City as he did.
Leonardo DiCaprio described his character as being in a "constant, 24-hour panic attack."
Martin Scorsese joked that he's much more comfortable with gangsters on set than police. "I was worried that there were cops all around me and they were going to take me in."
Vera Farmiga was nervous about meeting Leonardo DiCaprio and Martin Scorsese. "You expect there to be a certain chasm between you [and them] and there wasn't."
Jack Nicholson on his character: "He's a mad, bad nut job."
Vera Farmiga: "It would have been a bore if Madolyn did things by the book."
Jack Nicholson once said: "The life of a gigolo always ends badly. That is one of the reasons I feel uncomfortable about all that 'sex legend' stuff."
DiCaprio called this one-on-one scene with Nicholson "one of the most memorable moments of my life."
DiCaprio: "I'm sitting across the table from a homicidal maniac who will maybe light me on fire."
Cinematographer Mark Ballhaus: "The whole movie was somewhat influenced by film noir." Ballhaus said he used shadows and light "to add variety and texture to the atmosphere."
Vera Farmiga: "She's pulled by her desire and pushed by her conscience… I love the contradiction."
Scorsese: "Good and bad become very blurred. It's a world where morality doesn't exist."
Scorsese: "[DiCaprio] knows how to express emotional impact without saying a word. You can see it in his face, you can see it in his eyes."
Leonardo DiCaprio called Billy and Sullivan "two sides of the same coin."
Screenwriter William Monahan: "In Irish culture, an informer is the worst thing you can be."
Producer Graham King said The Departed turned the gangster genre "into something new and different. That's what Marty does."
Matt Damon: "They're the same guys. They're the same age, from the same neighborhood. They're both pretending to be people they're not."
Scorsese: "[All the characters] are tied together almost like in a dance of death… or like a tango."
Scorsese called Colin (Damon) the more tragic character because "he truly believes he will get away with everything."
Random Note
There are 22 people killed in The Departed. That's more than double the body count in Goodfellas (1990).
Script Notes
The Departed (2006) is Martin Scorsese's remake of the acclaimed Hong Kong movie Infernal Affairs (2002).
Frank Costello was inspired by notorious Boston mobster Whitey Bulger.
The title The Departed is an ironic twist on "faithful departed," because the movie is about faithlessness.
After Jack Nicholson joined the cast, his character was rewritten to give him a bigger part.
Screenwriter William Monahan (Kingdom of Heaven) didn't watch Infernal Affairs before adapting the script.
Nicholson improvised some of his dialogue to make it scarier.
Set Notes
Wahlberg easily fell back on his native accent. Scorsese joked it was so thick they'd need subtitles.
Martin Sheen based his character on technical advisor and retired state police officer Tom Duffy.
Jack Nicholson offered to shave off his goatee, but Scorsese wanted him to look disheveled.
Martin Sheen and Leonardo DiCaprio rode the Red Line about 100 times to get enough takes of one sequence.
Trivia Notes
"Non serviam" is Latin for "I will not serve." In James Joyce's Portrait of the Artist As a Young Man, it refers to Lucifer's refusal to serve God.
The Massachusetts State Police is the oldest state law enforcement agency in the country.
"Eight ball" is slang for an eighth of an ounce of cocaine.
Today, undercover agents can record conversations using wireless devices as small as a button.
Whitey Bulger, the inspiration for Frank, had a "rat" in the FBI.
Massachusetts does not require interrogations to be taped, but impersonating a lawyer is illegal.
Whitey Bulger, the inspiration for Frank, was convicted of 11 murders in 2013.
When a cell phone is on, its location is registered with a cell tower every few minutes.
Martin Sheen also worked with Leonardo DiCaprio on Catch Me If You Can (2002).
A talent agent once suggested DiCaprio change his name to Lenny Williams so he didn't seem "ethnic."
There are 300 surveillance cameras around Boston. Chicago leads the nation with 10,000.
When The Departed was released in 2006, a single gram of cocaine cost about $138 in the U.S.
Wardrobe Note
Frank wears a Notre Dame Fighting Irish T-shirt. That's where Queenan (Sheen) says his son goes to school.
Read More