Uncategorized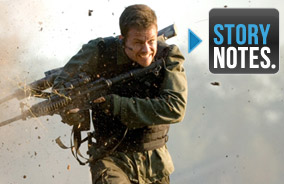 Weeknights during prime time on AMC, you can catch Story Notes — real time trivia and facts about your favorite movies! Below is the online version of the Story Notes for Shooter.
Biographical Notes
In 2010, Mark Wahlberg visited the troops in Afghanistan as part of a USO tour.
In his Marky Mark days, Wahlberg was the face of Calvin Klein underwear, often performing onstage in just that.
Kate Mara might not like the Eagles jacket that Mark Walhberg's character wears in the movie. Her family owns the New York Giants.
Mark Wahlberg has played a character from every branch of the military except the Coast Guard.
Mark Wahlberg was Glamour's "Sexiest Man Alive" two years in a row (2012-2013).
Rade Sherbedgia started as an actor in the former Yugoslavia before he was forced to flee in 1992.
Right before Shooter, Michael Peña starred in World Trade Center (2006), a movie about the 9/11 attacks.
In 2009, Kate Mara had a stint on Entourage. It was produced by Wahlberg and loosely based on his life.
Shooter was produced by Lorenzo di Bonaventura. He's known for action movies like The Matrix (1999). He also produced Mark Wahlberg's Four Brothers and director Antoine Fuqua's Training Day.
Mark Wahlberg dropped out of school when he was 14. He was in constant trouble with drugs and stealing. At 16, he spent 45 days in prison for beating a man, and he vowed to turn his life around.
Wahlberg became famous as rapper Marky Mark. His first album went platinum in 1992. He got his start with help of his older brother Donnie of New Kids on the Block.
In 2010, Forbes named Mark Wahlberg one of the hardest-working actors in Hollywood. Wahlberg made 10 movies from 2006-2010, starting with Invincible and ending with The Fighter.
Casting Notes
Alan C. Peterson (Timmons) plays the sheriff in Shanghai Noon (2000).
Brian Markinson (Attorney General) plays Dr. Arnold Rosen on Mad Men.
Danny Glover was cast as the bad guy because they wanted someone audiences would trust early on.
Kate Mara (Brokeback Mountain) was cast because, in her audition, she had great chemistry with Wahlberg.
Michael Peña (Crash) signed on because director Fuqua's Training Day is one of his all-time favorite movies.
Ned Beatty was in the Capitol Hill drama Charlie Wilson's War the same year as Shooter (2007).
Rhona Mitra plays Tara Wilson on The Practice and its spinoff Boston Legal from 2003-2005.
Louis Ferreira is also in AMC's Breaking Bad and SGU Stargate Universe.
The film features Elias Koteas from AMC's The Killing. He was Casey Jones in Teenage Mutant Ninja Turtles (1990).
The man in the wheelchair is Rade Sherbedgia (Snatch, The Saint).
This was Mark Wahlberg's first movie after his Oscar nomination for The Departed (2006).
Tate Donovan (Argo, The O.C.) is a good friend of Shooter producer Lorenzo Bonaventura. When they couldn't cast the role of Russ Turner, Donovan flew to Canada at the last minute to help out.
Danny Glover wanted to work with Mark Wahlberg and Antoine Fuqua. He said Fuqua "knew what he was doing in terms of action films."
Historical Notes
In 2007, when Shooter came out, Ethiopia invaded Somalia, and the U.S. sent troops to the Horn of Africa.
The United Nations internationally outlawed torture in 1984, even if it's legal in individual countries.
Music Notes
Director Antoine Fuqua said the lyrics of "Nasty Letter" by Otis Taylor felt like they were written by Swagger (Wahlberg). The song ends with: "If the devil comes, I've been wrongly accused. I've been wrongly accused."
Shooter's score was composed by Mark Mancina (Speed, Training Day). He wanted to create a score with "a little more depth" than the typical action movie.
Political Note
When Shooter came out in 2007, President George W. Bush's approval rating had dropped below 29%.
Pop Culture Notes
A 2011 Reputation Institute study said Bono was the eighth most trusted "visible leader" in the world.
Mark Wahlberg said Shooter reminded him of "old-school" '70s movies like Dirty Harry and Taxi Driver.
Other sniper movies: The Day of the Jackal (1973), Enemy at the Gates (2001), and The Bourne Legacy (2012).
Producer Lorenzo di Bonaventura said Swagger is an American hero like those John Wayne used to play. The last movie John Wayne ever made was The Shootist (1976).
Press Notes
The New York Times called Shooter "a satisfyingly violent entertainment about… things that go boom."
Rolling Stone called Shooter a "shotgun marriage between The Fugitive and The Bourne Identity."
Variety said Wahlberg fills the shoes once "worn by Sylvester Stallone or Bruce Willis."
Production Notes
Kate Mara took her dad to the Shooter premiere. Her love scene made him really uncomfortable.
Mark Wahlberg is left-handed, but most snipers are righties. So he learned to shoot right-handed.
Michael Peña followed agents at the FBI offices in Los Angeles and Philadelphia to prepare for his role.
Peña based his character on an FBI rookie he met who was always "on a search for what was going on."
Wahlberg called dir. Antoine Fuqua "the Sergeant" because he was so demanding during some scenes.
Director Antoine Fuqua (Training Day) and Wahlberg had gotten together to work on a different project. Then, Wahlberg showed Fuqua the script for Shooter, and they decided to make it instead.
Mark Wahlberg modeled his character on his shooting instructor, Marine sniper Patrick Garrity. Wahlberg depended on Garrity so much, he had him hired as the movie's military technical consultant.
Director Antoine Fuqua wanted Shooter to feel like a Western, with lots of large-scale shots of the land. He was inspired by Sergio Leone's spaghetti westerns.
Mark Wahlberg went through intensive sniper training. He was hitting bullseyes on his first day. By the second day, he was able to hit a target 10 football fields away.
Prop Note
To see if the homemade bombs were possible, the crew made live versions and set them off.
Quotation Notes
Danny Glover says Johnson isn't a bad guy, just a businessman "protecting certain interests."
Kate Mara said it was fun figuring out in rehearsals how fast her character and Swagger (Wahlberg) would learn to trust each other.
Wahlberg liked Shooter because he wanted to do a movie he'd "run out and see."
Script Notes
Screenwriter Jonathan Lemkin (The Devil's Advocate) went through sniper training before writing the script.
The screenwriter was inspired by conspiracy movies like Three Days of the Condor and The Parallax View.
Stephen Hunter, author of the book Shooter is based on, wrote an early draft of the script. It was so bad he was immediately fired. He called it "the smartest thing they could have done."
Set Notes
Kate Mara hated handling the guns. She was horrified by them.
Michael Peña liked to crack jokes on the set, making fun of director Antoine Fuqua whenever he got too serious.
Michael Peña said Wahlberg was pretty intense on set and stayed in character most of the time.
Wahlberg did a lot of his own driving. He made the director nervous because he drove way too fast.
Source Notes
In Point of Impact, the book this is based on, Swagger was a Marine sniper in Vietnam.
In the book Shooter is based on, JFK's real assassin is still alive — he's the man who shot the archbishop.
Stephen Hunter followed up Point of Impact, the book this is based on, with seven more Swagger books.
Stephen Hunter wrote the book Shooter is based on after he read about a sniper who lost his spotter.
Stephen Hunter said Swagger wears "a backpack of grief."
Wahlberg said doing this just one year after The Departed might earn him a rough reputation. He joked, "If I do a romantic comedy, I'm going to have to, like, shoot Cameron Diaz at the end."
Director Antoine Fuqua said shooting action scenes is like "going to war. You've got to coordinate everything [and] keep people safe."
Trivia Notes
"Slow is smooth: smooth is fast" is a U.S. military training proverb. Every soldier knows it.
A bullet gets unique markings from the barrel of the gun that fired it. Wrapping it in paper prevents that.
According to a 2013 poll, 73% of Americans don't trust the government.
As of 2013, the FBI had over 35,000 employees working in 436 offices around the U.S.
Every U.S. Marine sniper works with a spotter, a sniper-in-training who tells him where to shoot.
HOA, the Horn of Africa, is the East Africa peninsula that includes Sudan, Ethiopia, and Somalia.
Most gunshot victims die from the loss of blood, not from the initial impact of the bullet.
Navy snipers shoot from boats by "trapping" – staying still and waiting for the target to bob up into view.
NRO (The National Reconnaissance Office) monitors spy satellites. Their motto is "Vigilance from Above."
Skeet shooting became a sport in 1926. Skeet is a Scandinavian word for shoot.
Snipers go through a special breathing technique before they shoot, to slow their heart rate down.
Tennessee's real slogan is "America at its best."
The ASAC is the head of the local FBI office. It stands for "Assistant Special Agent in Charge."
The FBI has 56 different SWAT teams located all around the country and ready for deployment.
The Guinness World Record for longest sniper kill is 1.54 miles, set by a British soldier in Afghanistan.
The Medal of Honor is the U.S. military's highest award, given for "valor in combat."
The number one threat to snipers in the field is other snipers.
The president's motorcade is called "the package." In reality, the president could be in any of the cars. Sometimes the entire motorcade is a decoy.
Wardrobe Note
The ghillie suit is designed to camouflage the silhouette, shine, and shape of the human body. Military consultant Patrick Garrity built all of the ghillie suits on set, including Swagger's snow suit.
Read More