Uncategorized
Story Notes for Pulp Fiction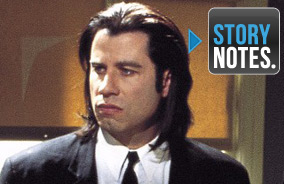 Weeknights during prime time on AMC, you can catch Story Notes — real time trivia and facts about your favorite movies! Below is the online version of the Story Notes for Pulp Fiction.
Automotive Notes
Vincent's 1964 Chevy Malibu belonged to Tarantino. The car was stolen from the set of Pulp Fiction. It was found 19 years later in 2013.
Choppers are modified motorcycles that have been stripped down or "chopped."
Award Notes
Pulp Fiction (1994) was nominated for seven Academy Awards, including Best Picture.
Pulp Fiction won the Palme d'Or – the festival's top prize.
Samuel L. Jackson was nominated for a Best Supporting Actor Oscar for playing Jules.

John Travolta got his second Oscar nomination for this movie. His first was for Saturday Night Fever.
Uma Thurman was nominated for a Best Supporting Actress Oscar and a Golden Globe for playing Mia. Tarantino directed her to Golden Globe nominations for both Kill Bill movies too.
The dance with Mia (Thurman) and Vincent (Travolta) won an MTV Movie Award for "Best Dance Sequence."
Quentin Tarantino earned his first Best Director Oscar nomination for Pulp Fiction. He was nominated again in 2010 for Inglourious Basterds.
Editor Sally Menke has worked on all of Tarantino's movies. She was nominated for an Oscar for Pulp Fiction.
Quentin Tarantino and Roger Avary won the Oscar for Best Original Screenplay for Pulp Fiction. Tarantino later won another Original Screenplay Oscar for Django Unchained (2012).
After accepting the Oscar for co-writing Pulp Fiction, Roger Avary said he had to "take a pee." He was referencing Forrest Gump, which won six Oscars that night.
Backstory Note
Vincent was in Amsterdam to run a club for Marsellus.
Beauty Note
Mia (Thurman) wears Chanel Vamp nail polish. It sold over $1 million after Thurman wore it in this movie.
Biographical Notes
From 1990 to 2000, Samuel L. Jackson was in 49 movies – almost five per year. In 2011, he was named "The Highest-Grossing Actor of All Time" by the Guinness Book of World Records.
After the huge success of Grease (1978) and Urban Cowboy (1980), Travolta hit a slump in the '80s. Pulp Fiction revitalized his career, leading to starring roles in Get Shorty (1995) and Face/Off (1997).
Tarantino played an Elvis impersonator on The Golden Girls. It was one of his first acting gigs. Tarantino spent three months in a one-room apartment in Amsterdam writing the first draft of Pulp Fiction.
John Travolta won a Twist contest when he was eight years old.
Uma Thurman is named after the Hindu goddess of light and beauty.
Quentin Tarantino was born in Knoxville, TN. there are a few references to the city in the movie.
Harvey Keitel (The Wolf) plays a similar character, Victor the Cleaner, in Point of No Return (1993).
At their first meeting, Keitel asked Tarantino how he knew so much about tough guys. Tarantino replied, "I watch movies."
Amanda Plummer's father is Christopher Plummer from The Sound of Music (1965).
Jackson went on to work with Tarantino on four more movies: Jackie Brown (1997), Kill Bill Vol. 2 (2004), Inglourious Basterds (2009), and Django Unchained (2012).
Casting Notes
Tim Roth played Mr. Orange in writer/director Quentin Tarantino's first movie Reservoir Dogs (1992).
Amanda Plummer is also in The Fisher King (1991).
Tarantino had wanted to work with John Travolta since seeing him in Brian DePalma's Blow Out (1981). It's on a list of Tarantino's favorite movies, along with Rio Bravo (1959) and Taxi Driver (1976).
Samuel L. Jackson had just been in True Romance (1993), which was written by Tarantino.
Frank Whaley (Brett) starred in Swimming With Sharks the same year as Pulp Fiction (1994).
Bruce Willis was introduced to Quentin Tarantino by Harvey Keitel. Willis' and Keitel's kids are friends. Willis met Tarantino at a barbecue at Keitel's house and was offered this role.
Paul Calderon (Paul/English Bob) auditioned to play Jules. He was so impressive he almost stole the part from Jackson. Jackson had to come in for a second audition to secure the role.
Marsellus is played by Ving Rhames from Out of Sight (1998) and the Mission: Impossible movies.
Rosanna Arquette is also in Desperately Seeking Susan (1985) and The Whole Nine Yards (2000). Her brother Alexis has a small role later in the movie, and her sister Patricia starred in True Romance (1993).
Eric Stoltz (Lance) was introduced to Tarantino by Tim Roth at the Sundance Film Festival.
Uma Thurman initially didn't want to play Mia. Tarantino convinced her over a 3-hour dinner. Thurman: "No one could believe I even hesitated in any way. Neither can I, in hindsight."
The guy in the Zorro costume is Pulp Fiction producer Lawrence Bender. ender has produced most of Tarantino's movies.
Steve Buscemi ("Buddy Holly") played Mr. Pink in Tarantino's Reservoir Dogs (1992).
Tarantino offered Eric Stoltz the choice to play either Lance or Jimmie (the character Tarantino plays later). Tarantino told him, "There are two parts you can do, and they both wear bathrobes."
Christopher Walken had just been in the Tarantino-penned True Romance (1993).
Tarantino saw Angela Jones (cab driver) in a short film called Curdled (1991) at a film festival in Italy. Tarantino later helped make the short into a feature-length movie, serving as an executive producer. Angela Jones's character in Curdled was obsessed with violence and death just like the cab driver in Pulp Fiction.
Maria de Medeiros (Fabienne) starred in Henry & June (1990) with Uma Thurman.
Matt Dillon was originally going to play Butch. After Bruce Willis expressed interest, Tarantino asked Dillon if he was definitely on board. When Dillon took a night to "sleep on it," Tarantino said he was out and gave the part to Willis.
Comedian Kathy Griffin plays herself.
Duane Whitaker (Pawn Shop Guy) later wrote From Dusk Till Dawn 2: Texas Blood Money (1999). Tarantino wrote the original From Dusk Till Dawn (1996) and was an executive producer on the sequel.
Peter Greene (Zed) played the villain in The Mask the same year as Pulp Fiction (1994).
Phil LaMarr (Marvin) joined the cast of MADtv right after this. He's also a voice-over actor (Futurama).
Quentin Tarantino was an actor before he was a director. He appears in most of his own movies.
Harvey Keitel (The Wolf) played Mr. White in Tarantino's Reservoir Dogs (1993). His involvement played a huge part in getting that movie made, which started Tarantino's career.
Raquel is played by Julia Sweeney, who had just finished a four-season run on "Saturday Night Live."
Crew Note
"Big Jerry Cab Co." is a nod to Tarantino's friend and Pulp Fiction graphic designer Gerald Martinez. The two met working at Video Archives, the video store where Tarantino developed his film knowledge.
Finance Note
Pulp Fiction was made for $8 million and ended up making over $200 million at the box office.
Location Note
The Hawthorne Grill was torn down shortly after the coffee shop scene was filmed there.
Music Notes
After Pulp Fiction's release, many songs on the soundtrack were rediscovered by a modern audience.
Tarantino wrote the scene where Vincent picks up Mia at the house with the song "Son of a Preacher Man" by Dusty Springfield in mind. He said he would have cut the scene if he couldn't use this song.
Tarantino: "I've always loved surf music, but I've never had a… clue what the hell it had to do with surfing… To me, it sounded like rock 'n' roll Spaghetti Western music.
Tarantino on featuring "Girl, You'll Be a Woman Soon" by Neil Diamond (1967), performed by Urge Overkill (1992): "I've always loved Neil Diamond's version of that song, but I like their version even better."
Plot Notes
Though Pulp Fiction has been criticized for being overly violent, there are only seven deaths in the movie.
The Wolf is introduced without showing his face, just like Marsellus and Mia.
Something bad happens every time Vincent goes to the bathroom.
Pop-Culture Notes
"Royale with cheese" was chosen by Premiere magazine as one of the "100 Greatest Movie Lines."
Vincent and Jules were #29 on Entertainment Weekly's "Top 100 Characters of the Last 20 Years."
In 1999, Pulp Fiction executive producer Danny DeVito starred in a movie called The Big Kahuna.
A Flock of Seagulls was the '80s new wave band that sang "I Ran (So Far Away)." The singer had floppy bangs.
Fans have a lot of theories about what's in this briefcase, including an Elvis suit and gold bricks. Tarantino has refused to say what's inside: "You think you want me to tell you… but you don't."
Jules' speech is inspired by Sonny Chiba's Shadow Warriors TV show. Sonny Chiba plays a ninja that would usually give a lecture to the bad guy before killing him. Chiba reprises that character in Tarantino's Kill Bill movies.
Then line "Can you dig it? I knew that you could" was a line in Travolta's Saturday Night Fever. It was originally the catchphrase of a Billy Crystal character in the '70s.
Douglas Sirk is one of Tarantino's favorite directors. He made brightly-colored melodramas in the '50s.
Durward Kirby was a TV host and announcer. He co-hosted Candid Camera in the '60s.
Travolta starred in Urban Cowboy (1980) and Thurman starred in Even Cowgirls Get the Blues (1993).
Fox Force Five inspired the Deadly Viper Assassination Squad in Tarantino's Kill Bill movies. Tarantino and Thurman started developing Kill Bill while making this movie.
Mia's shake is named after the comedy team of Dean Martin and Jerry Lewis.
Mia's hair is modeled after Anna Karina in Jean Luc Godard's Bande à Part (1964). Tarantino, a huge Godard fan, named his production company A Band Apart after that movie.
The Ed Sullivan Show ran from 1948 to 1971. Many of the characters at Jack Rabbit Slim's were guests. The Beatles' appearance on the show in 1964 marked the beginning of the "British Invasion."
The dance competition was inspired by a scene in Bande à Part (1964).
The famous "eye dance" was taken from an episode of the Batman TV series. It's called the Batusi.
Some of Mia's dance moves are inspired by Duchess in Disney's The Aristocats (1970).
When the movie first screened in the U.S., an audience member fainted from watching Mia's resuscitation scene.
The cartoon that Young Butch watches is Clutch Cargo from 1959 that uses live-action human lips over animation.
Sgt. Winocki (mentioned in Captain Koons's speech) is the same name as a gunner in Howard Hawks' Air Force (1943). Hawks is one of Tarantino's favorite directors.
Walken met a fan in a steam room in Europe who recited the whole Koons speech to him verbatim.
The Zed sequence part of the movie is a nod to Deliverance (1972), which Tarantino saw when he was in fourth grade.
The "pliers and blowtorch" and "medieval on your ass" lines are from the movie Charley Varrick (1973). Maynard, the pawn shop clerk, is named after the character who said those lines in Varrick.
In 2013, The Guardian ranked "Zed's dead" as the best moment of Bruce Willis' career.
Lash LaRue acted in B-movie Westerns in the '40s. He got his nickname from being a master of the bullwhip.
Caine from Kung Fu (1972-1975) is played by David Carradine, who is Bill in Tarantino's Kill Bill movies.
In 2012, Complex.com ranked Jules the No. 2 "Most Badass Character in a Quentin Tarantino Movie." Uma Thurman's Bride from Kill Bill was No. 1.
A parody of this movie called Plump Fiction came out in 1998. The suitcase in that movie holds a "Welcome Back, Kotter" lunch box and orange glow sticks.
In 2013, Entertainment Weekly named Pulp Fiction one of the "20 Greatest Movies of All Time." EW: "Tarantino creates a dizzying spectacle of life at its darkest, only to release us, with a wink, into the light."
Press Notes
Roger Ebert called it "the most influential" movie of the 1990s. Roger Ebert called Tarantino "the first director who's a rock 'n' roll star."
Gene Siskel said Generation X was "The Tarantino Generation."
Rotten Tomatoes gave Pulp Fiction a 94% "fresh" rating, meaning most critics liked it.
Pulp Fiction was on more critics' Top Ten Lists than any other movie in 1994.
Entertainment Weekly called Jules "the soul and spirit of Pulp Fiction — fury reined in by order."
Production Notes
After the success of that movie, Tarantino got a $900,000 advance to write Pulp Fiction.
The "trunk shot" is one of Tarantino's signature camera angles. He's used it in almost all of his movies, from Reservoir Dogs (1992) to Django Unchained (2012).
Travolta had the idea for Vincent to have long hair. He added extensions to give himself "a Euro haircut."
Jules was going to have an afro, but a crew member brought back a Jheri-curl wig and Jackson loved it.
A former heroin addict who was friends with Tarantino made sure all the drug use in the movie was accurate.
When Tarantino met Travolta, he happened to be living in Travolta's first L.A. apartment.
Between takes, Christopher Walken would sip hot sauce to keep his saliva flowing for his long speech as Captain Koons.
Bruce Willis, and most of the other actors, took a big pay cut to make this movie. Willis: "I don't think it was ever about the money for anyone."
Tarantino showed Willis the film noir movie Nightfall (1957) to help him get into character.
Other actors passed on the role of Marcellus because they didn't want to play a rape victim. Ving Rhames embraced it. Rhames: "Because of the way I look, I don't ever get the opportunity to play many vulnerable people."
Tarantino also had "Mexican standoffs" in Reservoir Dogs and Inglourious Basterds. Hong Kong director John Woo, a big inspiration for Tarantino, is known for his use of the "Mexican standoff."
Samuel L. Jackson auditioned for the movie with what became the final scene. Tarantino didn't know how the movie was going to end until he saw Jackson's audition.
Prop Notes
Fruit Brute was the first of the "monster" cereals (Frankenberry, Count Chocula) to be discontinued. Tarantino, who loves cereal, had kept the box used in the movie for years. He also used it in Reservoir Dogs.
A samurai sword, or katana, is The Bride's weapon of choice in Tarantino's Kill Bill movies.
In the coffee shop scene, Vincent is reading Modesty Blaise, a good example of the kind of Pulp Fiction the movie is based on.
Tarantino kept "the wallet" after the movie to use as his own.
Quotation Notes
Tarantino has said that if he was watching the movie, the story he'd want to know most was Mia's.
Tarantino on Thurman: "We've always kind of felt she was my actress and I was her director."
Rosanna Arquette called Jody "a cranky old bitch who was just fed up with her husband's shenanigans."
Quentin Tarantino said Bruce Willis was "the only contemporary star to evoke the actors of the fifties."
Tarantino saw Butch as a bully, "like Ralph Meeker as Mike Hammer in Kiss Me Deadly (1955)."
Bruce Willis: "Love conquers all. [Butch is] tamed by his love for Fabienne."
Tarantino said if he made the movie just about Butch's story, Vincent wouldn't have had a name. "He would have been called 'Thug Number 1' and he would have entered a room just to get killed."
Tarantino: "Harvey had been my favorite actor since I was 16 years old… I'd seen him in Mean Streets and Taxi Driver and other stuff."
Script Notes
Pulp Fiction gets its title and tone from the pulp crime novels and magazines of the 1920s and '30s.
True Romance and Natural Born Killers, both written by Tarantino, also feature criminal couples.
Big Kahuna burgers are also discussed in Tarantino's Reservoir Dogs (1992) and Death Proof (2007).
Red Apple cigarettes are a brand that Tarantino made up. He also used them in Four Rooms and Kill Bill.
"Bava" is a shoutout to Mario Bava, the director of Black Sabbath (1963). Black Sabbath's three-story plot inspired Tarantino when he was writing Pulp Fiction.
The scene where Mia interviews Vincent on video is not in the theatrical version of the movie. Tarantino cut it because he thought camcorder interviews were being overused in movies at the time.
Tarantino named Vincent after Suzanne Vega ("Luka"), one of his favorite singers. Vic Vega was the name of Michael Madsen's character in Reservoir Dogs. When Madsen wasn't available to reprise his role in this movie, Tarantino changed the part to Vic's brother.
The speech given by Captain Koons (Walkens) is inspired by the actor's Oscar-winning role as a P.O.W. in The Deer Hunter (1978).
In the original script, Butch gets out of the car and debates whether to go after the watch. He says: "When I took Marsellus Wallace's money, I started a war. This is my World War II."
In Natural Born Killers, written by Tarantino, Mallory uses "eeny, meeny, miny, moe" to choose a victim.
"Honor among thieves" is a theme in most Tarantino movies – even bad guys can have a moral code.
Tarantino based the movie's unconventional, non-linear storytelling method on the structure of novels.
In the theatrical version of the movie, they say the "f-word" 271 times.
Honey Bunny is named after a friend's rabbit that died while Tarantino was supposed to be watching it.
Tarantino wrote Pumpkin and Honey Bunny specifically for Tim Roth and Amanda Plummer.
Jules' speech isn't exactly Ezekiel 25:17. Tarantino said, "Typical writer: 'It doesn't work that well. I gotta make [it] a little better.'"
Set Notes
The bandage on Marcellus is there to cover a scar on the back of Rhames' neck.
For the snorting heroin scene, Thurman snorted sugar. She called it "disgusting."
Cinematographer Andrzej Sekula's leg was shattered in a car accident halfway through production. He had to shoot the rest of the movie from a wheelchair.
Symbolism Notes
In the resuscitation of Mia scene, the board games Operation and Life appear on the table to the left.
It says "Grace" on Zed's motorcycle. Butch is one of several characters that are "saved" in the movie.
On one take of that "cab ride" line, Keitel did it like Christopher Walken in The Dead Zone (1983).
Trivia Notes
Bora Bora's official language is French, so Fabienne actually does speak "Bora Boran."
According to research studies, people forget about 95% of their dreams.
In 1994, Cops had only been on for five years. As of 2013, it's still running.
The phrase "according to Hoyle" comes from a rule book for card games written by Edmond Hoyle.
Wardrobe Notes
The main protagonists in Reservoir Dogs (1992) also wore black suits and black ties. Tarantino called it their "suit of armor," like Clint Eastwood's poncho in Sergio Leone's Westerns.
Jules' shirt features the cartoon character Krazy Kat. The UC Santa Cruz mascot on Vincent's shirt is called Sammy the Slug.
Read More