Uncategorized
Story Notes for Meet the Parents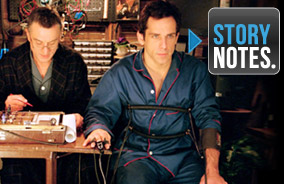 Weeknights during prime time on AMC, you can catch Story Notes — real time trivia and facts about your favorite movies! Below is the online version of the Story Notes for Meet the Parents.
Anthology Note
Barbra Streisand and Dustin Hoffman play Greg's parents in the sequel, Meet the Fockers. Meet the Parents was so successful that Fockers was already planned while this was still in theaters.
Award Notes
Blythe Danner won a Tony for the play Butterflies Are Free (1970). She's been nominated three other times.
Robert De Niro has won Oscars for both The Godfather: Part II and Raging Bull.
In 2003, De Niro received AFI's "Lifetime Achievement Award." AFI said after years of "ferocious intensity… De Niro's disarming sense of humor is an unexpected delight."
Biographical Notes
Blythe Danner is Gwyneth Paltrow's mother.
Tom McCarthy (Dr. Bob) is also an acclaimed writer/director (The Station Agent, The Visitor).
Ben Stiller had just played a rabbi in Keeping the Faith (2000).
Director Jay Roach's first movie, Austin Powers (1997), made him an overnight success.
Forbes named Ben Stiller one of its "Ten Most Powerful Actors" of 2011.
Casting Notes
As of 2013, Ben Stiller and Owen Wilson have made 11 movies together. They did Zoolander after this.
In 2000, Ben Stiller was in the middle of a run of hits that started with There's Something About Mary (1998).
Naomi Watts was considered for the role of Pam.
Robert De Niro took this role as part of his new focus on comedy. He had just done Analyze This (1999).
Teri Polo, who plays Pam, was cast for her sarcastic edge.
Peter Bartlett plays Nigel Bartholomew-Smythe on One Life To Live for over 20 years.
The filmmakers loved Kali Rocha (Buffy the Vampire Slayer) so much they put her character in the sequel.
This same year, Jon Abrahams (Denny) starred in Scary Movie (2000).
William Severs has played a priest four times, including in The Departed (2006).
Wilson brought a lot of his own ideas to Meet the Parents. He improvised many of his lines.
Dr. Bob is played by Tom McCarthy (Boston Public, The Wire). Dr. Larry is played by James Rebhorn (Homeland, Independence Day).
Blythe Danner plays Will's mom on Will and Grace (2001-2006) weeks later.
Finance Notes
Ben Stiller's movies make an average of $79 million.
Meet the Parents (2000) was a box office hit, making $330 million world-wide.
Meet the Parents launched one of the most successful movie franchises of all time.
Meet the Parents, Meet the Fockers ('04), and Little Fockers ('10) have made over $1.2 billion worldwide.
History Notes
Panama Red was a 1960s "brand name" for a type of marijuana.
Torquemada is credited with organizing the Spanish Inquisition – his name is synonymous with torture.
Love Note
Stiller flew out to L.A. to propose to Christine Taylor (Dodgeball) while shooting Meet the Parents. She thought he was still in NY. He surprised her at home with a path of candles and rose petals.
Music Note
Randy Newman composed the score. He had just been nominated for an Oscar® for Toy Story 2.
Pop Culture Notes
Ben Stiller was People's "Sexiest Funny Man Alive" in 2001.
"Maverick" and "Iceman" are references to the iconic volleyball scene in Top Gun (1986).
AFI nominated "I have nipples, Greg. Could you milk me?" for its list of the best movie quotes ever.
Ben Stiller said this was like Gremlins (1984), where the creatures can't eat after midnight.
College Humor lists Meet the Parents as one of the "Best Comedies of All Time."
Meet the Parents inspired a cat toilet-training product called Litter Kwitter, which sold over 750,000 units.
Meet the Parents won the People's Choice Award in 2000 for "Favorite Comedy."
Producer Jane Rosenthal called the shot on the TV the Basic Instinct shot.
Top Gun was the #1 movie in 1986, which means Pam and Kevin dated almost 14 years before this.
Variety said this movie was the extended version of Woody Allen meeting Annie's family in Annie Hall.
In 2013, a Reader's Digest poll called Ben Stiller one of "The 100 Most Trusted People in America." He ranked ahead of Supreme Court Justice Clarence Thomas and Dr. Phil.
Press Notes
The New York Daily News called De Niro and Stiller "trapeze artists working without a net."
The NY Times said De Niro's scowl belongs in the Smithsonian with the Fonz's jacket and Cher's hair.
Roger Ebert compared Stiller in this to his role in There's Something About Mary. Ebert said, "He doesn't have anything hanging from his ear… but he acts as if he thinks he might."
Production Notes
At one time, Steven Spielberg was going to direct Meet the Parents, with Jim Carrey as Greg.
Blythe Danner said her character was inspired by the famous comedienne Gracie Allen.
Director Jay Roach wanted the whole movie to feel like an "anxiety dream" for Greg.
It was Ben Stiller's idea to make Greg a nurse.
They filmed most of the movie without deciding how to say "Focker." They had to go back and re-record it.
De Niro was also a producer on Meet the Parents with his company Tribeca Productions.
Jinx is a Himalayan cat – a difficult breed to train. The trainers begged dir. Jay Roach to choose another kind of cat, but he really liked the Himalayan's look.
Quote Notes
Ben Stiller said he "went to the green bean one too many times."
Ben Stiller: "I'm always willing to endure humiliation on behalf of my characters."
De Niro said his comedy influences are Bill Murray, John Belushi, and the Three Stooges.
Dir. Jay Roach said that they weren't making a comedy, they "were making a broken love story."
Teri Polo said she had a crush on Stiller 10 years before this: "That bone structure and those eyes!"
Robert De Niro said what makes Ben Stiller funny is that "he doesn't think of himself as funny." De Niro: "I don't even think he considers himself to be a comedian."
Script Note
Writer Jim Herzfeld said his influence for Greg was Benjamin (Dustin Hoffman) in The Graduate (1967). Herzfeld used Benjamin to write a main character who was completely misunderstood.
Set Notes
They trained the cat to climb the side of the house by calling it with a buzzer to get a treat.
Cats are very temperamental. They always had a backup cat on set in case one wouldn't cooperate.
Director Jay Roach tried to keep Stiller off-balance by not letting him know if De Niro liked his work.
Production designers built the full interior of the house inside a giant armory in Brooklyn, NY. They wanted a "tasteful, Republican" feel, so the colors are red, white, and blue.
Robert De Niro got attached to the cats. Whenever he could, he asked to have one with him in his scenes. He wanted to train them himself, but in the end he settled for keeping bits of kibble in his pocket.
Trivia Notes
A 2012 study found that if men get along with their in-laws, they're 20% less likely to get divorced.
A 2013 survey found 52% of Americans prefer dogs over 21% for cats. The rest were "not sure."
An average MCAT score is 24 out of 45. Most competitive schools look for a score of 30 or more.
Around 2 million checked bags go missing in the U.S. every year – 26 million get lost worldwide.
Cats have an average of 4 kittens per litter.
Greg's airplane rant was cut from the version shown on planes.
Human lie detecting involves finding the pulse and seeing if the heart rate fluctuates. It's not as reliable as a polygraph.
Poetry therapy has been around for over 200 years. It's used to treat mental and physical ailments.
The name Gaylord originated in old France and means "lively" or "high-spirited."
The word phat is over 50 years old, though nobody knows its exact origin.
TheKnot.com says 83% of women want their fiancé to ask their father's permission before proposing.
There are thousands of varieties of tulip, but there's no such thing as a "Jerusalem."
When you lie, your breath, blood pressure, and perspiration all radically change. The lie detector measures the changes, and the technician interprets them.
Polygraph testing is 97%-98% accurate. It's widely used by the CIA, FBI, and the police.
Wardrobe Note
The costume designer put Jack in soft sweaters to contrast the tough guy-type De Niro usually plays.
Ben Stiller hated his clothes in Meet the Parents. Dir. Jay Roach said it was all part of the plan to keep Stiller as uncomfortable as Greg.
Read More