Top 10 John Wayne References in Pop Culture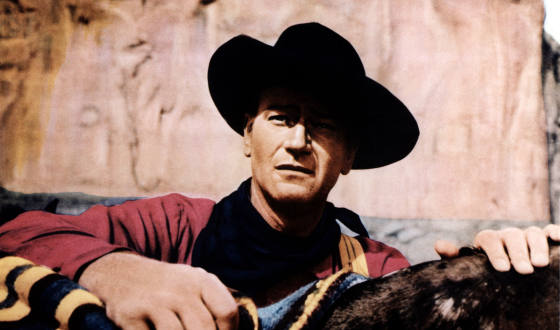 A handsome face and a string of hit movies do not an icon make. An icon is a whole lot more than that. But whatever your standard, John Wayne qualifies. Over a six-decade career, the Duke made more than 150 movies. Need more? Consider his ongoing relevance in pop culture, 30 years after his death. Even today, you'll hear him referenced in movies, TV shows, songs and video games. Check out this list of highlights.
10. Shanghai Noon
As a Chinese imperial guard sent to rescue a kidnapped princess, Jackie Chan taps into his inner cowboy. "My name is Chon Wang," Chan says upon meeting costar Owen Wilson's hapless outlaw. "John Wayne?" Wilson replies. "Chon Wang," Chan corrects. Self-mocking to the extreme, this Wayne reference is absurdly self-aware and pretty hilarious.
9. Family Guy
In the "Spies Reminiscent of Us" episode, Peter (voiced by Seth MacFarlane) fails to impress Dan Aykroyd and Chevy Chase (starring as themselves) with his John Wayne impression: "I'm John Wayne at the first Thanksgiving, pilgrims. Happy Thanksgiving, pilgrims." Later, he does similar impressions of John Wayne Bobbitt and John Wayne Gacy — hardly the only ones out there named for the legend but certainly the most notorious.

8. Call of Duty 2
In this bestselling first-person shooter game set in World War I, whenever you successfully complete a mission — or die in infamy — a relevant quote appears on the screen, including one from John Wayne: "Courage is being scared to death but saddling up anyway."
7. Arrested Development
After George Sr. (Jeffrey Tambor) is mistakenly presumed dead in the "Good Grief" episode, Tobias (David Cross) mocks his brother-in-law (Jason Bateman) by saying "Here comes John Wayne… I'm not gonna cry about my Pa. I'm gonna build me an airport, put my name on it. Why, Michael? So you can fly away from your feelings?"
6. Die Hard
Swooping in to rescue hostages, John McClane (Bruce Willis) introduces himself by radioing in to the boss, Hans Gruber (Alan Rickman). "You have me at a loss," Hans says. "You know my name, but who are you? Just another American who saw too many movies as a child? Another orphan of a bankrupt culture who thinks he's John Wayne?" Yes, that's right. Willis' action hero is guilty as charged.
5. Do the Right Thing
What does Spike Lee have to do with John Wayne? The opening credits feature Rosie Perez dancing hard to Public Enemy's "Fight the Power," which memorably skewers Wayne's conservative beliefs as it celebrates black pride.
4. Will & Grace
In the very first episode of this sitcom, the degree of intimacy between Grace (Debra Messing) and her best gay boyfriend Will (Eric McCormack) becomes apparent. Will gives clues as they play $25,000 Pyramid: "Driftwood. John Wayne. Your parents' marriage." And Grace immediately guesses, "Things that are dead." How the Duke earned a spot on the list is something only the two of them understand.
3. Midnight Cowboy
Scrappy con man Ratso (Dustin Hoffman) ridicules would-be hustler Joe (Jon Voight) for his down-home ways: "In New York, no rich lady with any class at all buys that cowboy crap anymore. They're laughing at you on the street!" But when Ratso goes further and questions John Wayne's sexuality, that's when Joe has to put a stop to it. Conversation over!
2. Full Metal Jacket
When Gunnery Sgt. Hartman (R. Lee Ermey) first browbeats the new recruits, Joker (Matthew Modine) pushes back with, "Is that you, John Wayne?" It's the first of several Wayne references in Stanley Kubrick's war pic, all of which serve to underscore how different the Vietnam War was from the glorified World War II depicted in films like John Wayne's Sands of Iwo Jima.
1. Léon: The Professional
A troubled 12-year-old (a mesmerizing Natalie Portman) draws a hit man (Jean Reno) out of his shell by playing guess-the-impression, but he's stumped by her renditions of Madonna and Marilyn Monroe. When it's his turn, he says, "OK, pilgrim" with a stiff-legged shuffle and one-armed lean. She guesses "Clint Eastwood" but we know exactly who it is — despite the French accent.
Want to see the inspiration? Check out the John Wayne movies now on AMC.
Read More