Uncategorized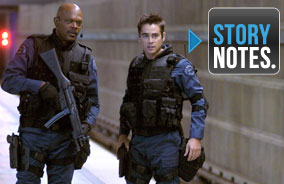 Weeknights during prime time on AMC, you can catch Story Notes — real time trivia and facts about your favorite movies! Below is the online version of the Story Notes for S.W.A.T.
Award Notes
In 2003, Jeremy Renner was nominated for an Independent Spirit Award for the title role in Dahmer.
All of the work arming explosives was good prep for Jeremy Renner. He got an Oscar nod in 2009 playing the leader of The Hurt Locker's Army explosives disposal unit.
Colin Farrell's performance in S.W.A.T. won a Mexico MTV Movie Award for "Best Colin Farrell in a Movie."
Automotive Notes
A real S.W.A.T. truck does not look like the one modified for the movie.

The Learjet was modified with a V8 engine so they could drive it around on the bridge.
Colin Farrell received special training to drive just like a cop for this movie.
Biographical Notes
S.W.A.T. director Clark Johnson (The Sentinel) is also an actor — he stars in Homicide: Life on the Street.
Jackson was hardly "rusty" when he made S.W.A.T. In the three years before, he made ten movies including Shaft, Unbreakable, and Star Wars: Episode II – Attack of the Clones.
Director Clark Johnson has played a lot of cops in his career as an actor. He said that as a result, he "knows more about cop work than some real cops do."
Michelle Rodriguez made her award-winning debut in the boxing film, Girlfight (2000).
You wouldn't guess it by looking at him, but Colin Farrell hates lifting weights. Farrell: "I get no kicks from going to the gym. It doesn't do it for me. Never did."
Brian Van Holt comes from a cop family. Both his uncle and cousin are in S.W.A.T. He even had them come by the set to offer advice.
Jeremy Renner was in a band, Sons of Ben, that played in bars around L.A. while they were filming. The cast would often go out and watch them after they finished shooting for the day.
The filmmakers found it fitting that Domenick Lombardozzi has a bus scene. Lombardozzi refuses to fly, so he took a bus from NY to L.A. several times during the movie.
When LL Cool J was growing up in NYC, he would sneak around subway tunnels for fun.
Olivier Martinez (Alex) appears in the thriller Taking Lives (2004) the year after S.W.A.T.
Casting Notes
S.W.A.T. is Colin Farrell's fourth No. 1 movie in 2003 – following The Recruit, Daredevil, and Phone Booth.
This is five years before Jeremy Renner starred in The Hurt Locker (2008).
Josh Charles plays Will Gardner in The Good Wife.
Reg E. Cathey (Lieutenant) acted alongside S.W.A.T. director Clark Johnson in The Wire. Larry Poindexter (Capt. Fuller) met director Johnson when they both served as best men at the same wedding.
Brian Van Holt plays Bobby Cobb on Cougar Town.
Samuel L. Jackson was the first actor cast in S.W.A.T.. Arnold Schwarzenegger was considered for the role before Jackson took it.
Ashley Scott also stars in Jericho and Birds of Prey.
French actor Olivier Martinez starred in Unfaithful (2002) the year before.
Domenick Lombardozzi stars as Dom on Entourage and Herc on The Wire.
LL Cool J has been acting since 1986 — his first movie role is a rapper in Wildcats.
Director Clark Johnson plays an officer. He named his character "Deke's Handsome Partner."
Octavia Spencer won an Oscar for The Help.
Reed Diamond plays director Clark Johnson's partner on Homicide: Life on the Street (1995-98).
Michelle Rodriguez's career got a huge jump-start with The Fast and the Furious (2001).
Ken Davitian is Borat's producer in Borat (2006).
The real street preacher Archbishop Don "Magic" Juan is featured in S.W.A.T. He was a pimp before turning to God. He also makes a brief appearance in another '70s cop-show movie, Starsky & Hutch (2004).
Alex's lawyer is Lucinda Jenney. She also stars in Rain Man and Thelma & Louise.
Before Larry Poindexter was cast as Captain Fuller, they considered Treat Williams (Prince of the City).
The original Hondo (from the TV show), Steve Forrest, drives the S.W.A.T. truck in the movie.
Finance Notes
Kevlar is made by DuPont, a publicly traded stock.
S.W.A.T. made over $200 million at the box office. After the success of the movie, NBC thought about making a new version of the original show. A movie sequel, S.W.A.T.: Firefight, came out in 2011.
Gossip Note
Colin Farrell started dating Britney Spears after she paid a visit to the set of S.W.A.T. one day.
Historical Notes
The LAPD's S.W.A.T. program was created in the late 1960s as a response to the Watts Riots. It was the first of its kind in the United States.
The first S.W.A.T. Unit was made up of 15 four-man teams. They all had military experience.
When S.W.A.T. was made, there had never been a woman on the real team. They accepted their first female trainee in 2008.
Location Notes
A scene was shot in a cruise ship terminal at the Port of Los Angeles.
Figaro Bistro is in L.A.'s Los Feliz neighborhood. Madonna shot a famous Louis Vuitton ad campaign there in 2009.
The Ambassador Hotel in Los Angeles is where Robert F. Kennedy was assassinated. The real LAPD S.W.A.T. team trained at the Ambassador Hotel before it was torn down in 2005.
They shot the outdoor part of of a scene at an airplane graveyard in the Mojave Desert and then had to take the plane apart and reassemble it 50 miles away for the interior scenes.
Leo's Bar-B-Q in South Central L.A. closed in 2004. It was well-known for its spicy ribs.
The famous Hinano Café in Venice, California has been open for over 50 years. It was one of Jim Morrison's favorite hangouts — he even carved his name under the window.
There was a lot of anti-French sentiment in the U.S. around this time because of the Iraq War. Director Clark Johnson: "[We've] got a bad guy who's French and we can have some fun with it."
In 2011, an LAPD chopper was forced to make an emergency landing after being hit by gunfire.
The L.A. subway system opened in 1993. But even 10 years later, it was really easy to shoot there. Director Clark Johnson said they had "complete access" because most people don't know it exists.
The subway tunnels are real, but the sewer tunnel in the movie was built in a studio. However, director Clark Johnson said, "It really started to smell like a sewer after a couple days."
The area outside the sewer was a large homeless squat. Director Clark Johnson hired some of those homeless to help with the movie.
The closest airport to downtown L.A. is Bob Hope Airport in Burbank, about 15 miles away.
The 6th Street Bridge spans the L.A. River. You may recognize it from Terminator 2 and Grease.
Music Notes
Composer Elliot Goldenthal (Heat) samples "Theme from S.W.A.T." by Barry de Vorzon. The original theme hit #1 on the Billboard Hot 100 in 1976 and was nominated for a TV Land Award. There are different versions of it throughout the movie.
LL Cool J sampled Theme from S.W.A.T. on 1987's I'm Bad, over 15 years before making the movie.
Composer Elliot Goldenthal had just won the Oscar for his score for Frida (2002).
In the end credits, the song over the titles is called "Samuel L. Jackson."
Pop-Culture Notes
The "bouncing the baseball" shot is director Clark Johnson's tribute to The Great Escape (1963).
In 1995, gamers were able to run their own S.W.A.T. training exercises with Police Quest: SWAT. The video game was designed by Daryl F. Gates, the LAPD police chief who created S.W.A.T.
LL Cool J's six-pack landed him on Bodybuilding.com's list of the top five celebrity abs.
Other Hondos: Basketball player John Havlicek, a John Wayne movie, and a town in Texas.
James Cameron's True Lies also features a limo in a high speed bridge chase in its finale.
Press Notes
Roger Ebert called the movie "one of the best cop thrillers since Training Day."
The Associated Press compares S.W.A.T. to a violent version of Planes, Trains and Automobiles (1987).
Roger Ebert praised S.W.A.T. for being the "kind of police movie they used to make."
Prop Notes
The "throw phone" connects directly to S.W.A.T. negotiators through 1,000 feet of cable.
Director Clark Johnson (Homeland) puts the lawn jacket statue outside of the house in everything he directs. He calls it his "Where's Waldo."
The "Key to the City" was listed on an online prop store in 2013 for $2245.
The Claymore mine was named after a large Scottish medieval sword. The mine has been used by the U.S. military since Vietnam.
Production Notes
The filmmakers watched footage of the real shootout to make sure it was an accurate re-creation.
Farrell and Renner met before the movie and worked out a whole history behind their characters.
John Woo is rumored to have been in the running to direct S.W.A.T.
The cast went through weeks of training. Samuel L. Jackson describes it as "tedious, but… fun."
The bad guy's name is Alex, so they had him arrested on Alex Trebek's star. Trebek's voice is on the newscast.
The Italian Job and Hollywood Homicide were shooting in this area of L.A. at the same time. Director Clark Johnson said they "were all butting heads" trying to get their shots.
The guy on the cell phone is S.W.A.T. producer Neal H. Moritz.
The movie's S.W.A.T. technical adviser was upset about McCabe double-crossing his team. He said that would never really happen, so the screenwriters tried to emphasize the money aspect.
They wanted a cameo from George Clooney or Snoop Dogg in the limo, but they couldn't convince either to come down and film in the middle of the night.
Quotation Notes
Co-screenwriter David Ayer: "You can't do a cop movie without getting chewed out by the captain."
Director Johnson says Farrell reminds him of Bullitt star Steve McQueen: "He says a lot without saying a lot."
Colin Farrell says he made S.W.A.T. because he wanted to work with Samuel L. Jackson. Farrell: "I really just wanted to be on the same set as him."
Real-life S.W.A.T. officer Mike Baker agrees with Street: "the real thing is faster."
Producer Neil H. Moritz calls the movie "Top Gun meets High Noon."
Co-screenwriter David McKenna: "We tried to create a Vietnam/WWIII in the streets of Los Angeles.
Jeremy Renner says he likes to "play unpredictable characters." "Playing bad guys is sometimes far from who I am, but it can also be close to who I am."
Samuel L. Jackson says he can relate to Hondo because they both "lead by example."Jackson was always the first actor on set in the mornings.
Director Clark Johnson says the fight in S.W.A.T. is "one of the gnarliest fights that I've worked on." And he's known for directing gritty cop shows like NYPD Blue and The Shield.
Random Note
It's a little surprising LL Cool J tries to stop a fight. After all, Mama Said Knock You Out.
Script Notes
The opening sequence is based on a real North Hollywood bank robbery from 1997.
Larry Poindexter (Fuller) didn't like that every other cop in the movie hated his character.
Gamble and Street rescued hostages together when they were in Special Ops.
Between writing and production, the 9/11 attacks occurred, so the bad guy changed with each draft. At different points he was an Asian drug lord and a terrorist.
The movie's technical advisers designed training exercises for the movie. Director Clark Johnson wanted to show step-by-step how they would defuse a hostage situation.
Set Notes
A 16-year LAPD S.W.A.T. veteran advised the cast and made sure everything looked authentic. He taught them special hand and eye signals, lingo, and even how to walk and act.
There was a real parade happening during the production, and the filmmakers convinced them to back up and do several takes.
Each cast member on the S.W.A.T. team learned how to fire every weapon in the movie.
The S.W.A.T. cast rode outside the SUV in a scene.
Brian Van Holt (Boxer) fell off the top of the plane during filming. He thought he was going to die, but the rope caught him right before he hit the ground.
Life imitating art: 15 cop cars interrupted a scene, speeding across the bridge in a real chase.
All of the cameras were put  in special boxes to protect them from getting destroyed by the spinning jet. One camera still got crushed.
The bridge sequence took a full month to shoot.
Colin Farrell's stunt double got a concussion doing a flip.
A train was really speeding toward the stunt doubles and couldn't stop if anything went wrong.
Source Notes
S.W.A.T. (2003) is based on the '70s TV show of the same name. It ran from 1975 to 1976.
All of the S.W.A.T. characters on the TV show are Vietnam veterans.
The original S.W.A.T. TV show is known for intense violence and lots of guns. It was produced by Aaron Spelling, who also created Starsky and Hutch and Charlie's Angels.
Hondo and Street are the main characters in the original TV series. They are played by Steve Forrest (Hondo) and Robert Urich (Street).
S.W.A.T. was one of Josh Charles' favorite shows as a kid. He even had a S.W.A.T. outfit.
Trivia Notes
The S.W.A.T. team only fires as a last resort. They even joke S.W.A.T. stands for "Sit, Wait, and Talk." It really stands for "Special Weapons and Tactics."
There's an unwritten rule that police officers don't rat each other out. It's called the "Blue Wall."
Police officers have high rates of failed relationships because of the stressful nature of the job.
For every 50 officers that apply to S.W.A.T., only eight to ten make it in.
S.W.A.T. teams really do train using paint balls. They've also been known to use laser tag.
Before joining S.W.A.T., a cop has to be a member of Metro, the elite part of the LAPD.
Learjet was the first company to manufacture private luxury aircraft.
A S.W.A.T. officer's job is to not act like a cowboy. Samuel L. Jackson: "Their job is to make sure everybody comes out of the situation safely."
As of 2013, Los Angeles S.W.A.T. officers make between 68K and 89K starting salary.
An "RA Unit" is a rescue ambulance.
Read More