AMC Garners 26 Emmy Nominations Plus One for Interactive Storytelling for AMC.com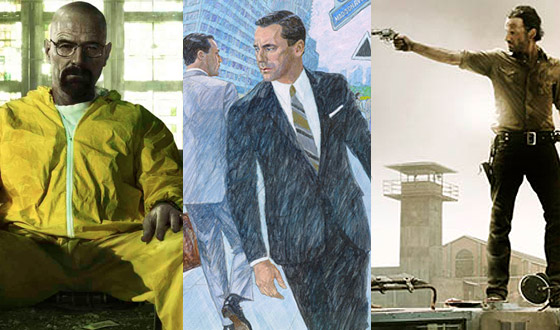 The Academy of Television Arts & Sciences announced this morning the 65th Annual Primetime Emmy® Award nominations, recognizing AMC with 26 nominations, which ties the network this year with FX for the most nominations of any basic cable network and marks AMC's sixth consecutive year with this distinction. Mad Men, which reigns as the only television series in cable history to win the Emmy® for Outstanding Drama Series four years in row (2008, 2009, 2010 and 2011), continues to be the most Emmy® nominated drama serieson television with a total of 97 nominations. This year the series garnered 12 nominations, including Outstanding Lead Actor for Jon Hamm, Outstanding Actress for Elisabeth Moss, Outstanding Supporting Actress for Christina Hendricks, Outstanding Guest Actor for Robert Morse and Harry Hamlin and Outstanding Guest Actress for Linda Cardellini. The series also received nominations for Outstanding Cinematography for Christopher Manley as well as nominations for Outstanding Hair Styling, Outstanding Make-Up, Outstanding Sound Mixing and Outstanding Editing.
AMC's Breaking Bad, garnered the most nominations in the series' history (13) including their first-ever writing nominations for the episodes "Dead Freight," written by George Mastras, and "Say My Name," written by Thomas Schnauz. Three-time Emmy winner Bryan Cranston was once again nominated for Outstanding Actor in a Drama Series, and two-time Emmy winner Aaron Paul repeated in the Outstanding Supporting Actor category, along with a second consecutive nomination for Anna Gunn for Outstanding Supporting Actress and first time series nomination for Jonathan Banks for Outstanding Supporting Actor. The series also garnered nominations for Michelle MacLaren for Outstanding Directing, Michael Slovis for Outstanding Cinematography along with two nominations for Outstanding Editing and nominations for Outstanding Sound Editing and Outstanding Sound Mixing.
The Walking Dead received a repeat nomination for Outstanding Prosthetic Makeup for a Series, Miniseries, Movie Or A Special, a category the show has previously won twice.
The tallies for nominations by show are:
Mad Men = 12 nominations
Breaking Bad = 13 nominations
The Walking Dead = 1 nomination
Additionally, AMCTV.com garnered a nomination in the interactive program category for The Walking Dead Story Sync.
Read More