Games, Polls & Quizzes
The Rifleman or Rawhide? Which TV Western Is the Best?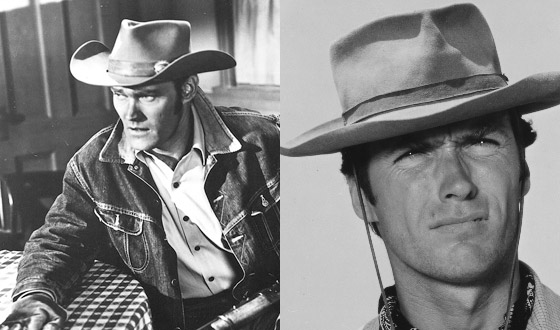 Buckle your holsters and prepare for the ultimate TV Western showdown — a face-off between the father-son saga The Rifleman and the rambling tale Rawhide. Which one beats the other in four different categories (and then overall)?
Round 1: Star Power 
While The Rifleman stars Chuck Connors and features household-name guest-stars as varied as Sammy Davis Jr., Lon Chaney Jr., Agnes Moorehead, and James Coburn, Rawhide paved the way for Clint Eastwood (easily, Hollywood's most revered cowboy since John Wayne). Because of that alone…
Winner: Rawhide
Round 2: Pedigree
Rawhide's executive producer Ben Brady has a few notches on his belt when it comes to TV Westerns: He produced episodes of Have Gun – Will Travel and wrote for The Outcasts. But The Rifleman was helmed by legendary director Sam Peckinpah whose career in the genre includes the groundbreaking The Wild Bunch (1969).
Winner: The Rifleman
Round 3: Authenticity
In The Rifleman, rancher Lucas McCain and his son Mark are visited by an assortment of curious characters — an Italian nobleman, a gambling czar, a mind-reading outlaw — who add color more than period detail. Rawhide meanwhile sticks to the facts: a cattle drive in which the heroes must fight off raiders, wolves and nature herself.
Winner: Rawhide
Round 4: Groundbreaking
Rawhide's cowboys ride the trails day and night yet The Rifleman is the actual trailblazer. With a widowed parent as its leading man, the series often took on serious topics like alcoholism, pacificism, and prejudice circa the 1880s.
Winner: The Rifleman
Both Westerns are still standing. It's time for you to take the final shot and decide…
Don't miss AMC Cowboys featuring The Rifleman and Rawhide on Saturday mornings.
Read More