Uncategorized
Q&A – Rich Sommer (Harry Crane)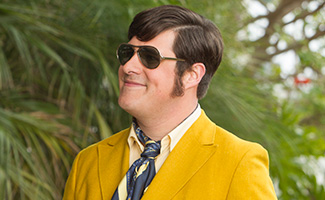 In this interview, Rich Sommer (Harry Crane on AMC's Mad Men) talks about his character's California look and staying ahead of the curve. 
Q: Harry is so fashion-forward now. What are your thoughts on his new look?
A: I love it… I think it's indicative of a guy who is keeping up with the people that he's trying to do business with. If you look at that episode where they went to California recently, he certainly fit in at that party better than Don or Roger did. I reap the benefits of it too because it's so ridiculously fun to wear that stuff.
Q: What is it like shooting the California scenes vs. the New York scenes?
A: It's always fun to shoot on location… It was kind of a crappy day. It was sort of rainy. And they somehow, you know, magically made it look like sunny California. All of the background actors were appropriately suited, and it was a fun chance to see those guys in a different place than just Sterling Cooper.
Q: When you're on location, does it change the way you interact with your cast mates?
A: We have all now been working together for going on seven years… And our relationships with each other are pretty solid outside of the show. It's always funny to see how people interact with each other on the show because that sometimes feels foreign knowing what it's like when the cameras aren't rolling. It's a pretty warm group, and there are so few very warm characters on the show. [Laughs]
Q: Matthew Weiner does, to a degree, write around your own personalities though, right?
A: It was more true I think back in the beginning in the show and, well, it's still true — you see Ken Cosgrove tap dance and that's clearly Aaron Staton who somehow had that in his back pocket.
Q: How do you think you would have handled having to tap dance on Mad Men?
A: What a nightmare it would have been for everyone involved. I think no amount of training in the two weeks before we would have shot that scene would have gotten me anywhere close to where Aaron Staton was. But Ken Cosgrove is more of a smooth guy. Harry would have screwed something up, which is more my speed anyway.
Q: Joan mentions that Harry's got "a computer the size of this restaurant." Is it weird to think about that now, when practically everyone's got a smartphone?
A: Harry was ahead of the curve getting into TV in the first place, and I think he's maintained that position technology-wise, making sure that he is the person to kind of introduce the new stuff that's out there. According to what Joan says, and clearly according to the amount of business that Harry is doing, he seems to be doing something right.
Q: Harry resents Joan for becoming a partner (and how she did it). How do you deal when someone else gets what you think you deserve?
A: I'd be more like how Harry was back when he found out that Ken Cosgrove was making more than he was… He sort of went and meekly asked for something, and it ended up working out. I think I'm more in that camp. I'm less of a storm-into-a-meeting-and-blow-up kind of guy, but the feelings come from the same place, especially in particular with Harry… We're seeing him react differently to that feeling of being underappreciated.
VIDEO: Inside Mad Men Episode 611, "Favors"
Q: Talk about shooting the scene where you verbally spar with Pete after MLK's assassination…
A: I love working with Vinny [Kartheiser], and I think Vinny and I might be at our best when we're screaming at each other. [Laughs] Thankfully we are a very tight cast… That being said, it's always fun to play an emotion, any emotion. And Vinny and I — and I think anyone would tell you this — are two of the louder people around that set. If we're not yelling at each other about a dominoes game at base camp, then we might as well be yelling at each other about MLK in the office.
Q: You were in Harvey on Broadway with another TV star: Jim Parsons from The Big Bang Theory. What do you think it is that still attracts TV actors to Broadway?
A: One of the things that is so amazing about doing a TV show over the years is getting to play one single character that evolves over time… But the flipside is that you've played the same guy for seven years. So what's so enticing about doing a play is that you get to do that thing that got you into acting in the first place… There's a real attraction to being able to play, to just play. And that's something that theater affords you.
Q: Your legacy on Mad Men will last forever; how do you feel about your plays not being quite as documented?
A: It's bittersweet. Last year my five-year-old got to come and see Harvey, but she won't get to see this new play I'm in [The Unavoidable Disappearance of Tom Durnin] because it's not quite for kids. It's a bummer that she will not have seen this show… It is ephemeral. It is alive only as long as we are doing it and then it is gone.
Q: Do your kids ever say funny things to you about being on Mad Men?
A: They saw pictures of the California getup, and they loved it. And they think my hair and sideburns this year are hilarious. They talk about my "Mad Men hair" because there's only so much I can do to undo the helmet that I've been wearing all day.
Q: What's the weirdest thing anyone's said to you about Mad Men?
A: The most common is that I look so much heavier or fatter on TV… Maybe I carry myself a little differently. Harry is a little schlubbier than I am, hopefully, but yeah, that's the go-to. I think people think it's a nice thing to say, but actually it's not. [Laughs]
Q: You're friends with Dyna Moe, who did Mad Men: The Illustrated World. How did you two meet?
A: We met at the Upright Citizen Brigade Theater, which is an improv theater in New York… Dyna had always done art for the improv community, flyers and whatnot… On the first season of Mad Men, we had only moved to L.A. in March, so when the holidays rolled around, I wanted to send out a card to the cast and crew, and I called to Dyna to see if she would be willing to do a little mockup of the show… Of course everyone's reaction to that first card was strong… And that style really resonated because it's a style that's loosely based on the '50s and '60s.
Click here to check out Dyna Moe's Mad Men Caption Challenge.
Read More