Uncategorized
Story Notes for The Scorpion King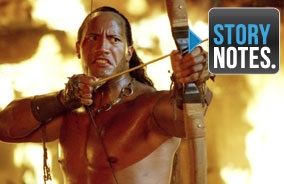 Weeknights during prime time on AMC, you can catch Story Notes — real time trivia and facts about your favorite movies! Below is the online version of the Story Notes for The Scorpion King.
Anthology Notes
The Scorpion King (2002) is a prequel to The Mummy Returns. It's set 5,000 years earlier. The movie tells the origin story of the Scorpion King — a character in The Mummy Returns.
The movie spawned two straight-to-DVD sequels with different actors playing Mathayus.
Award Notes
The Rock was nominated for Favorite Male Butt Kicker at the Kids' Choice Awards for this movie.
The Scorpion King was nominated for a Saturn Award for Best Fantasy Film.
Biography Notes
The Rock weighs about 270 pounds and is 6'5″.
Grant Heslov (Arpid) is also a director, producer, and screenwriter. He often works with George Clooney. He won a Best Picture Oscar in 2013 for producing Argo.
Dwayne Johnson went by two other wrestling names before The Rock: Flex Kavanah and Rocky Maivia. Rocky Maivia was a combination of his father's and grandfather's names — they were both wrestlers.
The Rock was named one of People's "Sexiest Men Alive" in 1999.
Kelly Hu was Maxim's first Asian-American cover model in 2002. Hu said she showed more of her body in this movie than in that photo shoot.
Kelly Hu has a black belt in karate.
Michael Clarke Duncan and the Rock were already good friends before making this movie. They met after a wrestling match when Duncan asked the Rock for his autograph.
One of the Rock's nicknames in wrestling is "The People's Champion."
The Rock said he prefers to lose more than he wins in the wrestling ring because it makes him vulnerable.
Kelly Hu was crowned Miss Teen USA in 1985 and Miss Hawaii in 1993.
Michael Clarke Duncan started out as a bodyguard for Will Smith and the Notorious B.I.G.
Casting Notes
This was pro-wrestler Dwayne Johnson's first lead role. He's credited as the Rock, his wrestling name.
Tyler Mane (Barbarian Chief) also started out as a wrestler. He'd just plays Sabretooth in X-Men (2000).
Roger Rees (King Pheron) plays the Sheriff of Rottingham in Robin Hood: Men in Tights (1993).
Branscombe Richmond plays a bounty hunter on Renegade (1992 – 1997).
Kelly Hu (Sorceress) later plays Lady Deathstrike in X2: X-Men United (2003).
Steven Brand (Memnon) is a Scottish actor. This was his first American movie.
This was the first and only movie role for Tutu Sweeney (the Kid).
Bernard Hill plays Theoden in the Lord of the Rings movies and the captain in Titanic (1997).
Ralf Moeller (Thorak) had previously worked with director Chuck Russell on Eraser (1996).
Adoni Maropis (General) was later in Hidalgo (2004) and on 24 (2007).
Sherri Howard (Queen Isis) won a gold medal in track and field at the 1984 Olympics.
Peter Navy Tuiasosopo (Guard) plays E. Honda in Street Fighter (1994).
The women warriors are played by athletic actresses and stunt women.
Crew Notes
Costume designer John Bloomfield worked on the first two Mummy movies and Conan the Barbarian (1982).
Production designer Ed Verreaux worked on the first three Indiana Jones movies.
Finance Note

The Scorpion King broke the box office record for biggest April opening weekend.
Historical Notes
There really was a King Scorpion. He ruled Egypt around 3250 B.C. He is thought to have been partially responsible for the invention of writing.
The Akkadians were a real people, but they were "wiped out" hundreds of years after this.
Location Notes
Director Chuck Russell (Eraser) shot the entire movie in California and Arizona. Russell: "We didn't need to go to Morocco or anywhere else, because it was all right here."
Music Notes
Composer John Debney incorporated rock music into the score to match the Rock's style as a performer.
Some of the Rock's wrestling intro music was incorporated into some of the score.
Press Notes

Entertainment Weekly: "The Rock commands the screen as naturally as he does the ring."
Roger Ebert said Cassandra is like a James Bond heroine.
Pop Culture Notes
In Greek drama, Agamemnon, like Memnon here, captured a woman who could tell the future. Both women are named Cassandra.
In the Bond movie Live and Let Die (1973), a psychic's powers are also linked to her virginity.
In 2002, the Rock parodied The Scorpion King on Saturday Night Live. In the sketch, Mathayus has to deal with an annoying teenage son.
Mr. Miyagi caught an arrow fired at him in The Next Karate Kid (1994).
The Rock has often been compared to Arnold Schwarzenegger.
Prop Note
The Rock's hand axe is based on an Asian weapon called a kama.
The Rock's sword weighed 25-30 pounds. Director Chuck Russell: "Our stunt performers couldn't swing it the way the Rock did."
Quotation Notes
Peter Facinelli: "It's fun [to play a bad guy]. You don't get to be bad in life… so you let it out on film."
Steven Brand (Memnon) was asked why there were so many British bad guys in movies. He said the culture "has villainy at the center of it… a lot of our kings and queens were dodgy."
Grant Heslov joked that he watched DVDs in his trailer while the other actors trained for fight scenes.
Director Chuck Russell: "Camels really don't naturally like people."
Kelly Hu on the Rock: "He's so modest and very down-to-earth and really quite soft-spoken. He's the kind of guy who always remembers to open the door for you."
The Rock said that after filming there was sand in every crevice of his body.
Kelly Hu: "Who wouldn't fall in love with the Rock? He's a sexy guy."
Director Chuck Russell: "For a man his size, [the Rock] moves like a ballet dancer."
Michael Clarke Duncan: "Balthazar is the 'baddest' person in the movie."
Director Chuck Russell: "I knew, most likely, there was no gunpowder in 3000 B.C."
Kelly Hu went to see one of the Rock's WWE tournaments after the movie was done. Hu: "I was screaming and cheering…so much that I literally launched myself into an asthma attack."
The Rock, on working with all the animals: "I kinda [felt] like Noah minus the flood."
The Rock called the movie "a cross between The Magnificent Seven and Raiders of the Lost Ark."
The Rock said The Scorpion King "is about vengeance and discovery, and it's about love. It's… about a man's rise from being an assassin with a heart of ice to a leader…with a heart of gold."
Set Notes
The Rock only had four weeks to learn all the sword skills for the movie.
In comparison, Arnold Schwarzenegger had over a year to prepare for Conan the Barbarian (1982).
One of the camels on set did not get along with the Rock. He called it "rambunctious."
A stuntman broke his nose. The Rock felt bad and gave him a watch to make up for it.
The camel bucked the Rock and Kelly Hu off its back while filming, but they weren't injured.
They used real scorpions in the movie. Steven Brand said putting his hand in that bowl felt like "an eternity."
Arnold visited the set (he'd worked with director Russell on Eraser) and gave the Rock advice on acting.
The crew had to use brooms to smooth out dune buggy tracks in the desert.
They tried using real swords first, but a fragment flew too close to the Rock's head.
Duncan and the Rock trained for months before their fight scene. Duncan helped the Rock with his acting, and the Rock helped Duncan with fighting.
The Rock hid a fart machine under the pillow during the love scene.
Michael Clarke Duncan asked director Russell if Balthazar had a girlfriend. Russell said he had at least two.
They used real, deadly cobras on set. The slaves are professional snake wranglers. They kept anti-venom on set in case of an attack.
A cobra lunged at one of the assistant directors. It came within inches of biting him before it was caught.
Steven Brand practiced his fight scenes with the stunt choreographer, who was much shorter than the Rock. He had to learn the moves all over again to fight the Rock.
The Rock and Duncan had trouble keeping a straight face when doing scenes together.
Script Notes
The script was co-written by Steven Sommers, who directed the first two Mummy movies.
The filmmakers chose Gomorrah because not much is known about it, giving them a lot of creative freedom.
Technology Notes
The ants were created by Centropolis FX, which also did visual effects for Independence Day (1996).
Computer effects were used for the swords shattering.
Trivia Notes
Thieves still get their hands cut off as punishment in some parts of the world.
Of the more than 1,500 species of scorpion, only 25 can be deadly to humans.
Camels can run up to 40 mph.
Despite the name, quicksand is pretty slow.
Experts suggest lying down and covering your face and eyes if caught in a sandstorm.
In Greek mythology, Cassandra is cursed with visions that no one ever believes.
King cobras can kill an adult human in 15 minutes.
Some Story Notes movies give you a chance to win $500 via the Golden Note sweepstakes. Go to the Story Notes homepage for a full schedule of relevant films.
Read More