Uncategorized
Story Notes for As Good As It Gets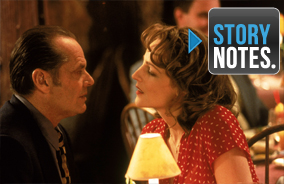 Weeknights during prime time on AMC, you can catch Story Notes — real time trivia and facts about your favorite movies! Below is the online version of the Story Notes for As Good As It Gets.
Award Notes
As Good As It Gets (1997) was nominated for a total of seven Oscars, including Best Picture. This role earned Jack Nicholson his 11th Oscar nomination – his first since A Few Good Men (1993).
Nicholson and Hunt both won Oscars for these performances. It was Nicholson's 3rd and Hunt's 1st.
The movie won an American Lung Association of LA County award for its anti-smoking message.
Kinnear got an Oscar nomination for As Good As It Gets.
Hunt was in the middle of an Emmy-winning streak: 4 in a row for Mad About You from 1996 to 1999.
As Good As It Gets was nominated for AFI's "Top 100 Funniest Movies" list.
As of 2013, Director James L. Brooks has won 3 Oscars and 20 Emmys.
As Good As It Gets won the Golden Globe for Best Picture – Comedy/Musical.
Backstory Note
It's never mentioned, but the filmmakers decided that Gooding's character was bisexual.
Biography Notes
Director James L. Brooks created The Mary Tyler Moore Show (1970-1977) and Taxi (1979-1983).
The real "Verdell" actually stayed at Jack Nicholson's Hollywood home during the movie.
Director James L. Brooks worked with Cuba Gooding Jr. the year before. He co-produced Jerry Maguire (1996).
Helen Hunt took a two-year break from movies after As Good As It Gets. She'd been working almost non-stop since she was 9 years old.
Cuba Gooding Jr. and Jack Nicholson were both in A Few Good Men (1992).
Greg Kinnear's next movie was the 1998 romantic comedy You've Got Mail.
Robin Williams has joked that Jack Nicholson is the only man who can out-drink Keith Richards.
Jack Nicholson had a famous roommate in the late-'60s: actor Harry Dean Stanton (Alien).
Casting Notes
Greg Kinnear was relatively new to movies. His first big role was two years earlier in Sabrina (1995).
Cuba Gooding Jr. had just won an Oscar for Jerry Maguire (1996).
Helen Hunt had just been in Twister (1996) and was starring on Mad About You (1992-1999).
Carol's date is played by Randall Batinkoff (Kick-Ass).
Jesse James (Spence) had never acted before this. He went on to appear in The Butterfly Effect (2004).
One of the cops is played by Maya Rudolph (Bridesmaids) in one of her first movies.
Bibi Osterwald was a Broadway vet who once understudied Carol Channing in Hello, Dolly!
Yeardley Smith (Jackie) is a.k.a. the voice of Lisa Simpson. Director James L. Brooks is an executive producer of The Simpsons.
Dr. Green is Lawrence Kasdan, Director of The Big Chill (1983).
Melvin's new waitress, Patricia Childress, went on to produce The Tyra Banks Show (2008-2010).
The Cafe 24 Manager, Shane Black was a screenwriter of Lethal Weapon (1987).
Harold Ramis (Dr. Bettes) was in Ghostbusters and directed Groundhog Day and Caddyshack.
Lupe Ontiveros (Nora) went on to roles in Selena (1997) and Desperate Housewives.
Director James L. Brooks said he couldn't think of anyone to play Melvin besides Jack Nicholson. He did briefly consider Jim Carrey but said that "would have made it a completely different movie."
The waiter, Paul Greenberg, has also been a writer on awards shows (The Primetime Emmys).
Voice actor Maurice LaMarche (Futurama, Pinky and the Brain) plays Simon's dad.

Health Notes
Melvin has obsessive-compulsive disorder (OCD). His anxieties and fears lead to repetitive behavior.
There are generally more germs on a restaurant menu than on the silverware.
Being afraid of cracks is not one of the most common symptoms of OCD.
Parents magazine says you should generally contact a doctor when a child's fever hits 103 degrees.

Location Notes
The outside of Simon and Melvin's building is in NYC's historic Greenwich Village.
The hotel also doubled for a coffee bar in 500 Days of Summer (2009).
Simon's studio is based on a rooftop greenhouse in New York City's West Village.
The inside of Carol's apartment is a set, but they based it on a real apartment in Windsor Terrace, Brooklyn.
Carol's neighborhood of Windsor Terrace is just off Brooklyn's Prospect Park. Director Brooks liked the area so much he considered making a documentary about it.
They shot the car trip just outside of Manhattan near the John D. Rockefeller Estate except for this conversation, which was on a soundstage in California.

Music Notes
The song, "Always Look on the Bright Side of Life," is originally from Monty Python's Life of Brian (1979).
Composer Hans Zimmer played "Always Look on the Bright Side of Life" for Director Brooks on New Year's Eve and suggested it for the movie.
The movie's composer, Hans Zimmer, was asked to pick "the ultimate love song."

Pop-Culture Notes
The clip on the TV is from an episode of I Dream of Jeannie (1965-1970).
The line "You make me want to be a better man." was nominated for AFI's "100 Years…100 Movie Quotes" list.
In 2007, Movies.com named Jack Nicholson one of the "World's Sexiest Seniors."
Nude sketches were also featured in Titanic (1997) and Great Expectations (1998) around this time.
Greg Kinnear listed Jack Nicholson's Chinatown (1974) as one of his 5 favorite movies.
Melvin and Carol were included on Entertainment Weekly's "10 Unlikely Screen Pairings" list.
Press Notes
Rolling Stone said, "Only Nicholson could mine [that line] for a laugh."
The Baltimore Sun called the movie "a romantic comedy for people…too old to believe in fairy tales."

Prop Notes
Director James L. Brooks: "The letter became a character."
Jack Nicholson said it was really important for his character to hold that map.

Quote Notes
Greg Kinnear said it was really hard to take so much abuse from Jack Nicholson's character. Kinnear: "It takes a while to shake it off… that kind of raw hatred. [It was] horrible."
Nicholson was terrified no one would like the movie because his character is so horrible to people.
Nicholson: "The dog is the catalyst. Everything that happens in this movie happens because of Verdell."
Kinnear was scared to work with Nicholson. He called Nicholson an actor of "great unpredictability."
Jack Nicholson praised Cuba Gooding Jr.'s performance in the movie. Nicholson: " I always assume the other actor's performance is absolutely perfect."
Helen Hunt said that if you had to categorize the movie, it would be a romantic comedy. But that wasn't the original plan. Hunt said, "It arrived in the [footage] so we all went, 'Okay.'"
Jack Nicholson: "I don't know why I like playing buffoon-type of scenes so much."
Nicholson: "I liked having something to be planning about all the time."
Nicholson said this movie is both a comedy and a drama: "It's just life."
Kinnear on Simon: "I saw him as this simple, wonderful man who has this extraordinary decency."
Jack Nicholson described the movie as "a love story where you do nothing but aggravate somebody."
Kinnear: "I just remember I kept thinking, Talk him down from the ledge.'"
Helen Hunt: "All she wants the whole movie is for somebody to be more of a man than she is."
Brooks said Melvin is "starting from zero [with Carol]. He lost all the momentum he had."
Nicholson said playing Melvin was difficult, but he was "the most lovable character I've ever played."
Hunt couldn't imagine a role better than Carol: "It's my favorite story that I've read in years."

Script Notes
Co-writer Mark Andrus (Life as a House) wanted to write a movie about "the vilest man in New York."
Carol was originally supposed to be 44 years old. Helen Hunt was 34.
The movie was originally called Old Friends. Hans Zimmer suggested renaming it.
Nicholson joked they should call the movie "Warm Rolls and Wet Pants".

Set Notes
The dog, Verdell, is a Brussels Griffon. He was played by 6 different dogs. The dog trainer on the movie also worked with the two dogs that played Eddie on Frasier (1993-2004).
The sketches of the dog in the background were drawn by NYC artist Joan Semmel.
Greg Kinnear had a hard time getting along with the dog.
Jesse James (Spence) wasn't intimidated to work with Jack Nicholson. He just thought of him as an "old guy" who was really nice.
In one take, Helen Hunt read 18 straight pages of the thank you letter.
Nicholson would sometimes add compulsive ticks to his performance just out of the camera's view.
The filmmakers wanted Carol to look like an Edgar Degas painting
He wasn't supposed to kiss her, but Director James L. Brooks yelled to Nicholson, "Kiss her, man!"

Symbolism Note
Notice how dark and muted Melvin's apartment is compared to Simon's bright, colorful place.

Trivia Notes
According to the American Kennel Club, Brussels Griffons make very good watchdogs.
The most successful romance novelist in the world is Nora Roberts. She's written over 200 books.
Harold Ramis once cast Shirley Knight in one of his own movies, Stuart Saves His Family (1995).
The Daily Puppy doesn't recommend much bacon for a dog because of the fat and sodium content.
According to a 2010 poll, "conscience" is one of the 20 most commonly misspelled words.
Stiff One Eye was also a punk band in the late-'90s.
Maryland blue crabs are in season from around June through October.
Psychology Today said giving a compliment is one of the most powerful and fundamental social skills.
Degas was a French Impressionist known for his studies of women bathing.
The fear of stepping on cracks in the sidewalk is called Dipatiphobia.

Wardrobe Notes
Nicholson helped create Melvin's Wardrobe. He and the costume designer wanted a "downtown" look.
Director Brooks purposely made the bathrobes the same as the ones in Last Tango In Paris (1972).
Read More