Uncategorized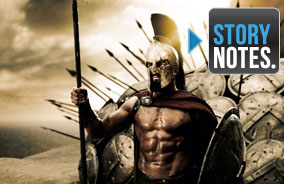 Weeknights during prime time on AMC, you can catch Story Notes — real time trivia and facts about your favorite movies! Below is the online version of the Story Notes for 300.
Anthology Note
300: Rise of an Empire (2013) is the sequel, starring Lena Headey and Rodrigo Santoro.
Award Note
300 won Saturn Awards for Best Director and Best Action/Adventure/Thriller Film.
Biography Notes
Director Zack Snyder started work on 300 before he even made his first movie, Dawn of the Dead (2004).
Lena Headey and Dominic West were friends before this movie. Headey jokes, "He's insane, so that helps."
British actor Dominic West is a Roman General in Centurion (2010).
Gerard Butler went on to star in Coriolanus (2011) and Olympus Has Fallen (2013).
Casting Notes
David Wenham plays Faramir in the last two Lord of the Rings movies (2002 and 2003).
Scottish-born Gerard Butler was just coming off playing Beowulf in Beowulf and Grendel (2005).
Theron is played by Dominic West, a.k.a. McNulty on The Wire (2002-2008).
A lot of the actors in 300 appear in other "sword-and-sandals" movies.
Lena Headey plays Cersei Lannister on Game of Thrones.
Peter Mensah is the Messenger. He is a gladiator trainer on Spartacus (2010-2012).
Vincent Regan (Captain) is in Troy (2004) and Clash of the Titans (2010).
Stephen McHattie is Hollis Mason in Watchmen (2009), also directed by Zack Snyder.
Michael Fassbender plays Stelios. Two years later he is in Inglourious Basterds (2009).
Tyrone Benskin (Emissary) is a Greek captain in Immortals (2011).
Andrew Tiernan (Hunchback) has been in over 100 movies and TV shows, including The Pianist.
Rodrigo Santoro (Xerxes) plays Paulo on Lost the year this movie came out.
The giant is played by Robert Maillet, who also faces off against Brad Pitt in Troy (2004).
Crew Notes
Cinematographer Larry Fong worked on director Zack Snyder's Watchmen (2009) and Sucker Punch (2011).
Sound designer Rick Hromadka worked on Smokin' Aces (2006) and X-Men Origins: Wolverine (2009).
Production designer James Bissell created the look of Sparta. He got his start on E.T. (1982) and Twilight Zone: The Movie (1983).
Historical Notes
There is a real Persian custom of demanding "earth and water" from enemies.
Athens and Sparta were the two most powerful city-states in ancient Greece. Athens was known for its philosophy and art. Sparta was known for its military.
Sparta had a pit in the middle of town that was used for executions.
Throwing a messenger in a pit was based on a real event but it was done ten years earlier by a different Greek ruler.
Spartan kings really were advised by five ephors. Author Frank Miller decided to make them deformed.
Spartan society didn't value money. It was against the law to build up too much personal wealth.
According to Herodotus, the Spartans were joined by about 1,000 men from nearby city-state Arcadia.
The phalanx was the basic formation of ancient Greek armies.
Spartans thought only cowards used arrows. Director Zack Snyder: "[Why use arrows] when you could walk over and lop their arms or legs off?"
The real Spartans also had to learn music, dance, math, and philosophy.
The Immortals were known for keeping their forces exactly 10,000 strong. When one was killed or wounded, he was immediately replaced.
The only animals the Persians actually used in battle were horses. Their army was 20 percent cavalry.
Real Spartans didn't fight bare-chested. They wore lots of heavy armor.
Xerxes was assassinated in 465 B.C.E., fifteen years after this battle.
Today, there's a statue of Leonidas in Thermopylae, Greece.
The battle is said to have inspired the creation of the world's first democracy.
The Greeks went on to defeat the Persians at the Battle of Plataea, ending the war. Herodotus called it "the finest victory in all history known to me."
Music Note
Composer Tyler Bates worked with director Snyder on Dawn of the Dead, Watchmen, and Sucker Punch.
Pop-Culture Notes
300 was named 2007's Best Movie of the Year by pop-culture site IGN.com.
300 opened as the No. 1 movie in the U.S. on March 9, 2007.
Author Frank Miller was six when he saw a movie called The 300 Spartans (1962). It inspired this story.
Gorgo dipping her hand is a reference to a scene from director Snyder's Dawn of the Dead (2004).
Director Zack Snyder and author Frank Miller bonded over their love of samurai and low-budget gory movies.
Most of the swords in this movie were plastic.
Leonidas's necklace has a wolf's tooth on it. He faced a wolf as part of his training at the beginning of the movie.
Quotation Notes
Gerard Butler: "Lena's from the north of England, so she's tough and down to earth."
Director Zack Snyder: "[Frank Miller has] taken an actual event and turned it into mythology as opposed to taking a mythological event and turning it into reality."
Author Frank Miller: "There was no way to tell the story of the 300 without it being amazingly brutal."
Fight Choreographer Damon Caro: "There's no record of the actual [fight] tactics they used."
Fight trainer Mark Twight: "What we wanted to do with the actors was turn them into a gang."
Lena Headey: "It's just a tough way of life. There's no softness in it at all. It's just about survival."
Butler: "It was a very extreme society, and what I love is [the filmmakers] don't make excuses for that… They say, 'This is the way they were.'"
Author Frank Miller: "I wanted these guys to move and I wanted them to look good."
Gerard Butler: "It is a kick-ass story full of passion and politics and brutality."
Director Zack Snyder: "Dilios is a guy who knows how not to wreck a good story with truth."
Co-screenwriter Johnstad: "We realized that [Queen] Gorgo was as much a warrior as the king was. She needed to be fighting with just as much resolve as King Leonidas at the Hot Gates."
Director Snyder: "It was hard for her… [to] get to work and stand in front of all these crusty councilmen."
Gerard Butler: "I felt like a lion. I felt like a killer. I felt like a leader ferocious enough to take on such an army."
Author Frank Miller: "All my life I wanted to tell this story. It's the best story I've ever encountered."
Author Frank Miller: "Heroes aren't necessarily people who get medals at the end of the story. Heroes are people who do what is right because it is right."
Author Frank Miller: "The story of the brave 300 is a story for the ages that needs to be retold each generation."
Script Notes
Astinos is named after director Zack Snyder's car, an Aston Martin.
The "fight in the shade" line comes from a real Spartan soldier named Dienekes.
In a deleted scene, Ephialtes jumped off a rock to try to kill himself.
The war cry was modeled after the U.S. Marines' "Ooh Rah!"
The rhino comes from a story one of the writers heard about an African buffalo charging a hunter.
At one point, Director Snyder told the writers to add more weirdness into the movie
Set Notes
Gerard Butler trained six hours a day for seven months to get in shape for this movie.
The actors trained for eight weeks to get in shape for this movie. Director Zack Snyder trained with them.
They wanted to have a building fall over, but it was changed to pots to save money.
Thirteen mechanical horses were built to be speared and knocked over.
Rodrigo Santoro had 33 fake piercings as Xerxes.
Most of the dead bodies were dummies, but the Persian they toss was a stuntman.
Stunt coordinator Damon Caro choreographed the fights using martial arts techniques.
The goat-headed minstrel was designed by Adam Forman, director Zack Snyder's personal tattoo artist.
It took five hours to apply Andrew Tiernan's hunchback makeup every day.
Rodrigo Santoro modeled his performance on Yul Brynner in The King and I (1956).
Headey tested out her slap on director Zack Snyder to make sure it wasn't too hard.
Source Notes
300 is an adaptation of the prize-winning graphic novel by Frank Miller. Director Zack Snyder used the illustrations from the book to make his storyboards.
Frank Miller borrowed elements from The Histories by Herodotus, written around 440 B.C.E. The Histories was about the rise of the Persian Empire around the fifth century B.C.E.
In the graphic novel, the Immortals were men, not demons like they are here.
Tech Notes
Most of the movie was shot indoors so the environment could be added with computers.
The Oracle was filmed in a water tank to give her this weightless look.
300 was shot in three months, but it took about a year to add the digital animation.
The effects in the last sequence were done by having three different cameras film the same fight.
They made this movie look more like a painting with a process called "crushing." It's a technique that makes light colors brighter and dark colors darker.
Xerxes is supposed to look 7 1/2 feet tall.
Rodrigo Santoro's voice was digitally altered to make it a full octave lower.
Trivia Notes
The name Leonidas means "born of lion stock."
In Greek, "the hot gates" is Thermopylae. It also means "gates of fire."
The word "spartan" has come to mean "simplicity" or "self-disciplined". But it also means "courageous in the face of danger."
"Barbarian" comes from a Greek word meaning people who don't speak Greek.
In modern Greek, the name Ephialtes means "nightmare."
The expression "molon labe" means "come and take" in Greek. Today, it's used on the emblem of the Greek First Army Corps.
After this war, the hunchback's name, Ephialtes, was sometimes used as a synonym for "traitor."
Wardrobe Notes
Gerard Butler had 17 helmets made for him.
The real Spartans all had plumes. In the movie, only Leonidas (Butler) has a plume to distinguish him to audience in battles scenes.
Some Story Notes movies give you a chance to win $500 via the Golden Note sweepstakes. Go to the Story Notes homepage for a full schedule of relevant films.
Read More