Uncategorized
Six Things You Didn't Know About Jack Nicholson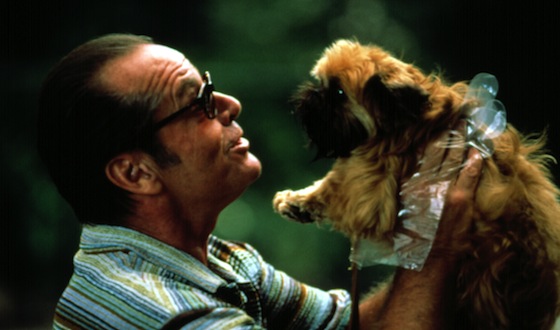 Sure, you know that Jack Nicholson has over a dozen Oscar nods. He's also famous for being one of the richest bad boys in Hollywood. You've probably also heard about his road rage, his Lakers fanaticism, and his rep as The Great Seducer (nine children). But there's more to Jack than what you read in the tabloids. Here are a few more fun facts, just in time for AMC's premiere of As Good As It Gets on Sun., May 12 at 7/6c.
1. He Was Childhood Friends With Danny DeVito
It's hard to picture Nicholson as a little boy, but what's even harder to imagine is him as a child hanging with Danny DeVito. But the two were buddies growing up together in New Jersey where both their families owned a hair salon together. The friendship continued with One Flew Over the Cuckoos Nest in which they co-starred and Hoffa which DeVito and directed and Nicholson helmed.
2. He Almost Became a Cartoonist
What would Yogi Bear look like had he been the brainchild of Jack Nicholson? As fate would have it, we'll never know. Nicholson's first gig in Hollywood was as a gofer for William Hanna and Joseph Barbera at MGM's cartoon studio. After seeing some sketches of Nicholson's, the future owners of Hanna-Barbera asked young Jack to joined their animation team. Nicholson turned the job down, stating his heart was set on acting.
3. He Wrote a Movie Starring The Monkees
A year before Jack hopped onto the back of a motorcycle in Easy Rider, he was hanging with Davy Jones and the gang. Nicholson penned the movie Head which filmmakers touted as the "most extraordinary adventure, western, comedy, love story, mystery, drama, musical, documentary satire ever made." Nicholson also makes an appearance in the flick, along with Annette Funicello, Teri Garr, Frank Zappa, and Sonny Liston.
4. He Was Slated to Play Daddy Warbucks in Annie
Nicholson turned down Michael Corleone in The Godfather, Johnny Hooker in The Sting, and the title role in Nixon. In hindsight, no big loss considering Jack's not lacking in Oscar nominations. And those actors feel destined for those roles. That said, watching a bald Nicholson singing "I Don't Need Anything But You" sounds even more appealing than seeing Albert Finney do it. Too bad, Nicholson dropped out after the original producer quit.
5. He Demolished Marlon Brando's House
Nicholson was close to Brando who was also his neighbor on Mulholland Drive (a.k.a. Bad Boy Drive). Following Brando's death, Nicholson purchased the late star's mansion which had fallen into complete disarray. Out of respect to his old friend and fellow icon, Nicholson had the house torn down so that it wouldn't act as a symbol of Brando's demise.
6. He Loves Professional Wrestling
Turns out Nicholson's sports mania doesn't begin and end with the Lakers. He's petitioned to induct Ric Flair into the WWE Hall of Fame and cites John Cena as one of his favorite wrestlers. Nicholson has also said that if he can get Jim Carrey, Tom Cruise, Robert Downey Jr. and Johnny Depp to be a part of it, he will start his own wrestling promotion. Hey, if anyone can make that happen, Jack can.
Think you know Jack? Prove it by playing the Jack Nicholson Ultimate Fan Game.
Read More