Uncategorized
Story Notes for True Lies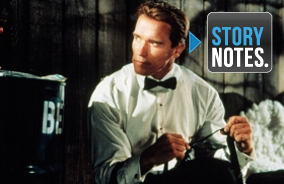 Weeknights during prime time on AMC, you can catch Story Notes — real time trivia and facts about your favorite movies! Below is the online version of the Story Notes for True Lies.
Automotive Note
Complex magazine included Simon's car, a 1959 Chevrolet Corvette, on its "25 Best Movie Corvettes" list.
The motorcycle is a Kawasaki EX 500. It tops out at about 120 mph.
Award Note
Jamie Lee Curtis won a Golden Globe and an American Comedy Award for this role.
The bridge explosion/limo rescue scene was nominated for Best Action Sequence at the 1995 MTV Movie Awards.
Bio Notes
Arnold Schwarzenegger dreamt about playing a James Bond kind of spy when he was a kid.
Art Malik (Aziz) plays a Mujahedeen leader in the James Bond movie The Living Daylights (1987).
James Cameron directed a music video for Bill Paxton's band, Martini Ranch, in the '80s.
Curtis was directed by Kathryn Bigelow, Cameron's future wife, in Blue Steel (1989).
Director James Cameron's known for his obsession with fast planes and cars. He once terrified Bill Paxton with a daredevil stunt in an ultralight plane.
In real life, Arnold prefers cigars. He's been on the cover of Cigar Aficianado twice.
In real life, Arnold Schwarzenegger has a chocolate Lab named Gustav.
In real life, Jamie Lee Curtis has been married to actor/director Christopher Guest since 1984.
Jamie Lee Curtis also plays a prostitute in Trading Places (1983).
Just after finishing True Lies, James Cameron flew to England to screen it for director Stanley Kubrick. Kubrick's 2001: A Space Odyssey (1968) is the movie that made Cameron want to start making his own.
Schwarzenegger's next action movie was the 1996 hit Eraser.
Seventeen years before True Lies, Schwarzenegger was in the documentary Pumping Iron (1977).
Tia Carrere isn't just an actress. She won two Grammys for her albums of Hawaiian music. Carrere: "Growing up…I never dreamed of an Oscar, I dreamed of a Grammy."
Tia Carrere later starred as an antiquities collector on Relic Hunter (1999-2002).
Tom Arnold's marriage to Roseanne Barr ended just before True Lies came out.
True Lies was Arnold Schwarzenegger's third movie with director James Cameron. It followed The Terminator (1984) and Terminator 2: Judgment Day (1991).
Casting Note
Cameron had wanted to work with Jamie Lee Curtis ever since seeing her in A Fish Called Wanda (1988). He wrote these parts specifically for Curtis and Schwarzenegger.
Charles Cragin (Samir) played a psycho killer priest in Happy Hell Night (1992).
Charlton Heston was cast because director Cameron thought he was the only actor who could intimidate Arnold.
Director James Cameron cast Art Malik without an audition because of his work in City of Joy (1992).
Grant Heslov (Faisil) isn't just an actor. He's also a director, screenwriter, and producer. He won the 2013 Best Picture Oscar for producing Argo.
Director James Cameron is the voice of the Marine pilot.
Eliza Dushku went on to do Buffy the Vampire Slayer (1998-2003) and Bring It On (2000).
Tom Arnold was mostly known at the time as a comedian and for his marriage to Roseanne Barr.
This was only two years before Bill Paxton (Simon) got the lead in Twister (1996).
Tia Carrere played Cassandra in the Wayne's World movies right before True Lies.
Tom Arnold was so sure he wouldn't get this role that he asked if he could audition for a smaller part.
True Lies was a huge hit for Arnold Schwarzenegger after the disappointing Last Action Hero (1994).
Finance Note
Arnold Schwarzenegger made $15 million plus a percentage of the movie's earnings for True Lies.
True Lies' budget was around $120 million, making it the most expensive movie ever made at the time. Cameron's Terminator 2, Titanic, and Avatar were also the most expensive ever when they were made.
True Lies was one of the most successful movies of 1994, earning almost $400 million worldwide.
Health Note
Scientific American said truth serums have never been "widely accepted" as actually working. The CIA doesn't even believe in them: "No such magic brew as the popular notion of truth serum exists."
History Note
Darius I ruled Persia from 522 B.C. to 486 B.C. and tried to conquer Greece several times.
Ever since The Patriot Act was passed in 2001, it's been legal for the government to wiretap.
Location Note
The Key Bridge where Simon and Helen meet is actually the Sixth Street Bridge in Los Angeles. It's also where the T-1000 arrived in director James Cameron's Terminator 2: Judgment Day.
The Swiss chateau is really two different mansions in Newport, Rhode Island. One of them was also featured in The Great Gatsby (1974).
Pop-Culture Note
"Boris" and "Natasha" are references to the villain spies in The Rocky and Bullwinkle Show (1959-1964).
"Fear is not an option" was the theme of a technology lecture given by director James Cameron in 2010.
"Crimson Jihad" is also the name of a metal band in California.
Director James Cameron was inspired by the spy show The Man from U.N.C.L.E. (1964-1968).
Google did a limited release of high-tech glasses called "Google Glass" in 2013.
James Cameron has directed Bill Paxton in several movies, including Aliens (1986) and Titanic (1997).
Jamie Lee Curtis's dance was voted the No. 1 sexiest striptease of all time in a poll by Current.com.
True Lies landed at No. 3 on AMC's "Top Five Essential Arnold Action Movies."
True Lies became the first Hollywood movie to be released in Vietnam since the Vietnam War.
Press Note
TV Guide called True Lies (1994) a "phenomenon." It's "an affectionate homage to James Bond movies ratcheted up to meet the action/adventure expectations of today's audiences."
Complex Magazine said the terrorists are shown as both "genocidal maniacs and inept morons."
NPR said this is the "kind of movie where the blast of an atomic bomb is… a moment of peaceful respite."
NY Times: It's "the first successful romantic comedy in which trucks [and] heartstrings are blown to bits."
One critic called Jamie Lee Curtis "a reluctant Mrs. James Bond" in True Lies.
Roger Ebert called Director James Cameron "a master of action" and said "no one does it better."
The Independent said this role helped Tom Arnold break away from "Roseanne's coat-tails."
The Independent said True Lies made Art Malik a "Hollywood player." But after this, he turned down action roles in The Lost World (1997) and The Mask of Zorro (1998).
Tom Arnold won a lot of praise for this role. The Chicago-Sun Times called it a "scene-stealing performance."
Prop Note
The replica Harrier jet was built by Don Pennington. He created the submarines in Cameron's The Abyss.
Quote Note
Arnold Schwarzenegger said, "The hardest thing was sitting in a cockpit for hours and days and weeks. It was 100 degrees inside… That was torturous."
Art Malik (Aziz) jokes: "I don't like this term 'the bad guy. I think I'm just misunderstood."
Cinematographer Russell Carpenter said that "cool blue tint… has become a Cameron trademark."
Director Cameron said True Lies is "really a story about a marriage, and everything else is window-dressing."
Director James Cameron compared the movie to "a military maneuver." "There were no easy shots on this movie, and if they were easy I found a way to make them hard."
Director James Cameron on Curtis' screams: "I'm not sure how much of that was acting."
Director James Cameron said "The one place in the world [Harry] screws up is his family. In that way he's just like every other person on the planet."
Director James Cameron said he got ideas for the movie by watching MTV with the sound off.
Director James Cameron said he learned how to film pyrotechnics when he made Aliens (1986).
Director James Cameron: "I just try to… come up with great action scenes that I've always wanted to see."
Jamie Lee Curtis on Helen: "I wanted to be a real character. We all have nerdy sides to us."
Jamie Lee Curtis on the Harrier jets: "The first time I saw that, my jaw dropped."
Jamie Lee Curtis said True Lies was "without question, the greatest experience of my professional life so far."
Jamie Lee Curtis was glad her character was nervous because she was nervous about some scenes too.
Jamie Lee Curtis: "I think everybody secretly wants another life."
Schwarzenegger on Curtis: "She is a very sexy woman. She's very physical… an incredible actress."
Schwarzenegger said it was the "film I was meant for."
Schwarzenegger said they wanted to make an "action picture for the '90s… the size and the scope of T2."
Tia Carrere said True Lies was her favorite role of all time "because I got to be a villain."
Tom Arnold said he has the same chemistry with Schwarzenegger off-screen as he does on.
Tom Arnold said this is his favorite movie he's ever been in: "I loved True Lies."
Tom Arnold says he and Harry are the only ones "totally honest with each other" in the movie.
Jamie Lee Curtis said she's "bossy, opinionated and a pain in the ass to many people."
Random Note
This movie was made four years before Google existed.
Script Note
Writer/director James Cameron thought of True Lies as a "love story" first and foremost.
Set Note
Arnold Schwarzenegger said he rehearsed the dance scene for about six months. He wanted to make sure he was as good at the tango as Al Pacino was in Scent Of A Woman (1992).
Arnold wasn't supposed to drop the tape recorder. Director James Cameron liked it and kept it in.
Eliza Dushku (Dana) cracked a couple of ribs during shooting.
Harry's horse was really played by four different horses because they had different skills.
Jamie Lee Curtis exercised every day to prepare for this role.
Schwarzenegger did a lot of his own horseback riding. He says he couldn't have done it without his riding experience on the Conan movies.
Schwarzenegger did some of the driving stunts himself.
Some of the artifacts are Assyrian, not Persian. Production designer Peter LeMont admits they "took a bit of artistic license."
The bridge is a miniature. They only had enough money to blow up it up twice.
They had an Arabic linguistics expert on set to make sure the dialogue sounded authentic.
The shot where Jamie Lee Curtis is hanging 250 feet in the air above open water is real.
Source Note
Director Cameron said the original French movie was "an anti-James Bond, a reality check on…male fantasy."
True Lies is based on the French movie La Totale! (1991). Schwarzenegger came up with the idea of re-making it.
Tech Note
Many of the effects were done by director James Cameron's own company, Digital Domain.
Trivia Note
According to ABC News, around 60% of marriages involve an affair.

As of 2013, there are eight confirmed nuclear powers in the world.

Car windows are made of tempered glass, which is about four times as strong then regular glass.

Clinical psychologist Belisa Vranich confirms that the reason a lot of women cheat is to have "fun."

Director James Cameron considered making a sequel and TV show.

France is the most popular tourist destination in the world. Over 70 million visit every year.

Harrier jets were first built and used by the British in 1969. The U.S. got them in 1985. This was the first time a Harrier had ever been used in a movie.

Harriers were the first jets that could take off and land vertically. The movie rented two. Each one was worth $33 million and cost $20,000 an hour to operate.

Schwarzenegger also goes through a full body scanner like this in Total Recall (1990).

The divorce rate for spies is "astonishingly high" according to a former CIA official.

When firing a gun into the air, the bullet can travel up to a mile high.

The Florida Keys' border stations closed in 1994, but they opened back up in 2001.

Wardrobe Note
Curtis' dress was designed by Marlene Stewart, who also designed for Madonna, Cher, and Janet Jackson.

Schwarzenegger wears Bolle sunglasses. He wore Gargoyles in The Terminator and Oakleys in T2.
Read More