Uncategorized
Story Notes for The Sentinel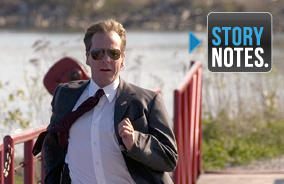 Weeknights during prime time on AMC, you can catch Story Notes — real time trivia and facts about your favorite movies! Below is the online version of the Story Notes for The Sentinel.
Bio Notes
This was the second movie directed by Clark Johnson; his first was S.W.A.T. (2003).
Clark Johnson has also directed episodes of The Wire, Homeland and The Walking Dead.
Director Clark Johnson directed the pilot episode of a TV series about the Secret Service in 1992.
In real life, Longoria worked with the White House to help President Obama push immigration reform.
Longoria first learned how to shoot a gun with her dad in Texas when she was just 6 years old.
Casting Notes
As an actor, the movie's director, Clark Johnson starred on Homicide: Life on the Street.
David Rasche (The President) was in Burn After Reading (2008) and AMC's Rubicon (2010).
Blair Brown played Nina Sharp on Fringe from 2008-2012.
At the time, Eva Longoria was on one of the most-watched TV shows, Desperate Housewives (2004-2012).
At the time, Kiefer Sutherland was on his Emmy and Golden Globe-winning run on 24.
Gloria Reuben (Mrs. Merriweather) was on ER (1995-2008) and in Lincoln (2012).
Kristin Lehman co-starred as Gwen Eaton on AMC's The Killing.
Canadian-born Simon Reynolds (Tom) was in the horror movies Dark Water (2005) and Saw IV (2007).
Raynor Scheine (Walter) is known for his work in My Cousin Vinny and Ace Ventura: Pet Detective.
Paul Calderon was in Pulp Fiction (1994) and Out of Sight (1998).
Martin Donovan (Bill Montrose) played a DEA agent on Weeds (2005-2006).
Ritchie Coster was in American Gangster (2007) and The Dark Knight (2008).
Crew Notes
Cinematographer Gabriel Beristáin also worked with director Clark Johnson on S.W.A.T. (2003).
Technical adviser Gerry Cavis was the head of security for the real G8 summit in 2004.
Finance Note
The Sentinel earned over $78 million worldwide. Michael Douglas's movies (as of 2013) have earned more than $2.2 billion.
Health Note
Michael Douglas injured his knee and hamstring while filming some of these chase scenes.
Historical Notes
The Secret Service was created in 1865 by President Abraham Lincoln to fight counterfeiting. They started protecting presidents full-time in 1901 with President William McKinley.
Eisenhower named Camp David after his grandson. Its real name is the Naval Support Facility Thurmont. It was first used by President Franklin Roosevelt. He called it USS Shangri-La.
Tim McCarthy was the Secret Service agent who took a bullet for President Ronald Reagan.
Since 2003, the Secret Service has made nearly 29,000 criminal arrests; 98 percent were convicted.
The KGB was formed in 1954 and dissolved in 1991. It's been replaced by the Federal Security Service.
How-To Note
It is possible to beat a polygraph test. One way is to bite your tongue while answering the first few questions honestly. It's not foolproof, but your body's response to the pain will throw the sensors off.
Location Notes
The Mayflower Hotel has hosted every U.S. presidential inaugural ball since 1925.
Union Station in Washington D.C was also used in Hannibal (2001) and Minority Report (2002).
Music Note
The Sentinel's score was composed by Emmy winner Christophe Beck (Buffy the Vampire Slayer).
Plot Note
The president's car is nicknamed "The Beast." It has 8-inch thick doors and its own oxygen supply.
Political Note
Eva Longoria was a co-chair of President Obama's second inauguration.
Press Notes
The cat-and-mouse game in The Sentinel drew comparisons to The Fugitive (1993).
The San Francisco Chronicle called The Sentinel a "well-constructed and genuinely tense thriller."
Prop Note
Garrison uses a 9mm SIG-SAUER. It's the same gun issued to Secret Service agents.
Quotation Notes
Director Clark Johnson joked, "It sucks to be Garrison. It doesn't suck to be Michael Douglas."
Writer George Nolfi: "It's not unusual to have 20-hour days repeatedly, in a pinch, for some of these guys."
Michael Douglas said he doesn't like to play heroes "because I don't know that many heroes in my life."
Director Clark Johnson: "There's cameras everywhere in this town. Locals call it Fort Washington."
Director Clark Johnson: "The good thing about Camp David is none of us have really seen it. This is what Camp David looks like to me."
Former Agent Daniel Bongino: "Plan A and Plan B aren't good enough. You need Plan Z."
Director Clark Johnson: "The look of this movie is one of kinetic energy. That's why we used many cameras and lots of moving shots."
Producer Marcy Drogin called this "the quintessential Michael Douglas role."
Michael Douglas: "I always like those flawed characters that dig themselves a big hole."
Douglas: "I liked the idea behind The Sentinel because in an era of fear and paranoia the notion of an unseen enemy is credible — that's the film's big 'what if?"
Michael Douglas: "I always had a little bit of a crush on [Kim Basinger]. I thought she had a great quality."
Director Clark Johnson joked that he wanted the sequel to focus on Walter's relationship with his mom.
Michael Douglas said he likes the audience to think, "Oh, there's no way he'll get out of here."
Basinger on whether she'd want to be first lady: "My initial response is, 'Absolutely, unequivocally not."
Martin Donovan: "One of my goals was finding the humanity behind the image [the agents] present."
Former Agent Gerry Cavis said in 2006 that they've never identified a mole within the Secret Service. "It's a great Hollywood story. Hopefully that's where it stays."
Michael Douglas: "I'm really happy with the picture. I think it's the most accurate portrayal [of the Secret Service]."
Script Notes
The montages weren't in the script. Director Clark Johnson included them to show all the daily threats the president gets.
The Sentinel screenplay was written by George Nolfi (The Bourne Ultimatum). He went on to write and direct The Adjustment Bureau (2011).
Set Notes
Former Secret Service agents Gerry Cavis and Kevin Billings were technical advisors for The Sentinel. They served as agents under President Clinton and President George W. Bush.
At the time, Eva Longoria was dating her future husband, San Antonio Spurs point guard Tony Parker.
The cast took shooting lessons from former Secret Service agents. Eva Longoria beat all the guys.
They used the real crew of the boat as extras.
When Breckinridge arrives to talk to the first lady, the landscape outside the window is a photograph of the White House lawn. The scene was shot on a set in Toronto.
Source Notes
The Sentinel is based on a novel written by a former Secret Service agent.
Chez Doucette isn't a real restaurant in D.C. It's from the novel the movie was based on.
Trivia Notes
In 2013, Julia Pierson became the first female director of the Secret Service.
The code name for First Lady Laura Bush was "Tempo." Michelle Obama's is "Renaissance."
Eva Longoria isn't a native Spanish speaker. She learned it in college.
Agents take a 10-week course to learn investigative skills and criminal law.
The .45 is one of the biggest-caliber handguns. A .22 caliber was fired at President Reagan.
Without a silencer, a bullet from a .45 can travel about 800 feet per second.
Secret Service constantly go through firearm training refresher courses.
Kim Basinger was offered the lead role opposite Michael Douglas in Basic Instinct but turned it down.
U.S. Presidents usually spend hundreds of days at vacation homes. Reagan averaged over 200 days per term, Clinton over 300, and Geroge W. over 400
D.C. is the biggest commuter city in the U.S. The population grows over 70% on work days.
The president receives over 30 potential death threats every day.
"Q" clearance means a person has access to Top Secret government information.
Every Secret Service agent has to pass a polygraph test before getting the job.
Kim Basinger said her favorite Michael Douglas movie is Fatal Attraction (1987).
The Secret Service has the highest divorce rate of any law enforcement agency.
There are over 4,700 surveillance cameras in Washington D.C.
There are over 13,000 special agents in the FBI but only 3,200 in the Secret Service.
The inside of Marine One is actually much smaller and louder than in the movie.
The Barranquilla Cartel has made hundreds of millions of dollars selling cocaine.
Secret Service agents wear shoes with laces, instead of slip-ons, in case they have to run.
Usually the Secret Service sends teams to secure locations in advance, but that's not always possible.
Your chances of winning the top prize from Publishers Clearing House are 1 in 1.2 billion.
Kevlar was invented in 1965 and is used in many bulletproof vests. It's five times stronger than steel.
G8 is short for Group of Eight. It's made up of the eight wealthiest countries in the world.
The G8 is a three-day summit that happens once a year.
"Karjistan" is not a real country. She looked at a map of Russia, Georgia, Armenia, and Azerbaijan.
As of 2013, only one Secret Service agent has been killed protecting the president. Leslie Coffelt was fatally shot in 1950 during an assassination attempt on President Truman.
Many protesters at the G8 oppose the spread of capitalism to developing countries.
If the president is injured, he can be rushed to the presidential car that holds a supply of his blood.
The first priority of the Secret Service is to protect the president, even if it means leaving the first lady.
Fingerprints are caused by the oil in the sweat glands of your hands.
Wardrobe Note
Oleg Cassini, Jackie Kennedy's stylist, worked on Basinger's wardrobe.
Read More