Uncategorized
Story Notes for The Marine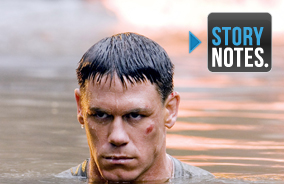 Weeknights during prime time on AMC, you can catch Story Notes — real time trivia and facts about your favorite movies! Below is the online version of the Story Notes for The Marine.
Anthology Note
This movie started a franchise with WWE superstar Ted DiBiase Jr. starring in the 2009 sequel and WWE superstar The Miz starring in The Marine: Homefront (2013).
Automotive Notes
A 2011 survey by AOL found only 30% of people think minivans are cool.
That's a Chevy Camaro, first introduced in 1967. It was the Pace Car at the Indy 500 the year it launched.
Biography Notes
Impersonating an officer wasn't a stretch for Cena. He has cops in his family.
John Cena did tours with the WWE in Iraq and Afghanistan before shooting this movie.
John Cena was a limo driver before he made it as a wrestler.
John Cena went on to star in 12 Rounds (2009), a movie about a man saving his girlfriend.
Kelly Carlson (Kate) lifts weights, eats healthy, and rarely drinks alcohol to stay in shape.
Manu Bennett went on to play Azog the White Orc in Peter Jackson's The Hobbit movies.
Robert Patrick starred on The X-Files (from 2000-2002) after David Duchovny left.
Kelly Carlson practiced kickboxing for years before appearing in this movie.
Robert Patrick was on The Unit (2006-09) when he filmed this movie.
Casting Notes
Abigail Bianca (Angela) is in the pilot episode of Roar (1997), which started Heath Ledger's career.
Damon Gibson (left) did a Scarface impression for his audition.
That's Anthony Ray Parker. He was Dozer in The Matrix (1999).
Lincoln Kennedy was asked to be in this movie about an hour before this scene was filmed. The former Oakland Raider happened to be hanging out with a friend of director John Bonito's at the time.
Drew Powell (laughing) got his start on Malcolm in the Middle (from 2000-01).
Jerome Ehlers is an Australian actor who's been in Quigley Down Under (1990) and Ned Kelly (2003).
John Cena was the WWE World Champion the year before The Marine came out. This was his first movie.
Kelly Carlson is Kimber on Nip/Tuck (2003-2010). John Cena sat in on her audition for this movie.
Robert Patrick plays T-1000 in Terminator 2: Judgment Day (1991).
Associate producer Frank Carlopio plays a small part.
The other guy with the guns is Manu Bennett from Spartacus (2010-2013).
Crew Notes
Co-writer Alan McElroy also wrote Wrong Turn (2003).
The movie was edited by Dallas Puett, who also did 2 Fast 2 Furious and Lethal Weapon 4.
Historical Notes
"Be All You Can Be" was the Army recruiting slogan from 1980-2001.
Rock candy is crystallized sugar. It was sold as medicine in the early 19th century.
The largest diamond heist on record happened in Belgium in 2003. Thieves stole $100 million worth.
Cinematographer David Eggby got his start on Mad Max (1979). He won two Australian cinematography awards for 2000's Pitch Black with Vin Diesel.
Production designer Herbert Pinter was the art director on two early Mel Gibson movies Gallipoli (1981) and The Year of Living Dangerously (1982), both directed by Peter Weir and shot in Australia.
The movie was directed by John Bonito, known for his award-winning commercial work.He did a 007-inspired trailer for the 2002 Winter Olympic Games.
Location Notes

The Marine takes place in South Carolina but was filmed on the Gold Coast of Queensland, Australia.
Brisbane is the third-largest city in Australia.
There is the only scene shot in the U.S.
Love Note
Kelly Carlson (Kate) and director John Bonito were dating at the time this movie was made.
Music Notes
"More Human Than Human" by White Zombie, 1995.
"Should Have Been Gone" by Wayne Perry and Tommy Smith, 1999.
"Sunshine" by Lil' Flip, 2004.
Cena released a rap album the year before this movie. One of his songs plays over the end credits.
Composer Don Davis also scored The Matrix (1999) and its sequels.
Composer Don Davis scored the cartoon TV shows "Tiny Toon Adventures" and "Taz-Mania."
The banjo notes are from "Dueling Banjos," by Arthur Smith, made famous by its use in Deliverance.
Pop-Culture Notes

Deliverance (1971) is about people lost in the woods who get tortured by locals.
John Cena's biceps were named the fourth best in movie history by Muscle and Fitness magazine.
John Cena is known to be very quick. In the ring, his catchphrase is "You can't see me!"
Shooting at gasoline to start fires is big in action movies, but it was busted by MythBusters in 2004.
WWE was formed in 1963 and has since become the dominant force in wrestling entertainment.
"The Drake" is a reference to a 1993 Seinfeld episode. Director John Bonito was a big fan. He wanted the building to be Vandalay Industries (also from Seinfeld) but couldn't get the rights.
To film The Marine, John Cena had to take a leave of absence from professional wrestling. While he was gone, the WWE said Cena was recovering from a stab wound.
Wrestlers starring in movies was not always accepted by the wrestling community…In fact, Hulk Hogan was fired from the World Wrestling Federation for appearing in Rocky III (1982).
Press Notes
A.V. Club: "The Marine subscribes to the notion that there's no such thing as a gratuitous explosion."
Entertainment Weekly said John Cena looks "like a muscle-bound Matt Damon ate another Matt Damon."
Variety: "Robert Patrick steals every scene that isn't bolted to the floor with his dry, deadpan delivery."
San Francisco Chronicle: "The Marine is a throwback to all those guilty pleasure action movies."They compared it to the Patrick Swayze movies Road House and Next of Kin (both 1989).
Quotation Notes
Cena about Carlson: "As soon as she walked in, I was like, 'That's the one.'"
Cena: "They give you the warning, 'Yes, you might die. Please sign your life away.'"
Cena: "You just go from kicking ass in a 20-by-20 ring to kicking ass on a big screen."
Cena joked that he messed it up "about 100 times just to keep doing it again and again and again."
Director Bonito: "No one ever gets hurt, no one ever runs out of ammo… It's a Road Runner cartoon, really."
Bonito made Carjacked (2011) about a woman and her child being carjacked by a bank robber.
Director John Bonito: "We had a running joke — if we built it, we blew it up."
John Cena said the swamp was the most disgusting part of shooting The Marine. Cena: "This is just gutter swamp water. You put your foot in the mud, and it sinks."
Director John Bonito said John Cena did "98% of his own stunts." Cena: "I hate watching movies and seeing [stunt] doubles."
WWE Chairman Vince McMahon: "An action-adventure is a logical extension of what we do. It's not a leap of faith to take… John Cena from the ring and put him in a full-length feature film."
Cena says he has "admiration for anyone in the armed services because of what they stand for. Their credos: honor, core, commitment, teamwork… That is a way of life."
Director John Bonito described The Marine as a "comedic homage" to movies like Commando (1985).
Director John Bonito said he wanted explosions "so big, birds will be deaf two miles out."
He said he was the most tired he'd ever been: "In a matter of 45 minutes… I [had] nothing left."
John Cena: "If I had an alter ego, it would be John Triton. He's a certified bad ass."
John Cena says he was "more beat up and banged up on this movie set than in five years of wrestling."
Kelly Carlson: "I love doing stunts… for that reason I was like, 'I want to do this film.'"
Kelly Carlson: "Several times we hit each other… I think I gave her the haymaker to the side of the face."
Robert Patrick: "When I met John [Cena], I said, 'You know, you should be the next Terminator.'"
Robert Patrick described Rome as "fairly psychotic, with a sense of humor… sort of a charming bad guy."
Script Notes
"Honky" was improvised. Robert Patrick was genuinely surprised.
Director Bonito named the gas station after Vince Manze, an NBC executive who helped launch "Must See TV."
The character of Morgan is based off of Keith David's character Lewis in Men at Work (1990).
"Rita's Marina" is named after director John Bonito's friend, a showgirl who performed with Frank Sinatra.
Set Notes
Director John Bonito told his crew to make one explosion big enough to see from the moon.
For one scene, crew members tossed balsa wood on John Cena's head.
Initially, these two actors were cast in opposite roles. They were switched just before shooting started.
John Cena did the jump onto the truck while wearing a harness.
John Cena said everyone was nervous about filming in the Australian wilderness.
In one of the few stunts John Cena didn't do, his stunt double was knocked unconscious.
The Marine (2006) was the first movie produced by World Wrestling Entertainment.
The actors in this movie had weapons training, but there was no time for fight training.
The gas station was built just for this movie.
To prepare for this movie, John Cena trained with real Marines at Parris Island, South Carolina.
Trivia Notes
"What Happens Here, Stays Here" is the official slogan of Las Vegas, created in 2003.
In the U.S., $80-100 million is stolen from jewelry stores every year.
That was a wrestling move called a "chokeslam."
The Marines are sometimes called "America's 9-1-1 Force."
The Marine was the No. 1 most-rented DVD its first week of release.
The oldest diamonds ever discovered come from Australia, where this movie was shot.
There are six types of military discharges. With an honorable one, he'll get most of his veteran's benefits.
The word diamond comes from the Greek word adamao, which means "I tame" or "I subdue."
South Carolina has over 2,000 miles of canals and waterways.
Some Story Notes movies give you a chance to win $500 via the Golden Note sweepstakes. Go to the Story Notes homepage for a full schedule of relevant films.
Read More