Uncategorized
Story Notes for The Devil's Own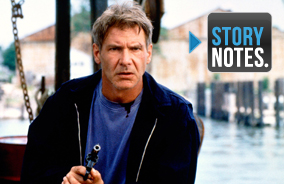 Weeknights during prime time on AMC, you can catch Story Notes — real time trivia and facts about your favorite movies! Below is the online version of the Story Notes for The Devil's Own.
Award Note
Treat Williams has been nominated for three Golden Globes, including one for A Streetcar Named Desire (1984).
Director Alan J. Pakula has been nominated for three Oscars, each in a different category: producing (To Kill a Mockingbird), writing (Sophie's Choice), and directing (All the President's Men).
Biography Notes
As of 2013, Harrison Ford has played six movie cops, from Blade Runner (1982) to Crossing Over (2009).
Both Brad Pitt and Harrison Ford are very good at pool.
Brad Pitt played a hitman in 2012's Killing Them Softly.
Director Alan J. Pakula was known for his political thrillers like The Parallax View (1974).
Harrison Ford was in another movie directed by Alan J. Pakula: 1990's Presumed Innocent.
Margaret Colin is from a New York Irish-Catholic family. Her dad was a police officer.
Margaret Colin was in Independence Day (1996) the year before this.
Natascha McElhone's really from Brighton, England. She played an Irish revolutionary in Ronin (1998).
Natascha McElhone got her big break when a casting agent saw her doing Shakespeare in a London park.
One of the writers of The Devil's Own, Terry George, was a former member of the IRA.
Rubén Blades ran for president of his native Panama in 1994. He won 18% of the vote.
Simon Jones starred in the original radio show of The Hitchhiker's Guide to the Galaxy (1978).
The Devil's Own was directed by Alan J. Pakula (Klute, The Pelican Brief). This was his last movie.
The Devil's Own was shot by Gordon Willis, the cinematographer of The Godfather movies.
The Devil's Own was co-produced by Lawrence Gordon (Die Hard, Watchmen). He had been trying to work with Harrison Ford for 20 years, sending him every script he was working on.
After The Devil's Own, Brad Pitt went on to star in Seven Years in Tibet (1997).
Harrison Ford played the president in his next movie, Air Force One (1997).
Brad Pitt first read the script for The Devil's Own in 1991, but he wasn't a big enough star to get it made. But by 1997, he was one of the biggest actors in Hollywood.
Treat Williams and Harrison Ford became friends on the set of The Empire Strikes Back (1980). Willams had a small uncredited role as an Echo Base Trooper.
Casting Notes
Brad Pitt was coming off three big hits: Legends of the Fall (1994), Se7en (1995) and Twelve Monkeys (1995).
Gene Hackman and Sean Connery were up for Ford's role, but the filmmakers wanted someone younger.
George Hearn (Mr. Fitzsimmons) is mainly known as a Broadway musical theater actor (Sweeney Todd).
Harrison Ford was in five movies in 1997, including the re-release of the Star Wars trilogy.
Kelly Singer isn't really Irish-American, but she said because of the red hair, "I always got cast Irish."
Martin Dunne (Father) was in My Left Foot (1989) and Braveheart (1995).
Mitchell Ryan (Police Chief) was in two other movies in 1997: Liar Liar and Grosse Pointe Blank.
Paul Ronan (Sean) wasn't expecting to get this part because the role was originally for a man in his 60s.
Rubén Blades (left) is also a Grammy-winning salsa singer. He's recorded over 50 albums.
David O'Hara also plays the Irishman who joined forces with William Wallace in Braveheart (1995).
Hassan Johnson (Teenager) also plays Wee-Bey from The Wire (2002-2008).
This is only Julia Stiles (The Bourne Ultimatum) second movie.
Margaret Colin also plays Eleanor Waldorf on Gossip Girl (2007-2012).
Natascha McElhone is also in The Truman Show (1997) and Surviving Picasso (1996).
Simon Jones (Brideshead Revisited) is a cousin of James Bond star Daniel Craig.
Treat Williams (Billy Burke) had his breakout role in the musical Hair (1979).
Malachy McCourt plays the bishop. He's an actor, politician, and award-winning writer and brother of Angela's Ashes author Frank McCourt.
Crew Note
Cinematographer Gordon Willis worked with director Alan J. Pakula on six movies, starting with 1971's Klute.
Finance Notes
The Devil's Own earned over $140 million, making it one of the most successful movies about the Troubles.
Harrison Ford made $20 million for his role in The Devil's Own. Four years later, the Guinness Book of World Records listed him as the richest actor.
Brad Pitt earned $12 million for playing Frankie in The Devil's Own. That's $8 million more than the salary for his previous movie, Se7en.
Health Note
Harrison Ford was actually in great shape, although he admitted to never exercising until he was 45.
Historical Notes
Four IRA members were caught trying to buy stinger missiles in the U.S. in 1990.
More than 3,600 people were killed during the Troubles.
The British military was accused of having a "shoot-to-kill" policy against the IRA during this time.
The Immigration Act of 1990 led to sharp increases of people coming to New York from Ireland.
The United States was one of two main sources for weapons to the IRA. The other was Libya.
There were really about 800 members of the IRA around this time.
In 1984, the IRA was caught transporting weapons between the U.S. and Northern Ireland in a boat. It became known as the Valhalla case. The Devil's Own is partially based on that case.
The Devil's Own is about the Troubles, a violent time in Northern Ireland from the late-'60s to the late-'90s. Catholics wanted a united Ireland, while Protestants wanted Northern Ireland under British rule.
Music Notes
The film soundtrack features "(Somebody) Loan Me A Dime" by Boz Scaggs (1969) and "Lark in the Morning," a popular Irish folk song.
The score for The Devil's Own was composed by James Horner (Braveheart, Titanic). Horner also worked with director Alan J. Pakula on The Pelican Brief (1993).
Pop-Culture Notes
Ford was No. 1 on Empire's "Top 100 Movie Stars of All Time" list in 1997.
People named Brad Pitt "Sexiest Man Alive" the year before The Devil's Own was filmed.
When it began production, The Devil's Own was one of the most highly anticipated movies of the year because it brought together the biggest stars of two different generations.
Press Notes

The Chicago Tribune called it "beautifully filmed… full of lush and exciting scenes and expert actors."
The New York Times said both characters are "good guys according to their own distinct moral codes."
The San Francisco Chronicle called this role a departure for Harrison Ford: "He plays an ordinary Joe."
Prop Note
Most prop money bundles only have real-looking bills on the top and bottom.
Quotation Notes
Harrison Ford: "It was important to me that there was some moral compromise of my character so that we didn't have one character with a black hat and one character with a white hat."
At the time The Devil's Own was released, Brad Pitt said it was the hardest he'd ever worked on a movie. He said he had a "responsibility for these people [in Ireland] who have suffered from the war."
Director Pakula kept the violence brief in The Devil's Own. He said, "People are becoming immune [to its effect]. Movie violence is like eating salt. The more you eat, the more you need to eat to taste it at all."
Script Notes
Director Alan J. Pakula viewed The Devil's Own as a modern-day Western.
Frankie (Pitt) is in the IRA, a terrorist group with roots in Catholic Irish nationalism.
Set Notes
Brad Pitt traveled to Belfast, Ireland several times to research his role for the movie.
Director Alan J. Pakula rented out a bar and hired an Irish band for the cast and crew every week.
Harrison Ford spent 12 nights riding in squad cars with real NYC cops to prepare for his role.
Paul Ronan (Sean) came up with the idea to spray each other. He said, "It was great [fun] filming it."
Brad Pitt worked with Irish dialect coach Brendan Gunn to perfect his Belfast accent. Pitt also watched the Irish movie In the Name of the Father (1993) as a reference.
Trivia Notes
According to a recent poll, the freezer is the most popular place to stash money at home.
According to the FBI, there were over 2.2 million robberies in the U.S. in 2012.
Around this time, domestic violence was the second-leading cause of injury to women in the U.S.
Confirmation is a sacrament where Catholics show their commitment to their faith.
Most police officers have the option to retire after 20 years of service.
PBA stands for "Patrolmen's Benevolent Association," an NYPD union.
The Devil's Own (1997) was the third Hollywood movie in six months about Northern Ireland.
The average cop never fires his weapon in the line of duty during his whole career.
The most common items taken in a burglary are small and easily converted to cash.
Read More