Uncategorized
Story Notes for The Bodyguard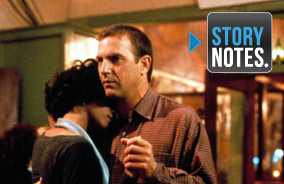 Weeknights during prime time on AMC, you can catch Story Notes — real time trivia and facts about your favorite movies! Below is the online version of the Story Notes for The Bodyguard.
Anthology Note
Kevin Costner wanted Princess Diana to star in a sequel to The Bodyguard. Costner: "I told her I would take care of her just the same way that I took care of Whitney.
Automotive Note
The first stretch limousines came out in the 1920s and were mostly used for "big band" leaders.
Award Notes
In 1992, Costner had two Oscars – one for Best Director and one for Best Picture – for Dances with Wolves.
"I Have Nothing" and "Run to You" were both nominated for Best Original Song.
At the real Academy Awards, "I Have Nothing" lost to "A Whole New World" from Aladdin (1992).
Houston didn't win an Oscar for The Bodyguard, but she did win three Grammys for the soundtrack.
Biographical Notes
Houston gave birth to a daughter, Bobbi Kristina, a few months after the movie was released. She and her husband, R&B singer Bobby Brown, were married after the movie wrapped.
Whitney Houston worked as a model while she was starting her music career.
In 1992, Houston had released three hit albums and nine No. 1 singles.
Houston had just famously sung "The Star-Spangled Banner" at the Super Bowl in 1991. VH1 ranked it No. 12 on the "Top 100 Moments That Rocked TV."
The knives were thrown by Costner's stunt double Bruce Barbour, who started as a stuntman at 16.
In 1983, Houston modeled several workouts in Seventeen. She was one of the first African American women to be on the cover of the magazine.
Costner has been the lead singer of a rock/country band, Kevin Costner & Modern West, since 2007.
At the time, Kevin Costner was married to his first wife Cindy Silva. They divorced two years later.
DeVaughn Nixon (Fletcher) was only eight years old when he made the movie.
Mike Starr (Tony) has been in almost 200 movies and TV shows.
Gerry Bamman (Ray) later played a blind foreman in Runaway Jury (2003).
Kevin Costner said that seeing How the West Was Won (1962) at seven inspired his movie career.
Michele Lamar Richards (Nicki) is a director and a screenwriter in addition to being an actor.
Kevin Costner has worked with co-producer Jim Wilson on ten movies.
Ralph Waite was a Presbyterian minister before becoming an actor.
Whitney Houston started out singing at church. Her mother Cissy was a soul and gospel singer.
Whitney Houston went on to star in Waiting to Exhale (1995) and The Preacher's Wife (1996).
Costner's next movie was A Perfect World (1993) directed by Clint Eastwood.
Kevin Costner spoke at Whitney Houston's funeral in 2012. Costner: "I was your pretend bodyguard once not so long ago, and now [we are left] with memories."
Casting Notes
This was a high point in Kevin Costner's career after directing the Oscar-winning Dances with Wolves (1990).
Bill Cobbs (speaking) was later in The Hudsucker Proxy (1994) and Night at the Museum (2006).
The guy washing the car is Christopher Birt. He was later in Crimson Tide (1995).
This was Whitney Houston's first movie role. Costner was one of the movie's producers. He campaigned to have Houston play Rachel.
Gary Kemp (Sy) is also a musician. He co-founded the band Spandau Ballet and wrote their song "True."
DeVaughn Nixon plays Fletcher. He had just been in Terminator 2: Judgment Day (1991). DeVaughn Nixon's dad is basketball star Norm Nixon and his stepmother is choreographer Debbie Allen.
This was Michele Lamar Richards' first movie. She later appeared on Friends and Diagnosis Murder.
Gerry Bamman (Ray Court) played Uncle Frank in the Home Alone movies.
Mike Starr (Tony) often plays tough guys in movies like Goodfellas (1990) and Dumb and Dumber (1994).
As of 2012, That's Joe Unger (Journalist) has been in over 60 movies and TV shows.
Tomas Arana (Portman) was later in Gladiator (2000) and The Bourne Supremacy (2004).
Ralph Waite, Frank's dad, plays the father on The Waltons from 1972 to 1981.
Tony Pierce (stalker) was also in Dances with Wolves (1990) with Kevin Costner.
Richard Schiff (Skip) later played Toby on The West Wing (1999-2006).
Robert Wuhl (Oscar Host) is in Batman (1989) and Arliss (1996-2002).
Debbie Reynolds was an Oscar nominee in 1965 for The Unsinkable Molly Brown.
The Bodyguard songwriter/producer David Foster conducts the orchestra in the Oscars scene.
Crew Notes
Director Mick Jackson had just satirized the Los Angeles lifestyle in L.A. Story (1991).
Screenwriter Lawrence Kasdan also wrote The Empire Strikes Back and Raiders of the Lost Ark.
Production designer Jeffrey Beecroft was nominated for an Oscar for Costner's Dances with Wolves (1990).
Stunt coordinator Norman Howell also worked with Costner on Dances with Wolves and The Postman.
Finance Note
Celebrity bodyguards make anywhere from $450 to over $9,000 a week, as of 2013.
Health Notes
Houston had a cold when she recorded "Run to You" for the movie.
Whitney Houston had to postpone eight concert dates during her Bodyguard tour due to throat problems.
Historical Note
Reagan was shot in March 1981. He survived after surgery for a punctured lung and massive bleeding.
Location Notes
The mansion, built in the 1920s, was once owned by William Randolph Hearst. It was also used for the famous "horse head" scene in The Godfather (1972).
The interior of Rachel's house is really Greystone Mansion, in Beverly Hills. It was also in X-Men (2000).
The estate went on the market in 2013 and could be rented for $600,000 a month
The Mayan started out as a theater in the 1920s – it was converted into a nightclub in 1990.
The Mayan was also featured in Save the Tiger (1973) and Marked for Death (1990).
The Fontainebleau Hilton was also featured in Goldfinger (1964) and Scarface (1983).
The exteriors for the Oscars were shot at the Park Plaza Hotel in L.A., which had closed two years earlier.
The interior scenes for the Oscars were shot at the Pantages Theater in Los Angeles. The Pantages was home to the Academy Awards in the '50s and now hosts Broadway tours.
Music Notes
"I Have Nothing" by Whitney Houston, 1992. The song was a big hit for Houston, reaching No. 4 on Billboard's Top 100.
"I'm Every Woman" by Whitney Houston, 1992. Houston's version became a bigger hit than the 1978 original by Chaka Khan.
"Run to You" by Whitney Houston, 1992. This was originally written as a breakup song, but director Mick Jackson had it changed to a love song.
"Trust in Me" by Joe Cocker, 1987.
"Queen of the Night" by Whitney Houston, 1992. This song reached No. 1 on Billboard's Dance Club Chart in 1994.
"Melissa" by The Allman Brothers Band, 1972.
"I Will Always Love You" by Dolly Parton, performed by John Doe, 1992. Parton wrote the song about her partner Porter Wagoner, who she had stopped working with. he recorded it in 1974 and later sang it to Burt Reynolds in The Best Little Whorehouse in Texas (1982).
Originally I Will Always Love You" wasn't in the movie – the big single was "What Becomes of the Brokenhearted." When that song was used in Fried Green Tomatoes (1991), Costner suggested "I Will Always Love You."
As of 2013, "I Have Nothing" is tied for being performed on American Idol the most times.
"It's Gonna Be a Lovely Day" by The S.O.U.L. S.Y.S.T.E.M., 1992.
The score was composed by Alan Silvestri, known for Forrest Gump, The Polar Express, and The Avengers.
In 1998, Houston sang "When You Believe" in The Prince of Egypt, which won the Oscar for Best Song.
It was Costner's idea for Houston to start "I Will Always Love You" a capella.
"I Will Always Love You" stayed #1 on the charts for 14 weeks, setting a record at the time.
Pop-Culture Notes
The Bodyguard was the second-highest-grossing movie in the world for 1992 (behind Aladdin). It was nominated for two Academy Awards and has the best-selling movie soundtrack in history.
Houston's music video for "How Will I Know" won an MTV Video Music Award in 1986.
Robin Leach hosted Lifestyles of the Rich and Famous from 1984-1995.
Houston's "Queen of the Night" costume turned up years later in a sci-fi prop store on a 2012 episode of Hollywood Treasures.
Other celebrities who've dated their bodyguards: Britney Spears, Heidi Klum, and Kim Kardashian.
The movie Yojimbo (1962) by Akira Kurosawa is shown in the movie. Yojimbo means "bodyguard" in Japanese.
The Bodyguard was re-released in 400 theaters for one night in 2012 to celebrate its 20th anniversary.
A musical adaptation of The Bodyguard opened in London in 2012.
Deadline.com reported that a Bodyguard remake was in the works in 2011. In it, The Bodyguard is an Iraq war vet dealing with celebrity stalking over social media.
Houston didn't sing at the real Oscars either – Natalie Cole sang "I Have Nothing" and "Run to You."
VH1 named "I Will Always Love You" of the "Top 10 Songs of the '90s." It went quadruple platinum and was Houston's best-selling song of all time.
Press Notes
The Washington Post called Costner and Houston "the dream couple of the '90s."
The Bodyguard made USA Today's list of Hollywood milestones from 1982-2007.
This was chosen as Kevin Costner's second best movie role in a Huffington Post poll.
TIME magazine compared Houston and Costner to a kitten and a Doberman.
Roger Ebert said at the time: "Houston… on the basis of this film, is a movie star."
Gene Siskel: "Rather than a love story, I'd call it a respect story."
Prop Notes
The Heckler & Koch P7 is a gun that was developed in response to the 1972 Munich Olympics disaster.
The Japanese katana is the same type of sword used by Uma Thurman in Kill Bill (2003)
Quotation Notes
Costner said that only a few singers have "a world-class voice, real elegance, and a physical presence. "Diana Ross and Barbra Streisand are two. Whitney Houston is another."
Houston: "It was… really a joy to work with Kevin and it has a lot to do with his personality… He is very down-to-earth… he's effective and he's considerate."
Houston: "If they are truly bodyguards, then they're willing to sacrifice their life to save yours… which is a deep concept to me… I don't know if I could do it.
Screenwriter Lawrence Kasdan on the katana sword: "The inspiration comes from [filmmaker Akira] Kurosawa… the spirit of the Samurai, of a man who's not afraid of death."
Whitney Houston called Kevin Costner "a hunk" and "the sex symbol of America."
Director Mick Jackson: "There's a collision of two worlds, the watcher and the watched.
Director Mick Jackson: "Rachel Marron is lonely in the crowd… All the people who swirl around her… in the middle of that is someone who's alone"
Houston: "Once [Rachel] decides that she's gonna do something… nobody can change her mind…. It's very much like me."
Houston said at the time, "I've had people threaten me, but not to the degree of a Rachel Marron."
Costner: "I could have ruined that part by trying to do something really interesting with it… That would have ruined Frank by giving him a limp or a lisp or… a tic."
Kevin Costner: "I'm only afraid of one thing: not being able to raise my kids."
Houston: "I've had that kind of protection around me, so I know what that's all about… And it's weird, and Rachel thinks it's weird."
Costner: "A lot of bodyguards come up and talk to me about it… They felt like they were honored."
Director Mick Jackson: "It's almost like Casablanca. It's like, 'We'll always have Paris.'"
Script Notes
Screenwriter Lawrence Kasdan originally wrote the script in 1975 for Steve McQueen and Diana Ross. When McQueen died in 1980, the script was shelved for many years.
Writer Lawrence Kasden is also a director (Body Heat, Grand Canyon). Costner first saw the script for The Bodyguard while working with Kasdan on Silverado (1985).
The original script for the movie was rejected 67 times. More than 15 years later, the movie ended up making over $400 million worldwide.
West Virginia University is located in the city where screenwriter Lawrence Kasdan grew up.
As the script went through revisions, director Mick Jackson said it got "darker and more violent."
n the original 1975 script, Frank missed the Kennedy assassination instead of Reagan.
Kay Colvin and Mychal Smith are the names of the movie's cable person and boom operator.
Set Notes
As a tribute, Kevin Costner modeled his character on Steve McQueen, including his short haircut.
Costner and the director encouraged Houston not to take acting lessons – they wanted her to be natural.
Director Mick Jackson told Whitney Houston to think of every scene like it was a song.
Whitney Houston would give Kevin Costner singing lessons on set in exchange for acting advice.
Houston had a no-nudity clause in her contract.
DeVaughn Nixon's mother couldn't come to Tahoe, so he thought of Houston as his "mom" on set.
DeVaughn Nixon said Costner told him to always respect women and be a gentleman. Houston's advice was to always have faith and believe in himself.
Costner and Houston bonded over growing up in the Baptist Church. Costner told Houston a story about getting caught sneaking grape juice from the communion glasses.
Houston said Costner taught her to focus on listening and communicating through her eyes.
If Costner could change one thing about the movie, he would not have the shooting take place at the Oscars.
Sports Note
Kevin Costner played football, basketball, and baseball growing up – he liked basketball best.
Trivia Notes
Many celebrity bodyguards prefer to be called "personal security."
Bodyguards are paid based on the threat level they're dealing with – more danger equals a higher salary.
Homes without security systems have a 300% higher chance of being broken into.
California became the first state to pass an anti-stalking law in 1990. Now all states have one.
Houston's real-life bodyguard was David P. Roberts, who has been described as a "dapper Englishman.
It only rains an average of 36 days a year in Los Angeles.
Many bodyguards have martial arts, close combat, and/or military training.
Whitney Houston has been nominated for 25 Grammy Awards. She won her first in 1985 for "Saving All My Love For You". Houston won the Grammy for Best Female Pop Vocal Performance. The song was her first No. 1 hit.
According to a 2010 study, one in six women have been stalked at some point in their lives.
The longest chess game on record took 269 moves and ended in a draw.
In a 1994 study, 1.5% of murder victims were killed by a sibling.
An analysis of 5,000 letters to celebrities found that over 90% of the writers were mentally disturbed.
Askmen.com named bodyguard as one of the "Top 10 Most Dangerous Jobs."
Squirrel Hill is a neighborhood in Pittsburgh, PA.
here are more than 6,000 members in the Academy of Motion Picture Arts and Sciences.
The real Best Actress winner at the 1992 Oscars was Jodie Foster for The Silence of the Lambs.
Some Story Notes movies give you a chance to win $500 via the Golden Note sweepstakes. Go to the Story Notes homepage for a full schedule of relevant films.
Read More