Uncategorized
Story Notes for P.S. I Love You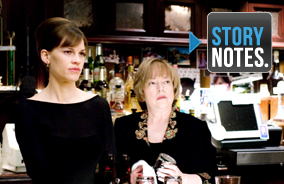 Weeknights during prime time on AMC, you can catch Story Notes — real time trivia and facts about your favorite movies! Below is the online version of the Story Notes for P.S. I Love You.
Award Note
In 2007, Kathy Bates received an International Press Academy lifetime achievement award.
Bio Notes
As of 2013, Swank was one of six people to have a perfect 2-for-2 winning record for an acting Oscar.
Before he was an actor, Gerard Butler fronted a rock band called Speed while in law school.
Co-writer Steven Rogers worked on Hope Floats (1998), with Harry Connick, Jr. in his first romantic role.
Gerard Butler is known for his voice. He had the title role in The Phantom of the Opera (2004).
Hilary Swank's favorite movie is the mother-daughter drama Terms of Endearment (1983).
Hilary Swank sold her New York townhouse just before this movie was released. It went for $7.5 million.
In 2012, Hilary Swank started a charity that connects rescue dogs with sick kids.
Jeffrey Dean Morgan had just ended a relationship with Mary Louise-Parker the year this movie came out.
Swank went through the breakup of her marriage to actor Chad Lowe the year before this movie.
Hilary Swank never went to college. She started acting at 15.
Director/co-writer Richard LaGravenese had just worked with Hillary Swank on Freedom Writers. He won a 2007 Humanitas Award for his Freedom Writers script.
Hilary Swank is one of only four actresses to win two Oscars before they were 30. The others are Jodie Foster, Bette Davis, and Luise Rainer.
Hilary Swank said she grew up an outsider and watched a lot of movies about lonely people. Her favorites were The Elephant Man (1980) and The Miracle Worker (1962).
Author Cecelia Ahern also created a TV show about making amends. Samantha Who premiered the same year this movie came out (2007).
Hilary Swank's next big role was as aviator Amelia Earhart in Amelia (2009).
After filming, Harry Connick, Jr. went on a world tour with his band. He was nominated for two 2008 Grammys.
Before becoming an actor, Hillary Swank swam in the Junior Olympics.
Blooper Note
Geppetto is the woodcarver who created Pinocchio. (He wasn't a shoemaker.)
Casting Notes
Brian McGrath is an Irish stage actor who was once in the running to replace Sean Connery as 007.
Barbara is Tony-nominated actress Sherie Rene Scott (Dirty Rotten Scoundrels, Everyday Rapture).
LaGravenese cast his good friend Gina Gershon (Showgirls) to give her role "an edge."
Lisa Kudrow (Friends) had recently created and starred on The Comeback (2005).
Oscar-winner Kathy Bates was in five movies in 2007, including Bee Movie, Fred Claus, and P.S I Love You.
John is James Marsters, a.k.a. Spike on Buffy the Vampire Slayer and Angel.
Tom is Dean Winters, a.k.a. Ryan O'Reily on Oz (1997-2003).
This movie was made eight years after Hilary Swank won the Best Actress Oscar for Boys Don't Cry (1999).
Grammy and Emmy-winner Harry Connick, Jr. was on Will and Grace just before doing this movie.
Anne Kent was on the Irish soap opera Fair City (from 2005-2009) when P.S I Love You was made.
P.S I Love You is singer-songwriter Nellie McKay in her first movie. Director LaGravenese: "When she came in to audition… I couldn't see anyone else in that part."
Jeffrey Dean Morgan plays William. He is Denny on Grey's Anatomy from 2006-2009. Director Richard LaGravenese's wife and daughter pushed for him to be in the movie.
Gerard Butler (300) was late to his audition for this movie, but he brought a puppy to play with and was offered the role in minutes.
Crew Note
Set decorator Alyssa Winter worked on Confessions of a Shopaholic (2009), another chick-lit adaptation.
Finance Note
P.S. I Love You was a hit at the box office. Made for $30 million, it went on to gross over $150 million.
History Note
2007 was not a good time to lose a job. The Great Recession started in December of that year. The unemployment rate doubled over the next two years.
Location Notes
Teddy's Bar is located in Williamsburg, Brooklyn. The building is a New York City landmark.
The Irish Hunger Memorial is in NYC's Battery Park. It contains stones from each of Ireland's 32 counties.
Ouest is a real reastaurant on New York's Upper West Side. It was named one of the "Top 50 Restaurants in New York" by Zagat.
Some of the scenes shot in Ireland were filmed in County Wicklow. It's known as the "Garden of Ireland." It's also called the "Hollywood of Europe." Hollywood, California was named after a town in the county.
Love Note
Harry Connick, Jr. has been married to model Jill Goodacre since 1994.
Music Notes
"Carousel" by Laura Izibor, 2007, was written for the P.S. I Love You soundtrack.
The film soundtrack features: "Fairytale of New York" by The Pogues, 1987, "Gett Off" by Prince and the New Power Generation, 1991, "If I Ever Leave This World Alive" by Flogging Molly, 1997, "It's a Long Way to Tipperary" by Jack Judge, 1912.
It also features the songs: "Mustang Sally," made famous by Wilson Pickett in 1966, "My Sweet Song" by Toby Lightman, 2006, "No Other Love" by Chuck Prophet, 2002, "P.S. I Love You" by Nellie McKay, 2007, and "The Man That Got Away" written by Harold Arlen and George Gershwin, 1953,
The soundtrack features "Trouble" by Greg Dulli and Kerry Brown. It was first performed by Elvis Presley in King Creole (1958).
Composer John Powell scored the rom-coms Two Weeks Notice (2002) and Forces of Nature (1999).
Plot Note
Holly's "love" for her shoes is a theme.
Pop-culture Notes
Miss Havisham is the crazy widow in Charles Dickens' Great Expectations (1860).
Dean Winters was on 30 Rock, which once featured a character watching P.S. I Love You.
The film references Buffy the Vampire Slayer (1992), one of Swank's earliest movies.
Other movies shot in this part of Ireland: Braveheart (1995), My Left Foot (1989), and Michael Collins (1996).
P.S. I Love You ranked No. 6 on Reelz.com's "Top 10 Romance Around the World" movies.
The film features a scene from Jezebel (1938). Bette Davis played a woman trying to win her fiancé back.
Press Note

The New York Times: "Ms. Swank's ardent sincerity and naked emotionalism dovetail nicely with Mr. LaGravenese's melodramatic excesses."
Prop Note
The urn was designed in honor of director Richard LaGravenese's friend Ted Demme. Demme directed The Ref (1994), written by LaGravenese.
Quote Note
Author Cecelia Ahern: "I was living Holly's journey while writing this."
Ahern: "[She] was reading it chapter-by-chapter and enjoying it. She kept saying, 'Write me another one.'"
Ahern: "Ireland looks so beautiful in this film [it's] another character."
Director LaGravenese: "[Harry's] got a very sick sense of humor. He folded into Daniel very well."
Director LaGravenese wanted the opening scene to feel "like an obstacle course. It gets closer and closer to the bone."
Gerard Butler: "I always get nervous before a film [but] when I was working with Hilary, I never felt nervous at all."
Gina Gershon: "People [never] see me as the more normal, compassionate, friendly, nice girl-next-door."
Harry Connick, Jr.: "[Daniel's] really the only person who's brave enough to speak his mind around her."
Hilary Swank: "I don't have karaoke at my house so it's not like I had a lot of practice."
Hilary Swank: "It's a film where you'll laugh through your tears."
Hilary Swank was taunted by friends into having her first kiss at age seven: "[It] was really yucky."
Kathy Bates: "She was very strong about staying in the scene and doing the work."
They focused on "everyday" rather than "grand, panning off the Empire State Building kind of shots."
Author Cecelia Ahern on Gerard Butler: "I thought he looked exactly as I pictured Gerry. [Every] time I saw him I thought I was seeing a ghost."
Director LaGravenese: "I wanted the world to see [Swank] in a new way. Her humor, her goofiness. I saw her in this role in an Audrey Hepburn-kind of way."
Hilary Swank: "The great thing is that Holly's not supposed to be a good singer. I'm not either so that worked out perfectly."
Hilary Swank: "It's been a really fun journey that [Holly's] gone through to come to where she is. You never know what tomorrow is going to bring. Live in the moment and hold those that you love near."
Hilary Swank: "Honesty shows that you really care about someone. I live by that. I am a lay-it-on-the-table kind of girl. Life is too short to beat around the bush."
Author Cecelia Ahern said the idea for the book came from the "fear of losing loved ones. What if somebody could still communicate with you even if they weren't there?"
Hilary Swank was nervous about appearing in her underwear. Swank: "[You're] like, 'Tomorrow, I'm in my panties and my bra. That's a weird day at the office.'"
Hilary Swank: "I think this film is honest because relationships are complex. They aren't fairy tales. Real relationships aren't what you see in the movies."
Swank: "[This movie] is a story about how when you have no hope, one person can make a difference. The saddest thing in life to me is when you feel hopeless."
Random Note
"P.S. I Love You" is also the name of a wedding planning company in Texas.
Script Note
Connick's character has Asperger's syndrome, a disorder on the autism spectrum.
Director/co-writer LaGravenese added extra scenes with Kathy Bates after she was cast.
Even though a lot of the movie is different from the book, the letters are nearly identical.
In a deleted scene, Sharon revealed she was naming her baby "Gerry."
Set Notes
Gerard Butler didn't play guitar before this. He practiced in front of a mirror until he was exhausted.
Gerard Butler really did snap a buckle on his suspenders, and it hit Hilary Swank in the face.
Jeffrey Dean Morgan learned guitar for this role. His teacher was Nancy Wilson from the band Heart.
Production designer Shepherd Frankel said the design team wanted to show New York in a new light.
The inside of Holly's Manhattan apartment was built on a stage in Queens.
Source Notes
P.S. I Love You (2007) is based on the 2004 book by Irish author Cecelia Ahern. It was an international bestseller and was sold as a movie before it was even published in the U.S.
Author Cecelia Ahern credits her mom with encouraging her to finish writing P.S. I Love You.
Author Cecelia Ahern said she would stay up all night to write P.S. I Love You and sleep during the day.
In the book, Daniel had a girlfriend who kept these two apart.
In the book, Holly got all the letters at once, with dates of when she was supposed to read them.
In the book, Holly was 23 when she married Gerry. Cecelia Ahern was just 21 when she wrote it.
William is not in the book. The character was written for the movie to connect to the story's Irish roots.
Trivia Notes
A 2009 New York Magazine survey found only 37% of single, straight men in New York want a relationship.
"Denial" is the first of the "Five Stages of Grief." Those stages come from On Death & Dying by Elisabeth Kübler-Ross, first published in 1969.
A 2012 survey by CPAs found most couples' arguments are about money.
A Men's Health study found that women rank "faithfulness" as the No. 1 quality they look for in men.
About 30-60% of widowed people report hearing or seeing their dead spouse.
Dún Laoghaire is a harbor town on Dublin Bay. It's called the "Gateway to Ireland."
In the U.S., brides in Manhattan spend the most on their dresses ($2,403 on average).
New York State has the highest percentage of women who have never been married.
Psychology Today: "Lovers fight when they believe their partners don't care about how they feel."
Snaps is a game where figuring out how to play is the game.
Wardrobe Notes
Costume designer Wendy Davis worked on Freedom Writers (2007) with Swank and director LaGravenese.
Holly's red-and-black outfit is by Diane von Furstenberg, known for her iconic wrap dresses.
The leather jacket is Miu Miu, which is a Prada line.
One pair of shoes is Marc Jacobs. They cost about $400.
The pair of shoes being made in the movie were designed by Llorraine Neithardt, a friend of director Richard LaGravenese. Each pair of high-end shoes that Neithardt designs takes about 180 hours to make.
Read More