Uncategorized
Story Notes for Marked for Death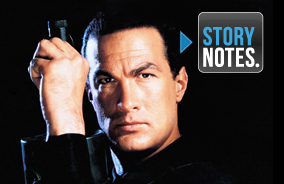 Weeknights during prime time on AMC, you can catch Story Notes — real time trivia and facts about your favorite movies! Below is the online version of the Story Notes for Marked for Death.
Automotive Note
Hatcher's 1973 Mustang has 266 horsepower and can go up to 120 miles per hour.
Beauty Note
In 1990, Joanna Pacula was named one of People's "50 Most Beautiful People in the World."
Bio Notes
Steven Seagal also played a Chicago cop in his first movie, Above the Law (1988).
Seagal is known for carrying a concealed weapon in real life.
Seagal moved to Japan when he was 17 and became the country's first non-Asian dojo master.
At the time, Steven Seagal had just begun serving as a reserve deputy in New Orleans.
Basil Wallace, who plays Screwface, got his start in a stage production of Front Page with Henry Fonda.
Basil Wallace had a Jamaican accent, but it faded after growing up in the U.S.
Elizabeth Gracen later worked on Highlander from 1993 to 1998.
Elizabeth Gracen used her Miss America scholarship money to take acting classes.
Steven Seagal opened a restaurant in Chicago in 1991. It's no longer in business.
Seagal was 39 years old when Marked for Death was released.
At the time, Seagal was married to Kelly LeBrock, his co-star in Hard to Kill (1990).
Steven Seagal used to have a custom gun made for himself every month.
Tom Wright (Charles) was in another movie with voodoo, Weekend at Bernie's II (1993).
Steven Seagal has an extensive sword collection.
Seagal has earned black belts in aikido, karate, judo, and kendo.
Seagal's hot streak continued with his next two movies: Out for Justice (1991) and Under Siege (1992). Between 1990 and 1994, Seagal had five consecutive movies open at No. 1.
In 1985, Seagal opened his own dojo in Los Angeles, where he taught classes and trained actors. He trained some of Hollywood's biggest stars, including Sean Connery and James Coburn.
Casting Notes
Basil Wallace was born in Jamaica and grew up in Brooklyn, New York. This was his first movie role.
Before acting, Bette Ford (Kate Hatcher) was a professional bullfighter in Mexico.
Chico is played by Richard Delmonte. His first movie role was in Scarface (1983).
Hatcher's sister is played by Elizabeth Ward Gracen. She was Miss America in 1982.
Peter Jason and Steven Seagal reunited on The Glimmer Man (1996).
Rita Verreos competed on the 14th season of Survivor in Fiji.
Al Israel worked on Scarface (1983) and Carlito's Way (1993).
Danielle Harris worked with director Dwight H. Little on Halloween 4.
Dale Harimoto also plays a reporter on Seinfeld (1995) and in Godzilla (1998).
Kevin Dunn (Roselli) was also in Mississippi Burning (1988) and Transformers (2007).
Earl Boen is best known for playing Dr. Peter Silberman in the first three Terminator movies.
Director Dwight H. Little cast Joanna Pacula because of her performance in Gorky Park (1983).
Tom Wright (Charles) played George Costanza's Yankees co-worker on Seinfeld (1994-95).
Tony DiBenedetto (Jimmy) was also in Analyze This (1999) and The Pope of Greenwich Village (1984).
Steven Seagal asked Grammy-winning reggae star Jimmy Cliff to perform in the movie.
One of Keith David's first movie roles was in John Carpenter's The Thing (1982). He went on to play Mary's dad in There's Something About Mary (1998).
Sandra Canning was born in Trinidad and grew up in St. Thomas. They hired a voice coach to teach her how to speak with a Jamaican accent.
Crew Notes
Co-writers Michael Grais and Mark Victor also wrote the first two Poltergeist movies (1982 and 1986).
Steven Seagal recommended director Dwight H. Little after seeing Little's work on Halloween 4 (1988).
Finance Notes
Because Seagal wasn't an international star yet, this movie only cost $12 million to make. Most action movies with big stars cost $40 million at the time.
Steven Seagal's Hard to Kill was released while they were filming this movie.
Because of Hard to Kill's success, they added an extra $1 million to the budget for Marked for Death.
Marked for Death earned over $57 million in 1990. That's more than $100 million by today's standards. At the time, it was Seagal's highest-earning movie.
History Note
Chicago's first elevated train began running in 1892.
The crack cocaine epidemic in the United States began in the mid-1980s and lasted into the 1990s. By 1990, experts estimated there were 6 million crack users in the United States.
Location Notes
The school scene was filmed in Loyola High School in Los Angeles.
Wilshire Boulevard in Los Angeles was shut off on multiple Sundays in order to shoot the road chase.
Music Notes
The film uses the song "Domino" by Masters of Reality, 1988.
Jimmy Cliff made a cameo in the movie. His song "No Justice" was used in the film.
The song, "John Crow," was written specifically for Marked for Death.
The music for Marked for Death was composed by James Newton Howard. That same year, he scored the music for Pretty Woman.
Pop-culture Notes
Marked for Death was Steven Seagal's second hit movie of 1990, following Hard to Kill.
Director Dwight H. Little said this car chase was inspired by The French Connection (1971).
Marked for Death is consistently ranked by fans as one of the best movies of Seagal's career.
Press Note
The Washington Post said there was enough bone-crunching "to make even a chiropractor wince."
Prop Notes
The antique gun used in the film is called a Chicago Palm Pistol. It's nicknamed "The Protector."
The film uses real photos of Steven Seagal as a kid.
Quote Notes
Basil Wallace: "I approached him as a man in business. I never thought of him as a user."
Basil Wallace said he saw Screwface as someone who wanted to avoid getting his hands dirty.
Co-writer/producer Michael Grais: "We spent a lot of money on jackets."
Dwight H. Little: "I left the details of the fight choreography to Steven and his team."
Director Dwight H. Little: "[Seagal] is a precise marksman. There's a lot of reality underneath that."
Steven Seagal said Marked for Death has some of the best fight scenes he's ever done.
Script Notes
Screwface was the working title of the script before it was changed to Marked for Death.
The script was written in Jamaican dialect, but Basil Wallace added words to make it more authentic.
Co-writers Michael Grais and Mark Victor included voodoo after talking with the LAPD. They learned more about the Jamaican gangs while doing ride alongs with the police.
Set Notes
Co-writers Michael Grais and Mark Victor met with one of the biggest drug dealers in Jamaica.
Co-writers Michael Grais and Mark Victor visited Jamaica before they wrote the scenes pertaining to the country.
Steven Seagal shot all his scenes in the U.S.
Basil Wallace gained 30 pounds to play Screwface. Wallace: "They wanted me to look big next to Steven."
Director Dwight H. Little said they only had one Screwface head made and it was "very expensive."
Source Note
Co-writer Michael Grais read a news story about Jamaican drug gangs taking over American suburbs. That story gave him the idea for Marked for Death.
Tech Notes
Depending on the weapon, a gunshot can be over 150 decibels. A silencer can make it about 120.
Night vision goggles can see as far as 200 yards away in the dark.
Trivia Notes
The U.S. Department of Health estimates crack use in high schools was highest in 1986.
The crack epidemic didn't hit Chicago until 1988, two years before this movie came out.
Co-writers Michael Grais and Mark Victor set the movie in Chicago because they grew up there.
In Steven Seagal's first six movies his characters were in five bar fights.
Seagal first sported his signature ponytail in Hard to Kill (1990). He's worn it in most of his movies since.
"Blood claat" is a strong Jamaican curse word.
DEA Special Agents go through 122 hours of firearms training.
David and Wright also worked together on Barbershop (2002).
Irie is Jamaican for good or nice.
Keith David co-starred in the Oscar-winning war movie, Platoon.
Marked for Death was named one of the most violent movies of 1990 by the National Coalition on TV Violence.
Steven Seagal is 6′ 4," making him one of the tallest of the '90s action heroes.
Most bullets have three parts: the primer, the propellant, and the bullet proper. The primer at the back of the bullet works like a fuse.
Wardrobe Note
Steven Seagal was very particular about his wardrobe.
Read More