Uncategorized
Story Notes for High Crimes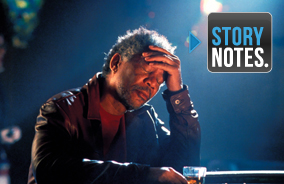 Weeknights during prime time on AMC, you can catch Story Notes — real time trivia and facts about your favorite movies! Below is the online version of the Story Notes for High Crimes.
Award Note
Morgan Freeman was nominated for a BET Award and an Image Award for High Crimes.
Biographical Notes
A year before High Crimes, Amanda Peet seduced Jason Biggs in Saving Silverman (2001).
After High Crimes, Adam Scott worked on Six Feet Under (2002) and The Aviator (2004).
Ashely Judd has been in over a half dozen movies adapted from novels. A Time to Kill (1996), Kiss the Girls (1997) and Eye of the Beholder (1999) were all adaptations.
Ashley Judd was named one of People's "50 Most Beautiful People in the World" the year this came out.
High Crimes was her first thriller since the successful Double Jeopardy in 1999.
Ashley Judd would return to the San Francisco Bay Area to shoot her next movie, Twisted (2004).
Ashley Judd's real sister is Grammy-winning country music star Wynonna Judd.
High Crimes is directed by Carl Franklin. He also directed Devil in a Blue Dress (1995).
Franklin went on to direct episodes of the political drama House of Cards.
Before directing, Franklin worked as an actor on The A-Team (1983-1985) and ALF (1987).
In 1997, Jim Caviezel was in G.I. Jane.
Judd and Freeman would work together again on Dolphin Tale (2011) and Olympus Has Fallen (2013). As of 2012, their collaborations earned over $200 million worldwide.
Judd was a newlywed when this came out. She had just married Indy Car driver Dario Franchitti.
Jude Ciccolella (Judge Farrell) also worked with Morgan Freeman on The Shawshank Redemption (1994).
Jude Ciccolella played Secretary of the Navy Phillip Davenport on NCIS (2008-2011).
Morgan Freeman was in a car accident in 2008 that broke his arm and elbow and caused nerve damage.
Tom Bower played the gas station attendant in The Hills Have Eyes (2006).
Two years after this movie, Jim Caviezel played Jesus in The Passion of the Christ (2004).
Emilio Rivera (Salvadoran man) later worked on Sons of Anarchy (2008-2012).
Casting Notes
Ashley Judd and Morgan Freeman first worked together on the 1997 hit, Kiss the Girls. When Judd called Freeman about this movie, he said as long as she was in it, he would be there.
At the time, John Billingsley was playing Dr. Phlox on Star Trek: Enterprise (2001-2005).
Dawn Hudson (LaPierre) later became the CEO of the Academy of Motion Pictures Arts & Sciences.
Dendrie Taylor didn't tell producers that she was pregnant when she was cast. When she returned months later to film her scenes, they had to find ways to cover her belly.
Emilio Rivera was cast at the last moment and had to learn his lines in a day.
Filmmakers cast Jim Caviezel after seeing him in The Thin Red Line (1998).
Juan Carlos Hernández (Major Hernandez) is also on Oz (1999).
Jude Ciccolella (Col. Farell) played Mike Novick for four seasons on 24.
Michael Gaston (Major Waldron) also works with Ashley Judd on Double Jeopardy (1999).
Adam Scott plays Lt. Embry. Eight years later he would join the cast of Parks and Recreation.
Just before shooting, Amanda Peet worked with director Carl Franklin on Partners.
Bruce Davison played Senator Kelly in X-Men (2000) and X2 (2003).
Michael Shannon (Troy Abbott) is now a Boardwalk Empire star and Oscar nominee (Revolutionary Road).
Tom Bower (Agent Mullins) is also in Die Hard 2 (1990) and Clear and Present Danger (1994).
Historical Note
In the 1980s, the United States was funding the Salvadoran military during a civil war.
How-to Note
It's easier for a 911 dispatcher to track your location if you call from a landline.
Location Notes
Misticks was a closed-down strip club. Director Carl Franklin: "This place was really just a dump when we came to it. It was just so disgusting."
San Lazaro isn't a real base. The scene was shot on the Alameda Naval Air Station. It closed in 1997.
The novel takes place in Boston, but filmmakers decided to set the movie in San Francisco. They were going to shoot the movie over the winter and didn't want snow everywhere.
The El Salvador scenes were actually shot just south of Mexico City.
Music Notes
Many of the songs used in the movie are from director Carl Franklin's personal music collection.
The music for High Crimes was composed by Graeme Revell. Revell also did the music for Pitch Black (2000) and The Crow (1994).
Press Note
The New York Times: "Mr. Freeman shows himself, once again, incapable of giving a bad performance."
Quotation Notes
Adam Scott says working with Freeman was "an incredible privilege"…"For me, [it was] like being able to step in and work with Henry Fonda or Marlon Brando."
Ashley Judd: "I don't think it is wrong for us to be skeptical about the military. On the other hand, it's not so good to be cynical. I think the film is skeptical, not cynical."
Director Carl Franklin said audiences expect Judd to be tough, but in this movie "she's quite vulnerable."
Franklin said Caviezel "had the most enigmatic, interesting face" since Robert De Niro.
Franklin said Jackie and Claire are "almost flip sides of the same coin."
Franklin said working on High Crimes was "a great experience."
Franklin: "I always like to use music as effects."
Franklin: "Jim's eyes are just like magnets. They pull you inside of him."
Franklin: "The story's 'David and Goliath' aspects really appealed to me."
Early in his career, Jim Caviezel said some casting directors criticized him for being "too intense."
Judd said playing a lawyer doing cross-examination felt like "a rite of passage" for an actress.
Judd says, "Carl Franklin told us that he saw High Crimes as both a drama and a thriller."
Morgan Freeman: "[Ashley Judd] is one of my favorite people in the whole world."
Morgan Freeman: "At home if the phone rings, I let it keep ringing."
Morgan Freeman: "I like movies with very capable women in them. The golden flower or the shrinking violet, those kind of female characters are boring!"
Morgan Freeman: "It's a little bit of a love story, in a way. Not in the conventional, romantic sense, but there's a deep, abiding affection between them."
Morgan Freeman: "She's the only actress that I've worked with that I just adore."
Script Notes
Director Carl Franklin called this story "a compilation of many different true stories" from that time.
They set the story during Christmas to make the situation feel even more tragic.
Set Notes
Judd didn't want to know where the FBI agents were coming from. She wanted to be surprised.
Major Hernandez's haircut was inspired by an officer who consulted with director Carl Franklin.
It's not a stunt double on the motorcycle. It's really Morgan Freeman.
The DJ on the radio is director Carl Franklin.
The scar tissue over Hernandez's eye is makeup.
The news reporters were real. Most of them worked at Bay Area TV stations.
Source Notes
High Crimes (2002) is based on the New York Times best-selling novel written by Joseph Finder.
Author Joseph Finder said he imagined Morgan Freeman as Grimes when he wrote the book.
Author Joseph Finder was once recruited to work for the CIA.
In the novel the movie is based on, Claire is a Harvard Law School professor.
In the novel this is based on, the soldiers killed 87 civilians in El Salvador.
In the novel, Grimes doesn't have a drinking problem. They added it to the movie to give his character an extra obstacle to overcome.
The courtroom was built exactly as it was described in Joseph Finder's novel.
Symbolism Note
Notice how the colors of the movie change. At the beginning, everything had a golden tint. As the trial progresses, Director Carl Franklin said the colors "get a little colder and bluer."
Trivia Notes
A burglary takes place in the U.S. every 14.6 seconds.
A polygraph test measures everything from your blood pressure to the sweat on your fingertips.
According to an attorney, most criminal defense firms are eager to defend cases like this one.
Ashley Judd practices yoga to stay in shape.
Ashley Judd says she has always been able to cry on command.
Claire's classified documents might be violating the Espionage Act.
Freeman wanted to work with director Carl Franklin because he liked his Devil in a Blue Dress (1995).
In military court, the defendant is called the accused.
In the military, an appeal would be determined by the Court of Military Review.
It's not unusual for lawyers to have years to prepare for a murder case.
Just because you know how to beat a polygraph doesn't mean you're physically capable of doing it. An FBI consultant said polygraph tests often succeed because the person just confesses guilt.
Morgan Freeman's character also traveled to Mexico in The Shawshank Redemption (1994).
One way to tell if your phone's bugged is if the volume keeps changing during calls.
Some inmates on suicide watch are only allowed to wear a paper gown.
To avoid comparisons to other Ashley Judd movies, they didn't want Claire to shoot her husband.
Under California law, voluntary manslaughter means someone was killed "in the heat of passion."
When charges are withdrawn, they can never be brought back. That's called double jeopardy.
Read More