Uncategorized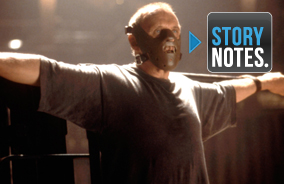 Weeknights during prime time on AMC, you can catch Story Notes — real time trivia and facts about your favorite movies! Below is the online version of the Story Notes for Hannibal.
Anthology Notes
Hannibal, a TV show starring Mads Mikkelsen as a young Lecter, premiered on April 4, 2013.
Dr. Chilton is Lecter's nemesis in The Silence of the Lambs. That movie ends with Lecter pursuing him.
In The Silence of the Lambs, Lecter draws a picture of Clarice holding a lamb.
In The Silence of the Lambs, Lecter says Clarice has "a good bag and… cheap shoes."
Jame Gumb, a.k.a. Buffalo Bill, is the killer Clarice hunts in The Silence of the Lambs.
Lecter broke a nurse's jaw, tore out her tongue, and "his pulse never got above 85 bpm."
Red Dragon, the first Lecter book, gets its title from a Blake painting.
Anthony Hopkins is only onscreen for roughly 20 minutes in The Silence of the Lambs. He is onscreen about 45 minutes in Hannibal.
Hannibal Lecter first appeared in the Thomas Harris novel Red Dragon (1981). The character has been featured in five movies starting with 1986's Manhunter.
Automotive Note
In Florence, Italy, many people ride a motorino (scooter) instead of driving a car.
Award Notes
Giancarlo Giannini (Pazzi) was nominated for a Best Actor Oscar in 1977 for Seven Beauties.
Hannibal was nominated for an MTV Movie Award for Best Movie.
Hannibal won a Saturn Award for Best Make-Up.
Hannibal was nominated for an MTV Movie Award for Best Kiss.
Anthony Hopkins won a Best Actor Oscar for playing Hannibal Lecter in The Silence of the Lambs (1991). Hopkins: "When I was told the sequel was going ahead I said yes immediately."
Back-story Notes
According to Ridley Scott, Barney would take things out of Lecter's cell while he was taking a walk outside.
Lecter was an emergency room technician before he became a psychiatrist.
Moore: "The last time we saw Clarice Starling she was still a student. Now, she's a ten-year veteran."
Biographical Notes
Faison went on to play Ervin H. Burrell on The Wire (2002-2008).
Hopkins has said he tries to learn a poem or a sonnet every week.
Julianne Moore plays another FBI agent in Next (2007) opposite Nicolas Cage.
Julianne Moore was nominated for two Oscars the next year for Far From Heaven and The Hours.
The first time Ray Liotta met Anthony Hopkins was at a screening of The Silence of the Lambs.
Welsh-born Anthony Hopkins became an American citizen a year before the movie was released.
When Anthony Hopkins gets a new script, he reads his lines 250 times.
Giancarlo Giannini plays an AFI agent (the Mexican equivalent of the FBI) in Man on Fire (2004). Man on Fire was directed by Ridley Scott's brother Tony.
Ridley Scott's first work as a director was the short film Boy and Bicycle. The short, made when Scott was 24, features his brother Tony skipping school to ride his bike.
Julianne Moore and Anthony Hopkins had worked together before on Surviving Picasso (1996). Hopkins encouraged Ridley Scott to cast Moore when he heard she was up for the part.
Casting Notes
Angelina Jolie, Hilary Swank, and Cate Blanchett were all considered to play Clarice in Hannibal.
David Andrews (Pearsall) was also in Fight Club (1999) and Terminator 3: Rise of the Machines (2003).
Enrico Lo Verso was cast based on his performance in the Italian movie Farinelli (1994).
Francesca Neri (Allegra) stars opposite Arnold Schwarzenegger in Collateral Damage (2002).
Frankie Faison (Barney) is the only actor to appear in the first four Hannibal Lecter movies.
Hazelle Goodman (Evelda) is also in Woody Allen's Deconstructing Harry (1997).
Ivano Marescotti (Carlo) is in The Talented Mr. Ripley (1999), also about a killer in Italy.
Terry Serpico is from Rescue Me. He's also a stuntman.
Tom Sizemore (Saving Private Ryan) was cast as Krendler but dropped out for unknown reasons.
Zeljko Ivanek (Cordell) is in Donnie Brasco (1997) and Ridley Scott's Black Hawk Down (2001).
Giancarlo Giannini impressed director Ridley Scott with his performance in Swept Away (1974). He was later in back-to-back James Bond movies — Casino Royale (2006) and Quantum of Solace (2008).
When Jodie Foster passed on the movie to pursue directing, the hunt began for a new Clarice Starling. Julianne Moore, who had just starred in Magnolia (1999), beat out a lot of other actresses for the part.
Ray Liotta (Goodfellas) was cast after he kept running into director Ridley Scott at the gym. Liotta asked Scott if he had any parts for him, and Scott immediately thought he'd be great as Krendler.
Crew Notes
Cinematographer John Mathieson also worked with Ridley Scott on Gladiator and Kingdom of Heaven.
Supervising sound editor Per Hallberg has three Oscars: for Braveheart, The Bourne Ultimatum, and Skyfall.
Historical Notes
Il Mostro, also called the Monster of Florence, killed 16 people from 1968 to 1985 — he was never caught.
The Pazzi family were aristocrats who had lost their wealth about 200 years earlier.
Location Notes
Piazza della Signoria has been the political center of Florence since it was built in the 13th Century.
The movie was filmed in almost a hundred locations in D.C., Virginia, North Carolina, and Italy.
The barn is on President James Madison's Montpelier Estate in Virginia.
The mansion scenes were shot at the Biltmore Estate, which was also used for Verger's home.
Union Station in Washington, D.C. is visited by 32 million people a year.
The Biltmore Estate in Asheville, SC is the largest private home in the U.S. It was built by George Vanderbilt in the late 1800s and is now visited by nearly a million guests a year.
The Italian library scenes were filmed in Palazzo Capponi, which has books going all the way back to the Crusades. Author Thomas Harris was a friend of the building's owner and got the rights to film there.
Music Notes
The film features "Blue Danube Waltz" by Johann Strauss, 1867, by City of Prague Philharmonic.
Hannibal features "Goldberg Variations" also plays in The Silence of the Lambs as Lecter kills two guards and escaped.
Composer Hans Zimmer had in mind a dark version of Romeo and Juliet when creating the score.
Composer Hans Zimmer had worked on four Ridley Scott movies before this, including Gladiator (2000).
Hannibal producer Dino De Laurentiis won a lifetime achievement Oscar in 2002.
Hannibal features "Vide Cor Meum" by Patrick Cassidy, 2001. Cassidy was hired to compose this aria for the movie. The libretto is Dante's sonnet "La Vita Nuova."
Pop Culture Notes
AFI named Hannibal Lecter the No. 1 movie villain of all time. Clarice Starling was No. 6 on their heroes list.
In Titus (1999), Hopkins plays a general who bakes two men into a pie and serves them to their mother.
The carousel scene is a homage to The Third Man (1949), one of director Ridley Scott's favorite movies.
The following year, Hopkins was back as Lecter in Red Dragon, a prequel to The Silence of the Lambs.
Hannibal (2001) is the follow-up to 1991's The Silence of the Lambs, which won five Oscars. The movie opened at No. 1 and wound up surpassing the original at the box office.
When Ridley Scott looked for serial killer artifacts online, he found four bids for Jeffrey Dahmer's fridge.
Press Notes
Critics compared Mason Verger to the Elephant Man, E.T., and a Muppet.
Entertainment Weekly called Lecter and Clarice's long-distance communication "Silence in Seattle."
Entertainment Weekly compared Clarice to Inspector Javert from Les Misérables.
People magazine called Lecter "the scariest film killer since… the Jaws shark."
The New York Times: "Hannibal … is a movie meant for the whole family — the Manson family."
The Washington Post compared Lecter's look to Truman Capote.
Prop Notes
Lecter's mask is displayed inside a replica of his cell from The Silence of the Lambs at the Hollywood Museum in L.A.
The famous Lecter mask was made from the lower half of an old-fashioned hockey mask.
Quotation Notes
Director Ridley Scott: "There's something threatening about [Lecter's] bare feet."
Director Ridley Scott: "[Gary Oldman] creates humor out of a character that is… monstrous."
Julianne Moore: "Hannibal is the dark side that is part of everyone… it's a fine line I feel uncomfortable with."
Ray Liotta said he usually draws on real experience — but the upcoming scene was "total imagination."
Ridley Scott said Moore had the "sincerity and strength of character that I was looking for in Starling."
Anthony Hopkins: "I wanted to play him as a man who's bored by his retirement from public life. Then, suddenly, he hears that they're after him again, and he thinks, 'Good. Back into action.'"
Hopkins compared Lecter to the literary villains Iago, Richard III, and Faust. Hopkins: "They [all] have no uncertainty. That's what makes them charismatic: they're always in control."
Ray Liotta, on working with Moore: "It was fun going at her… because then she would come back with it which made me just want to come back even harder."
Director Ridley Scott had never filmed in Florence before this. Scott: "It was kind of organized chaos — traffic control was difficult and [it was] the height of tourist season."
When Hopkins was asked why Lecter has become one of the most iconic villains in history, he said. People are fascinated by the dark side of life… he's the Boogeyman."
Director Ridley Scott: "Everyone in the film… at some point or another is not to be trusted and is corrupt. Oddly enough, the two characters that are pure are Clarice and Hannibal."
Script Notes
"I make my own home be my gallows" is one of director Ridley Scott's favorite lines in the movie.
After a first draft by David Mamet, screenwriter Steven Zaillian (Schindler's List) took over the script.
Lecter's talking about Dante's epic poem Divine Comedy, which starts with a journey into hell.
One proposed solution was to have Lecter jump in the lake, forcing Clarice to free him or drown.
Ridley Scott found FBI rewards ranging from $50,000 to $5,000,000 online.
The name "Dr. Fell" comes from a 1680 nursery rhyme called "I Do Not Like Thee, Dr. Fell."
Set Notes
"Okey dokey" was ad-libbed by Hopkins. It became a catchphrase for Lecter.
Gary Oldman spent five hours a day in the makeup chair to become Verger.
Julianne Moore is afraid of cows. She said her scene with cows scared her more than anything else in the movie.
Julianne Moore spent some time at the FBI Academy in Quantico, VA researching the role.
Moore learned how to handle a gun from FBI agent Melissa Thomas, who was a consultant on the movie.
Ridley Scott doesn't like his actors to do their own stunts — he says it's too much of a liability.
The boars eat gelatin-skinned replicas of the two Sardinians; chicken was stuffed inside.
The brain is made of two sheep brains put together. A brain surgeon was on set through this scene to help with accuracy.
The fish market was a set built by production designer Norris Spencer (Thelma & Louise).
The largest of the Russian boars was actually around 770 pounds.
The carousel was moved from another location and reassembled inside Union Station.
Director Ridley Scott considered disguising Lecter — in the book, he's had plastic surgery. He decided that he didn't want Anthony Hopkins to be unrecognizable.
Silence director Jonathan Demme and star Jodie Foster both decided not to return for the sequel. After Demme declined, Ridley Scott (Alien, Blade Runner) signed on to direct.
Makeup designer Greg Cannom (Mrs. Doubtfire) based Verger's look on a fetus. Gary Oldman based the voice on Katharine Hepburn in Suddenly Last Summer.
Director Ridley Scott compared working with the pigs to working with the tigers in Gladiator. Scott: "Pigs are trainable, whereas tigers aren't."
Source Notes
Author Thomas Harris published the best-selling book Hannibal in 1999, 11 years after The Silence of the Lambs.
Author Thomas Harris visited Florence to attend a murder trial and decided to set Hannibal there.
Director Ridley Scott read the 560-page novel in three sittings. He compared adapting it to a jigsaw puzzle.)
Hannibal Lecter was born in Lithuania.
In the book, Clarice and Lecter become lovers and run away together to Argentina.
In the book, Clarice is an avid car buff.
In the book, Krendler is jealous of Clarice because he wanted to capture Buffalo Bill.
In the book, Mason Verger drank cocktails made with the tears of children.
In the books, Mason Verger's testimony is what put Hannibal Lecter behind bars.
In the book, Verger is killed by his sister shoving an eel down his throat. In both versions, Lecter offers to take the blame.
Trivia Notes
"Popper" is a nickname for alkyl nitrate — it's used as an aphrodisiac.
Florence was named one of the "Ten Most Beautiful Cities in the World" by Forbes Magazine in 2010.
Gary Oldman and Anthony Hopkins faced off once before, with Hopkins hunting Oldman in Dracula (1992)
Hylochoerus meinertzhageni is the name for the Giant Forest Hog, which lives in Africa.
In D.C., carrying a concealed firearm without a license can land you a $5,000 fine and/or five years in jail.
St. Paul is credited as saying that women should have no authority over men and should be silent.
Read More