Uncategorized
Q&A – Elisabeth Moss (Peggy Olson)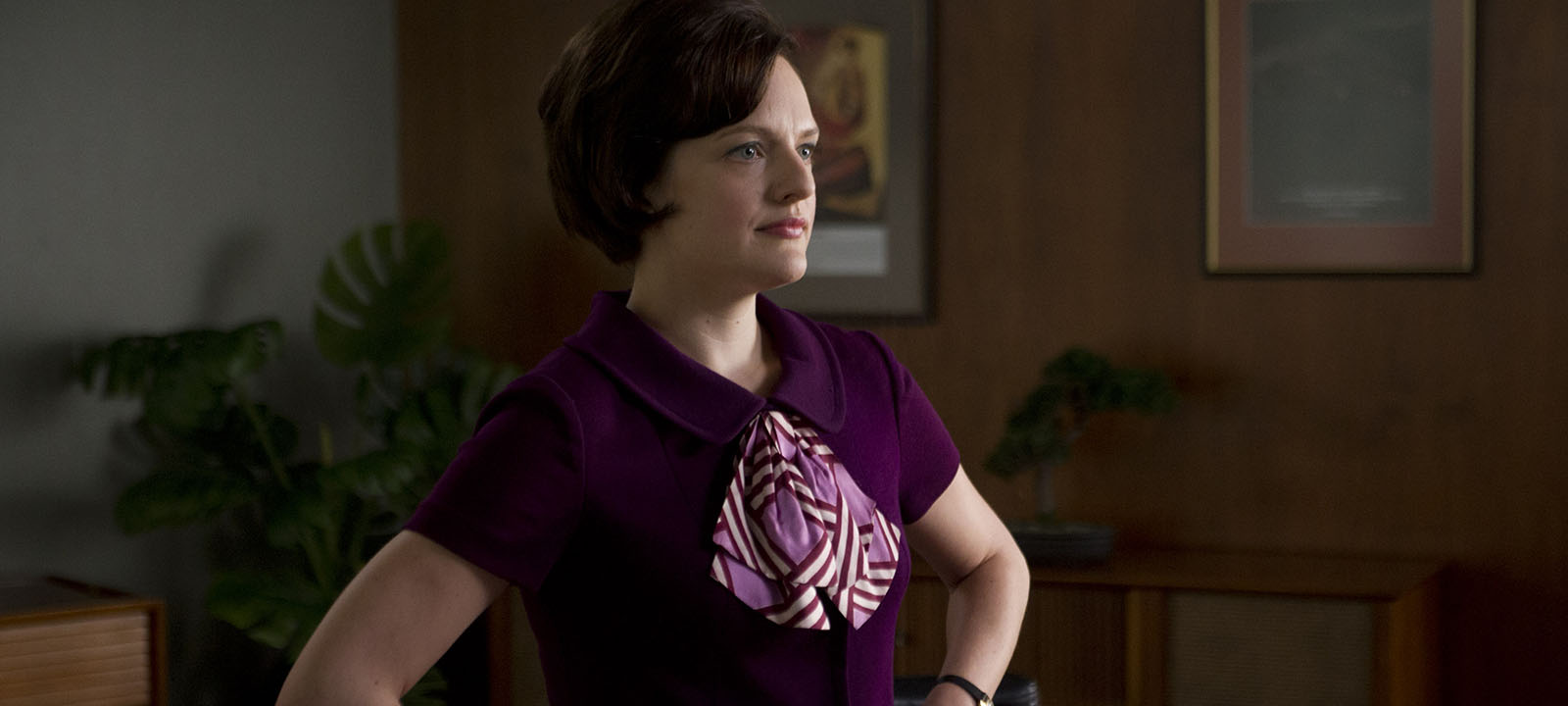 In this interview, Elisabeth Moss, (Peggy Olson on AMC's Mad Men) discusses what advice she'd give her character and the most emotional scene of her career. 
Q: What was your reaction when you found out Peggy would be leaving SCDP? Were you scared?
A: My first thing that I said to Matt was, "That's awesome. I love the idea. Am I still on the show?"… And then I really thought it was really brilliant and it all clicked into place for me, like a puzzle… It's planted from the very beginning when Peggy's watching Megan dance "Zou Bisou Bisou" and realizing there's this woman fully embracing her life, and Peggy feels sort of stuck… There are so many hints, but I didn't even catch it.
Q: Matthew Weiner has said Peggy "was thinking of herself for the first time." Have you ever been in a situation like that?
A: I don't think I've ever made the kind of choice in terms of leaving a job, but I have just in terms of leaving certain people on your team and going to work with somebody else. It's hard because you develop relationships and you get close with people as you move up in the business and then you have to make tough business decisions based on what's best for you and your career and your family.
Q: What was it like to film the scene where Peggy tells Don she's leaving?
A: It was possibly the most personally emotional experience I've had shooting a scene in my career… I remember two things: I remember the first take, walking straight out of the office and across the hall into Sterling's office and closing the door, and I kind of couldn't stop crying. And then I remember doing the scene and [Director] Phil Abraham came up to me, and this is the first time in my career that this has ever happened, and he said, "You need to rein it in. You need to not be so teary. You actually have to get a hold of yourself."
Q: When Don kisses your hand, how could you not lose it?
A: Yeah, well one of the takes of that, Phil told Jon to not let go of my hand. And they didn't tell me that he was going to do that. So he takes my hand and I try to pull it away and he wouldn't let it go. And that's kind of what really made me lose it.
Q: What do you think of the idea that success often comes at the expense of personal relationships?
A: I think that's definitely true. I think, it's very, very hard to balance being career-driven and focusing on what's best for your career with having a personal life or seeing your family and seeing your friends. I think, that's why so many really successful people tend to have really messy personal lives. But you know people do it, and it is possible. I think you just have to make a concerted effort to take time out for everything.
VIDEO: Inside Episode 603, "Collaborators"
Q: Were you surprised that Peggy agreed to move in with Abe before marriage?
A: Not from a moral sense, because they're progressive. But I did kind of love that idea that Peggy becomes this girly girl when Joan puts it into her head that Abe is going to propose… Janie [Bryant] did a wonderful job in that pink, velvet dress with a big pink bow on it… It sort of exhibited what's going on. Peggy's so career-driven and so focused on work and then the idea that someone's going to give her a ring and she becomes such a girl. And I love her disappointment at that and her disappointment in herself for being so excited about it.
Q: Charlie Hofheimer told me that his advice to Abe and Peggy would be to take it slow and plan for the future. What would you say to them?
A: My advice would be probably be to listen to each other. I think, they both kind of come from different worlds. Abe is more progressive, and he's sort of a beatnik, and he considers himself a revolutionary. And Peggy…is not on the cutting edge in terms of what was happening in the sixties. I think she's sort of conservative actually. So, I think listening to each other and respecting each other's ideas and ideals.
Q: You've got a new hairdo this season. Tell us about Peggy's new look…
A: We kind of did it because my hair was short, but I would have really loved to do something shorter but it wasn't quite that time yet… Peggy's old-fashioned. We're not going to see her with Mia Farrow hair from Rosemary's Baby or Liza Minnelli circa that time. As much as I'd love that for her, I don't think she's there yet.
Q: What's your favorite Peggy campaign so far?
A: That's easy, the Popsicle one, where there's a girl that sort of looks like her and she's handing out popsicles to the kids and she's almost in this Christ-like pose, like a martyr… The fact that she sort of almost subconsciously brought her Catholic upbringing into that ad and made it poppy and cool and '60s and the colors are beautiful. I just felt like it was the most personal moment, and I think it was the first big one that she worked on.
Click here to view images of Peggy's Popsicle artwork and other campaigns in the Sterling Cooper portfolio.
Read More