Press
Rawhide, the TV Series That Made Clint a Star, Joins AMC Cowboys This Saturday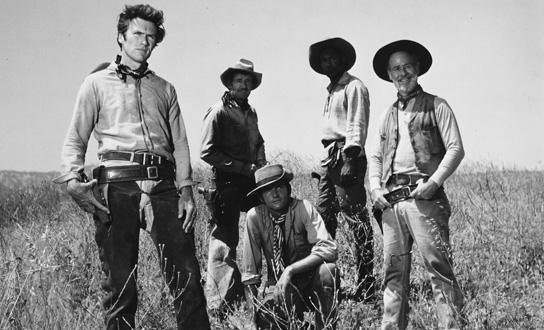 Good news TV Western fans: AMC has roped Rawhide into its Saturday morning AMC Cowboys lineup. Starting on Apr. 20 at 10/9c, you can watch back-to-back episodes of the the series each week right after The Rifleman. New to Rawhide? Here's your chance to acquaint yourself with one of TV's longest running Westerns.
Set in the 1860s and starring Clint Eastwood in a breakout role, Rawhide follows the challenges faced during a cattle drive from San Antonio to Missouri. Eric Fleming stars as the trail boss and Eastwood as his hotheaded sidekick.
Rawhide is noteworthy for its realistic depiction of frontier life. Many of the cowboys are Southerners, forced to take jobs after their farms were burned during the Civil War. Paid a dollar a day for their service, the drovers must contend with drought and wolves as well as raiders, bandits, and murderers.
Like The Rifleman, Rawhide was not afraid to face controversial topics in its day, like drug addiction, racism, PTSD, and women's rights — a fitting addition to AMC's lineup of TV series that deliver something more.
Click here for AMC's full on-air schedule for Rawhide.
Read More