Uncategorized
Story Notes for Willy Wonka & the Chocolate Factory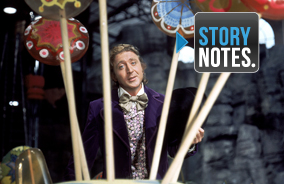 Weeknights during prime time on AMC, you can catch Story Notes — real time trivia and facts about your favorite movies! Below is the online version of the Story Notes for Willy Wonka & the Chocolate Factory.
Automotive Note
Director Mel Stuart didn't want to show too many cars so the movie would never feel dated.
Awards Note
Willy Wonka was nominated for an Oscar for Best Music.
Biographical Notes
Director Mel Stuart was the cousin of Marvel Comics icon Stan Lee. Stuart directed or produced almost 200 movies, including the 1973 music documentary Wattstax.
Diana Sowle (Charlie's Mom) voiced 10 characters in the 2008 video game Fallout 3.
Paris Themmen (Mike Teevee) really was 11 at the time. He was the youngest of the kids in the movie.
Peter Ostrum (Charlie) was offered a three-picture deal after Willy Wonka, but he turned it down. He decided to be a veterinarian instead of an actor.
Peter Ostrum (Charlie) ran marathons later in life.
Jack Albertson (Grandpa Joe) is one of the few to win the acting Triple Crown: a Tony, Oscar, and Emmy.
Jack Albertson began his show business career in vaudeville. He entertained the cast between takes with old song and dance routines.
Albertson received a star on the Hollywood Walk of Fame in 1977. He attributed his success to "charisma."
Willy Wonka's art director Harper Goff also helped Walt Disney on his designs for Disneyland.
Before Willy Wonka, Gene Wilder sang in the Broadway play LUV (1966).
Nine men and one woman played the Oompa Loompas. They ranged in age from their 20's to 70's.
Casting Notes
Aubrey Woods (Bill) is a musical theater actor. He was in the original London run of Oliver! in the '60s.
Willy Wonka & the Chocolate Factory is the first and only film role for Peter Ostrum (Charlie). Producers discovered him in a Cleveland children's theater.
Jack Albertson won an Emmy for playing Ed Brown (a.k.a. "The Man") on Chico and The Man (1974-1978).
David Battley (Mr. Turkentine) is a British comedian and original member of "The Rutles," a parody of the Beatles. He's one of many popular comedians in Wonka that were well-known to '70s British TV audiences.
Michael Bollner (Augustus) really is from Germany. He was cast after his mom answered an ad for "a nice Bavarian boy for a movie."
British actress Julie Dawn Cole (Veruca Salt) went on to a successful TV career in England.
Roy Kinnear (Mr. Salt) was a popular British character actor. He was in The Beatles' Help! (1965).
The Daily Mail called Tim Brooke-Taylor (Computer Operator) a "fixture of the comedy world." He's worked with members of Monty Python and was in his own group called The Goodies.
Leonard Stone (Mr. Beauregarde) appeared in almost 40 hit TV shows from 1960-1980, including M*A*S*H (1977).
Denise Nickerson (Violet) was on Dark Shadows (1968-1970) before Willy Wonka.
Paris Themmen (Mike Teevee) read excerpts from the book for his audition. To prepare, he and his mom read the entire novel the night before.
German actor Günter Meisner (Slugworth) has played Hitler on-screen three different times.
In 1971, Gene Wilder wasn't a big star yet. He was mainly known for his role in The Producers (1968). Dir. Mel Stuart gave him the part as soon as he walked in the door: "He didn't even have to open his mouth."
Finance Notes
The whole movie was made for under $3 million.
The whole movie was paid for by Quaker Oats instead of a movie studio. They wanted to release a chocolate bar and thought Willy Wonka would be a good promotional tool.
Health Note
Denise Nickerson chewed so much gum for Wonka, she said her mouth was full of cavities after.
Historical Note
The personal computer was introduced in 1971, the year Willy Wonka was released.
Location Notes
Willy Wonka was shot in Munich, Germany, because it had a "storybook quality." They wanted somewhere that couldn't be identified as any time or place.
Wonka's factory is really Munich Gas Works.
Music
"The Candy Man" by Leslie Bricusse and Anthony Newley, 1971. Sammy Davis Jr. covered "The Candy Man" in 1972. It was the biggest hit of his career.
"Cheer Up, Charlie" by Leslie Bricusse and Anthony Newley, 1971. There's a popular bar in Austin, TX called "Cheer Up Charlie's" based on this song.
"I've Got a Golden Ticket" by Leslie Bricusse and Anthony Newley, 1971. "South Park" spoofed this song in 2007.
She's wrong. It's Mozart, from his 1786 opera, The Marriage of Figaro.
"Pure Imagination" by Leslie Bricusse and Anthony Newley, 1971. American pop band Maroon 5 covered it in 2004.
Plot Note
There are exactly enough seats on Wonka's boat. Wonka knew one child would already be gone.
Pop-Culture Notes
Willy Wonka & the Chocolate Factory (1971) is Entertainment Weekly's #1 rainy day movie. It wasn't an immediate hit in theaters but became a classic because of home video and cable TV.
The real Wonka Chocolate company (owned by Nestlé) launched a Golden Ticket contest in 2010. Ten winners received a free trip around the world.
Roger Ebert said Willy Wonka is "the best film of its sort since The Wizard of Oz."
The real Wonka Chocolate company started producing a Scrumdiddlyumptious Bar in 2010.
Prop Notes
The chocolate bars used in the movie were actually Hershey's. The unopened ones were just blocks of wood.
One of these Golden Tickets was auctioned off for almost $50,000 in 2010.
The S.S. Wonkatania was supposed to look like a 16th Century three-masted sailboat, but that would have been too big to fit inside the studio.
Quotation Notes
Peter Ostrum on Charlie: "I don't know if I was really acting; I was just playing myself."
Peter Ostrum: "People told me they open their chocolate bars slowly and carefully because of this movie."
Peter Ostrum said Jack Albertson was "just wonderful" and became his "mentor" while filming.
Gene Wilder: "For actors, it's more difficult to sing than to act."
Julie Dawn Cole (Veruca) hated chocolate as a child. She described the Chocolate Room scene as "vile."
Script Notes
Dahl and screenwriter David Seltzer (The Omen) wrote the script for Willy Wonka.
Director Mel Stuart originally didn't want Willy Wonka to be a musical… but producers convinced him by pointing out the success of Mary Poppins and The Wizard of Oz.
Dusselheim, Germany isn't a real place.
Mike signs his last name as "T.V."… but it's spelled "Teavee" in the book and "Teevee" in the movie credits.
Dahl included a lot of literary references throughout the script.
Set Notes
Stuart's daughter gave him the idea to make the movie. He paid her $50 for the advice.
Julie Dawn Cole (Veruca) secretly kept her winning golden ticket after the movie.
It was Wilder's idea to add Wonka's initial limp to the character. He wouldn't agree to the movie without it.
It took Wilder two weeks training with two stuntmen to get Wonka's flip right.
The "coat hangers" are actually the spray-painted hands of five carpenters working on the movie.
The shrinking room is no optical illusion. The room starts out 8 feet high and narrows to four.
Most of the reactions in the Chocolate Room are real. That was the first time the cast saw the Chocolate Room… although some of the kids admitted to sneaking in beforehand to steal a glance.
In shooting the Chocolate Room scene, the kids were told to just run wherever they wanted to. About 1/3 of everything was actually edible.
When Gene Wilder took a bite out of that "teacup," it was one of the props that wasn't edible. It was wax.
The chocolate river was a combination of water, cocoa powder, cream, and shampoo chemicals.
Depending on who you ask, Michael Bollner fell into that river somewhere between six and 40 times.
The Oompa Loompas were known for hard partying off-set, even traveling in a limo together to bars.
Source Notes
Author Roald Dahl came up with the book Charlie and the Chocolate Factory to amuse his kids.
Roald Dahl named Veruca after Verruca Plantaris, a plantars wart. He said Veruca was "a wart of a girl."
In Roald Dahl's novel, the Oompa Loompas were Pygmies from Africa.
Vermicious Knids show up in other Dahl works. They're shape-shifting aliens.
Tech Notes
They made the letters outside the factory light up by painting on the film.
To create the illusion of movement, they projected footage from a Munich traffic tunnel behind the boat.
Wardrobe Notes
A real mink coat was made especially for Veruca.
Gene Wilder's Wonka costume sold for almost $74,000 in 2012.
Wilder had opinions on Wonka's wardrobe. He changed the pants from green to tan and made the hat shorter.
Some Story Notes movies give you a chance to win $500 via the Golden Note sweepstakes. Go to the Story Notes homepage for a full schedule of relevant films.
Read More