Uncategorized
Story Notes for The Breakfast Club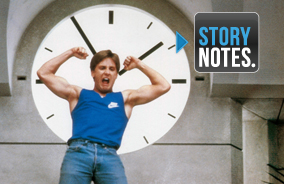 Weeknights during prime time on AMC, you can catch Story Notes — real time trivia and facts about your favorite movies! Below is the online version of the Story Notes for The Breakfast Club.
Award Note

Entertainment Weekly named The Breakfast Club (1985) "The Best High School Movie of All Time." Stating: "Twenty-one years later, the film still sparks intense debates about the trials of teen life."
Biographical Notes
This was only John Hughes's second time directing, after Sixteen Candles (1984).
Estevez's real father is actor Martin Sheen. His brother is Charlie Sheen.
Judd Nelson's real parents are an attorney and a state assemblywoman. He went to a New England prep school.
Five years after The Breakfast Club, Judd Nelson shot New Jack City.
Paul Gleason later played another authority figure, a deputy police chief, in Die Hard (1988).
John Hughes' parents pressured him to get a real job. They didn't want him to go into filmmaking.
Hughes flunked creative writing at the University of Arizona, where he went to study painting. He ended up dropping out and threw all of his paintings away.
Estevez, Sheedy, and Nelson played college grads in St. Elmo's Fire the same year as The Breakfast Club.
Casting Notes
Molly Ringwald had just worked with writer/director John Hughes on Sixteen Candles (1984).
Anthony Michael Hall had just starred with Ringwald in Hughes' Sixteen Candles (1984).
Emilio Estevez was mostly known at the time for The Outsiders (1983) and Repo Man (1984).
Judd Nelson had just starred in Making the Grade (1984) and Fandango (1985).
Paul Gleason was cast as the principle because Hughes liked him as a bad guy in Trading Places (1983).
Bender was the last role to be cast. Judd Nelson showed up to his audition in character.
Ally Sheedy was cast partly because of her role in WarGames (1983).
Hall and Ringwald were the only teens in the cast and were limited to four-hour work days. When their hours were up, the other actors had to shoot with stand-ins.
The role of Bender almost went to John Cusack, but they thought he wasn't threatening enough.
John Kapelos (Carl) was also in director John Hughes' Sixteen Candles (1984) and Weird Science (1985).
Rick Moranis was originally cast as Carl, but he and Hughes disagreed on how to play the character. Moranis wanted to play him as an over-the-top Russian, while Hughes wanted him more realistic.
That's director John Hughes playing Brian's father.
Historical Notes
Molière was a 17th century French playwright — he wrote Tartuffe and The Misanthrope.
The divorce rate in 1985 was 50%.
Bender whistles the march song from the movie The Bridge on the River Kwai (1957).
In a 2011 study, about 50% of high school guys said they were virgins.
In 1985, Mister Rogers' Neighborhood was in its 15th season.
In 1985, Afghanistan was at war with Russia.
Wild Kingdom was hosted by zoologist Marlin Perkins from 1962-1985.
Location Notes
The movie was filmed in Main North High School, an abandoned school in Illinois.
Happy Foods, where Andy's lunch is from, is a real grocery store in the Chicago area.
The same high school was used for another John Hughes movie from the '80s: Ferris Bueller's Day Off (1986).
Music Notes
Hughes wanted the music to be heavy on drums and bass, to mirror the emotions of the characters.
Keith Forsey was chosen to be the composer because he was a drummer.
"We Are Not Alone" by Karla DeVito, 1985.
"Don't You (Forget About Me)" written by Keith Forsey, performed by Simple Minds, 1985. Forsey wrote the song after watching rehearsal and talking to the actors. It became a No. 1 hit.
Pop-Culture Notes
Ringwald has compared herself and Hughes to Diane Keaton and Woody Allen.
You Couldn't Ignore Me If You Tried is the title of a book about the teen movies of the '80s.
Paul Gleason parodied his role as Richard Vernon in Not Another Teen Movie (2001). Molly Ringwald also made a cameo in it.
"Chicks cannot hold their smoke" is from a Richard Pryor routine. Hall was a big fan at the time.
At the time, many girls copied Ringwald's look, dyeing their hair red and calling themselves "Ringlets."
Ringwald and Hall were ranked No. 1 and No. 4 on VH1's list of the "100 Greatest Teen Stars."
Gene Siskel said he would have given the movie four stars if Brian had gotten Claire at the end. Even with this ending, the movie made his Top Ten List for 1985.
Press Notes
The Denver Post, in 2007: "The Breakfast Club speaks undeniable truths about high school that ring true a generation later."
The New York Times said that, to a certain generation, John Bender was "the coolest rebel in the history of film."
Prop Notes
The Chicago Public Library donated over 10,000 books to be used in the movie.
Ally Sheedy generally ate very healthy food — she got a sugar high from the sandwich she eats onscreen.
It was Ally Sheedy's idea to put Cap'n Crunch in her sandwich.
Quotation Notes
Anthony Michael Hall first worked with John Hughes in National Lampoon's Vacation, which Hughes wrote. Hughes stated: "I thought he upstaged Chevy Chase, which is hard to do."
Molly Ringwald: "Before [this], there weren't a lot of movies from the kids' point of view. And if [there] were, they weren't terribly realistic, and it didn't really sound like they were kids talking."
John Hughes: "Emilio was probably closest to his character. There was a little surfer jock to him."
Bender said "Eat my shorts" six years before Bart Simpson made it his catchphrase.
During the shoot, Estevez and Nelson went into Chicago on Saturday nights to party. Hall: "They could go out and have a beer. I was just trying to figure out when puberty would end."
Producer Ned Tanen: "[Judd] Nelson was the Bogart of his era. The anti-hero hero."
John Hughes told Ally Sheedy to go to bed and wake up the next day as Allison. Sheedy said she thought, "I don't have to wake up as Allison. I am Allison."
Ally Sheedy: "Allison was very close to me. She looked on the outside the way she felt on the inside. This nondescript dark shape floating around."
Molly Ringwald: "When you're that age, you just think, 'Nobody's going to see me as a grown-up. And you don't realize how fast you're a grown-up."
John Hughes: "One of the great wonders of that age is that your emotions are so open and raw. That's why I stuck around that genre for so long."
Hughes: "My generation had sucked up so much attention, and here were these kid struggling for an identity. They were forgotten."
John Hughes: "The most common question I'm asked is, 'What happened on Monday?' I used to say, 'Nothing.' But I think it's more complex than that. So complex that I can't do it in film."
Hughes: "At that age, it often feels just as good to feel bad as it does to feel good."
Hughes: "I didn't have any fondness for Claire as I wrote that character. It's fairly difficult to find sympathy for a character that in high school would [have told me to] 'Get lost!'"
Roger Ebert called Hughes "the philosopher of adolescence."
Originally Ringwald was supposed to dance alone, but she was embarrassed because she wasn't a dancer. Ringwald: "I hated it — so John [Hughes] made everyone dance."
Hughes said adolescence was "the point in your life where you're your most serious yet due to conditions beyond your control, you're also at your geekiest."
Ally Sheedy: "I could have done without the bow in the hair, but it was a compromise."
Nelson: "Part of [Hughes'] gift was seeing people who were younger without seeing them as less than."
Director Hughes: "We have made a movie that will be around for a long time. I'm proud that it has lasted."
Random Notes
Hughes, who was very protective of Ringwald, almost fired Nelson for making a comment about her dad.
Hughes and Nelson disagreed about whether or not the cigar burn was real.
According to a 2011 New York Times article, about 40% of high school students have smoked marijuana.
In 2011, USC started offering a course called "The Genius of John Hughes."
Suicide is the third-leading cause of death for teenagers in the U.S.
Script Notes
Hughes got the title from a friend's son, who called morning detention at his school "The Breakfast Club." The original title of the movie was Detention.
Hughes originally wrote Andy as a football player but decided teen movies already had too many of those.
One scene cut from the movie involved a female swimming instructor being spied on by Vernon.
A scene cut from the final movie involved Allison (Sheedy) having a dream sequence. She imagined Claire as a bride, Brian as an astronaut, Bender as a prisoner, and Andy as a Viking.
"Neo-maxi-zoom-dweebie" was a Judd Nelson ad-lib.
Claire is named Cathy in the original script.
Nelson came up with the "elephantitis of the nuts" line.
John Hughes let the cast look at early drafts of the script to pick out parts that they liked.
Allison did write with her toes, but it was cut from the final movie.
Set Notes
He set most of the movie in one room because he thought it would be easier to film.
The school's real library wasn't big enough, so they converted one of the gyms into this library.
The cast rehearsed for three weeks in the high school, running through scenes like it was a play.
Judd Nelson was antagonistic toward Paul Gleason on set and off. He said it helped his character.
Judd Nelson stayed in character between takes and would tease Ringwald relentlessly.
The cast would eat lunch outside to avoid the claustrophobic feeling of being in one room all day.
Nelson went to a laundromat in character. The looks he was giving to women made someone call the cops.
Hughes sent the cast to his alma mater, Glenbrook North H.S., where they pretended to be students. Estevez was recognized from The Outsiders. A hall monitor sent Nelson to the principal's office.
Judd Nelson played basketball with Emilio Estevez during downtime between takes.
Sheedy based some of Allison's quirks on Sean Penn, who she had just worked with on Bad Boys (1983).
John Kapelos (Carl) slept in the janitor's office at the school and rarely hung out with the rest of the cast. Hughes said Carl went to Shermer High and was a big man on campus years before.
Source Notes
Vernon is based on a wrestling coach from John Hughes's high school who flunked him in gym. Hughes ran into him later, and the coach said the movie was good, but the teacher was a real jerk.
Vernon is named after actor Richard Vernon, who was in The Beatles' A Hard Day's Night.
Trivia Notes
Anthony Hall's real-life mother and sister play themselves in the film.
Allison's first line is 34 minutes into the movie.
Hall had a huge crush on Ringwald the entire time they were shooting Sixteen Candles in 1984. They dated for a little while towards the end of filming The Breakfast Club.
Ally Sheedy's nickname for Hall was "Milk and Cookies" because he was such a sweet guy.
These five actors, and some of their peers, became known as "The Brat Pack." The term was coined by David Blum in New York Magazine. They took offense at first but got used to it. Emilio Estevez was considered the "unofficial president" of the Brat Pack.
Nelson had annoyed Gleason so much, he thought he was really going to get hit.
The Breakfast Club was adapted into a play that many high schools perform.
Ringwald couldn't really do the lipstick trick. They faked it with camera angles.
The cast all agreed later that Ally Sheedy was the best dancer.
John Hughes gave all of the actors a piece of the banister from the library as a keepsake.
Wardrobe Notes
Costume designer Marilyn Vance stated: "The clothing is all very layered… [eventually] they shed these layers. All their hang-ups are discarded as they start becoming relaxed with each other."
To condition his boots, Judd Nelson poured a quart of motor oil on them and left them for a day.
Some Story Notes movies give you a chance to win $500 via the Golden Note sweepstakes. Go to the Story Notes homepage for a full schedule of relevant films.
Read More