Uncategorized
Story Notes for Sixteen Candles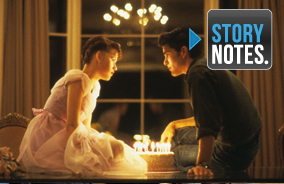 Weeknights during prime time on AMC, you can catch Story Notes — real time trivia and facts about your favorite movies! Below is the online version of the Story Notes for Sixteen Candles.
Automotive Notes
The 1974 Rolls-Royce Corniche is worth over $66,000 today. The Rolls-Royce belonged to the father of a friend of writer/director John Hughes.
Award Notes
Molly Ringwald is known for comedies, but she was nominated for a Golden Globe for 1982's Tempest.
Ringwald and Hall both won Young Artist Awards for Sixteen Candles.
Biographical Notes
Sixteen Candles (1984) was the first movie written and directed by John Hughes. It started a streak that included The Breakfast Club (1985) and Ferris Bueller's Day Off (1986).
When she was 11, Molly Ringwald co-starred on the first season of The Facts of Life (1979-1980).
Michael Schoeffling (Jake) was a member of the U.S. Junior Wrestling Team. His team won a gold medal at the 1978 European Championships in West Germany.
Unlike Samantha, Molly Ringwald had a big party for her 16th birthday and got a Volkswagen convertible.
John Hughes was "obsessed" with romance as a kid. His favorite movie was Doctor Zhivago (1965).
The next year, Michael Schoeffling co-starred in Vision Quest (1985).
Paul Dooley was also a gruff, but understanding dad in 1979's Breaking Away.
Michael Schoeffling (Jake) had a serious girlfriend at the time, and they eventually got married.
Anthony Michael Hall was 15 and didn't get his driver's license until after the movie was released.
John Cusack grew up in Evanston, Illinois, just a few miles from where they filmed this.
Anthony Michael Hall landed another dream girl in John Hughes' 1985 comedy Weird Science.
Paul Dooley's first movie role was as a father of the bride in Robert Altman's A Wedding (1978).
Casting Notes
John Hughes wrote the part of Samantha Baker specifically for Molly Ringwald. Hughes posted her headshot on his bulletin board and wrote the script over a single weekend.
Carlin Glynn (Sam's mom) co-starred in the Oscar-winning The Trip to Bountiful (1985).
Liane Curtis (Randy) spent her 18th birthday on set, shooting her scenes.
Schoeffling was so shy during his audition, it almost cost him the job. But producer Michelle Manning said, "He was so stunning and dreamy that we cast him."
Haviland Morris plays Caroline. This was just her second movie role. She went on to play Claire Baxter on One Life to Live (2001-2003).
John Hughes liked Anthony Michael Hall so much in Vacation (1983), he wrote The Geek with him in mind.
The girl in the neck brace is Joan Cusack (Working Girl) in one of her earliest roles.
Edward Andrews (Grandpa Howard) has appeared in over 50 films and 31 Broadway plays. A year after this, he was in Gremlins (1985).
Billie Bird (Grandma Dorothy) was in Dennis the Menace (1993), also written by John Hughes.
Max Showalter (Grandpa Fred) played the original Ward Cleaver in the pilot for Leave It To Beaver. Carole Cook (Helen) and Max Showalter (Fred) also worked together on The Lucy Show (1965).
In 1980, Justin Henry (Mike) was nominated for an Academy Award for Kramer vs. Kramer. At eight years old, he was the youngest Oscar nominee ever.
Blanche Baker (Ginny) won an Emmy for her first TV role in the 1978 mini-series Holocaust.
Gedde Watanabe plays Long Duk Dong. He was born in Utah and doesn't have an accent.
John Cusack had only had a small role in Class (1983) before this.
Darren Harris also worked with Anthony Michael Hall and John Hughes on Weird Science. Casting director Jackie Burch found him in a movie theater while scouting for nerdy "real" kids.
Dong's dance partner is Debbie Pollack. This was her first movie role. She was discovered in a local production of How To Succeed In Business Without Really Trying.
John Kapelos (Rudy) was also in John Hughes' Weird Science and The Breakfast Club. The only other actor to appear in all three movies was Anthony Michael Hall.
Jami Gertz (Lost Boys, Twister) plays a small role in the party scene. She had just played mean girl Muffy Tepperman on Square Pegs (1982 – 1983).
Viggo Mortensen was almost cast as Jake. Molly Ringwald said she was rooting for Viggo. Ringwald: "Michael Schoeffling did not kiss me during the audition – Viggo Mortensen did."
Paul Dooley (Jim Baker) played Julia Roberts' father in Runaway Bride (1999).
In the church scene, Ginny sits down next to Agnes Belushi, the mother of John and Jim.
The reverend is Brian Doyle-Murray (Caddyshack, Groundhog Day). He's Bill Murray's older brother.
After the wedding, inside the church, Molly Ringwald talks to Zelda Rubinstein, a.k.a. Tangina in the Poltergeist movies.
Finance Notes
$70 in 1984 is worth over $150 today.
In 1984, it cost about $2,500 for a car phone. That's over $5,500 by today's standards.
In its opening weekend, Sixteen Candles was second to a dance movie called Breakin'. Sixteen Candles became more popular later because of a new device – the VCR.
Location Notes
They filmed at Niles East High School in Skokie, Illinois.
Jake's house is located north of Chicago in Highland Park. It's 16,000 square feet and has 22 rooms.
Music Notes
"Happy Birthday" by Altered Images, 1981. The movie's music supervisor was Jimmy Iovine, future head of Interscope Records.
Samantha's notebook has "The Rave-Ups" written on it. They were Molly Ringwald's favorite band.
"Dragnet" performed by Ray Anthony and His Orchestra, 1953.
"Today I Met The Boy I'm Gonna Marry" by Darlene Love, 1963.
John Hughes often came up with soundtracks for his movies before he wrote the script.
"True" by Spandau Ballet, 1983. It's also been used in The Wedding Singer, Wedding Crashers, and Crazy, Stupid, Love.
"Wild Sex (In The Working Class)" by Oingo Boingo, 1982. Oingo Boingo later recorded the theme song to John Hughes' Weird Science (1985).
"Ring Me Up" by The Divinyls, 1983.
"Turning Japanese" by The Vapors, 1980.
"Rev-Up" by The Revillos, 1984.
Composer Ira Newborn scored five of the eight movies directed by John Hughes.
"Young Guns (Go for It)" by Wham!, 1982.
"Rebel Yell" by Billy Idol, 1983. VH1 ranked it as one of the "100 Greatest Hard Rock Songs."
"Young Americans" by David Bowie, 1975.
"If You Were Here" by Thompson Twins, 1983.
Pop-Culture Notes
John Hughes' characters have been a big influence on writer/directors like Judd Apatow. Apatow says, "Superbad has that same attitude, that mix of total cockiness and insecurity."
"Can I borrow your underpants for ten minutes?" was ranked as one of "The 100 Greatest Movie Lines" by Premiere magazine.
Yahoo! ranks the panties on display scene as one of the "Top 10 Greatest Film Moments in Panties."
TIME ranked Jim Baker as one of "The Top 10 Movie Dads We'd Use To Build the Perfect Father."
Writer/director John Hughes became known as the "Godfather of teen cinema."
Entertainment Weekly ranked Sixteen Candles as one of the "Best High School Movies" ever.
Quotation Notes
Ringwald says it was "pretty odd" being a teenager while also playing a teen in movies. "Those movies really propelled me into pretty intense stardom at a pretty young age."
Ringwald: "There were elements to it that were like me. I did relate to that feeling of not belonging."
Molly Ringwald: "Samantha is very similar to me. It was almost like playing myself."
Anthony Michael Hall: "Molly was creative and artistic. I was into her… I thought she was hot, all through Sixteen Candles."
Anthony Michael Hall: "[Hughes] was never precious about the dialogue… He would always encourage you to come up with some stuff and make it even funnier if you could."
Gedde Watanabe: "That [bark] just kind of came naturally. It was just our relationship."
Dooley: "My theory is that every year, a new batch of 16-year-old girls comes up… [Sixteen Candles] is the one you rent for your Sweet Sixteen party. The angst will always be there."
Anthony Michael Hall: "I looked like an embryonic 15-year-old if there ever was one."
Anthony Michael Hall calls the Hughes films he made the "Puberty on Film Trilogy"… "When I was making those films there was a purity to it that I just had fun."
Haviland Morris said producers told them, "This is going to be the American Graffiti of the '80s." One of the producers saying that was Ned Tanen, who produced American Graffiti (1973).
John Hughes: "It was never really a comedy and it was never really a drama… And to portray it realistically, it has to have a little bit of both."
Gedde Watanabe on the scene on the front lawn: "I can't remember how many takes there were… I was totally out of laughter… And all of a sudden I felt somebody tickling my feet and it was John [Hughes]."
Gedde Watanabe says the gong sound effect wasn't included in the script: "I think the gong was something [they added]. Somebody must've had a few beers."
Writer/director John Hughes said of Farmer Ted, a.k.a. The Geek: "He's only a jerk because that was a phase he was going through… He's obnoxious, but he's a likable character. You just gotta learn to like him."
John Hughes said, "I get hit a lot of time for having sentimental endings… When you're that age, you want things to come out right. And they never do."
Of all the films Ringwald made with Hughes, she said, "I had the most fun on Sixteen Candles."
Random Note
Blanche Baker (Ginny) says she gets groggy even after taking aspirin.
Script Notes
Sixteen Candles takes place in fictional Shermer, Illinois, where most of Hughes' films take place. Hughes went to high school in Northbrook, IL, which was originally called Shermerville.
Glynn (Sam's mom) on her character: "She'd be wracked with guilt for the rest of her life!"
Set Notes
John Hughes styled Dong's hair. It's called a "butt cut" because it's parted down the middle.
Watanabe went to the audition in character and didn't tell them he was American-born. Watanabe: "I don't know why. It was just an instinctual thing to do."
They didn't have enough money to air-condition the gym, so it was over 100 degrees during filming.
Molly Ringwald suggested Anthony Michael Hall say "poozer." She borrowed it from Dr. Seuss's I Had Trouble in Getting to Solla Sollew.
The gym was so hot, Haviland Morris (Caroline) changed dresses between takes due to all the sweat.
Gedde Watanabe found the exercise equipment in the attic of the house, and John Hughes let him use it in the scene.
During the party, that isn't Haviland Morris's underwear. They used a body double.
Samantha's room was a set built inside the high school gymnasium where they filmed the dance.
Samantha's grandparents license plate says V 58 — a reference to "Vacation '58," a short story by John Hughes. That story was the basis for Hughes' script for 1983's National Lampoon's Vacation.
In the scene where the family is going to the wedding, Grandma Dorothy couldn't fit in the car. So she just ducks out of view.
They shot a scene at the wedding reception where Ginny falls into a cake, but it didn't make the final cut.
The kiss with Caroline (Haviland Morris) was Anthony Michael Hall's first on-screen kiss. His mom happened to visit the set that same day.
Trivia Notes
A year later, Joan Cusack joined the cast of Saturday Night Live, along with Anthony Michael Hall.
Molly Ringwald and writer/director John Hughes share the same birthday, February 18.
Anthony Michael Hall and Molly Ringwald reunited for another John Hughes movie a year later: The Breakfast Club.
Wardrobe Notes
The movie's costume director begged Molly Ringwald not to wear this hat. Ringwald insisted. After the movie was released, teenage girls started wearing their hats tilted back like this.
The pink dress that Ringwald wears to the dance was supposed to be worn by Liane Curtis (Randy). When Ringwald asked to wear it, John Hughes went on a last-minute shopping spree for Curtis' outfit.
Some Story Notes movies give you a chance to win $500 via the Golden Note sweepstakes. Go to the Story Notes homepage for a full schedule of relevant films.
Read More