Uncategorized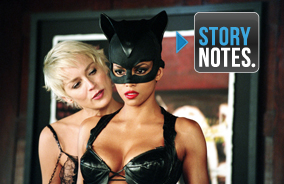 Weeknights during prime time on AMC, you can catch Story Notes — real time trivia and facts about your favorite movies! Below is the online version of the Story Notes for Catwoman.
Automotive Note
In the film Catwoman steals a 2002 Ducati Monster S4. It can go up to about 150 m.p.h.
Award Note
Sharon Stone won an Emmy for guest starring on The Practice the same year Catwoman came out.
Beauty Notes
The short haircut featured in the film is Halle Berry's real hair. She wears extensions earlier in the film.
At the time of filming Catwoman, Halle Berry was a spokesperson for Revlon.
Sharon Stone became the face of Dior's Capture Totale anti-aging skincare line in 2005.
Sharon Stone's beauty secret: She uses moisturizer "day and night."
Bio Notes
Benjamin Bratt won rave reviews in 2001 for playing Latino poet Miguel Piñero in Piñero.
Director Pitof was hired based on his work creating special effects for movies like Alien Resurrection (1997).
Alex Borstein (Sally) was on MADtv from 1997 – 2009.
Benjamin Bratt has been involved in charity work for orphans in South Africa.
Sharon Stone was a model before she began her acting career. She posed for Vogue and Playboy.
Frances Conroy played another mysterious woman on American Horror Story (2011).
Benjamin Bratt earned an Emmy nod for playing another cop, Rey Curtis, on Law & Order (1995-2009).
The same year as Catwoman (2003), Berry starred in Gothika as another woman accused of murder.
Composer Klaus Badelt also did music for Pirates of the Caribbean: The Curse of the Black Pearl (2003).
Casting Notes
Halle Berry won the Oscar for Monster's Ball (2001) two years before Catwoman.
Lambert Wilson, who plays George Hedare, is the Merovingian in The Matrix movies.
Sharon Stone starred in Cold Creek Manor the year before (2003).
Benjamin Bratt, who plays Tom Lone, stars in Demolition Man (1993) and Miss Congeniality (2000).
Alex Borstein, Sally, is the voice of Lois Griffin on Family Guy (since 1999).
Peter Wingfield, who plays Slavicky, also is in X2 (2003) with Halle Berry.
Frances Conroy, who plays Ophelia, won a Golden Globe for playing Ruth Fisher on Six Feet Under (2001-2005).
Ashley Judd turned down the lead in Catwoman to appear in Cat on a Hot Tin Roof on Broadway. She later said passing on the role was "the stupidest thing I've done by far."
Christopher Heyerdahl, who plays Rocker, stars in AMC's Hell on Wheels. He's related to Norwegian adventurer Thor Heyerdahl.
Drina is played by Kim Smith, a former Victoria's Secret model.
Benjamin Bratt only took this role because he wanted an opportunity to work with Halle Berry.
Det. Lone was almost played by Josh Lucas (Poseidon), but he starred in Undertow that year instead.
Finance Note
Berry earned $14 million for Catwoman, making her the highest paid African-American actress in history.
History Note
FBI agents have been using handwriting analysis since 1930.
Location Note
The nightclub is really the Telus Theatre at the University of British Columbia.
Music Note
The film features "Same Direction" by Hoobastank, 2003, "Scandalous" by Mis-Teeq, 2003, "Clever Kicks" by The Hiss, 2003, and "Who's In Control" by Natasha Shneider, 2004.
Pop-culture Notes
Halle Berry has been named the World's Most Beautiful Woman by People magazine 11 times.
Egyptian Maus surged in popularity after Catwoman came out.
Six different women have played Catwoman on-screen. The first was Julie Newmar on Batman (1966).
Catwoman was ranked one of the top 20 comic book heroes of all time by pop-culture site IGN. She also came in No. 11 on their list of the "Top 100 Comic Book Villains of All Time."
Halle Berry said her favorite Catwoman is Eartha Kitt from the 1960s Batman TV series. Kitt said Berry's performance is "powerful, fierce and untamed." She's the "Catwoman of the 21st century."
Press Notes

Variety said Halle Berry had already "shown her action chops" in the Bond movie Die Another Day (2002).
The San Francisco Chronicle says, "Catwoman has a dark elegance and stylish moves."
Quote Notes
Producer Denise Di Novi wanted a true origin story: "to show how one woman became Catwoman and what it means to connect to that feline power."
Director Pitof said the cats were as professional as the actors. They were "ready on the first take."
Berry studied gymnastics as a kid. She said "a lot of that stuff just comes back. It's in your body."
Berry said she plays "three very different women": Patience, Catwoman, and someone "in-between."
Berry said "whip cracking is in the wrist" and that "once you get a good crack, there's nothing like it."
Halle Berry: "It's really not meant to be a slam on a cosmetics company. It's meant to really depict what can happen to human beings within any company."
Berry did so much dieting and exercise for this role, she "got into a shape that [she] didn't think was possible."
Berry said she can relate to Patience: "There are times when I don't quite fit in and feel sure of myself."
Sharon Stone: "I wanted Laurel to give the impression that she can't be too rich or too thin."
Sharon Stone said she had a lot of fun playing the villain. Stone: "You know that old saying: good girls go to Heaven and bad girls go everywhere."
Halle Berry said Catwoman is a "summer, popcorny, fun-ride. Nothing more, nothing less."
Berry: "Catwoman is iconic. What little girl wouldn't want to play Catwoman?"
Script Note
Catwoman (2004) is the first movie where she isn't just a side character.
Set Notes
Producer Denise Di Novi called the movie's style "hyper-real… glossy and alluring."
Halle Berry adopted one of the cats used in the movie, even though she thinks of herself as a dog person.
That cat, Midnight, was played by three different cats. Their names were Cairo, Nile, and Scarab.
In total, they trained 43 rescue cats to play different roles in the movie.
Halle Berry studied "hours and hours of videotape" of cat movements to prepare for her role.
All of Patience's artwork was created by a local Vancouver artist, Erica Grimm-Vamp.
Halle Berry worked with choreographer Anne Fletcher (The Wedding Planner) to think and move like a cat.
Berry studied the martial art capoeira, a mix of boxing and gymnastics with animal moves.
Halle Berry had her own whip trainer for the movie, Alex Green.Green also taught Antonio Banderas for The Mask of Zorro (1998).
Benjamin Bratt said he did strength training and cardiovascular work before the movie so he could get a "little extra oomph" in physical scenes.
This flower shop is called "Alex + Avas," after the art director's children.
Halle Berry let her stunt double do most of the final fight because she "didn't want to take Sharon's teeth out."
Halle Berry and Sharon Stone got so into their roles here that there was actual tension between them.
Source Notes
Catwoman is one of the very first female comic book heroes, even pre-dating Wonder Woman.
The original Catwoman is named Selina Kyle.
Catwoman's first comic book appearance is in Batman #1 (1940). She is just called "The Cat."
The original Catwoman lived in Gotham City where she became a foe and a friend to Batman.
The film is a departure from the comic book universe. There's no Batman or Gotham City.
In Catwoman's first comic appearance, she is a jewel thief in a green dress.
Catwoman was created by legendary comic book writer and artist Bob Kane. He partially based her on 1930s sex symbol Jean Harlow.
Catwoman gets sent to a prison planet in a 2008 DC comic.
Catwoman had her own comic book series between 1993 and 2001. It lasted almost 100 issues.
Trivia Notes
An Egyptian Mau is the fastest breed of domesticated cats.
Cats can jump up to around six times their own height.
A woman dressed in a Catwoman mask got 10 years in prison for a string of robberies in New York in 2012.
Scientists think cats don't like water because their ancestors lived in deserts and never adapted to it.
Halle Berry played another superhero: Storm.
Cats have flexible muscles and bones that help them squeeze through tight spots.
The sound of a whip cracking is really the whip moving so fast it's breaking the sound barrier.
Wardrobe Notes
Costume designer Angus Strathie said her wardrobe is a "progression… to a sexy warrior goddess."
Halle Berry loved her costume. She said it showed the "muscles, spine and sinewiness of a cat."
The catsuit's "diamond" claws are made up of 800 individual crystals on sterling silver settings.
The catsuit is a combination of leather and a silicone fabric created just for the costume.
Some Story Notes movies give you a chance to win $500 via the Golden Note sweepstakes. Go to the Story Notes homepage for a full schedule of relevant films.
Read More